Asia-Pacific Microencapsulated Ingredients Market Outlook - 2026
The Asia-Pacific microencapsulated ingredients market was valued at $120.59 million in 2018 and is estimated to reach $193.36 million by 2026, growing at a CAGR of 6.0% from 2019 to 2026. Microencapsulation is a process of compressing a material that contains an active ingredient in a shell. The small capsules with several useful properties and diameters between one micron and a few millimeters are formed as a result of microencapsulation. The minor size of capsules offers a large surface area for sites of adsorption and desorption, chemical reactions, light scattering, and others. 
Ingredients such as pigments, vitamins, and essential oils, are encapsulated to protect, isolate, and overcome formulation challenges in skincare products. Essential oils are increasingly microencapsulated by employing different methods such as coaxial electrospray system, emulsification, coacervation, spray-drying, freeze-drying, in situ polymerization, melt-extrusion, and other methods. Spray-drying and coacervation are the most preferred techniques for the microencapsulation of oils.
Rapid urbanization in emerging economies and rise in working female population in countries such as India, China, Thailand, among others, have increased the awareness regarding looks and appearance.  People are now more conscious about the way they look and are ready to spend on skin care product to enhance their appearance. This sudden shift on individual grooming is boosting the growth of the skin care market. Therefore, the demand for microencapsulation ingredients in skin care product is expected to increase. 
Bans and regulatory impositions have been introduced on the usage of a wide range of pigments such as cadmium pigments, lead sulfochromate yellow, and lead chromate molybdate sulfate red. The imposed restrictions on the use of cadmium pigments, lead (Pb) & its compounds, dyes & pigments containing CMR 1 or 2 classified aromatic amines owing to their adverse effects on human health hamper the use of microencapsulation ingredients in skin care products. 
Advancements in the cosmetic manufacture technology and innovation of raw materials for cosmetics product are projected to offer numerous growth opportunities for the manufacturers. The microencapsulated technologies protect active ingredients, and mask unpleasant odors making it easy for the formulation, storage, and application of cosmetic products. Therefore, owing to advancements in cosmetic products, the microencapsulation ingredients are projected to play a major role.
The Asia-Pacific microencapsulated ingredients market is segmented into ingredient, application, and country. Based on ingredient, the market is segmented into pigments, vitamins, UV filters, skin lightening components, active ingredients, essential oils, and antiaging components. The vitamins segment is further segmented into Vitamin C, Vitamin E, Vitamin F and Vitamin A (Retinol). 
The UV fillers segment is further divided into organic materials, and inorganic materials. Based on application, the market is divided into color cosmetics, sunscreen lotions (UV protection), whitening and lightening creams, anti-wrinkle and antiaging creams, and other skin care products. Based on country, the APAC microencapsulated ingredients market is segmented into China, Thailand, Japan, South Korea, Australia and Philippines.
The key players considered in this report includes Air Liquide, Ashland, Inc., BASF SE, Biogenics Inc, Chongqing Pellets Techniques, Croda, Givaudan SA, International Flavors & Fragrances Inc., Kobo Products, Inc., Korea Particle Technology, Lonza Group Limited, Salvona LLC, Sumitomo- Presperse Corporation, and Nouryon. 
Some of the local manufacturers included Adinop Co., Ltd., Bega cheese limited, DURAE Corporation, Reed Pacific Specialty Chemicals and Seiwa Kasei Co, Ltd. Thus, to stay competitive, these market players are adopting different strategies such as product launch, partnership, merger, and acquisition. For instance, SEPPIC, a wholly owned subsidiary of Air Liquide acquired Serdex division of Bayer, with this acquisition, SEPPIC wants to enhance its product portfolio.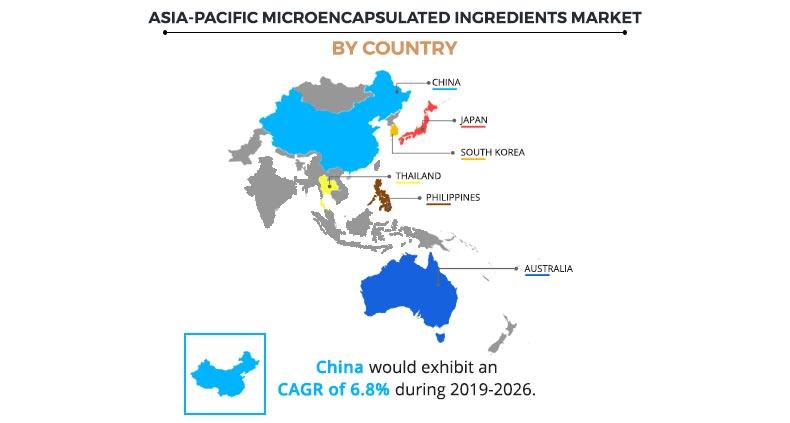 Asia-Pacific microencapsulated ingredients market, by country
By country, China dominates the market and is expected to continue its dominance during the forecast period. Urbanization in China has improved the living standard of people and change in lifestyle have raised the demand for skin care products. In China, more attention has been paid to sunscreen products that are attributed to the skin types, geographical, cultural and consumption habit differences. Sunscreen skin care product demand is increasing in China, which is expected to boost the growth of the microencapsulated ingredients market. Supportive government regulations for safe use of skin care products are also expected to drive the growth of the Asia-Pacific microencapsulated ingredients market.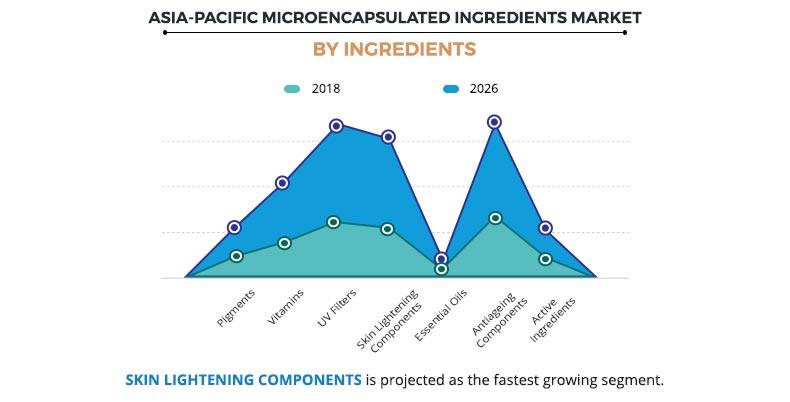 Asia-Pacific microencapsulated ingredients market, by ingredients
By ingredients, Antiaging Components dominates the market and Skin Lightening Components is expected to be the fastest growing segment. According to the United Nations, the world's population is aging at a rapid rate. As per the analysis of the World Population Prospects, by 2050, one in six people in the world are estimated to be above 65 (16%) years of age.  Therefore, the demand for antiaging skincare products is expected to increase significantly. This in turn is projected to boost the demand for the encapsulation ingredients market.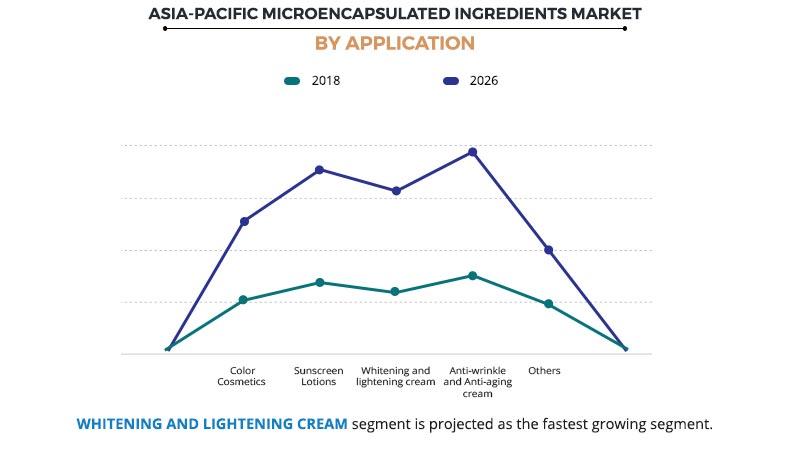 Asia-Pacific microencapsulated ingredients market, by application
By application, Anti-wrinkle and Anti-aging cream dominates the market and Whitening and lightening cream is expected to be the fastest growing segment. The Anti-wrinkle and antiaging creams are used to reduce the appearance of lines and wrinkles, by increasing skin moisturization, and reduction of trans epidermal water loss. Anti-wrinkle and anti-aging nano formulations contain non-toxic mesoporous silica nanoparticles, biological active agents such as acetyl hexapeptide-8, aspartic acid, and other ingredients. These nano formulation ingredients are encapsulated within a multilayer nanocarrier, to enhance their delivery through the skin barrier and control accumulation at the desired site. 
Key Benefits for Asia-Pacific Microencapsulated Ingredients Market:
Porter's five forces analysis helps analyze the potential of buyers & suppliers and the competitive scenario of the microencapsulated ingredients industry for strategy building.
It outlines the current trends and future scenario of the Asia-Pacific microencapsulated ingredients market size from 2019 to 2026 to understand the prevailing opportunities and potential investment pockets.
Major countries in the region have been mapped according to their individual revenue contribution in the market size.
The key drivers, restraints, and opportunities and their detailed impact in Asia-Pacific microencapsulated ingredients market share are elucidated in the study.
The profiles of key players along with their key strategic developments are enlisted in the Asia-Pacific microencapsulated ingredients market analysis.
 Asia-Pacific Microencapsulated Ingredients Market Report Highlights
Aspects
Details
By Ingredient

Pigments
Vitamins

Vitamin C
Vitamin E
Vitamin F
Vitamin A (Retinol)

UV filters
Organic Materials
Inorganic Materials
Skin lightening components
Essential oil
Antiaging components
Active Ingredients

By Application

Color cosmetics
Sunscreen lotions (UV Protection)
Whitening and lightening cream
Anti-wrinkle and Anti-aging cream
Other

By Country

China
Thailand
Japan
South Korea
Australia
Philippines

Key Market Players
AIR LIQUIDE, ASHLAND INC., BASF SE, BIOGENICS, CHONGQING PELLETS TECHNIQUES & TRADE CO., LTD, CRODA INTERNATIONAL PLC, GIVAUDAN SA, INTERNATIONAL FLAVORS & FRAGRANCES INC., KOBO PRODUCTS, INC., KOREA PARTICLE TECHNOLOGY CO., LTD., LONZA GROUP LTD., NOURYON, SALVONA LLC, SUMITOMO CORPORATION
OTHER KEY PLAYERS
ADINOP CO., LTD., BEGA CHEESE LIMITED, DURAE CORPORATION, REED PACIFIC SPECIALTY CHEMICALS, SEIWA KASEI CO,LTD.