Asia-Pacific Energy Management System Market Outlook - 2020
Asia-Pacific Energy Management System Market is expected to garner $11.8 billion by 2020, registering a CAGR of 19.5% during the forecast period 2015-2020. Energy Management systems comprise a set of automated controls that help in monitoring and optimizing the energy requirements of an organization. The technology enables an organisation to integrate energy management solutions in enhancing their routine industrial automation whilst effectively functioning in compliance with environmental regulations.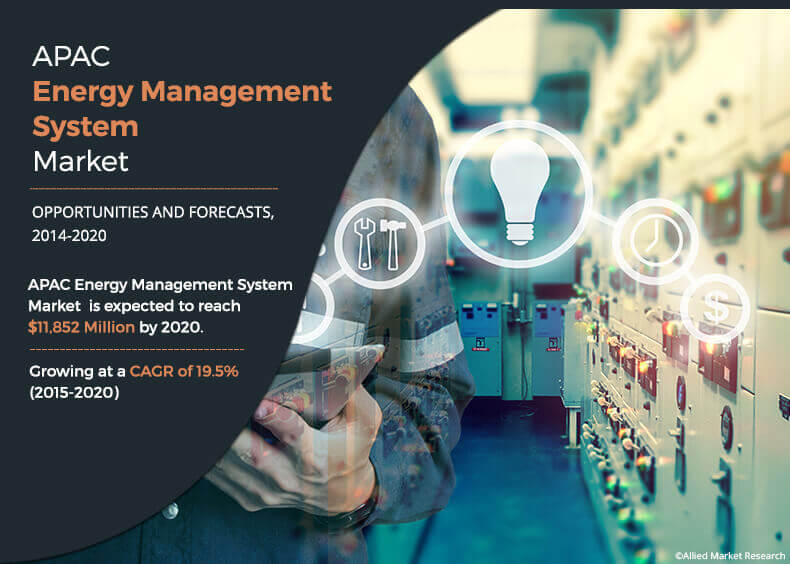 The Energy Management System (EMS) systematically captures the energy consumption data and serves as a monitoring system to strategically improve the energy efficiency across industries, personal spaces and buildings. EMS has witnessed considerable growth primarily due to increased energy requirements, supportive government initiatives and stringent environmental regulations. However, low awareness about energy management systems in Asia Pacific & longer payback period pose as a major challenge to this market.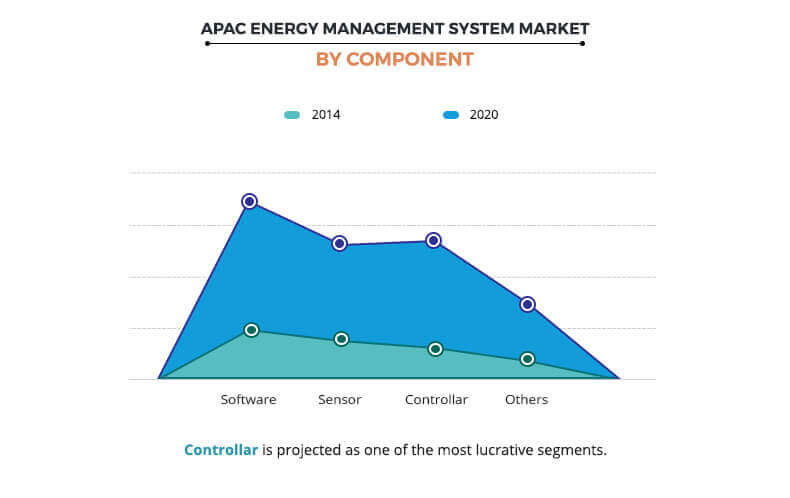 In the Asia-Pacific region, Korea has a major share compared to the other developing countries owing growing industrialization and increasing energy requirements in the country. This is followed by Japan, where an increased adoption of BEMS & HEMS is observed. Presently, IEMS accounts for the highest revenue generating segment in the APAC EMS market followed by BEMS and HEMS. EMS is adopted in various sectors such as Telecom & IT, Healthcare, the manufacturing sector, power & energy among others to optimize utilization of energy and enhance their productivity. Power & energy sector majorly contributes to the Energy Management system Asia Pacific market. It generated about 40% of the market revenue in 2014 and is expected to dominate the market followed by the manufacturing sector.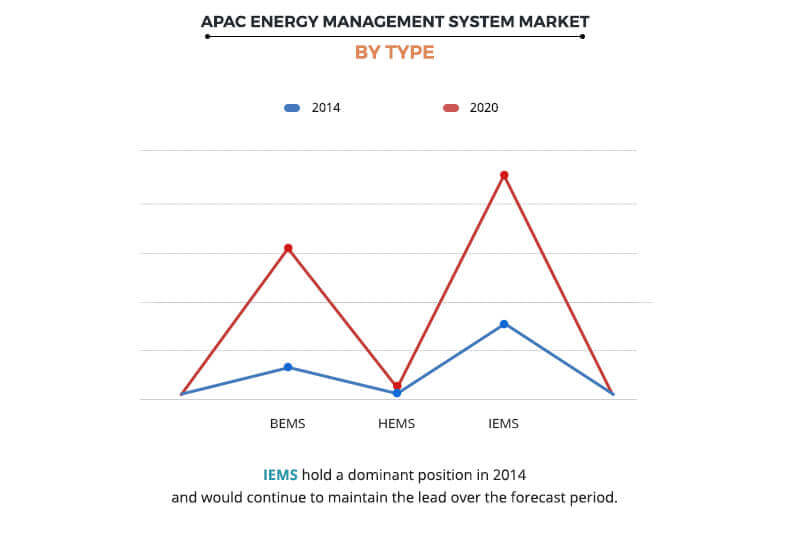 The energy management systems market is segmented on the basis of component, type, vertical, enduser and country. The component segment comprises of software, sensors, controllers and others. Based on type, energy management systems are classified as Building Energy Management Systems (BEMS), Industrial Energy Management Systems (IEMS) and Home Energy Management Systems (HEMS). The market is further bifurcated in terms of end user as commercial & residential. Based on vertical, the market is segmented into telecom & IT, retail & offices, healthcare, power & energy, manufacturing and others. Based on geography, the EMS market covers China, Japan, India, Korea, Singapore, Thailand, Australia and rest of Asia Pacific. Azbil Corp, Daikin Industries, Honeywell, Schneider Electric, General Electric, Siemens AG, Johnson controls and C3 Energy are the leading players in this market.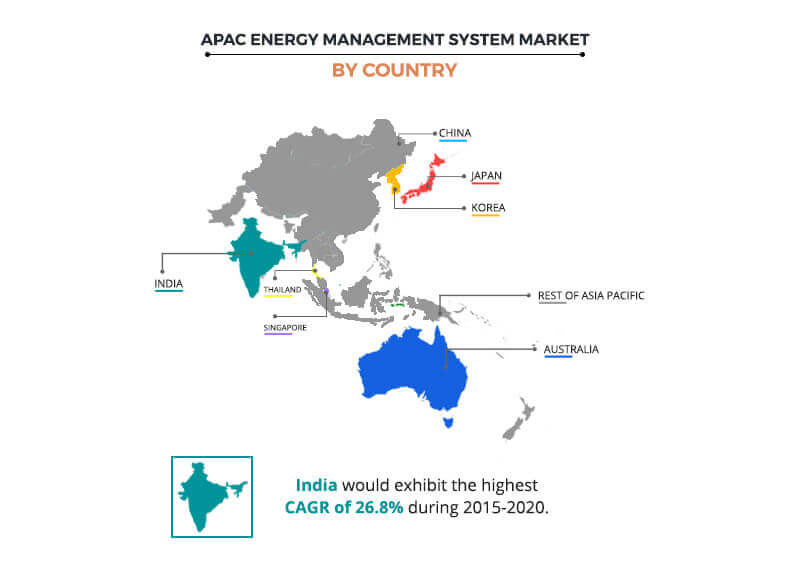 KEY BENEFITS OF APAC ENERGY MANAGEMENT SYSTEM MARKET:
The report provides an in-depth analysis of the energy management system Asia-Pacific market with current and future trends to elucidate the imminent investment pockets
This report highlights the key drivers, opportunities and restraints in the market and provides an impact analysis of key factors for the forecast period
Current and future trends are outlined to determine the overall attractiveness and single out profitable trends to gain a stronger foothold in the market
Market estimation for type, solutions, applications, industries and country segment is derived from the current market scenario and expected market trends
The Porters five forces analysis highlights the potency of buyers and the suppliers participating in this market. This would further lend a competitive edge to the stakeholders and help in better decision making.
 Asia-Pacific Energy Management System Market Report Highlights
Aspects
Details
By Component

Software
Sensors
Controllers
Others

By Type
By End User
By Vertical

Telecom & IT
Healthcare
Power & Energy
Manufacturing
Retail & Offices
Others

By Country

China
Japan
India
Korea
Singapore
Thailand
Australia
Rest of Asia

Key Market Players
Azbil Corporation, Daikin Industries, Schneider Electricals, Siemens AG, Johnson & Control, Honeywell International Inc., General Electric Company, C3 Energy