Asia-Pacific Fitness Equipment Market is expected to garner $2.4 billion by 2020, registering a CAGR of 7.5% during the forecast period 2015-2020.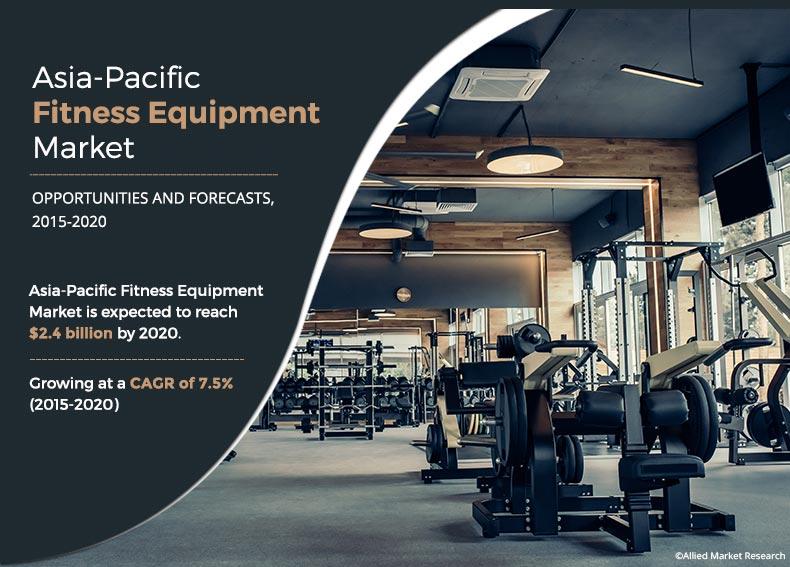 Fitness equipment include machines used to perform physical activity. Commonly observed equipment in the Asia-Pacific Fitness Equipment Market are treadmills, stair climbers, weightlifting machines and stationary bicycles. All such equipment are meant for different physical exercises as well as medical treatment. For example, cardiovascular equipment such as treadmills and stair climbers are beneficial for weight management and stamina improvement. On the other hand, strength training equipment are beneficial for enhancing muscular strength. Stair climber, stationary bike, and many other equipment are used during physiotherapy treatments for muscle, ligament and bone related medical concerns in individuals.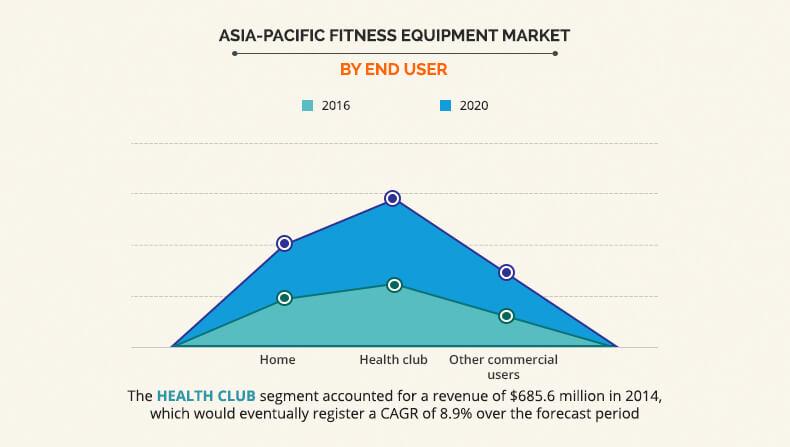 Fitness equipment are primarily used for body weight management. However, few users of fitness equipment need it for exercises related to medical treatments or for strength training purposes. Such varied applications of fitness equipment are driving the Asia-Pacific Fitness Equipment Market. Additionally, the desire to stay fit, which includes managing overall weight and body looks, is also contributing to the use of fitness equipment. This desire is high among youth and urban population. Rapid urbanization, rising disposable income, and increasing youth population are the key propellants of the Asia-Pacific Fitness Equipment Market growth in various Asia-Pacific countries, as population is actively getting involved in fitness activities. However, large - scale resale of used fitness equipment limits the growth opportunities across the Asia-Pacific Fitness Equipment Market.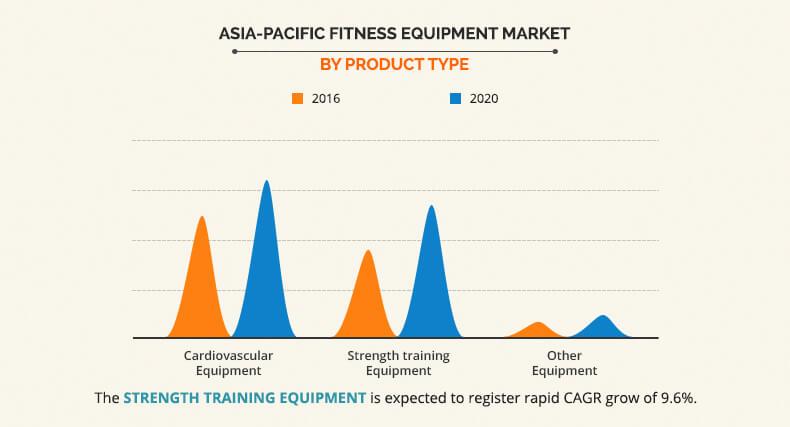 The Asia-Pacific Fitness Equipment Market is segmented on the basis of type of equipment which include cardiovascular training equipment, strength training equipment and other equipment for monitoring and tracking. Based on user, the fitness equipment market is segmented into home consumers, health clubs and other commercial users. Other commercial user segment includes equipment procured by hotels, corporate wellness centers at enterprises, hospitals, etc. In order to provide country-specific insights, the market is segmented across Japan, South Korea, China, India and rest of Asia - Pacific. Japan is expected to continue leading the Asia-Pacific market throughout the analysis period of 2014-2020. The Asia - Pacific region would grow at a CAGR of 7.5% during forecast period 2015-2020. The growth would primarily be driven by China and India.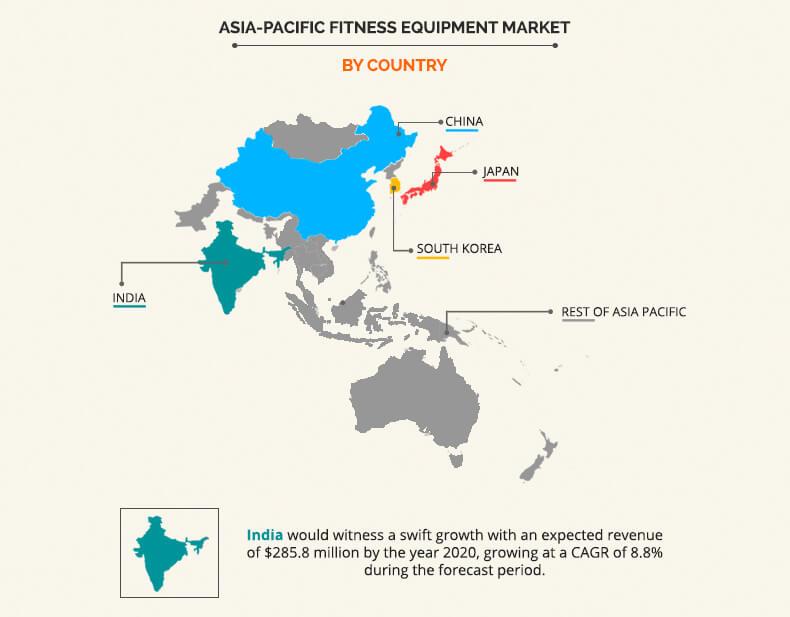 In order to gain a competitive insight into the market, leading players are analyzed in the report along with their key business strategies. The report covers an analysis of key vendors such as Precor, Cybex, Konami Corporation, Nautilus, ICON Health & Fitness Inc., Shuhua Co. Ltd., Johnson HealthTech, Impulse Health, Technogym and Brunswick Corp.
Key Benefits
The report provides detailed analysis of Asia-Pacific Fitness Equipment Market intelligence with respect to type, users and geography to enable stakeholders take precise investment decisions
Value chain analysis provides key inputs on the role of all key intermediaries in the Asia-Pacific Fitness Equipment Market, which would help the stakeholders in devising appropriate strategies
In order to forecast the future market, population trends across different countries and expected investments in health club business are analyzed
Porters five force analysis highlights the potency of the suppliers and buyers, and describes the competitive scenario of the market, which would facilitate efficient business planning
The analysis of most significant drivers, restraints and opportunities help to understand the overall market dynamics
 Asia-Pacific Fitness Equipment Market Report Highlights
Aspects
Details
By Type

Cardiovascular training equipment
Strength training equipment
Other equipment

By User

Home/ Individual Usage
Health Clubs/ Gyms
Other Commercial Users

By Country

Japan
South Korea
China
India
Rest of Asia-Pacific

Key Market Players
Konami Kabushiki Kaisha(Konami Corporation), Technogym SpA, ICON Health & Fitness Ltd., Impulse Health Tech Ltd. Co., Johnson HealthTech Ltd., Cybex International Inc., Brunswick Corporation, Shuhua Co. Ltd., Nautilus Inc., Amer Sports Corporation