APAC Footwear Market Overview:
Asia Pacific Footwear Market is expected to reach $152.9 billion by 2020, registering a CAGR of 4.7% during 2015 - 2020, according to a new report published by Allied Market research. China is the leading regional footwear market, followed by India.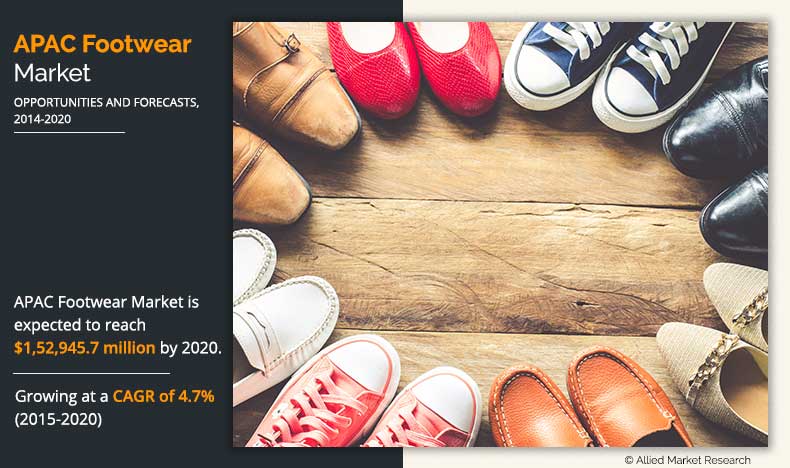 Asia Pacific Footwear industry has witnessed a robust growth in the last few years. There has been a growing demand for both sports as well as fashionable footwear, driven by the factors of increasing health consciousness, creative designs and increasing disposable income. Among the countries in Asia-Pacific, China is the leading market holding major share, followed by India. In addition, China is the largest footwear exporter to countries such as Canada, United States, United Kingdom, and Germany among others.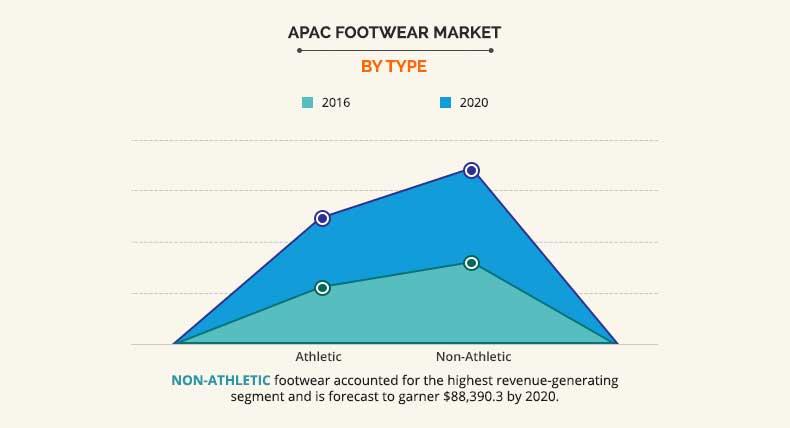 The Asia Pacific footwear market is segmented by type, mode of sale, material, end user and country. By material, the market is segmented into: leather and non-leather. The leather segment led the material segment of footwear market in Asia Pacific, holding around 65% of the total market revenue in 2014. By type, the market is segmented into athletic and non-athletic, where non-athletic footwear segment leads the market by type. Further, the report also covers the market by mode of sale, which is further segmented into online and retail sales. At present, retail stores are the most popular medium for sale of footwear. However, online platforms are expected to witness fast growth as compared to retail stores in the coming years due to the increasing trend of online shopping. By end user, women segment is the largest revenue contributor in Asia-Pacific footwear market.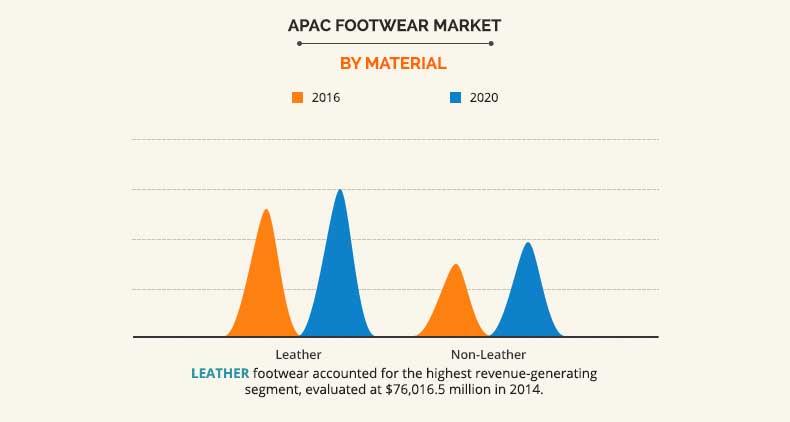 The key strategies adopted by the major players in this industry are partnerships, product launch and expansions. Market players are now expanding their online presence owing to the growing popularity of e-commerce and online platforms among all the end users.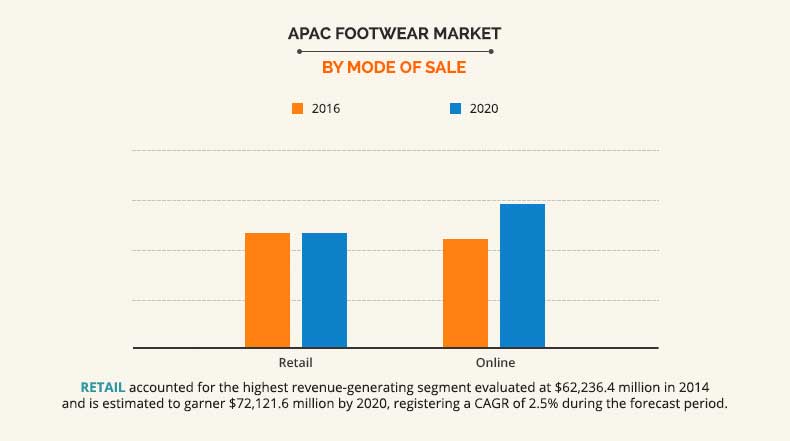 The major players profiled in this report are PUMA, Nike Inc., Adidas AG, Belle International Holdings Limited, ASICS, VF Corporation, Wolverine Worldwide, Inc., GEOX S.p.A, Bata Brands and Woodland Worldwide.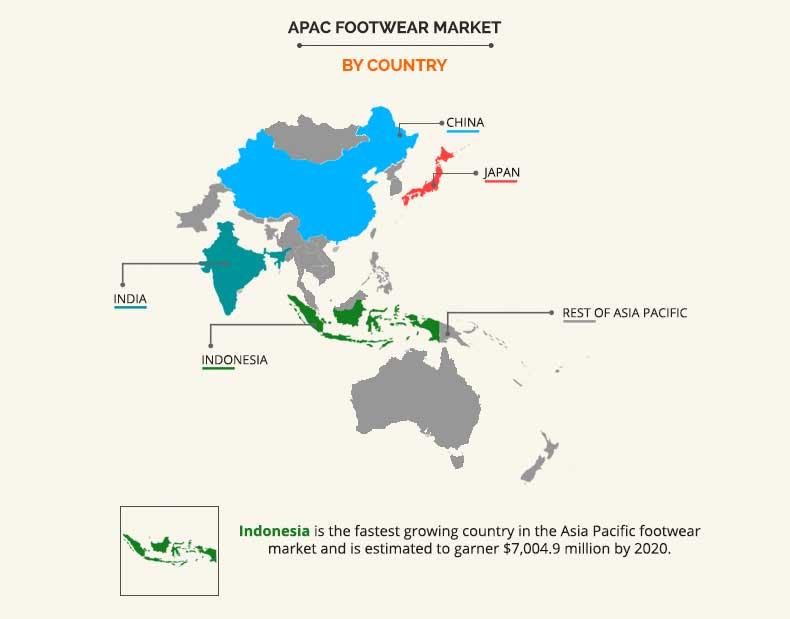 APAC FOOTWEAR MARKET KEY BENEFITS
The study provides an in-depth analysis of the Asia-Pacific footwear market with current and future trends to elucidate the imminent investment pockets in the market
Report highlights the changing market dynamic factors, current and expected trends in Asia Pacific footwear market
The report provides information regarding key factors responsible for the growth restraints and opportunities with impact analysis
Insights regarding opportunities such as rising demand for fancy and comfortable footwear and growing urbanization rate would help stakeholders in implementing strategic business plans
Porters Five Forces model and SWOT analysis of the industry illustrates the potency of the buyers & suppliers participating in the market
Value chain analysis in the report provides a clear understanding of the roles of stakeholders involved in the value chain
 Asia Pacific Footwear Market Report Highlights
Aspects
Details
By Material
By Type
By MODE OF SALE
By End User
By Country

China
India
Japan
Indonesia
Rest of Asia Pacific

Key Market Players
Woodland Worldwide, Geox S.p.A, Adidas AG, VF Corporation, Bata Brands, Belle International Holdings Limited, ASICS CORPORATION, PUMA SE, Nike Inc., Wolverine World Wide, Inc.