Asia-Pacific Learning Management Systems Market Overview:
Learning management systems (LMS) are software applications/tools designed to develop, manage, and deliver learning & training modules and services to academic and corporate users through electronic media. The Asia-Pacific learning management systems market size is expected to generate $2,884 million by 2022, growing at a CAGR of 34.2%. The LMS market in Asia-Pacific is influenced by several drivers, restraints, and opportunities. Growth in adoption of e-learning and inclination towards "on-the-go learning practices" drive the LMS market. However, lack of e-learning infrastructure, and cultural barriers hinder the market growth. Numerous educational institutions in develop ping economies have been unsuccessful in adopting these technologies, owing to insufficient funds and lack of skilled workforce. However, economic progress in developing countries and improvement in educational facilities are expected to generate growth opportunities in the near future.
Segment Overview
The report provides detailed learning management systems market analysis across industry verticals and end users. The industry verticals covered under the scope include educational institution, BFSI, IT & telecom, healthcare, government, retail, and others (real estate, manufacturing, and non-profit organization). Corporate and academic users have been analyzed under the end user segment. The academic user can be further segmented into K-12 and higher education.
The report provides a detailed coverage of the learning management systems' deployment models. Two key models analyzed in the report include software-as-a-service (SAAS) and on-premise model (licensed or in-house deployment). The key difference between these models is that in SAAS, LMS is offered as a service and is hosted on the vendor's servers, while the on-premise model is run on servers within the company's network.
The key countries covered in the report are China, Australia, India, Japan, and rest of Asia-Pacific. For each of the enlisted countries, market has been studied across all the three segments-industry vertical, end user, and deployment model.
Learning Management Systems: Market Segmentation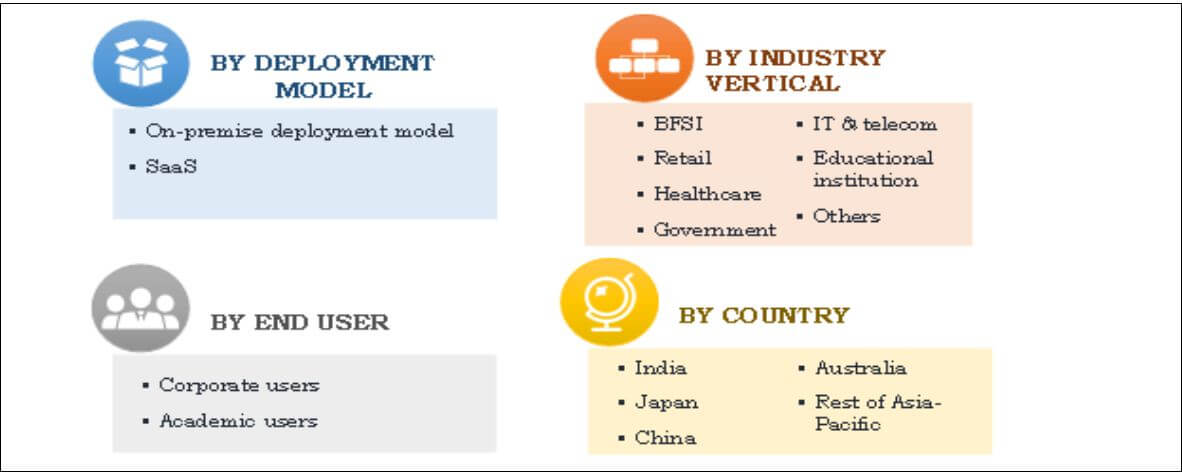 Top Factors Impacting APAC Learning Management Systems Market
Growth in adoption of e-learning
Significant investments in IT infrastructure and rise in preference for digital learning, due to its several advantages, have led to wide adoption of LMS in academic and business learning/training programs across Asia-Pacific. In addition, the education industry, in these countries, has witnessed rapid growth, and is anticipated to continue the trend in the future. At present, a large number of online education companies are entering in the market, which has significantly increased the growth of the LMS market in the Asia-Pacific region. For instance, online education companies operating in China have increased from 100 in 2012 to over 8,000 in 2016.
INTERNET USERS, BY COUNTRY, 2016 (MILLION)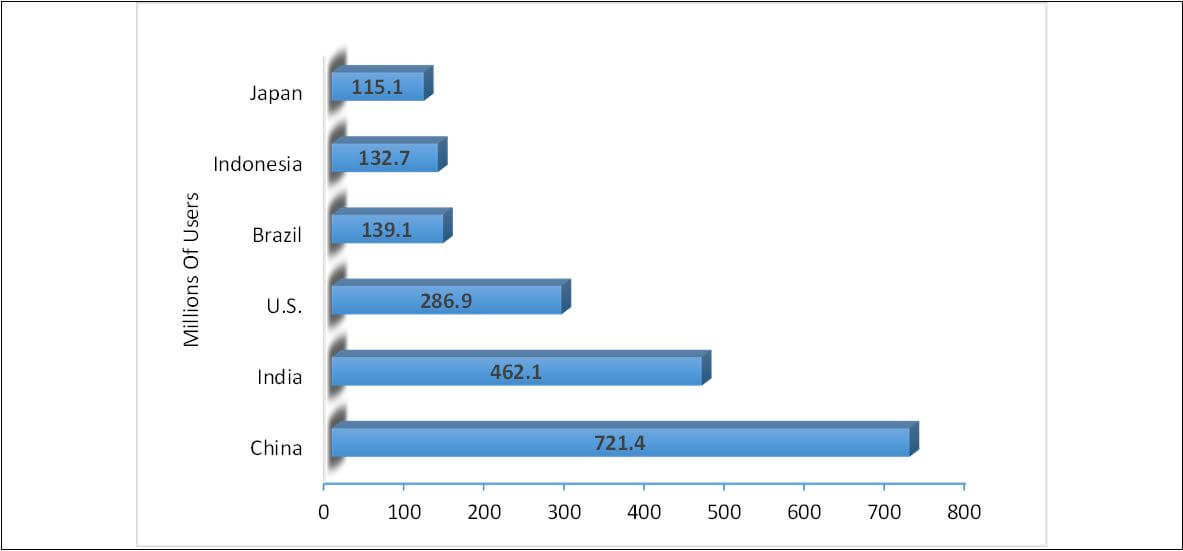 Increase in trend of bring-your-own device (BYOD) and reduction in costs of learning and development
Rise in BYOD trend in various organizations has boosted the adoption of LMS. The implementation of BYOD has increased in organizations due to their proactive measures to promote digital learning and reduce cost & time incurred in learning & development. Several colleges and universities have focused on developing remote laboratories that can be operated by Internet-enabled smart devices using various LMS software. The upsurge in the use of smartphones and affordable handsets coupled with high-speed internet services drives the LMS market.
Increase in adoption of cloud services
With the advancement in technology, organizations intend to shift their business practices to the cloud and reduce reliance on in-house expertise. Cloud-based development and learning processes are deployed at organizations to decrease large upfront investment and deliver scalability & flexibility as well as comply with the changing business requirements. The organization that are keen on automating and streamlining their learning processes to enable anytime, anywhere, and just-in-time access to learning content prefer using LMS software. The SaaS delivery model simplifies the customization and integration of LMS and reduces capital expenditures and operating costs.
China learning management software market
China accounts for the highest percentage of LMS market share. However, the penetration level of LMS is lower as compared to developed countries such as Australia and Japan. However, in the last few years, the market has witnessed attractive growth as both large and medium sized organizations have adopted this electronic educational technology. Moreover, change in traditional education system and increase in number of start-ups in the e-learning industry have encouraged the market growth. For instance, in 2013, Oracle introduced "Oracle Learn Cloud 13A" with advanced training management and delivery features.
China learning management software market revenue, 2014-2022 ($Million)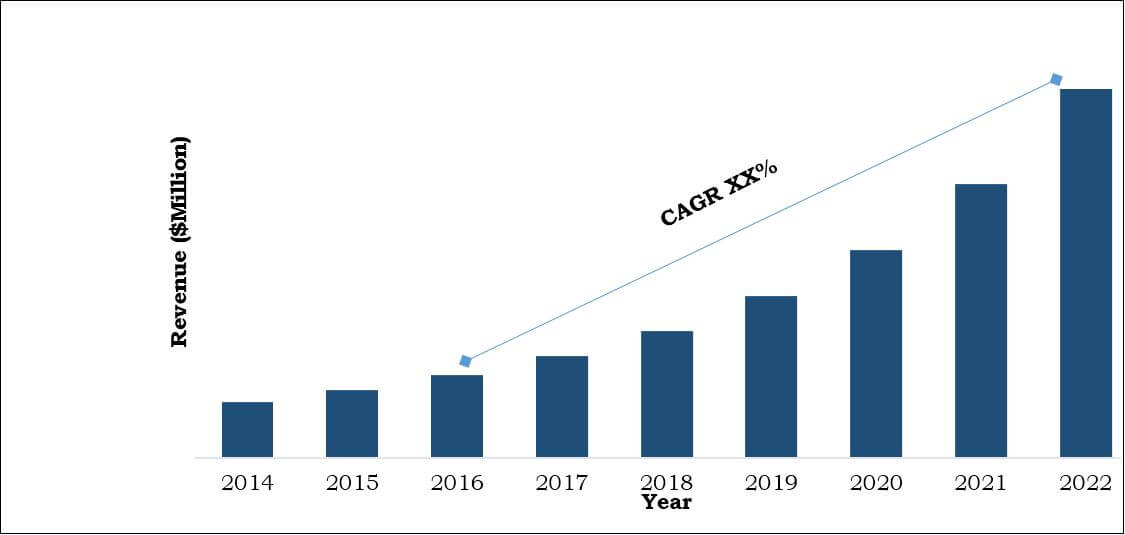 The report discusses the strategies adopted by key market players, which include SumTotal Systems, Inc., Cornerstone OnDemand Inc., Blackboard, Oracle Corporation, and SAP SE to sustain the competition and increase their market share.
Key Benefits
This study provides an in-depth quantitative analysis of the trends and dynamics of the Asia-Pacific learning management system market to elucidate the imminent investment pockets.
A detailed impact analysis of the key drivers, restraints, and opportunities have been provided.
Market intelligence for key developmental strategies adopted by established brands have been highlighted.
 Asia-Pacific Learning Management Systems Market Report Highlights
Aspects
Details
By Deployment Mode

ON-PREMISE DEPLOYMENT MODEL
SAAS DEPLOYMENT MODEL

By Industry Vertical

EDUCATIONAL INSTITUTION
BFSI
IT & Telecom
HEALTHCARE
Government
RETAIL
Others

By End User

Corporate Users
Academic Users

By Country

China
Australia
India
Japan
Rest of Asia-Pacific

Key Market Players
CORNERSTONE ONDEMAND INC., ORACLE CORPORATION, SUMTOTAL SYSTEMS LLC. (SKILLSOFT), SAP SE, BLACKBOARD INC.
Other players in the value chain include
Pearson, Educomp Solutions, Desire2learn Corporation, White House Business Solutions, Moodle, IBM Corporation