Asia-Pacific Light Detection and Ranging System Market Overview:
Asia-Pacific (LiDAR)Light Detection and Ranging System Market  is expected to garner $205.6 million by 2022, registering a CAGR of 25% during the forecast period 2016 - 2022.  The report incorporates the study of Asia-Pacific LiDAR market that focuses on types of LiDAR systems.
LiDAR is an emerging technology that helps to capture high-definition 3D data of geospatial surfaces. The product types are differentiated into airborne/aerial, mobile, short range and terrestrial/stationary. Aerial LiDAR devices are defined as LiDAR systems mounted on aircrafts or drones. Mobile LiDAR are those mounted on vehicles, turbines and other moving objects. Static/terrestrial LiDAR are mounted on land surface or buildings, towers, etc. All of the LiDAR operating in range of about 0-10 meters are considered as short-range LiDAR.
These systems are increasingly employed over conventional surveying methods owing to their ability to provide highly accurate data and 3D images in a shorter time duration. LiDAR systems have replaced conventional surveying methods and statistical analysis owing to the in-depth analysis requirement in different application areas. The widespread awareness about the advantages of LiDAR usage in varied industry verticals is a major factor driving the LiDAR market in Asia-Pacific. Countries, such as China, Japan, South Korea and others, have started using LiDAR technology in civil engineering and forestry applications. Increased spending capabilities and rising government initiatives have led to the rise in the usage of LiDAR technology in different application areas, which further supplements the market growth and creates opportunities for the market players to enhance their market share.  
The innovations in the laser technology help to bring price corrections in LiDAR products. Simultaneously, the changing demands and preferences of the urban population unveil newer LiDAR applications apart from conventional military applications. The sophistication of 3D imaging technology leads to increased corridor mapping activities by the LiDAR. The market is likely to experience continued dominance from defense and corridor mapping applications.
PROPERTIES OF LIDAR SENSOR
| | | | |
| --- | --- | --- | --- |
| LiDAR series | Range | Resolution | Cost |
| Older LiDAR | less than 8m | 1 | $15,000 |
| Advanced LiDAR | 18–30m | 0.25 | $8,000 |
ENHANCED EFFICIENCY OF LIDAR SENSOR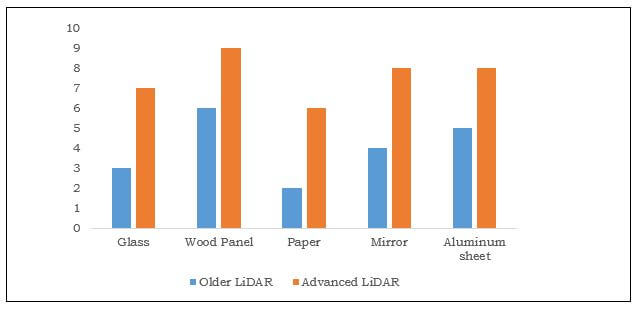 Key players adopt product launch and R&D as their key strategies to meet the customer demands and increase their customer base. Acquisitions, joint ventures and partnerships are likely to help players to set a common technology platform and share the technological requirements, which in turn would enhance their product portfolio in less investment and increase their market share across Asia-Pacific.
SEGMENT OVERVIEW
The Asia-Pacific LiDAR market, by type is segmented into terrestrial, aerial, mobile, and short-range systems. A terrestrial LiDAR, also known as a ground-based LiDAR system is a laser scanner integrated with a highly accurate GPS system. This LiDAR possesses an exceptional ability to produce 3D images of land at coastal and other areas. Taking into consideration the natural hazards in Asia-Pacific, ground movements such as landslides can be analyzed and measured by satellite imagery. However, the problem associated with the traditional satellite imagery was that vertical cliffs could not be viewed at an oblique angle and the fast coastal changes could not be traced. Thus, terrestrial LiDAR systems are used to resolve these problems by providing accurate measurements at a safe distance.
China is the largest revenue-generating country in the Asia-Pacific terrestrial LiDAR market and is expected to maintain its dominant position throughout the forecast period.
CHINA TERRESTRIAL LIDAR REVENUE, 2015-2022 ($MILLION)
 
The components of the Asia-Pacific LiDAR market are sub-segmented into laser generator, inertial navigation system (INS), camera, GPS/GNSS receiver, and microelectromechanical system. The use of these components depends on their respective applications.
Corridor mapping and seismology exploration & detection are some of the major application areas of LiDAR systems. The others segment includes pollution modelling, coastline management, and metrology. In 2015, corridor mapping was the highest revenue-generating application owing to its increasing adoption to plan urban modelling, flood mapping, and forestry application.
COUNTRY LEVEL ANALYSIS
The countries included in the Asia-Pacific LiDAR systems market are China, Japan, India, South Korea, and Rest of Asia-Pacific. The systems capable of detecting low level nearby wind turbulence and shear during non-precipitative conditions are being adopted in China. For instance, In September 2015, Mitsubishi Electric
 Asia-Pacific LiDAR Market Report Highlights
Aspects
Details
By Product Type

Terrestrial
Aerial
Mobile
Short-range

By Component

Lasers
Inertial navigation system
Camera
GPS/GNSS receiver
Microelectromechanical system (MEMS)

By Application

Corridor mapping
Seismology
Exploration and detection
Others

By End User

Archaeology
Mining
Transportation
Defense & Aerospace
Forestry & agriculture

By Country

China
Japan
India
South Korea
Rest of Asia-Pacific

Key Market Players
Airborne Hydrography AB, Faro Technologies Inc., Leica Geosystems Inc. (Hexagon), 3D Laser Mapping Inc., RIEGL Laser Measurement Systems GmbH, Aerometric Inc., Optech Inc. (Teledyne Technologies), Quanergy Systems, Inc., Raymetrics S.A., Saab Group