Asia-Pacific Medical Carts Market Overview:
The Asia-pacific Medical Carts Market is anticipated to reach $555 million by 2022, growing at a CAGR of 13.7% from $224 million in 2015. A medical cart or trolley is a wheeled cabinet with drawers and trays that is used in various medical, surgical, and therapeutic modalities in hospital and clinical settings to keep drugs, tools, equipment, and medical devices for the stipulated treatment. The Asia-Pacific medical carts market is divided into four types -anesthesia carts, emergency carts, procedure carts, and other carts.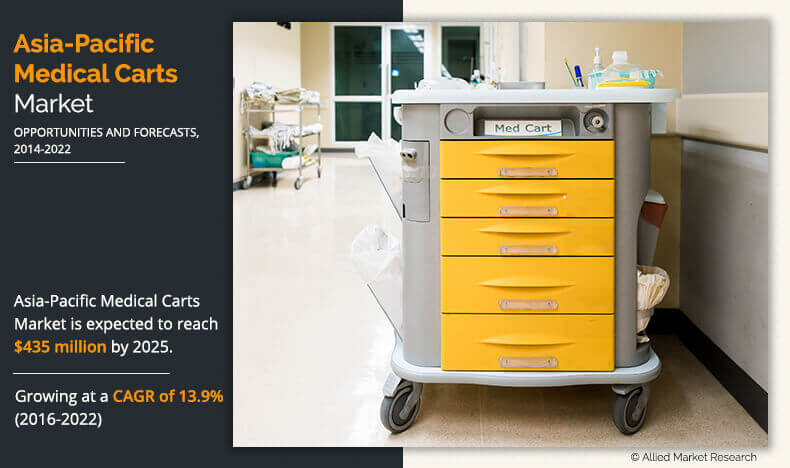 The rise in focus on patient safety, improved nursing efficiency, and ease in clinical workflow due to medical carts has raised the demand for these trolleys across Asia-pacific. This significant rise in volume of sales was attributed to the rapid expansion of the healthcare industry and healthcare reforms in China and India. Asia-Pacific holds immense potential for the growth of medical equipment for enhancing the medical infrastructure, thereby driving the growth of medical carts market both in volume sales and revenue. However, cost incurred for the maintenance of medical carts and lack of skilled professionals could limit the market growth.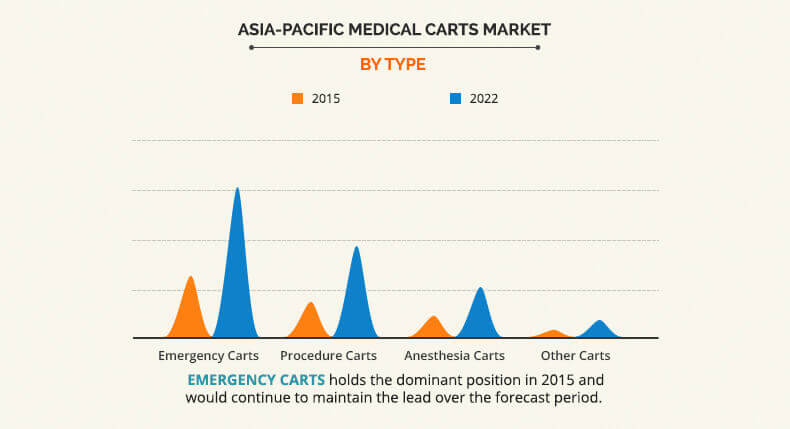 A medical cart, is a movable collection of emergency equipment and supplies such as medication. These medical carts are readily accessible to health care workers and strategically placed in medical setting such as hospitals and clinics. Medical carts are utilized for improving nursing workflow efficiency. This equipment is very useful during medical emergencies such as accidents and major injuries, to be treated or diagnose near patient bed side. The medical carts market is growing at significant pace owing to the rise in geriatric population, growing cases of sudden cardiac arrest that needs emergency carts and improving healthcare infrastructure across Asia-Pacific region.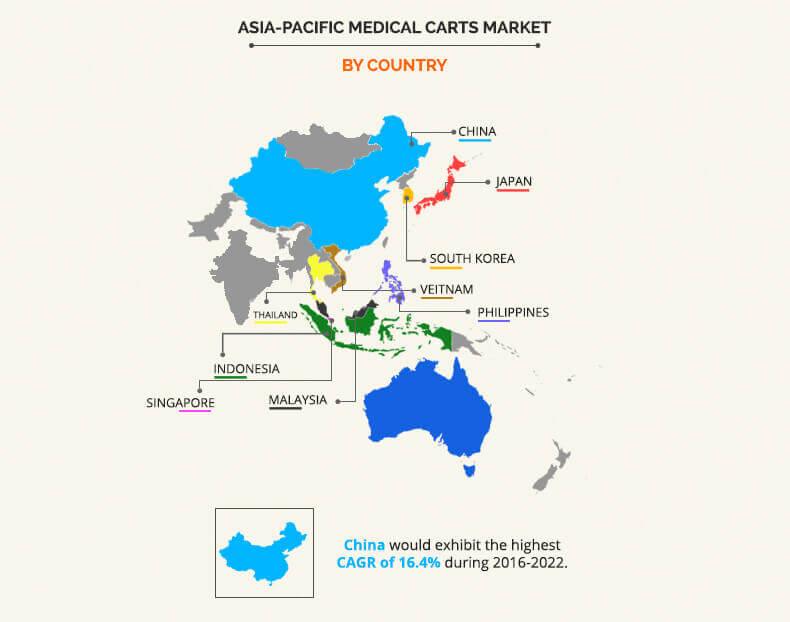 China
Rapid economic growth, increase in healthcare expenditure, and hospital reforms drive the medical carts market in China. This is attributed to the ageing population and advancement in private & public hospitals. Moreover, the healthcare reform in China is strongly influenced by policies issued at various government levels including, state council, national health, and family planning commission.
The China medical carts market is segmented into four major product types such as emergency carts, procedure carts, anesthesia carts, and other carts. Emergency medical carts hold the largest share of more than two-fifths of the Chinese market in terms of volume and nearly half in terms of value in 2015. This is attributed by the growing number of emergency procedures performed such as accidents, traumas, injuries, heart attacks, and others. These emergency carts are also known as crash carts and they must comply with advanced cardiac life support (ACLS) protocol.
Similarly, procedure carts hold the second largest share of nearly one-third in the Chinese market in terms of volume and more than one-fourth in terms of value in 2015. These carts are used for a wider range of medical procedures such as trauma, critical care, suture, dressing, airway, and IV therapy as they offer better storage and extra capacity.
The key players in the Asia-Pacific medical carts market are focused on expanding their business operations in the developing countries with new product launches. The key players profiled in this report include Omnicell, Inc., Hanlim Medical Equipment Co., Ltd., Ruilang Medical Equipment Co., Ltd, Capsa Solutions LLC, Chang Gung Medical Technology Co., Ltd, ITD Medical Technology Products Co., Ltd., Lifemedic Healthcare Supplies Pte Ltd, Midmark Corporation, Nortek, Inc., Zhangjiagang Medi Medical Equipment Co., Ltd.
Key Benefits of the Report
The study provides an in-depth analysis of the Asia-Pacific medical carts market with current trends and future estimations to elucidate the imminent investment pockets.
The report provides a quantitative analysis from 2014 to 2022 to enable the stakeholders to capitalize on prevailing opportunities in the Asia-Pacific medical carts market.
Competitive intelligence highlights the business practices followed by leading market players in Asia-Pacific medical carts market across the region.
Porters five forces model is expected to interpret the bargaining power of suppliers & buyers, threat of new entrants & substitutes, and competition among the key players.
Extensive analysis is conducted by following key product positioning and monitoring the top competitors within the market framework.
Asia Pacific Medical Carts Market Key Segments:
The Asia-Pacific medical carts market is segmented based on type and country.
By Type
Anesthesia Carts
Emergency Carts
Procedure Carts
Other Carts
By Country
Japan
China (Including Hong Kong)
India
Singapore
South Korea
Indonesia
Thailand
Vietnam
Philippines
Malaysia
Other Asia-Pacific