Asia-pacific Travel Insurance Market Overview:
Asia-pacific Travel Insurance Market is estimated to reach $9,875 million by 2022, growing at a CAGR of 10.1% from 2016 to 2022. Travel insurance provides security and protection to travelers while traveling domestically or internationally, whether on a business trip or holiday. It is considered as an essential to undertake a carefree trip. This type of insurance not only provides basic coverage such as health insurance and transportation in the event of repatriation, but also a protective cover against missing checked-in luggage, trip cancellation, and other probable casualties.
The Asia-Pacific travel insurance market is segmented based on distribution channel, insurance cover, end user, and geography. The distribution channel is categorized into insurance intermediaries, insurance companies, banks, insurance brokers, insurance aggregators, and others. For insurance cover, the market is divided into single trip, annual multi-trip, and long stay. Based on end user, it is classified into senior citizens, educational travelers, backpackers, business travelers, family travelers, and fully independent travelers. Geographically, it is analyzed across China, Japan, India, Australia, New Zealand, Thailand, and rest of Asia-Pacific.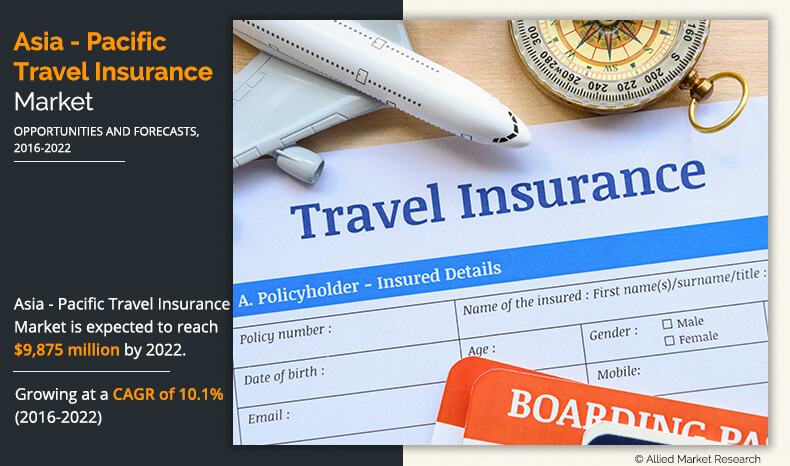 Insurance Intermediaries is the Major Segment
Insurance intermediaries dominate the Asia-Pacific travel insurance market, as they are one of the most traditional and trusted form of distribution channels. Senior citizens and baby boomers opt for intermediaries owing to the long-term relationship and trust associated with them. Insurance intermediaries provide better services and understanding of policies. Moreover, they act as an advisor to an individual to opt for the better policy. Nearly two-thirds of total travel insurance policies sold in the region are carried out by traditional travel agencies and suppliers. During the forecast period, insurance aggregators are expected to grow at a CAGR of 14.4%.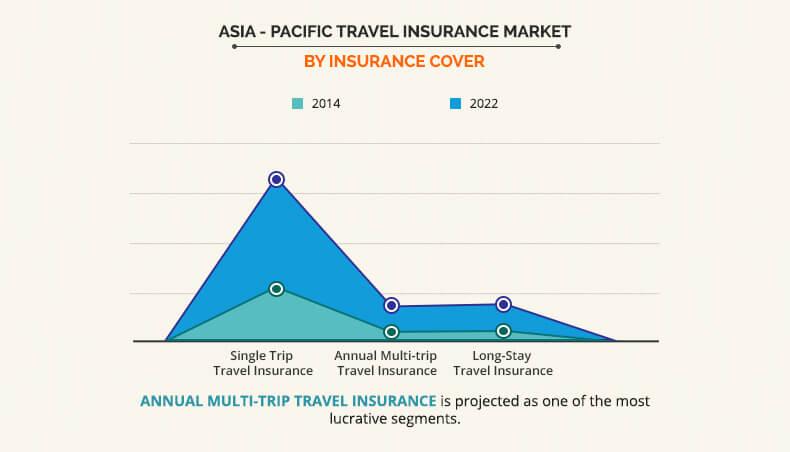 India Possesses High Market Potential
The Indian tourism industry is growing at a steady rate, but the travel insurance market is still in its nascent stage. Increase in awareness related to the significant advantage of travel insurance among the Indian population presents a major opportunity for India to become one of the major travel insurance markets worldwide. Apart from international travelers, the number of domestic travelers across India has also increased. It has been observed that 30 million Indians are subject to domestic traveling each year, thus providing a major opportunity for expansion. Thus, the Indian travel insurance market is expected to grow at a relatively high CAGR during the forecast period.
Domestic travel insurance has witnessed stable growth in India over the past five years, primarily in partnership with tour operators, online travel agents, and airlines. Moreover, single-trip travel insurance is expected to dominate this country, as many travelers purchase the policy that is available while booking a ticket or some use online travel guide to download a plan for purchasing a policy. Over the next five years, online insurance in India is expected to grow at a significant rate, thus creating a substantial opportunity for the travel insurance market. Indians are adopting online-based services at a high rate, due to ease of use, provision of variety of plan selection, and high penetration of internet and smartphones.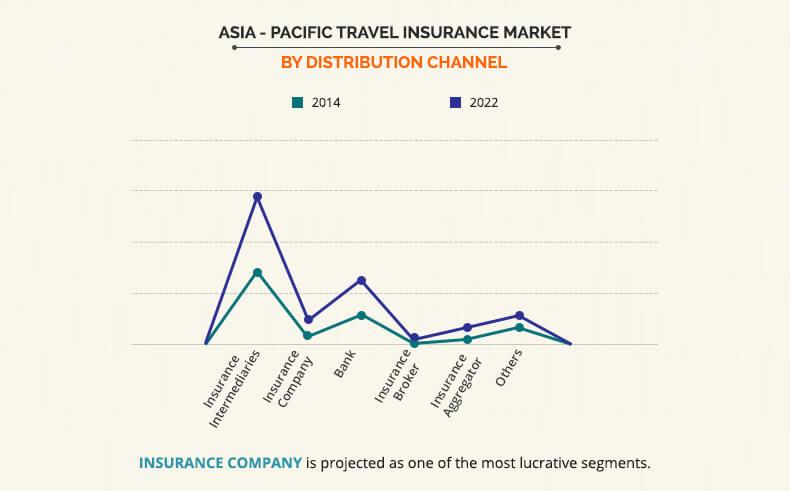 Change in International Travel Regulation
Government of various countries, such as Japan, Malaysia, Australia, and Thailand, focus on formulating regulations that mandate the travel insurance for all international travelers to secure the travel of the citizens. Japan has a national health insurance system that covers all the residents of the country, but it is cautious about treating foreign patients due to the low security of reimbursement of expenses incurred. Moreover, the Reciprocal Health Care Agreement, a public health system in New Zealand, offers free hospital care and medical treatment for patients; however, high cost of treatment may limit the patient, in terms of excessive cost. Therefore, government and travel industry across the countries of Asia-Pacific aim on providing travel insurance to the travelers before their journey to secure them from any such type of circumstances.
Key Benefits
A comprehensive analysis of the current trends and future estimations in the Asia-Pacific travel insurance market is provided.
The report elucidates on key drivers, restraints, and opportunities and a detailed impact analysis.
Quantitative analysis is provided from 2014 to 2022, with 2015 as the base year and forecast from 2016 to 2022.
Porters Five Forces model of the industry illustrates the potency of the buyers and suppliers in the market.
A quantitative analysis of the current scenario and the forecast period highlights the financial competency of the market.
The report provides a detailed analysis of the market with respect to distribution channel, insurance cover, end user, and country.
 Asia-Pacific Travel Insurance Market Report Highlights
Aspects
Details
By Distribution Channel

Insurance Intermediaries
Insurance Companies
Banks
Insurance Brokers
Insurance Aggregators
Others

By Insurance Cover

Single trip travel insurance
annual multi-trip travel insurance
long-stay travel insurance

By End User

Senior Citizens
Education Travelers
Backpackers
Business Travelers
Family Travelers
Fully Independent Travelers

By Country

China
Japan
India
Australia
New Zealand
Thailand

Key Market Players
MS&AD Insurance Group Holdings, Inc, Ace Insurance Company Limited, Dongbu Group, Munich Reinsurance Company, China Pacific Insurance Co., Ltd, Bajaj Finserv Ltd, Ping An Insurance Company of China, Ltd, Allianz Group, American International Group Inc, Tokio Marine Holdings, Inc