ASIC Chip Market Outlook - 2026
The global ASIC Chip market size was valued at $14.87 billion in 2018, and is projected to reach $28.05 billion by 2026, growing at a CAGR of 8.6% from 2019 to 2026. Application Specific Integrated Circuit (ASIC) chip is a kind of microchip that is designed into a system to control or perform particular functions such as ROM manufacturing, microcontrollers, and IP cores. ASICs are used in a wide-range of applications, including auto emission control, environmental monitoring, and personal digital assistants (PDAs).
ASIC chip is usually simple in design and requires low power requirements for its computational operations. For instance, Bitcoin Miner is one of the most demanding application in ASIC chip as it requires low power & high -speed hardware. These chips are also equipped with features such as storing and retrieving data from the memory. They commonly work as part of a computer system along with memory and other input-output devices.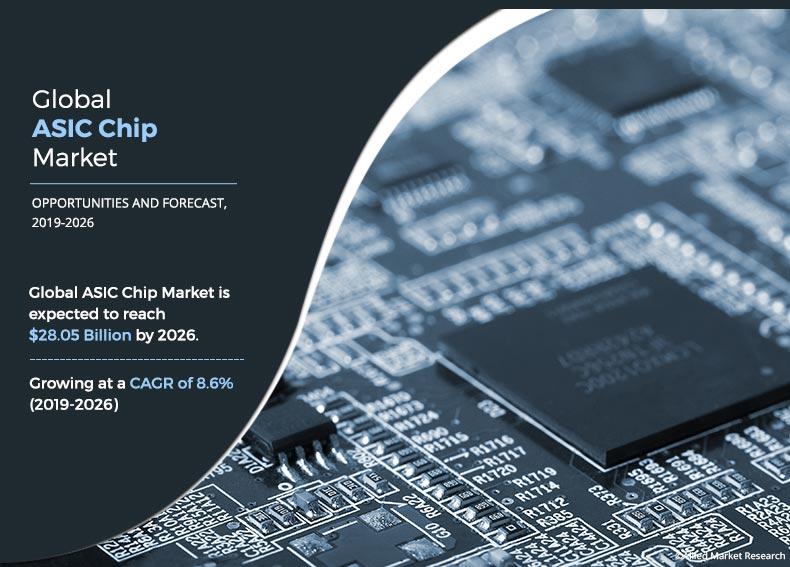 The main advantage ASIC chip offers is, it minimizes the size of a chip as it enables to perform the various number of functions of a circuit over a single chip. It includes a 32-bit microprocessor, memory blocks, and network circuits. Such type of ASICs are known as System on Chip. With the enhancement in the manufacturing and research technology ASIC chips are developed customizable, due to which they provide low flexibility for programming.
Programmable ASIC segment is projected as one of the most lucrative segments.
In May 2019, Marvell announced the sale of its Wi-Fi Connectivity business to NXP for $1.7 billion.  That month, Marvell also announced its plans to acquire GlobalFoundries' ASIC business for $650 million and buy Multi-Gig Ethernet and networking controller supplier Aquantia for $452 million as the company shifts its emphasis on data centers and related networks. There have been a half-dozen semiconductor acquisition announcements in 2019 valued at $1 billion or more, together representing 89% of the M&A total so far this year.
ASIC Chip Market

---
By Application
Data -Processing Systems segment is expected to secure leading position during forecast period.
Factors such as advancement in chip technology, increase in demand for ASIC chip in consumer electronics, and rise in demand for customizable ICs, have boosted the growth of the global ASIC chip market. However, lack of skilled workforce and extra time consuming development act as a major restraint, thereby hampering the market growth. Furthermore, surge in adoption of ASIC chip in developing countries and increase in smart computing devices offer lucrative opportunities for the ASIC chip market growth globally.
ASIC Chip Market

---
By Region
Asia-Pacific region would exhibit the highest CAGR of 8.6% during 2019-2026
SEGMENTATION
The global ASIC chip market is analyzed by type, application, and region. Based on type, the market is analyzed across full custom, semi-based custom and programmable logic devices. On the basis of application, the market is divided into aerospace subsystem & sensor, wireless communication, medical instrumentation, telecommunication products, consumer electronics, and others. Based on region, it is analyzed across North America, Europe, Asia-Pacific, and LAMEA along with their prominent countries.
The key players profiled in the report include AMD, Texas Instruments, On Semiconductor, Xilinx Inc., Samsung Electronics Ltd., TSMC, Intel Corporation, Infineon Technologies, Bitmain Technologies Ltd., and NVIDIA Corporation. These key players have adopted strategies, such as product portfolio expansion, mergers & acquisitions, agreements, geographical expansion, and collaborations, to enhance their market penetration.
TOP IMPACTING FACTORS
The notable factors positively affecting the ASIC chip market include advancement in chip technology, increase in demand for ASIC chip in consumer electronics, and surge in demand for customizable ICs. However, lack of skilled workforce and takes  time c during the development process, which hampers the market growth. This factor is expected to slow down the market growth. Moreover, rise in adoption of ASIC chip in the developing countries and increase in smart computing devices offers huge market opportunities in the next six years.
Advancement in Chip technology
Technological advancements in memory chip and programmable solutions such as FPGAs and ASICs, enhance the performance in connected devices and data centers. For instance, Intel's 3D XPoint technology significantly improves access to large amounts of data. Next generation chip such as FPGA and ASIC can efficiently meet the changes in demands for data centers and speed up the performance in other applications. The combination of FPGAs and ASICs with cloud products helps enhance the overall performance of data centers enabling it to be an important part of the servers. Hence, advancement in technology drives the growth of the global ASIC chip industry.
Time-consuming
The invention of ASIC has caused a tremendous change in our daily lives. Today, we have different types and configurations of IC's. But these ASICs can be limited only for one specific application while some ICs can be reprogrammed and used for various applications, but these cannot be reprogrammed or neither can be used for general application as they are customized. Moreover, these chips have to be designed from the basic level as they are designed to perform particular task which are highly costly per unit and takes larger time to market margin.
Rise in adoption of ASIC chip in developing regions
Recent developments in the emerging economies, such as China and India, across various industry verticals, which include media & advertising, finance, retail, healthcare, automotive & transportation, and others, have created a major growth potential for ASIC chip. The time & cost benefits provided by ASIC chip are the major growth factors leading to its increased adoption in the developing regions. All these factors together fuel the growth of the market.
Key Benefits for Asic Chip Market:
This study includes the analytical depiction of the global ASIC chip market along with the current trends and future estimations to determine the imminent investment pockets.
The ASIC chip market is determined to understand the profitable trends to gain a stronger foothold.
The report presents information related to key drivers, restraints, and opportunities with a detailed impact on the ASIC Chip market analysis.
The current ASIC chip market forecast is quantitatively analyzed from 2018 to 2026 to benchmark the financial competency.
Porter's five forces analysis illustrates the potency of the buyers and suppliers in the ASIC chip market.
The report includes the ASIC chip market share of key vendors and ASIC Chip market trends.
 ASIC Chip Market Report Highlights
Aspects
Details
By Type

Full custom ASIC
Semi- custom ASIC
Programmable ASIC

By Application

Aerospace Subsystem & Sensor
Telecommunication Products
Medical instrumentation
Data processing systems
Consumer Electronics
Others

By Region

North America (U.S., Canada, Mexico)
Europe (UK, Germany, France, Russia, Rest of Europe)
Asia-Pacific (China, India, Japan, Australia, Rest of Asia-Pacific)
LAMEA (Latin America, Middle East, Africa)

Key Market Players
ADVANCED MICRO DEVICES, INC., Bitmain technologies ltd., Infineon technologies, Intel corporation., Nvidia corporation, Samsung electronics co. Ltd., Taiwan semiconductor manufacturing, Texas instruments, Xilinx, inc., On semiconductor