Assistive technology for students with learning disabilities market was valued at $154.67 million in 2020, and is estimated to reach $298.13 million by 2030, growing at a CAGR of 6.9% from 2021 to 2030.
The assistive technology for students with learning disabilities market have witnessed strong impact due to the outbreak of COVID-19, forcing hospitals, clinics, and primary care doctors to alter the ways they conduct business. However, the webinars has become an appropriate and effective way to provide necessary services to the learning disability patients, which drives the market growth in near future
Learning disability is a neurodevelopmental disorder that negatively impacts a person's ability to listen, speak, read, write, or make calculations. A learning disability is distinct from intellectual development disorder; children with learning disability usually have at least average intelligence but are still not able to acquire academic skills expected for their age, intellectual ability, experience, and education.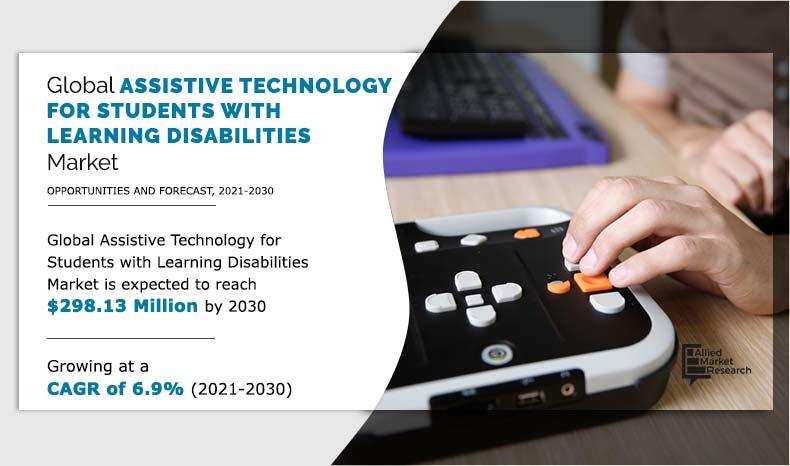 According to a recently released Public Health England survey, individuals with learning disabilities are more likely to be exposed to COVID-19 infection. These people are at high risk of losing their lives due to the COVID-19 infection, due to lack of care provided to individuals with disabilities. This has created incremental benefits for businesses in the market for learning disability treatment, where organizations can minimize mortality rates by encouraging routine patient testing. To minimize exposure to COVID-19, routine staff testing and proper sanitization of their personal protective equipment (PPE) are important. Furthermore, many learning disability organizations started online services such as webinars in everyday business to help patients get the care they need while staying safe.
Increase in prevalence of learning disorders, rise in special schools, and growth in awareness program regarding learning disability drive the market growth. Moreover, growing awareness about mental disorders through education and advocacy for more respect of human rights and less stigma drive the growth of the global assistive technology for students with learning disabilities market. However, limited availability of special teachers is expected to hamper the market growth.
Governments have been taking various initiatives to enhance the lives of individuals suffering from learning disabilities. For instance, the Government of Europe is focused on reducing health inequalities for people with learning disabilities and have established various national programs to enhance the treatments and outcomes. 
Furthermore, Europe's parliament has funded several pilot projects implemented by the Commission to test the feasibility and usefulness of an action. For instance, VulnerABLE (2015–2017) explored ways to improve the health of people living in vulnerable and isolated situations across Europe. Owing to their circumstances, these groups may be at a greater risk of poor health, and may also face barriers in accessing healthcare services. The project focused, in particular, on children and families from disadvantaged backgrounds; those with physical, mental, and learning disabilities; or poor mental health. These government initiatives are expected to aid in creating awareness about learning disabilities, which, in turn, is likely to notably contribute toward the growth of the market
Assistive Technology For Students With Learning Disabilities Market Segmentation
The assistive technology for students with learning disabilities market is segmented into product type, condition, end user, and region. By product type, the market is categorized into hardware (which is further segmented into talking electronic devices, switches, portable word processors, and others) and software (which is subsegmented into spelling/grammar checkers, electronic organizers, educational games, freeform database software, and others). Depending on condition, the market is segregated into processing deficits, processing deficits autism, dyslexia, dyscalculia, dysgraphia, and others. On the basis of end user, it is fragmented into a specialized schools, universities, and others. 
Region wise, the market is analyzed across North America (the U.S., Canada, and Mexico), Europe (Germany, France, the UK, Italy, Spain, and rest of Europe), Asia-Pacific (Japan, China, India, Australia, and rest of Asia-Pacific), and LAMEA (Brazil, South Africa, Saudi Arabia, and rest of LAMEA).
Segment review
Depending on product type, the software segment was the major revenue contributor in 2020, and is anticipated to remain dominant during the forecast period. This is attributed to the fact that software solutions offer institutions with well-organized enterprise resource planning (ERP) systems that help faculty members build enhanced courses and manage classrooms and schools proficiently. Online education platforms create virtual classrooms, enabling teachers to manage a large audience without any budget constraint. On the basis of condition, the dyslexia segment dominated the market in 2020, and is anticipated to continue this trend during the forecast period. The large share of this segment is attributed to increase in prevalence of dyslexia across the globe. 
North America was the largest shareholder in the assistive technology for students with learning disabilities market in 2020, owing to its well-established healthcare infrastructure and supportive government regulations for product commercialization. However, Asia-Pacific is anticipated to register the highest CAGR during the forecast period, owing to increase in awareness regarding benefits of learning apps and development of healthcare infrastructure. 
The key players operating in the global market include Ablenet, Inc., Adaptivation, Inc., Rehabtool, LLC., Kurzweil Education, Enabling Devices, Inclusive Technology, Scanning Pens, Inc., Tobii Dynavox, Praetorian, Rehacom, Timocco, Osmo, and Skoog.
Key Benefits For Stakeholders
The study provides an in-depth analysis of the assistive technology for students with learning disabilities market, and the current trends and future estimations to elucidate the imminent investment pockets.
It presents a quantitative analysis of the market from 2021 to 2030 to enable stakeholders to capitalize on the prevailing market opportunities.
Extensive analysis of the market based on procedures and services assists to understand the trends in the industry.
Key players and their strategies are thoroughly analyzed to understand the competitive outlook of the market.
Key Market Segments
By Product Type
Hardware 

Talking Electronic Devices 
Switches
Portable Word Processors 
Others 

Software 

Spelling/Grammar Checkers 
Educational games
Electronic Organizers 
Freeform Database Software 
Others
By Condition
Processing Deficits
Processing Deficits Autism
Dyslexia 
Dyscalculia
Dysgraphia
Other Conditions
By End Users
Specialized Schools
Universities
Others
By Region
North America
Europe

Germany
France
UK
Italy
Spain
Rest of Europe

Asia-Pacific

Japan
China
India
Australia
Rest of Asia-Pacific

LAMEA

Brazil
South Africa
Saudi Arabia
Rest of LAMEA
Key Market Players 
Ablenet, Inc.
Adaptivation, Inc.
Rehabtool, LLC.
Kurzweil Education 
Enabling Devices
Inclusive Technology
Scanning Pens, Inc.
Tobii Dynavox
Praetorian
Rehacom 
Timocco
Osmo 
Skoog