Australia Balustrade Market Statistics- 2027
The Australia balustrade market size was valued at $44.1 million in 2019, and is projected to reach $54.5 million by 2027, registering a CAGR of 4.0% from 2020 to 2027. The balustrade is a handrail supported by balusters, especially installed in balcony, terrace, and others. These balustrades are available in various sizes, patterns as well as materials for installation in residential and commercial spaces.
Rise in demand for commercial infrastructure developments in Australia drives the Australia balustrade market growth. For instance, Canberra's largest independent hotelier DOMA built and inaugurated Little National hotel in Sydney in September 2020. Similarly, in December 2020, Australian boutique hotel group opened Lance more Crossley St. in Melbourne, which includes 113 private guest rooms with an exotic interior. Moreover, many commercial construction companies are engaged in business expansion in Australia to expand their production base and increase their production. Such factors offer lucrative growth opportunities for the market players during the forecast period.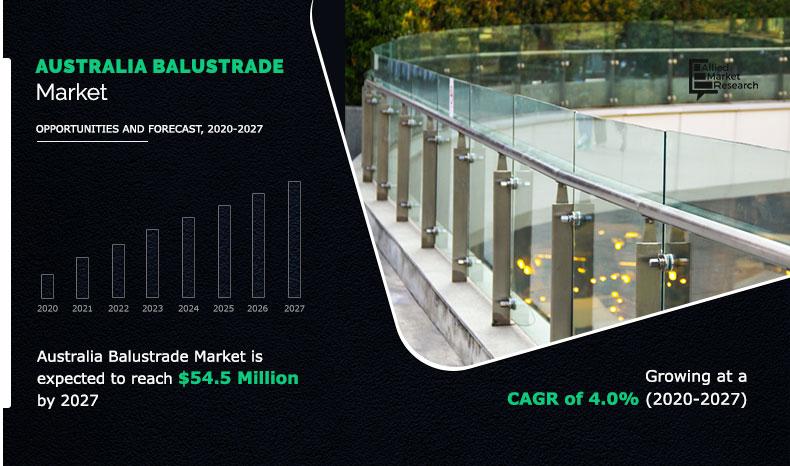 In addition, surge in urbanization and population have fueled the demand for balustrade in residential and commercial spaces. Moreover, rise in demand for residential buildings is expected to continue to drive the Australia balustrade market growth. In addition, in June 2020, Prime minister of Australia announced the HomeBuilder scheme worth $688 million for Australians who are looking to build or renovate their houses. The grants are open to people whose income is less than $125,000 annually. In addition, in May 2020, Property Council of Australia (PCA) recommended a $50,000 new home boost scheme to help the building industry. However, the fluctuation in raw material prices may hinder the market growth. 
Moreover, expansion of old and setting up new planned cities is expected to provide lucrative opportunities for the Australia balustrade market development. Saturation of major cities in Australia has led governments to expand boundaries of existing cities or planning of a complete new city to balance development and economy in all the parts of the country. For instance, the Green Building Council of Australia (GBCA) has announced a new smart cities plan. The plan not only includes the urban areas, but also the surrounding towns. In addition, the consolidated land and rail Australia (CLARA) proposes building up around eight new smart cities, which are to be connected by a rail system linking Melbourne via Canberra and Sydney. These cities are designed to be environmentally sustainable, compact, and nearby from the capital cities. Such expansion and setup plans for new cities will increase migration, which in turn, boosts the demand for residential and commercial real estate among investors. Hence, such factors provide lucrative opportunities for the Australia balustrade market growth.
Australia Balustrade Market

---
By Railing Type
Exterior Railing segment is projected to grow at a significant CAGR
The novel coronavirus is rapidly spreading across various countries and regions, causing enormous impact on lives of people and overall community. Originating as a crisis to human health, it now poses significant threat to the worldwide trade, economy, and finance. The impact of lockdown, owing to COVID-19 is vague and economic recovery of Australia balustrade manufacturers is completely based on its cash reserves. Market players can afford a complete lockdown only for a limited period, after which they would have to alter their investment plans. The Australia balustrade manufacturers need to emphasize on protecting their staff, operations, and supply chain partners to effectively respond toward immediate crisis and discover new ways of working after coronavirus cases begin to decline. 
Australia Balustrade Market

---
By Material Type
Glass segment holds dominant position in 2019
Furthermore, number of COVID-19 cases are expected to reduce in the near term as vaccine for COVID-19 is expected to be introduced by the end of 2021 or beginning of 2022. This is further expected to lead to re-initiation of Australia balustrade companies at their full-scale capacities, which is expected to help the market to recover by the start of 2022.
The Australia balustrade market is segmented on the basis of railing type, material type, and application. On the basis of railing type, the market is divided into interior railing, and exterior railing. On the basis of material type, it is classified into stainless steel, aluminum, wood, glass, and others. On the basis of application, the market is divided into residential, and non-residential.
Australia Balustrade Market

---
By Application
Non-Residential segment holds a dominant position in 2019 and Residential segment is expected to grow at a significant rate during the forecast period.
Competition Analysis
Key companies profiled in the Australia balustrade market report include Absolute Balustrades, Advance Metal Industries (AMIA), Aluline, Aluminum Balustrades, Ammi Balustrades, Balustrading WA, Betta Balustrades, Oxworks, Protector Aluminum, and Ullrich.
Key Benefits For Stakeholders
The report provides an extensive analysis of the current and emerging Australia balustrade market trends and dynamics.  
In-depth Australia balustrade market analysis is conducted by constructing market estimations for the key market segments between 2019 and 2027. 
Extensive analysis of the Australia balustrade market is conducted by following key product positioning and monitoring of the top competitors within the market framework.
A comprehensive analysis of all the regions is provided to determine the prevailing opportunities.
The Australia balustrade market forecast analysis from 2020 to 2027 is included in the report.
The key players within the Australia balustrade market are profiled in this report and their strategies are analyzed thoroughly, which help understand the competitive outlook of the Australia balustrade industry. 
Australia Balustrade Market Segments
By Railing Type
Interior Railing
Exterior Railing
By Material Type
Stainless Steel
Aluminum
Wood
Glass
Others
By Application
Residential
Non-Residential
Key Players
Absolute Balustrades
Advance Metal Industries (AMIA)
Aluline
Aluminum Balustrades
Ammi Balustrades
Balustrading WA
Betta Balustrades
Oxworks
Protector Aluminum
Ullrich
 Australia Balustrade Market Report Highlights
Aspects
Details
By RAILING TYPE

Interior Railing
Exterior Railing

By MATERIAL TYPE

Stainless Steel
Aluminum
Wood
Glass
Others

By APPLICATION

Residential
Non-residential

Key Market Players
ADVANCE METAL INDUSTRIES AUSTRALIA, BALUSTRADING WA, PROTECTOR ALUMINUM, ALUMINUM BALUSTRADES, OXWORKS, ULLRICH, ALULINE, ABSOLUTE BALUSTRADES, .AMMI BALUSTRADES, .BETTA BALUSTRADES