The Australia tattoo removal market size was valued at $1.14 million in 2018, and is projected to reach $3.04 million by 2026, registering a CAGR of 13.0% from 2019 to 2026. Tattoo is defined as the temporary or permanent mark made on body part by inserting pigment or ink under the skin. It is associated with various sentimental and ritual values of people since ancient times. Presently, the tattoo market is growing at a significant rate, owing to fading of tattoo, change in trends & taste of people, change in profession. The removal process can be done by using laser surgery, dermabrasion, tattoo removal creams, and surgical removal, and plastic surgery. The use of laser techniques for tattoo removal is predominant in the industry. For instance, Q-switched Nd:YAG laser, Q-switched ruby laser, and Q-switched alexandrite laser are used for removal of red, black, and blue pigments, respectively. Application of creams is more convenient for removal of tattoos as compared to laser and surgical procedures, as these procedures are painful; however, the use of creams is time-consuming and relatively less effective. As per the data published by the Australian National Health and Medical Research Council, about 25% of Australian aged 20 to 30 have at least one tattoo. Approximately 24% of people who have tattoo regret getting it, and 1 in every 7 people wants the tattoos to be removed. Approximately, more than 10 sessions are required for tattoo removal using lasers. In addition, major medical aesthetic companies are introducing advanced lasers for faster results for various challenging dermatological indications such as tattoo removal. For instance, in 2018, Alma Lasers, a global innovator of light-based, ultrasound, radio frequency and laser solutions company, launched laser device, Pico Clear at Barcelona that is specifically used in removal of colored ink tattoos, dark ink tattoos, birthmarks, benign pigmented lesions, acne scars, and wrinkles. 
The tattoo removal market in Australia is witnessing a significant growth, owing to rise in trend of tattooing among the Australian populace and introduction of effective tattoo removal treatments. Furthermore, the tattoo removal industry is not regulated in Australia, thus, currently there are no separate tattooist licenses for establishing a formal tattoo parlor. This encouraged tattoo artists to set up their own studios. Thus, upsurge in number of tattoo parlors has led to rise in number of people getting inked. According to No Ink Solutions, a leading manufacturer & supplier of printing inks, state done among five Australians was wearing a tattoo in 2018. This, in turn, increased the chances for tattoo removal, which acts as a key factor driving the growth of the tattoo removal market. Furthermore, tattoo removal due to personal and professional reasons has boosted the need for tattoo removal process. However, high cost associated with tattoo removal is expected to hinder the market growth. The Australian tattoo removal market is segmented into procedure and end user. On the basis of procedure, the market is classified into lasers, surgical, creams, and others. By end user, it is segregated into hospitals, clinics, and others.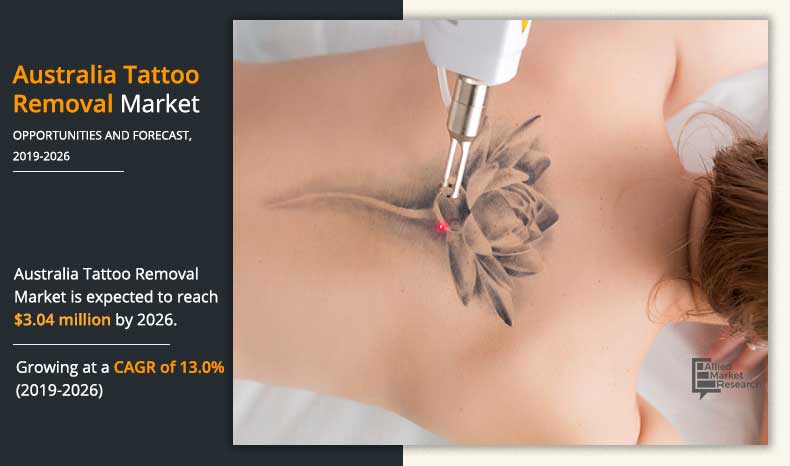 Procedure segment review
Depending on procedure, the Australian tattoo removal market is classified into laser procedures, surgical procedures, creams, and others. The laser segment is expected to possess high growth potential, owing to the shift in preference of individuals toward laser removal of tattoo rather than opting for surgical method, as it is a highly invasive and painful treatment. Laser procedure makes use of beam of light responsible for absorbing specific colors of ink. This light penetrates the skin and produces shockwave effect that dissolves the ink into smaller particles. These particles are identified as foreign to the body's immune system, thereby eliminating them from the body. Different types of lasers are available in the market, which include Q-switched Nd:YAG laser and Q-switched alexandrite laser. These lasers use a powerful burst of energy to shatter the pigments within a tattoo into tiny particles, which are then easily removed.The laser segment registered the fastest rate in 2018, followed by creams segment. This is attributed to the benefits offered by laser tattoo removal technology. For instance, this procedure involves no long-term damage, no skin color limitation, and lesser pain. However, each laser is responsible for targeting a different family of colors. Thus, key players are investing significantly to develop products that remove the entire spectrum of colors in fewer treatment cycles. Furthermore, the growth of the creams segment is driven wider availability of creams in Australia. In addition, creams are considered as least expensive option for tattoo removal. However, there are no significant evidence for permanent removal of tattoos using these creams. The best these creams can offer is fading or lightening of the tattoo.
Australia Tattoo Removal Market

---
By Procedure
Australia tattoo removal market, by procedure, 2018–2026 ($Million)
End-user segment review
By end user, the Australia tattoo removal market is segregated into hospitals, clinics, and others. The clinics segment dominated the market in 2018, and is anticipated to maintain this trend throughout the forecast period. This is attributed to the preference among individuals for clinics due to availability of advanced equipment for tattoo removal as compared to hospitals and other end users. The presence of several clinics for tattoo removal in Australia is anticipated to create lucrative opportunities for the growth of the market during the forecast period. For instance, Think Again Laser Clinic, ENRICH Dermatology & Cosmetic Clinic, Melbourne Tattoo Removal Clinic, Tattoo Laser Dermatology Clinic, and Quantum Tattoo Removal Clinic are some of the major tattoo removal clinics in Australia. Moreover, most of the clinics are well-equipped with Q-switched lasers technology along with most diversified wavelengths required for laser removal of different pigments in tattoos. Thus, all these factors together augment the growth of the Australian tattoo removal market for clinics segment. The hospital segment is expected to grow at a moderate rate in coming years, owing to increase in adoption of advanced technology for tattoo removal by hospitals in Australia. Furthermore, rise in popularity of surgical-based procedures such as mini-punch skin excision and dermabrasion for tattoo removal is leading to increased demand for tattoo removal in hospitals. Thus, all these factors collectively are expected to boost the growth of Australian tattoo removal market for hospital segment in the coming future.
Australia Tattoo Removal Market

---
By End User
Australia Tattoo Removal Market, By End User, 2018-2026 ($Million)
The report provides a comprehensive analysis of the key players operating in the Australia tattoo removal market, namely Agic Capital, Bison Medical, Candela Corporation, Cryomed Aesthetics, Cutera Pty. Limited, Cynosure, Inc., Fosun Pharma, Lumenis, Lutronic Corporation, and Global Beauty Group.
Key Benefits For Stakeholders
This report provides a detailed quantitative analysis of the current Australia tattoo removal market trends and forecast estimations from 2019 to 2026, which assist to identify the prevailing market opportunities. 

A comprehensive analysis of factors that drive and restrain the growth of the global is provided.

Country-wise market conditions are comprehensively analyzed in this report.

The projections in this report are made by analyzing the current trends and future market potential from 2019 to 2026, in terms of value.

Key market players within the Australia tattoo removal market are profiled in this report and their strategies are analyzed thoroughly, which help to understanding competitive outlook.
 Australia Tattoo Removal Market Report Highlights
Aspects
Details
By Procedure

Laser procedure
Surgical procedures
Creams
Others

By End User
Key Market Players
CRYOMED AESTHETICS, CYNOSURE, INC., LUTRONIC CORPORATION, BISON MEDICAL, CUTERA PTY. LIMITED, LUMENIS, FOSUN PHARMA, AGIC CAPITAL, GLOBAL BEAUTY GROUP, CANDELA CORPORATION