Australian Pressure Safety Valve Market Overview:
The Australia Pressure Safety Valve Market size was valued at $52.12 million in 2017 and is expected to reach $65.38 million by 2025, registering a CAGR of 2.88% from 2018 to 2025. Pressure safety valves, also known as pressure relief valves or simply relief valves, ensure safety of pressure-based systems.
Industrial valves comprise many products that manage the flow of gases and fluids in industrial applications. Among these, pressure safety valves are designed for process control, process safety, original equipment manufacturer (OEM) applications, and others across several end-user industries. These valves prevent the over-pressurization of pressure-based equipment and machineries by sensing and subsequently guiding the additional surge in pressure towards alternate passages or into atmosphere. As a result, they are used in steam boilers, heating boilers, pressure-based vessels and systems, OEM applications, industrial machineries, and other applications. The valve design and construction are varied to have a manual or automatically-operated opening and closing of valves at working settings during the system operation.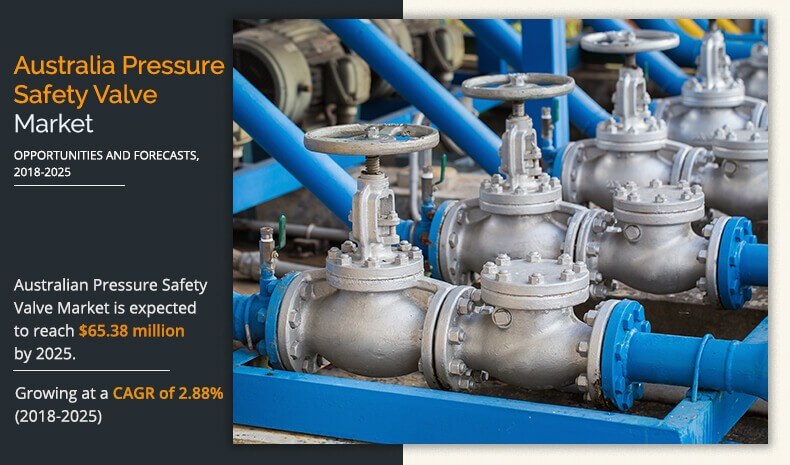 Industrial spending towards increasing the manufacturing and production capabilities of Australian end-user industries has a profound influence over the growth of pressure safety valve market over the forecast period. To cater to the increase in demand to improve plant efficiency, equipment and machinery are constantly operated around maximum capabilities. As a result, to ensure the workplace safety and prevent over-pressurization of pressure systems, constant observation and supervision of pressure safety valves are mandatory to reduce the additional pressure developed during operation. This drives the demand for safety valves and their components across many end-user industries. Moreover, the Australian governments initiatives towards extensive offshore exploration of Australian waters to determine the potential availability of natural gas and petroleum reserves are also anticipated to boost the demand for safety valves in the oil & gas sector. However, the increasing technical and manufacturing capabilities of emerging economies in the Asian region are expected to hinder the growth of certain end-user industries, such as chemicals, textile, paper & pulp, commercial construction, and others. Whereas, achieving competitive prices in niche segments, such as OEMs and industry sectors, is anticipated to provide profitable opportunities for the Australian pressure safety valve market players.
The safety valve market provides safety valves and their components for subsequent maintenance, services, and repairs. As a result, on the basis of offering, the market is bifurcated into safety valve and safety valve component. Further, the safety valve types are spring loaded valves, pilot operated valves, and dead weight valves. Safety valves have numerous applications across different industry verticals. For instance, safety valves find significant application in chemicals dosing, water treatment, mid-stream, up-stream, down-stream, chemicals processing, construction, food processing, industrial waste treatment, and others. Safety valves are used in various end-user industries, such as oil & gas, power & energy, healthcare & pharmaceutical, water supply system, and others.
As depicted in the figure above, the safety valve market constitutes a significant market share among the offerings. However, the safety valve component market is expected to witness attractive growth rates in the forecast period. Factors, such as new plant installations, sophisticated machinery, and expansion of production capacity, are major driving factors for the safety valve segment. In addition, the continuous maintenance, services, and repairs-related activities continue to provide a steady stream of revenue for safety valve manufacturers. Thus, the Australian pressure safety valve market is anticipated to witness a moderate growth rate in the coming years.
The application of safety valves in mid-stream, up-stream, and down-stream applications in the oil & gas industry has resulted in significant installation of safety valves. Further, the wide distribution network of the oil & gas industry requires constant maintenance and services of its safety valves. As a result, the oil & gas industry accounted for a significant market share in the safety valve market shown below. Further, the increasing demand for water supply systems for non-residential and residential applications is anticipated to provide lucrative business opportunities for the market players resulting in a high growth rate during the forecast period.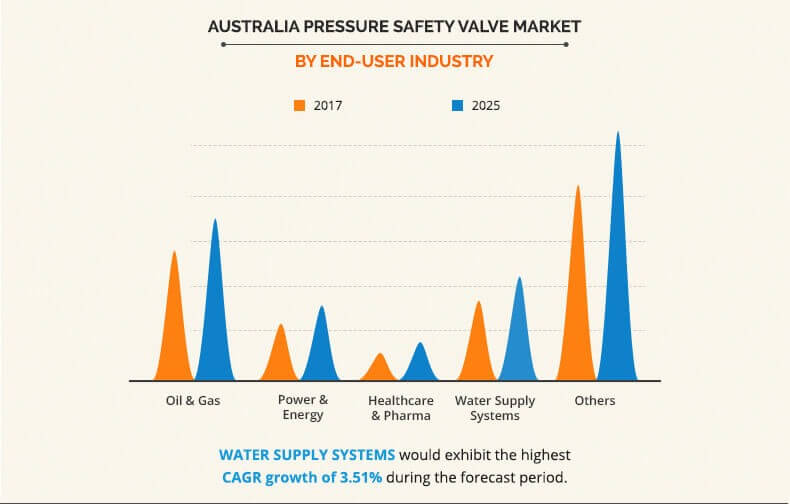 The report details a competitive analysis and profiles of the major players, such as Emerson Electric Co., Spirax Sarco Pty. Limited., Cebeco, Score Pacific PLC, Callidus Group, LESER, Powerflo Solutions, Mercer Valve Co., Inc., Western Process Controls, and Bourke Valves, in the Australian pressure safety valve market. Acquisition and partnerships are the key strategies adopted by the major players to retain their standing in the market.
Key Benefits
The report provides an extensive analysis of the current and emerging trends and dynamics in the global Australian pressure safety valve market.
An in-depth analysis is presented by constructing market estimations for the key market segments between 2017 and 2025.
An extensive analysis is arrived at by following key product positioning and monitoring the top competitors within the market framework.
A comprehensive analysis of all regions in Australia is provided to determine the prevailing opportunities in these geographies.
The key market players are profiled, and their strategies are analyzed thoroughly to understand the competitive outlook of the Australia pressure safety valve market.
Australian Pressure Safety Valve Market Key Segments:
By Offering
Safety Valve
Safety Valve Component
By Safety Valve Type
Spring Operated Valve
Pilot Operated Valve
Dead Weight Valve
By End-user Industry
Oil & Gas
Power & Energy
Healthcare & Pharmaceutical
Water Supply System
Others
Key Market Players
Bourke Valves
Callidus Group
Cebeco Pty. Ltd.
Emerson Electric Co.
LESER GmbH & Co. KG
Mercer Valve Company, Inc.
Powerflo Solutions
Score Group PLC
Spirax Sarco Pty. Limited
Western Process Controls