Auto Extended Warranty Market Outlook – 2030
The global auto extended warranty market size was valued at $34.19 billion in 2020, and is projected to reach $60.82 billion by 2030, growing at a CAGR of 5.9% from 2021 to 2030. Auto extended warranty is a kind of an insurance policy designed to cover the cost of wear and tear happened to car after the expiration of manufacturer's warranty. It is an optional warranty offered by manufacturers, dealerships, and independent providers at an extra cost beyond the purchase price of a product. 
During the COVID-19 global health crisis, the automotive industry remains one of the sectors most affected. The industry has experienced rapid declining in sales & increasing costs of vehicles, which has resulted in financial losses for both OEMs and suppliers. Moreover, supply chain disruptions and labor shortages are some of the major challenges faced by auto dealers and third-party providing auto extended warranty in the market.
Auto extended warranty provides protection on certain mechanical and electrical components, which are not covered under general auto warranty services such as powertrain, electrical system, air conditioning, and other systems. Auto extended warranty providers are enhancing awareness & benefits of an extended warranty plan and educating buyers about available products and services, which fuels the growth of the auto extended warranty industry.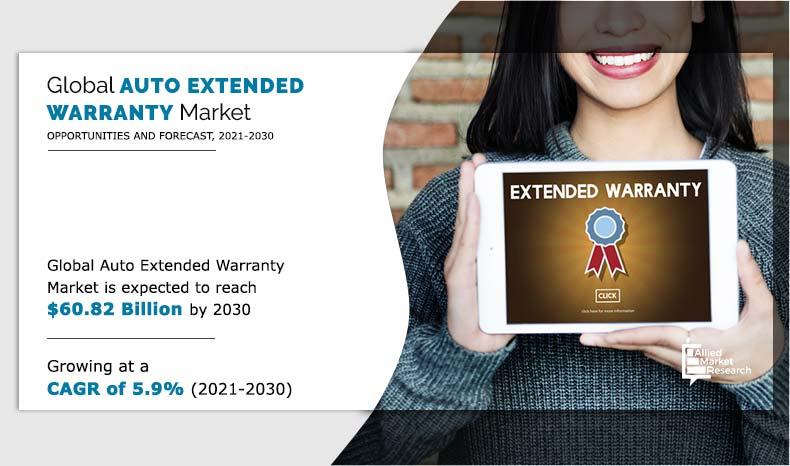 Get more information on this report : Request Sample Pages
The auto extended warranty market is expected to exhibit robust growth during the forecast period. The key factors impacting the growth of the market include increased awareness for extended warranty and rise in number of costly repair bills. Furthermore, decline in sale of cars hinders the growth of the market. Moreover, innovative services offered by major auto extended warranty players, and rise in demand for extended warranty coverage in automobiles are expected to boost the auto extended warranty market growth in the future. However, each of these factors is anticipated to have a definite impact on the overall auto extended warranty market forecast period.
By region, the auto extended warranty industry was dominated by North America in 2020 and is expected to retain its position during the forecast period. North America has witnessed a significant growth, owing to consumers in the region availing the auto extended warranties & service contracts (EWSCs) from different parties such as manufacturers, sellers of goods, and third-party insurers. However, the market for auto extended warranty is expected to witness an upsurge in Asia-Pacific owing to its emerging economies, high cost of repairs, several offers & benefits, and better customer experience provided under auto extended warranties.
The report focuses on the growth prospects, restraints, and trends of the global auto extended warranty market analysis. The study provides Porter's five forces analysis to understand the impact of various factors such as bargaining power of suppliers, competitive intensity of competitors, threat of new entrants, threat of substitutes, and bargaining power of buyers on the global auto warranty market.
Auto Extended Warranty Market

---
By Distribution Channel
Auto Dealers/Manufacturers segment will dominate the market during 2021 - 2030
Get more information on this report : Request Sample Pages
Segment Overview
The auto extended warranty market is segmented on the basis of coverage, distribution channel, vehicle age, application, and region. By coverage, it is fragmented into powertrain coverage, stated component coverage, and exclusionary coverage. By distribution channel, it is divided into auto dealers/manufacturers and third-party providers. By vehicle age, it is bifurcated into new vehicle and used vehicle. By application, it is categorized into personal and commercial. By region, the market is analyzed across North America, Europe, Asia-Pacific, and LAMEA.
Auto Extended Warranty Market

---
By Application
Personal segment will generate the highest revenue during the forecast period
Get more information on this report : Request Sample Pages
Competitive Analysis
The key players profiled in the market report are AAA Warranty Services, AmTrust Financial, ASSURANT INC., AXA, CARCHEX, CarShield LLC, Concord Auto Protect, Endurance Warranty Services LLC, Olive, and TATA Motors Limited. These key players have adopted various strategies, such as product portfolio expansion, mergers & acquisitions, agreements, geographical expansion, and collaborations, to increase their market penetration and strengthen their foothold in the industry.
Auto Extended Warranty Market

---
By Region
Asia-Pacific region would exhibit the highest CAGR of 9.6% during 2021 - 2030
Get more information on this report : Request Sample Pages
COVID-19 Impact Analysis
The COVID-19 pandemic has a negative impact on the auto extended warranty market, owing to consecutive lockdowns, social distancing norms, and decrease in demand for new vehicles globally. With severe lockdowns and shutdowns which have halted movement of customers and has tremendously disrupted automotive warranty companies are major factors declined the growth of auto extended warranty during the global health crisis.
Top Impacting Factors
Rise in Number of Costly Repairs Bills
The auto extended warranty market is expected to witness promising growth in the coming years owing to provide coverage for an expensive parts and components of vehicles that are prone to damage. Nowadays, cars are equipped with latest technologies which are quite expensive. So, when they fail, the repairs get automatically quite expensive in terms of mechanical breakdown, blast of bumper, oil change, repair or replacement of components and others. In 2019, according to the survey conducted by AAA, 60 billion Americans did not have enough money saved to cover a major car repair bill averaging $600 or more. 
In addition, another AAA survey discovered that over 30 billion people postponed or ignored regular car maintenance, which could lead to expensive breakdowns and repairs. For instance, while the average car repair bill cost about $600, a fuel pump repair could cost between $900 and $2,000, and transmission repairs could cost between $3,000 and $5,000.Repairs involving the engine control unit can also run in the thousands of dollars. Thus, increase in repair bills boosts the auto extended warranty market growth.
Implementation of Technologies in Existing Product and Service Lines
Increase in penetration of technologies such as GPS, telematics, artificial intelligence (AI), data analytics, blockchain, and big data is providing innovative opportunities to providers. With these technological developments, auto extended warranty distribution platforms are expected to enhance productivity for providing coverage seamlessly at the point-of-purchase. For instance, Endurance is one of the fastest-growing companies in the auto extended warranty industry, based in Northbrook, Illinois launched Endurance Advantage extended warranty plan. 
This plan covers both mechanical breakdowns as well as maintenance and provide cost up to $3,500 in maintenance, including oil and filter changes, brake pad and wiper replacements. Therefore, such new advanced services have become a major auto extended warranty market trends, which, is expected to provide a lucrative opportunity for auto extended warranty providers in the upcoming years.
Key Benefits For Stakeholders 
The study provides in-depth analysis of the global auto extended warranty market share along with current & future trends to illustrate the imminent investment pockets.
The report presents information related to key drivers, restraints, and auto extended warranty opportunity.
The auto extended warranty market size is quantitatively analysed from 2020 to 2030 to highlight the financial competency of the industry.
Porter's five forces of auto extended warranty analysis illustrates the potency of buyers & suppliers in the market.
Auto Extended Warranty Market Key Segments
By Coverage
Powertrain Coverage
Stated Component Coverage
Exclusionary Coverage
By Distribution Channel
Auto Dealers/Manufacturers
Third-Party Providers
By Vehicle Age
By Application
By Region
North America
Europe

UK
Germany
France
Italy
Rest of Europe

Asia-Pacific

China 
Japan
India
South Korea
Rest of Asia-Pacific

LAMEA

Latin America
Middle East 
Africa
Key Market Players
AAA Warranty Services
AmTrust Financial
ASSURANT INC.
AXA
CARCHEX
CarShield, LLC
Concord Auto Protect
Endurance Warranty Services, LLC
Olive
TATA Motors Limited