Autologous Cell Therapy Market Overview:
Autologous cell therapy is a therapeutic intervention with stem cells where the patient's stem cells are cultured and then expanded outside the body. These cells are then reintroduced in the body of the same patient. This therapy has lesser risks, as there are lesser chances of rejection of the cells that are reintroduced as they come from the same person. Over the years, autologous cell therapy has been used in the treatment of many chronic illnesses such as various forms of cancer and even blood disorders like thalassemia.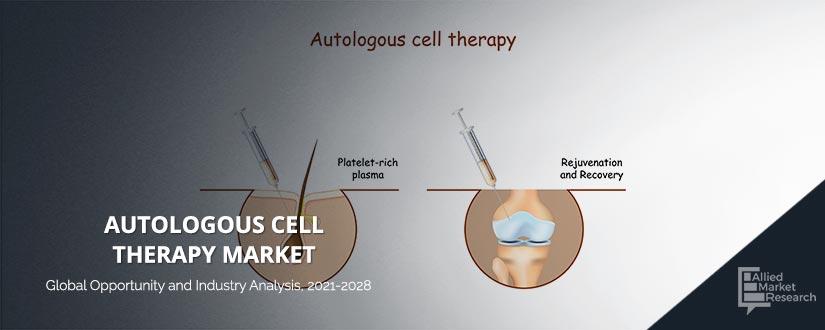 COVID-19 Impact Analysis
COVID-19 is an infectious disease that originated in the Hubei province of the Wuhan city in China in late December. The highly contagious disease, caused by a virus, severe acute respiratory syndrome coronavirus 2 (SARS-CoV-2), is transmitted from human to human. Since the outbreak in December 2019, the disease has spread to almost 213 countries around the globe with the World Health Organization declaring it a public health emergency on March 11, 2020.
Pharmaceutical and biotech companies together with governments around the globe are working to address the COVID-19 outbreak, from supporting the development of vaccines to planning for medicine supply chain challenges. Currently, around 115 vaccine candidates and 155 molecules are in the R&D pipeline. Moreover, commonly used drugs such as hydroxychloroquine have witnessed a dramatic surge in demand for the management of COVID-19. Such high demand for these drugs has presented huge opportunities for manufacturers of COVID-19 management drugs, as many developed countries are facing a shortage of these drugs. Thus, the pharmaceutical and biotechnology industry industries are expected to witness significant growth in the future, owing to the demand for vaccines and treatment drugs for COVID-19. This, in turn, is expected to have a significant impact on the autologous cell therapy market.
Top Impacting Factors
An increase in the number of people undergoing severe conditions has generated a requirement for autologous cell therapy, which drives the growth of the global autologous cell therapy market. Autologous cell therapy has a moderate risk of complexities when compared to other treatments, which acts as a key growth driver of the autologous cell therapy market.
The major determinants attributing to the growth of this market are increase in cases of chronic diseases such as autoimmune diseases, blood disorders, and cancer. Furthermore, endowments and investments done to the research facilities by public and private sectors help the market grow.
Other factors that are expected to propel the market growth are enhanced survival rate of patients, high affordability, no obligation for identification of an HLA-matched donor, and no chances of graft versus host diseases.
However, the cost of processing the autologous cell therapy is high, which restrains the autologous cell therapy market growth. However, if there is government intervention[AT1] in reimbursements through medical insurances, this restraint could be possibly removed.
Key Market Trends
To gain a larger share in the global autologous cell therapy market, major players are focusing on strategies such as mergers & acquisitions, product innovations, joint ventures, partnerships, and collaborations.
In April 2019, Hitachi Chemical Co. Ltd. acquired apceth Biopharma GmbH to extend its footprint for gene and cell therapeutics production in the contract development and manufacturing organization (CDMO) market.
In August 2019, BlueRock Therapeutics was acquired by Bayer, Inc. to maintain its place in the cell therapy market. BlueRock Therapeutics is a U.S.-based corporation that relies on establishing successful pluripotent stem cell preparations that are used in cell therapy development.
In August 2017, the merger and acquisition deal between Calimmune, Inc. and CSL Behring took effect. With this, Calimmune, Inc. offers CSL Behring with CAL-H, clinical asset, and hematopoietic stem cell (HSL) gene therapy for thalassemia and sickle cell disease therapy. It complements CSL Behring's extensive expertise in hematology and the current product portfolio.
Key Benefits of the Report
This study presents the analytical depiction of the autologous cell therapy industry along with the current trends and future estimations to determine the imminent investment pockets.
The report presents information related to key drivers, restraints, and opportunities along with a detailed analysis of the autologous cell therapy market share.
The current market is quantitatively analyzed from 2020 to 2028 to highlight the autologous cell therapy market growth scenario.
Porter's five forces analysis illustrates the potency of buyers & suppliers in the market.
The report provides a detailed autologous cell therapy market analysis depending on competitive intensity and how the competition will take shape in the coming years.
Questions Answered in the Global Autologous Cell Therapy Market Report
Which are the leading players active in the autologous cell therapy market?
How is each segment of the market expected to grow during 2021–2028?
What are the adoption trends for autologous cell therapy in emerging economies and established economies across the world?
What are the current trends that will influence the market in the next few years?
What are the driving factors, restraints, and opportunities of the market?
What future projections would help in taking further strategic steps?
What is autologous cell therapy?
What is autologous cell therapy market prediction in the future?
What are the current trends and predicted trends?
 Key Market Segments
Segments
Sub-segments
By Source

Bone Marrow
Epidermis
Mesenchymal Stem Cells
Hematopoietic Stem Cells
Chondrocytes

By Application

Cancer
Neurodegenerative Diseases
Wound Healing
Orthopedic
Cardiovascular Diseases
Autoimmune Diseases

End User
By REGION

North America
Europe

Germany
France
UK
Italy
Spain
Rest of Europe

Asia-Pacific

China
Japan
India
South Korea
Australia
Rest of Asia-Pacific

LAMEA

Brazil
Saudi Arabia
South Africa
Rest of LAMEA
 
Key Market Players
Bayer AG
, Daiichi Sankyo Co. Ltd.
Takeda Pharmaceutical Co. Ltd.
Teva Pharmaceutical Industries Ltd.
Holostem Terapie Avanzate Srl
Vericel Corp.
Osiris Therapeutics Inc.
Brainstorm Cell Therapeutics Inc.
Sumitomo Chemical Co. Ltd.
FUJIFILM Holdings Corp.