The global airless tire market was valued at $46.1 million in 2020, and is projected to reach $77.5 million by 2030, registering a CAGR of 5.6%. Asia-Pacific was the highest revenue contributor, accounting for $15.44 million in 2020, and is estimated to reach $27.35 million by 2030, with a CAGR of 6.2%.
The spread of the COVID-19 pandemic has had a detrimental influence on the Airless tire market due to travel restrictions and the expected weak financial performance of market players in 2020. The key risks for tire producers include supply chain execution, regulatory and policy changes, labor dependency, working capital management, and liquidity and solvency management. As a result of the COVID-19 outbreak, massive industrial disruptions have been reported and manufacturing companies across the globe have halted tire manufacturing operations. This has an impact on revenue streams committed to research and development, as well as the adoption of new technology such as plastic and solid tires. Furthermore, airless tire sales are inextricably related to automotive manufacturing and supply. As a result, changes in the automotive industry's manufacturing and sales activities are expected to have an immediate impact on the total demand for the Airless tire market.
Automobile tire is a vital component of any automobile since it provides safety and comfort to the driver and passengers. The fundamental function of the tire is to protect the wheel rim while providing tractive force between the vehicle and the road surface. Airless tire, also known as non-pneumatic tire (NPT) or flat-free tire, does not rely on air pressure for support, hence eliminating the need to periodically replenish the tires with air. Since it is constructed of rubber, it acts as a flexible cushion, reducing the impact of vibrations and cushioning the shock of the automobile. The leading automotive tire manufacturers such as Bridgestone and Michelin are boosting their efforts to produce airless tires for passenger automobiles, creating a substantial growth opportunity for the airless tire market.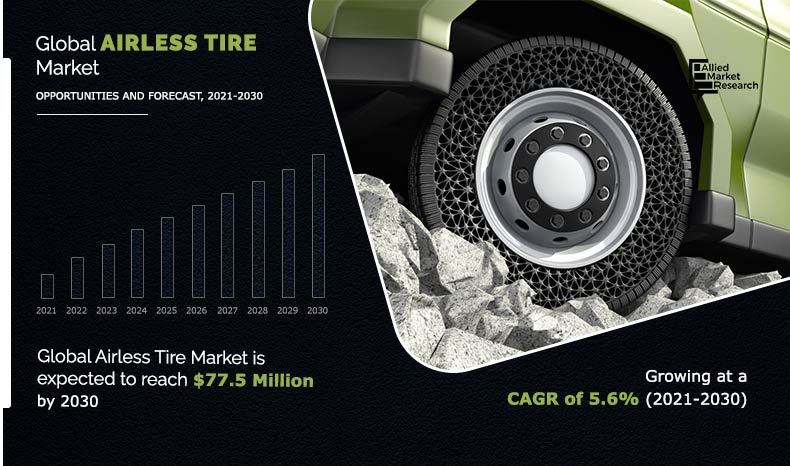 Increased demand for vehicle production to meet the increasing demand for automobiles across all segments fuels the expansion of the airless tire market in the anticipated timeframe. The growing need for low-maintenance, long-lasting vehicle tires has compelled major automakers to produce airless or solid tires. For instance, Goodyear Tire & Rubber Co. announced in July 2021 that it will be testing non-pneumatic, or airless tire and wheel assemblies on driverless vehicles. Such improvements are projected to generate growth prospects for the airless tire market during the forecast period.
Airless Tire Market

---
By Material
Rubber is projected as the most lucrative segments
The factors such as surge in demand for maintenance-free tires and increase in demand for all-terrain and military vehicles are expected to drive the growth of the airless tire market. However, low performance during friction and high-speed scenarios and high capital investment for setting up new manufacturing facilities are the factors expected to restrict the growth of the market. Conversely, higher recyclability of plastics and rise in adoption of electric vehicles across the world in the coming years are anticipated to offer remunerative opportunities for the expansion of the global airless tire market in the coming years. 
The global airless tire market is segmented into material, vehicle type, sales channel, rim size, and region. Depending on material, it is divided into rubber and polyurethane. On the basis of vehicle type, it is divided into military vehicles, passenger & commercial vehicles, all-terrain vehicles, utility vehicles, and two-wheelers. By sales channel, it is divided into OE and aftermarket. On the basis of rim size, it is segmented into less than 15 inches, 15 to 20 inches, and more than 20 inches. Region wise, it is analyzed across North America, Europe, Asia-Pacific, and LAMEA.
Airless Tire Market

---
By Vehicle Type
Passenger and Commercial Vehicles is projected as the most lucrative segments
The key players operating in the market include Ameritire Corporation, Bridgestone Corporation, Continental AG, Hankook Tire & Technology Co., Ltd., Michelin, Sumitomo Rubber Industries, Ltd., the Goodyear Tire & Rubber Company, Toyo Tire Corporation, The Yokohama Rubber Co., Ltd., and Trelleborg.
Rise in demand for maintenance-free tires
Although the airless tire appears to be pneumatic, it is made of solid polyurethane and has a saw-toothed tread. It has the same bounce and load handling as an air-filled tire, except without the required maintenance of periodically re-inserting air into the tire to keep it flat-free. Unlike foam-filled tires, the airless tire's solid rubber allows it to roll quietly and smoothly, with added shock absorption. Since there is no tubing, the airless tire can roll over a pile of stones, glass, and nails without becoming deflated. The airless tire's solid rubber is chemical and heat resistant, and it will not crack or decay unlike pneumatic tires.
Furthermore, the tread of the tire provides a soft ride, making it an ideal choice for floor protection. The airless tire eliminates roll-ability, noise level, and overall floor protection flaws that are common in foam-filled and air-filled tires. These tires are used by many bike-sharing systems to reduce maintenance. Leading automobile tire manufacturers are testing non-pneumatic tires and wheel assemblies in the field to develop maintenance-free airless tires. For instance, Goodyear announced in July 2021 the development of a non-pneumatic (airless) tire (NPT) and wheel assembly to support autonomous vehicle mobility in a city context for in-field usage with the Jacksonville Transportation Authority (JTA). Continuous advancements in technology to reduce tire vibration and noise accelerate the development of maintenance-free airless tires. In the anticipated timeframe, the increased demand for maintenance-free tires will drive the expansion of the airless tire market.
Airless Tire Market

---
By Sales Channel
Aftermarket is projected as the most lucrative segments
Increase in demand for all-terrain and military vehicles
Utility all-terrain vehicles are versatile and can be used for a variety of purposes, including military, agricultural, construction, and forestry. As the military, agriculture, construction activities are increasing significantly the demand for these vehicle are increasing. Airless tires have conventional off-road tread on the exterior but no air inside. They are hollow instead, with rubber-like spokes connecting the hub to the tread. The spokes assist the tread in gripping the terrain below. This structure aids drivers in traversing difficult terrain. Furthermore, surge in demand for all-terrain vehicles (ATVs) in agriculture and military & defense applications in Asia Pacific and North America is expected to drive the market for airless all-terrain vehicle tires. For instance, Polaris, a manufacturer of ATVs has begun delivering MV850 ATVs outfitted with flat-proof TerrainArmor tires to the United States Special Operations Forces in September 2021. Since they are used for powerful towing and material handling, heavy-duty ATVs are primarily outfitted with high-performance tires. Airless tires come into focus in difficult driving conditions when the path is slippery, and immediate adhesive friction is necessary to go safely into a merging terrain. All of the wheels engage and provide the necessary traction to safely navigate the path or terrain. In the near future, the market for airless ATV tires is expected to be driven by increased ATV manufacturing and emphasis on safety features.
Low performance during friction and high-speed scenarios
Airless tires exhibit high rolling resistance and less suspension than pneumatic tires of comparable shape and size. Airless tires are frequently filled with compressed polymers (plastic) rather than air or they might be solid molded products. The disadvantages of airless tires vary depending on their application. Fatigue is a problem for heavy equipment workers who utilize machines with solid tires. Bicycle airless tires are more difficult to maintain than comparable pneumatic tires. Broken spokes on a bicycle wheel can be caused by airless tires. Any airless tire will be heavier than the rubber tire it is intended to replace, yet many rubber pneumatic tires are likewise hefty. The rolling resistance of conventional tires varies significantly, wherein airless tire or solid insert may only marginally increase rolling resistance owing to which solid/airless tires provides better maneuverability. Vehicle maneuvering conditions influence the magnitudes and non-uniformity of contact stresses. The tangential tire-pavement contact stresses at various rolling conditions (free-rolling, braking/ acceleration, and cornering) and the vertical contact stresses at the cornering condition increase as the pavement surface friction increases. Since airless tires have less friction, they perform poorly in high-speed driving scenarios. There is no way for the heat to dissipate without air in the tires. This means that the airless tires would become more hotter than regular tires, possibly resulting in blowouts and accidents. The limited performance of airless tires in high -speed and friction environments limits their use in commercial, military, and passenger automobiles, which acts as a key deterrent factor of the global market.
Airless Tire Market

---
By Rim Size
15 to 20 Inches is projected as the most lucrative segments
Higher recyclability of plastics
Automobile airless tire production necessitates a significant amount of pricey equipment for each worker. As a result, the automotive production is a capital-intensive business with significant capital expenditures. The operations of capital-intensive enterprises necessitate high-priced investments in goods such as facilities, infrastructure, and large manufacturing equipment. The key environmental concerns in any type of rubber product manufacture (including tires) are fugitive air emissions, solid wastes, wastewater, and hazardous wastes. Compounding areas, where dry chemicals are weighed and placed in containers before mixing, can emit fugitive air pollutants. In addition, emissions are produced by the rubber compounds themselves as well as solvents used in cement, inks, and lubricants. To mitigate these environmental effects, manufacturing plants must be outfitted with cutting-edge pollution-control equipment. Furthermore, to produce airless tires, the manufacturing facilities must be equipped with advanced equipment and state-of-the-art material handling systems, which increase the overall cost of manufacturing facilities. For instance, Ceat Limited stated in May 2021 that it will invest $168.4 million in the establishment of a tire manufacturing plant in India. Thus, high expenses of establishing tire manufacturing facilities limit the expansion of the airless tire market, globally.
Airless Tire Market

---
By Region
Asia Pacific would exhibit the highest CAGR of 6.2% during 2021-2030.
COVID-19 Impact Analysis 
The impact of COVID-19 on the airless tire market is unclear, and is expected to remain restricted until the end of 2021. 
To prevent the spread of the COVID-19 virus, governments across the globe implemented strict lockdown and made social distancing mandatory. Consequently, the work-from-home policy was implemented as a precautionary measure. This led to a sudden fall in global demand for automobiles.
Moreover, nationwide lockdowns disrupted the supply chain as several manufacturing facilities across the globe were forced to partially or completely shut down their operations.
The adverse impacts of the COVID-19 pandemic resulted in massive supply–demand challenges across the globe.
Key Benefits For Stakeholders
This study presents the analytical depiction of the airless tire analysis along with the current trends and future estimations to depict imminent investment pockets.
The overall airless tire market opportunity is determined by understanding profitable trends to gain a stronger foothold.
The report presents information related to key drivers, restraints, and opportunities of the market with a detailed impact analysis.
The current market is quantitatively analyzed from 2020 to 2030 to benchmark financial competency.
The Porter's five forces analysis illustrates the potency of the buyers and suppliers in the industry.
 Airless Tire Market Report Highlights
Aspects
Details
By Material
By Vehicle Type

Military Vehicles
Passenger & Commercial Vehicles
All-terrain Vehicles
Utility Vehicles
Two-wheelers

By Sales Channel
By Rim Size

Less than 15 Inches
15 to 20 Inches
More than 20 Inches

By Region

North America (U.S., Canada, Mexico)
Europe (Germany, France, UK, Italy, Rest of Europe)
Asia-Pacific (China, India, Japan, South Korea, Rest of Asia-Pacific)
LAMEA (Latin America, Middle East, Africa)

By KEY PLAYERS

Ameritire Corporation
Bridgestone Corporation
Continental AG
Hankook Tire & Technology Co., Ltd.
Michelin
Sumitomo Rubber Industries, Ltd.
The Goodyear Tire & Rubber Company
Toyo Tire Corporation
The Yokohama Rubber Co., Ltd.
Trelleborg