The global automotive brake pad market was valued at $3.8 billion in 2021, and is projected to reach $6.5 billion by 2031, growing at a CAGR of 5.6% from 2022 to 2031.
Brake pads are the components of a vehicle's braking system that provide the friction necessary to stop the vehicle. They are an integral part of disk brakes that are used in an automobile. When the brakes are engaged, these brake pads press against the running disc to stop the motion and decrease the speed of the vehicle. Brake pads are present in brake caliper, which pushes them against the rotors and help in converting kinetic energy of vehicle into thermal energy.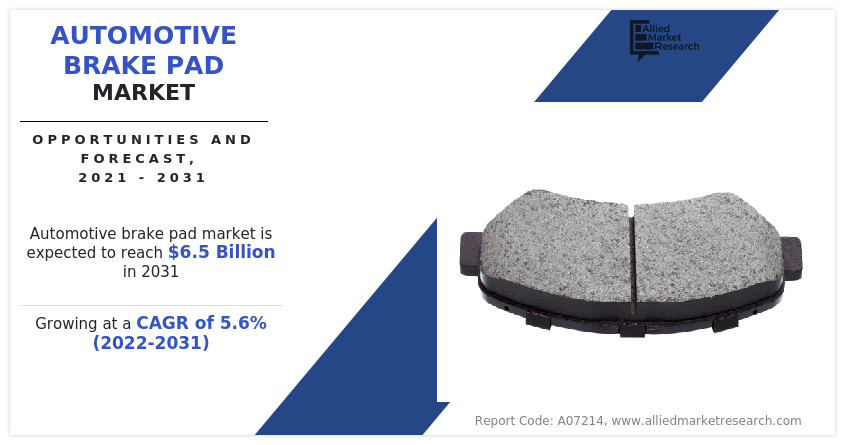 As safety awareness increases among automotive consumers and government agencies, various technologies such as ABS (Anti-lock braking system) and autonomous braking system have become standard equipment in most new vehicles. These technologies accelerate the growth of the global automotive brake pad market. Several new firms have entered the brake pad industry in recent years, intending to launch high performance and high-quality friction materials with advanced development and manufacturing technologies. Manufacturers focus on developing reliable and durable high temperature brake pads. Manufacturers of brake pads for the automotive industry enter into long-term supply agreements with automakers to ensure continuity of supply and strengthen their market dominance.
Manufacturers expand brake pad product lineup to meet the demands of automotive professionals, comply the government parameters standards, and provide brake pads with maximum stopping effectiveness, control and durability. For instance, in October 2022, FDP Virginia announced the introduction of 63 new part numbers to its line of premium brake pads manufactured at its Tappahannock, Virginia headquarters. These brake pads meet or exceed EPA standards for the use of copper and other materials in brake pads, less than 5% by weight by 2021 and 0.5% by weight by 2025. New cars are equipped with brake pads that meet the high demands of car manufacturers for comfort, durability and, above all, performance. Increased traffic congestion across the globe has increased brake pad wear. As these OEM pads reach the end of their life, they are replaced by aftermarket (AM) brake pads installed by auto dealers, independent repair shops, and quick assemblers. Therefore, this factor positively impacts the aftermarket of the brake pads, which further propels the growth of the automotive brake pad market.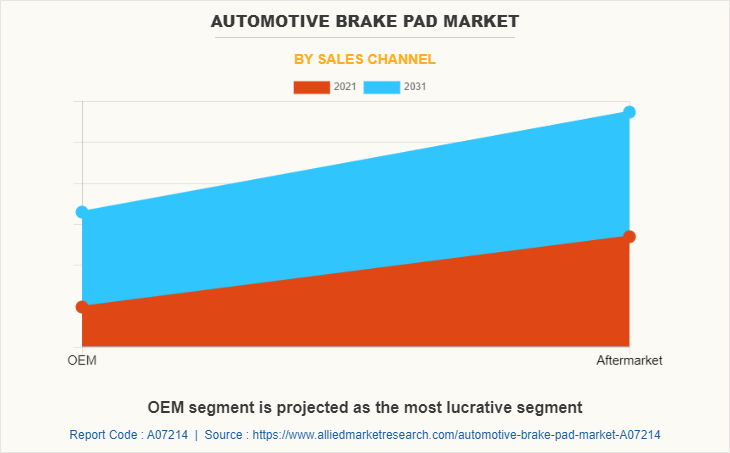 The automotive brake pad market is segmented into material, position, vehicle type, sales channel, and region. By material, the brake pad market has been categorized into semi metallic, non-asbestos organic, low metallic NAO, and ceramic. By position, the market has been classified into front, and front & rear. By vehicle type, the market has been categorized into two wheelers, passenger cars, light commercial vehicles, and heavy commercial vehicles. By sales channel, the automotive brake pad industry has been divided into OEM (original equipment manufacturer) and aftermarket. Region wise, the brake pad market has been analyzed across North America, Europe, Asia-Pacific, and LAMEA.
Asia-Pacific comprises countries such as China, India, Japan, South Korea, and the rest of Asia-Pacific. The manufacturers in the Asia-Pacific region offer high-cost reductions, owing to the availability of low-cost labor and raw materials. Such factors positively impacted the growth in the auto component manufacturing market including automotive braking pads, especially in China, Japan, and India, which is expected to drive the growth of the automotive brake pad market in the region. Asia-Pacific is becoming a manufacturing hub for automotive, construction equipment, industrial trucks, and mining equipment due to its raw material availability, cost-effective workforce, and government initiatives. The automotive sector in Asia-Pacific has evolved in recent years. The region has significantly contributed to global vehicle sales and is one of the lucrative markets for investment. The key players operating in the automotive market focus on expanding in Asia by establishing their headquarters or manufacturing plants in countries such as Japan, India, and China, which are the automotive hubs of the region. For instance, in August 2021, Porsche expanded its presence in Asia with a research and development center in Shanghai, China, and a production site in Malaysia. This expanding presence and manufacturing of vehicles are creating demand for brake pads in the forecast period
Automotive components and braking system manufacturers adopting strategies such as agreements and contracts for the effective development of brake pads in the region are expected to propel the growth of the market during the forecast period. For instance, in July 2022, Brembo and a China-based company signed a new joint venture agreement to establish Brembo's first major manufacturing facility for the production of aftermarket brake pads. Moreover, in November 2021, Gold Phoenix Group signed a contract with German auto giant Daimler to supply brake pads for Daimler's Mercedes-Benz Vito models worldwide. Such developments help to boost the growth of the market in China.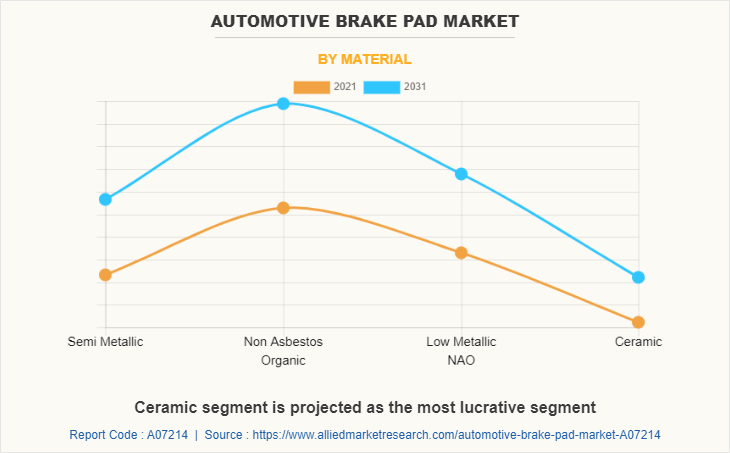 Moreover, an increase in population and low labor costs are attracting automotive industry players to set up production facilities in the country. In addition, the proliferating aftermarket industry of automotive components and other related products is expected to positively drive the automotive brake pad market in the country.
Some leading companies profiled in the automotive brake pad market report comprises Akebono Brake Industry Co Ltd., ADVICs, Brake Parts Inc., Brembo S.p.A., Continental AG, Delphi Technologies Inc. (BorgWarner Inc.), EBC Brake, ITT Inc., Nisshinbo Brake Inc., Robert Bosch GmbH, Tenneco Inc., and ZF Friedrichshafen AG. The leading companies are adopting strategies such as product launches and product development to strengthen their market position.
In April 2022, Brembo introduced its newborn Aftermarket line of brake pads dedicated to heavy-duty vehicles. The company has also completed its replacement discs offer with new Co-Cast and Splined solutions tailored to the needs of these vehicles.
In February 2021, First Brands Group has expanded its line of Raybestos brake components by adding over 200-part numbers, including increased coverage for luxury vehicle applications in categories such as brake calipers and brackets, brake pad sets and brake rotors.
Increase in demand for eco-friendly and sustainable brake pads
The braking system is an important factor for vehicle safety. It is important to consider both the durability and quality of the brake pads for the braking mechanism to work effectively. Harmful asbestos is a raw material that has been widely used as an admixture in the manufacturing of brake pads. An increase in demand has been witnessed for other natural alternatives for manufacturing of brake pads such as coconut fiber, wood or wheat flour, bamboo fiber, and shell powder. Natural fibers are used to produce eco-friendly brake pads as they have many advantages over synthetic fibers as they are low in density, abundant, low cost, recyclable, biodegradable, renewable, and relatively high in strength & stiffness. Moreover, the surge in use of organic materials to replace carcinogenic materials for developing eco-friendly brake pads is expected to propel the growth of the automotive brake pad market. For instance, in 2021, In the U.S., the sale and use of friction material products with a copper content of 5% or more will be prohibited from 2021, and environmental regulations are expected to be strengthened from 2025, banning copper content of 0.5% or more. Therefore, Development Nisshinbo Brake has developed low-copper/copper-free friction materials to manufacture eco-friendly brake pads that are highly rated by automobile manufacturers. Brake pads composed of natural fiber reinforced composites are attracting attention as they are renewable, consume low energy, and biodegradable. There is growth in adoption of brake pads made from environment friendly materials owing to rise in awareness of the negative impact of non-organic materials on environment. The benefits of eco-friendly brake pads such as low cost and light weight are expected to drive the adoption of sustainable brake pads in current and upcoming vehicles. Moreover, growing environmental concerns and rising oil consumption promote the use of brake pads made up of sustainable natural resources such as natural fibers.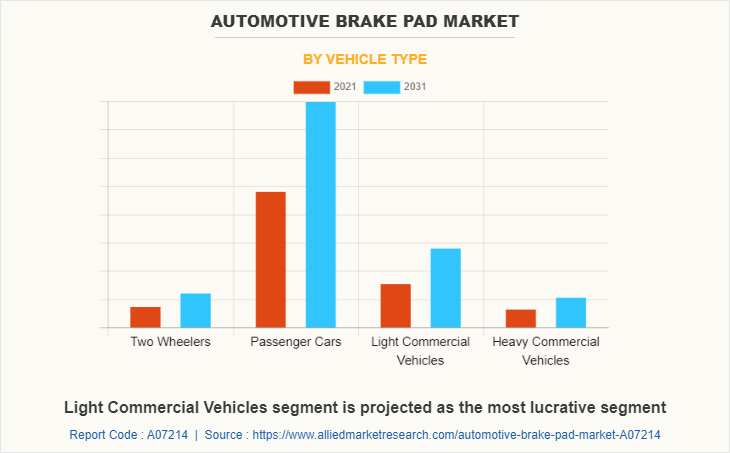 Increase in stringent rules and regulations
The governments across the globe are mainly focusing on the standard that is expected to lead to increased safety of the driver and passengers. Therefore, the regulatory authorities have established stringent regulations, aiming to improve active safety in vehicles. For instance, the U.S. Department of Transportation's National Highway Traffic Safety Administration (NHTSA) and Insurance Institute for Highway Safety (U.S.), along with 20 prominent vehicle manufacturers, announced to incorporate automatic emergency braking (AEB) systems as a standard feature in all new cars from September 2022. From September 1, 2018, to August 31, 2019, 12 manufacturers equipped more than 75% of their new passenger vehicles with automatic emergency braking systems which requires brake pads for improving braking systems. In addition, the Government of India mandated anti-lock braking system (ABS) for all two-wheelers above 125 cc and combined-braking system (CBS) for all two-wheelers below 125 cc, for the launches planned on or after April 1, 2019, to meet the norms. Moreover, government makes installation of advanced braking system mandatory for wide range of vehicles to reduce road accidents and increase safety of drivers and passengers. For instance, in June 2021, Department of Transportation, U.S. announced its plans to set standards for automatic emergency braking systems on heavy trucks. In addition, programs developed by the government to support the adoption of brake pads in vehicles is expected to drive the growth of the market. For instance, global NCAP announced a road map for safer vehicles program 2020 for UN member states. This program includes safety regulations for electronics stability control system, pedestrian protection, ant-lock brake system, and emergency brake systems. NCAP proposed that these regulations are applied to new models and then to all vehicles in production by the end of the year 2020. Therefore, stringency of automotive active safety regulations results in increased demand for active safety system in the vehicles. Thus, the brake pad manufacturer focuses on the development advanced braking pads to meet the new regulations, which in turn, drive the growth of automotive brake pad market.
High development cost of brake pads
Advanced electronic braking systems avail the shortest possible braking distance and enhanced stability of the vehicles; therefore, it is widely employed in most of the premium vehicles these days. However, the cost of brake pads is much higher for use in economy class vehicles. Thus, organizations are striving for innovative and affordable solutions for vehicles of all classes. However, the necessary capital expenditure is high for development and commercialization of new braking materials such as ceramic, and steel. Thus, the new and innovative brake pad materials have been achieved by only a few major automotive companies because of high initial investment in development of such braking technologies. The cost of semi-metallic brake pads can be higher than the cost of organic pads. Therefore, there is a strong demand for raw materials with high technical performance at a stable and low cost. Therefore, the high development cost of brake pads is set to impede the growth of the automotive brake pad market during the forecast period.
Automotive Brake Pad Market

---

By Region
Asia-Pacific would exhibit the highest CAGR of 6.0% during forecast period.
Get more information on this report :
Request Sample Pages
Development of smart pads       
Most of the accidents are caused by the driver braking too late or by driver negligence. Manufacturers aim to develop brake pads that use advanced sensors based on relay circuits and a few modifications of the traditional braking system to operate automatically and apply the brakes in an emergency. The resulting system can provide high precision measurements and improved close range measurements. This distance measurement is used to control intelligent braking systems for safety applications. The brake pads are developed to meet the key current and future technological trends in the automotive industry. The smart pads are manufactured as a step towards defining the future of mobility. For instance, in December 2019, GALT, an ITT startup launched unique embedded and connected sensor brake pads that transform the ubiquitous friction technology of passive automotive components into an active system that collects real-time data to improve driving safety and efficiency. The sensors built into brake pad actively measure temperature, pressure distribution, torque, residual torque, vibration, noise and wear, all in real-time. Proprietary sensors and software used in brake pad system make the entire vehicle safer, efficient, sustainable and connected. Researchers are further exploring the limits of existing microsensors and electronic technology in brake pads. Smart brake pads are able to withstand the harsh environments, high pressures and temperatures to which brake pads are typically exposed. Therefore, development of brake pad with embedded sensors to provide dynamic data, technology is expected to drive the growth of the automotive brake pad market.
The production of vehicles was stunted globally, owing to the pandemic yet the automotive manufacturers focused on the development of new products and announced strategic expansion and collaboration across the industry. These factors were responsible for fluctuation in sales of automotive brake pad across the world. The progressive reduction in severe restrictions measures is anticipated to promote growth in sales of the automotive brake pad market and aid to bounce back the demand for automotive brake pad.
Key Benefits For Stakeholders
This report provides a quantitative analysis of the market segments, current trends, estimations, and dynamics of the automotive brake pad market analysis from 2021 to 2031 to identify the prevailing automotive brake pad market opportunities.
The market research is offered along with information related to key drivers, restraints, and opportunities.
Porter's five forces analysis highlights the potency of buyers and suppliers to enable stakeholders make profit-oriented business decisions and strengthen their supplier-buyer network.
In-depth analysis of the automotive brake pad market segmentation assists to determine the prevailing market opportunities.
Major countries in each region are mapped according to their revenue contribution to the global market.
Market player positioning facilitates benchmarking and provides a clear understanding of the present position of the market players.
The report includes the analysis of the regional as well as global automotive brake pad market trends, key players, market segments, application areas, and market growth strategies.
 Automotive Brake Pad Market Report Highlights
Aspects
Details
Market Size By 2031
USD 6.5 billion
Growth Rate
CAGR of 5.6%
Forecast period
2021 - 2031
Report Pages
245
By Sales Channel
By Material

Low Metallic NAO
Ceramic
Semi Metallic
Non Asbestos Organic

By Position
By Vehicle Type

Two Wheelers
Passenger Cars
Light Commercial Vehicles
Heavy Commercial Vehicles

By Region

North America (U.S., Canada, Mexico)
Europe (Germany, France, UK, Italy, Rest of Europe)
Asia-Pacific (China, Japan, India, South Korea, Rest of Asia-Pacific)
LAMEA (Latin America, Middle East, Africa)

Key Market Players
Brembo S.p.A, Nisshinbo Brake Inc., Tenneco Inc., ITT Inc., ZF Friedrichshafen AG, Robert Bosch GmbH, EBC Brakes, Akebono Brake Industry Co Ltd, Delphi Technologies (BorgWarner Inc. ), Brake Parts Inc., ADVICS Co., Ltd., Continental AG