Car Chip Market Research, 2031
The global automotive chip market size was valued at $49.8 billion in 2021, and is projected to reach $121.3 billion by 2031, growing at a CAGR of 9.6% from 2022 to 2031.
Report Key Highlighters:
The automotive chip market study covers 14 countries. The research includes regional and segment analysis of each country in terms of value ($million) for the projected period 2023-2032.

The study integrated high-quality data, professional opinions and analysis, and critical independent perspectives. The research approach is intended to provide a balanced view of global markets and to assist stakeholders in making educated decisions in order to achieve their most ambitious growth objectives.

Over 3,700 product literature, annual reports, industry statements, and other comparable materials from major industry participants were reviewed to gain a better understanding of the market.

Several companies, including Analog Devices, Inc., Infineon Technologies AG, NVIDIA Corporation, NXP Semiconductors, Renesas Electronics Corporation, Robert Bosch GmbH, ROHM CO., LTD, STMICRO Electronics, Texas Instruments Incorporated, and Toshiba Corporation, have a moderately significant market share in the automotive chip industry.
An automotive chip is a specialized type of semiconductor used in vehicles for various functions, including body electronics, power electronics, chassis systems, safety features, and comfort and entertainment units. Automotive chip uses semiconductor that possess a conductivity level between conductors (such as metals) and insulators. Their integration in vehicles has facilitated the creation of features such as cell phone connectivity, heads-up displays, autonomous driving assistance, and improved comfort and performance.
The development of autonomous vehicles presents a unique opportunity for chip manufacturers to participate in an innovative technological shift. The future of transportation is expected to be influenced significantly by businesses that can provide reliable, high-performance, and energy-efficient automotive chip solutions suited to the unique requirements of autonomous driving.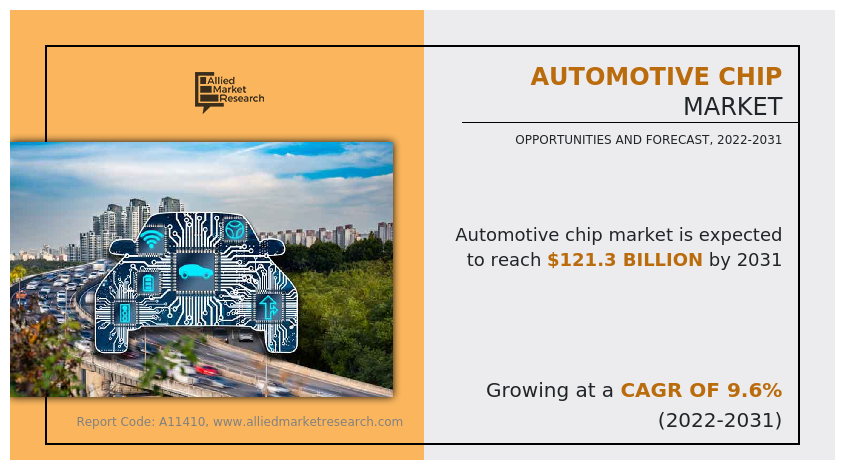 The automotive chip market is segmented into Product, Application and Propulsion Type.
Asia-Pacific holds a prominent share in the automotive chip market, comprising the China, Japan, India. The penetration of IoT and AI in the automotive industry in the region is expected to drive the automotive chip market. The advanced features such as power windows, on-steering driver control, infotainment displays with navigation systems, and other such features has increased the demand for automotive chip. The Asia-Pacific region stands as a dynamic force in the global automotive chip landscape, led by China's remarkable growth through its rapid adoption of electric vehicles and autonomous driving technologies. Chinese automakers and tech giants are fueling demand for chip components, driving connectivity and battery management advancements. With the largest electric vehicle market share globally, China is a key driver of the industry.
As its automakers pioneer enhanced chip integration in sensors and robots, Japan's reputation for innovation and safety remains intact. India's expanding middle-class population, combined with government-backed programs, is driving chip demand in infotainment and electric powertrains.
Furthermore, infotainment systems are already common in cars because to advances in technology. Processors are used in these infotainment electronics to manage their functionality. In addition, the installation of processors in advanced automobiles is required for autonomous systems like driver monitoring, sensor fusion, and parking assistance cameras. In addition, the need for analog integrated circuits, particularly motor driver ICs, is rising as the use of electric vehicles and advanced driver assistance systems increases. In order to suit the varied requirements of automotive applications, chip suppliers have worked together to address the demand for adaptable automotive analog ICs.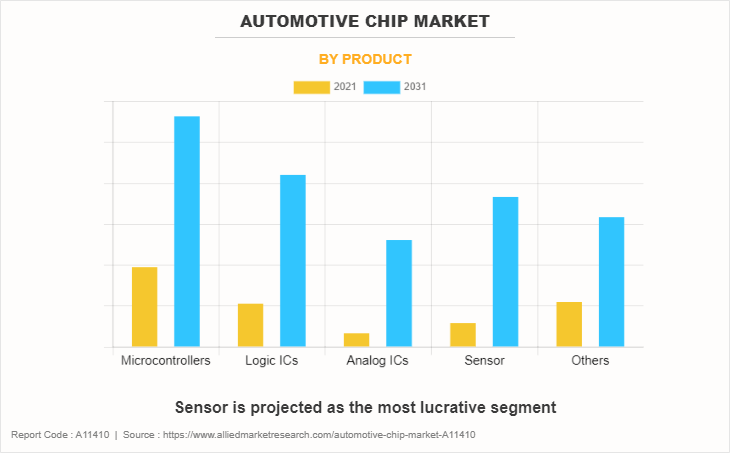 The automotive chip market is segmented into product, application, propulsion type, and region. By product, the market is classified into microcontrollers, logic ICs, sensors, analog ICs, and others. By application, it is bifurcated into powertrain, body electronics, safety systems, chassis, and telematics & infotainment systems. By propulsion type, it is segregated into ICE vehicles, and electric vehicles. Region-wise, the market is analysed across North America, Europe, Asia-Pacific, and LAMEA.
The key players profiled in this automotive chip market report include Analog Devices, Inc., Infineon Technologies AG, NVIDIA Corporation, NXP Semiconductors, Renesas Electronics Corporation, Robert Bosch GmbH, ROHM CO., LTD, STMICRO Electronics, Texas Instruments Incorporated, and TOSHIBA CORPORATION.
Key Developments in Automotive Chip Industry:
In May 2022, TI launched their new Jacinto 8 family of automotive processors. These processors are designed for use in advanced driver assistance systems (ADAS) and autonomous driving applications.
In July 2022,  Robert Bosch GmbH announced that it will invest $3 billion into its semiconductor business over the next four years, adding new chip production capacity as well as centers for research and testing.
In December 2021, STMicroelectronics launched its new STSAFE-A110 secure element for automotive applications, which is designed to provide advanced security and privacy protection for connected vehicles.
In July 2021, Toshiba launched a new series of automotive Ethernet bridge ICs, designed to provide high-speed data communication between in-vehicle networks and external devices.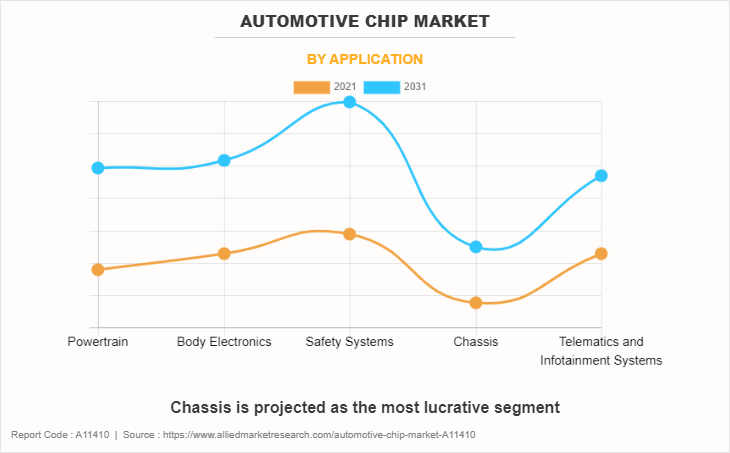 Increase in demand for advanced vehicle safety and comfort systems
The demand for safety features, such as parking assistance, collision avoidance systems, lane departure warnings, traction control, electronic stability control, tire pressure monitors, airbags, and telematics is experiencing an upward trend, owing to increase in number of road accidents worldwide. Automotive chips are a major component used in numerous advance driver assistance systems (ADAS) technologies, which helps ADAS systems perform efficiently and can detect and classify objects on the path of vehicle, and accordingly alert the driver of the nearby surroundings and road conditions. In addition, these systems can also automatically decelerate or stop the vehicle depending on the road conditions based on the calculations made through chips & associated components.
Road accidents are a major cause of death globally and tremendous increase in the death rates due to road accidents has been observed in last few years. For instance, according to World Health Organization's report published in 2022, nearly 1.3 million people died in road traffic crashes each year. Moreover, road traffic injuries leading to death are higher among teenagers. These factors are leading to surge in demand for safety features in vehicles. Companies operating in the automobile sector are developing and introducing the safety features to meet the needs of the customers. For instance, in February 2020, HELLA (company that manufacturers cutting-edge lighting and electronics components) announced the production plan for the latest 77 GHz radar technology.
As a crucial application of complementary metal oxide chips (CMOS) radar, automotive radar is evolving as a key technology supporting the functioning of smart and autonomous features in modern vehicles, for instance, reducing driver stress, relieving drivers from repetitive tasks, and adding life-saving automatic interventions. These benefits are expected to increase the penetration of automotive chips during the forecast timeframe.
Moreover, automotive companies and chip providers joined hands to further adoption of ADAS for more safety. For instance, in March 2022, Renesas Electronics Corporation, a leading provider of advanced semiconductor solutions, announced the expansion of its collaboration with Honda in the adoption of advanced driver-assistance systems (ADAS). Honda opted for Renesas' R-Car automotive system on a chip (SoC) and RH850 automotive MCU for integration into the Honda SENSING 360 omnidirectional safety and driver assistance system. Moreover, the R-Car S4 will integrate with Honda SENSING 360 system as the primary SoC within the electronic control unit (ECU), the central component of the ADAS. This collaboration signifies an extension of Renesas and Honda's joint efforts to enhance safety technologies within the ADAS domain.
In addition, chip suppliers have spread awareness regarding safety in automobiles. For instance, in December 2022, Valens Chip, a prominent provider of high-speed connectivity solutions for the automotive and audio-video sectors, unveiled its plans to present the advantages of its automotive high-speed connectivity product suite. This presentation will include an array of demonstrations involving partners within the growing MIPI A-PHY compliant VA7000 chipset family ecosystem. The collaborative efforts will feature contributions from Tier-1 suppliers, camera sensor manufacturers, radar and LiDAR providers, component makers, and testing equipment companies. These collaborations collectively address the escalating need for enhanced safety features in both current and future automotive vehicles. Thus, developments like this support the growth of the automotive chip market.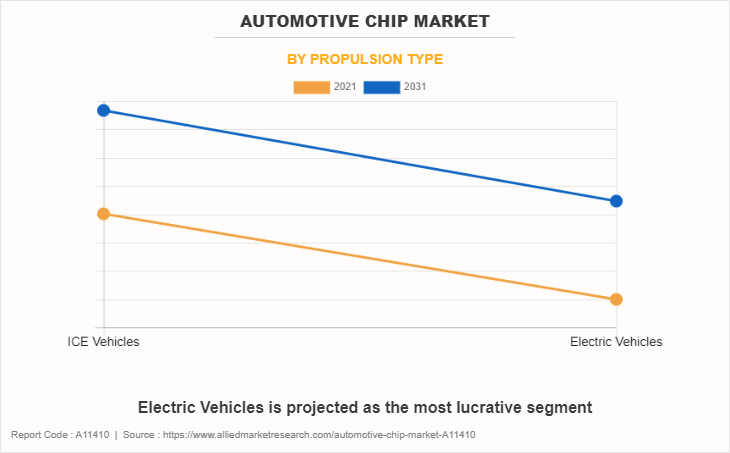 Complexity of design
The design of automotive chips is a complex process that requires a high level of expertise and knowledge. Automotive chips must meet strict specifications and performance requirements to ensure reliable and safe operation in vehicles. It must meet stringent functional safety requirements to ensure that they operate reliably and safely in a vehicle. Designing chips for functional safety requires a deep understanding of automotive safety standards and regulations. Furthermore, it is designed to consume as little power as possible to maximize battery life and improve fuel efficiency. Achieving low power consumption requires a prominent level of design optimization and expertise. Also, automotive chips must be designed to operate in extreme temperatures, humidity levels, and vibration environments. Designing for these environmental factors requires specialized knowledge and testing. Moreover, it must be compatible with a range of other electronic components in the vehicle, including sensors, control units, and communication systems. Ensuring compatibility requires careful coordination and testing. Thus, complexity in designing automotive chips may impede the growth of the automotive chip market.
Increased focus on cybersecurity
The risk of cybersecurity threats in the automotive industry has increased with the rise in use of connected devices and autonomous vehicles. Automotive chips play a crucial role in ensuring the cybersecurity of these vehicles, as they control the communication and data exchange between various components of the vehicle. Automakers and chip manufacturers are increasingly focusing on developing advanced and secure automotive chips to ensure the safety and security of connected and autonomous vehicles.
This has led to the development of innovative technologies such as hardware-based security, encryption, and secure booting, which are being incorporated into automotive chips. In recent years, there have been several instances of cyber-attacks on vehicles, which have led to concerns about the safety and security of connected and autonomous vehicles. For instance, in 2015, a group of researchers demonstrated that they could remotely take control of a Jeep Cherokee through its infotainment system, highlighting the vulnerability of connected vehicles to cyber-attacks.
To address these concerns, automotive chip manufacturers are working with automakers to develop advanced and secure automotive chips. For instance, in January 2020, NXP Semiconductors announced the launch of its new S32G2 vehicle network processors, which are designed to provide enhanced cybersecurity features for connected vehicles. Thus, the increase in focus on cybersecurity in the automotive industry is likely to further drive the demand for automotive chips, as automakers and chip manufacturers work to develop advanced and secure technologies for connected and autonomous vehicles. This automotive chip market update creates an opportunity for chip manufacturers to develop solutions that can help protect vehicles from cyber threats.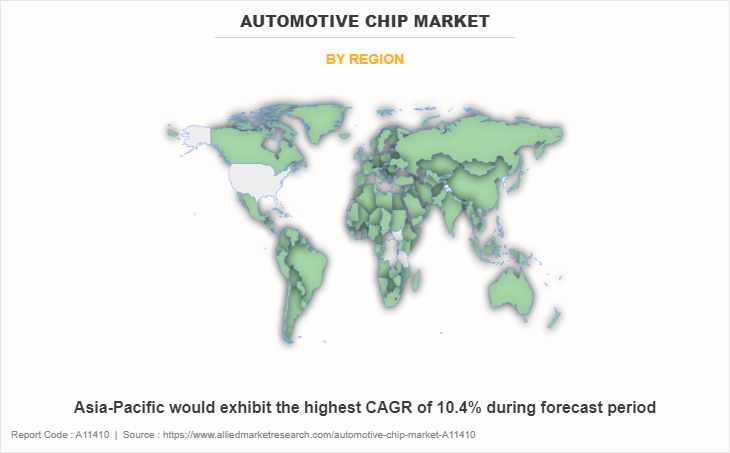 [COVIDIMPACTSTATEMENT]
Key Benefits For Stakeholders
This report provides a quantitative analysis of the market segments, current trends, estimations, and dynamics of the automotive chip market analysis from 2021 to 2031 to identify the prevailing automotive chip market opportunities.
The market research is offered along with information related to key drivers, restraints, and opportunities.
Porter's five forces analysis highlights the potency of buyers and suppliers to enable stakeholders make profit-oriented business decisions and strengthen their supplier-buyer network.
In-depth analysis of the automotive chip market segmentation assists to determine the prevailing market opportunities.
Major countries in each region are mapped according to their revenue contribution to the global market.
Market player positioning facilitates benchmarking and provides a clear understanding of the present position of the market players.
The report includes the analysis of the regional as well as global automotive chip market trends, key players, market segments, application areas, and market growth strategies.
 Automotive Chip Market Report Highlights
Aspects
Details
Market Size By 2031
USD 121.3 billion
Growth Rate
CAGR of 9.6%
Forecast period
2021 - 2031
Report Pages
294
By Product

Microcontrollers
Logic ICs
Analog ICs
Sensor
Others

By Application

Powertrain
Body Electronics
Safety Systems
Chassis
Telematics and Infotainment Systems

By Propulsion Type

ICE Vehicles
Electric Vehicles

By Region

North America (U.S., Canada, Mexico)
Europe (UK, Germany, France, Italy, Netherlands, Rest of Europe)
Asia-Pacific (China, Japan, India, South Korea, Rest of Asia-Pacific)
LAMEA (Latin America, Middle East, Africa)

Key Market Players
Toshiba Corporation, NVIDIA Corporation, Renesas Electronics Corporation., Analog Devices, Inc., ROHM CO., LTD, Texas Instruments Incorporated, Robert Bosch GmbH, NXP Semiconductors, Infineon Technologies AG, STMicroelectronics