Automotive Differential Market Statistics 2030 -
The global automotive differential market was valued at $20,530.1 million in 2020, and is projected to reach $32,293.6 million by 2030, registering a CAGR of 4.7%. Asia-Pacific was the highest revenue contributor, accounting for $8,583.6 million in 2020, and is estimated to reach $14,435.2 million by 2030, with a CAGR of 5.4%.
The sale of automotive differential is directly associated with automotive production and sales activities across the globe. The major risk factors of the automotive differential market participants are supply chain execution, inadequate availability of raw materials, regulatory & policy changes, dependency on labor, working capital management, and liquidity & solvency management. Furthermore, decreasing automotive production, owing to the COVID-19 health crisis leads to decreasing sales for automotive differential. Attributed to the financial downturn and decreasing automotive sales, majority of the original equipment manufacturers have cut down their production activities in the last three quarters of 2020. By the end of 2021, a positive recovery of the production of vehicle is expected, which will support the sales of automotive differential.
Automotive differential is a crucial component of the automotive drivetrain that allows different drive wheels to perform effective turning and driving operations. Automotive differential is a device that splits the torque of an engine in two ways, allowing each output to spin the vehicle wheel at a different speed. The differential is found in all modern passenger vehicles, commercial vehicles, and electric vehicles. All drive vehicles require a differential between each pair of drive wheels, which includes one between the front and rear wheels. Part-time four-wheel drive vehicle lacks a differential between the front and rear wheels causing the front and rear wheels to rotate at the same speed, as they are locked together. The demand for automotive differential is determined by automotive production activities.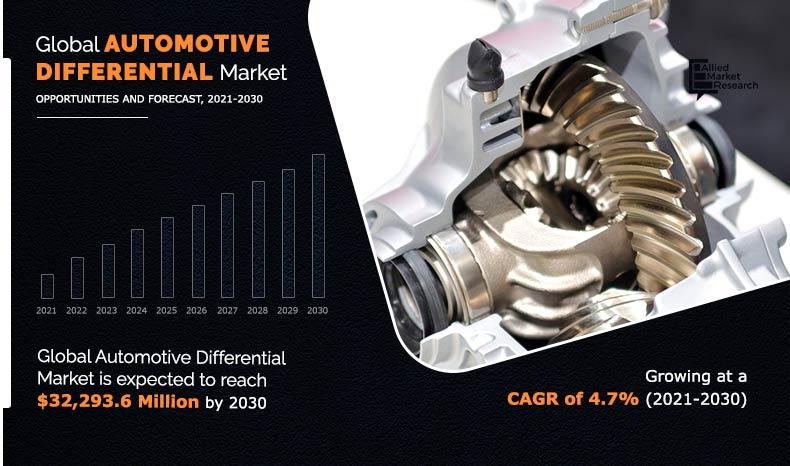 The factors, such as increase in penetration of AWD and 4WD vehicles, rise in demand for commercial vehicles, and increase in demand for lightweight and high-performance automotive components, are expected to drive the global automotive differential market. However, the rise in production of vehicles with in-wheel electric motors and the decrease in automotive production and sales are expected to restrict the growth of the market during the forecast period. Moreover, the development of electronically limited-slip differentials, increase in demand from developing countries, and contract/agreement winning is the key strategy to gain a competitive advantage, while production of electronically limited-slip differentials is anticipated to supplement the global automotive differential market growth. Therefore, these factors are expected to provide a better opportunity for the market growth soon
Automotive Differential Market

---
By Type
Electronic limited slip differential is projected as the most lucrative segments
The global automotive differential market is divided into drive type, vehicle type, type, and region. Based on drive type, it is divided into front-wheel drive, rear-wheel drive, and all-wheel drive (AWD). Based on vehicle type, it is segmented into IC Engine passenger car, IC Engine commercial vehicle, and electric vehicle. On the basis of type, it is divided into open, locking, limited-slip differential (LSD), electronically limited slip differential (ELSD), and torque vectoring. Region-wise it is analyzed across North America, Europe, Asia-Pacific, and LAMEA.
Key players, including American Axle & Manufacturing, Inc. (AAM), BorgWarner Inc., Dana Incorporated, Eaton, Hyundai Wia Corporation, JTEKT Corporation, Linamar Corporation, Melrose Industries PLC, Schaeffler Group, ZF Friedrichshafen AG, and others hold major automotive differential market share.
Automotive Differential Market

---
By Drive Type
All Wheel Drive is projected as the most lucrative segment
Increasing Penetration of AWD and 4WD vehicles 
Automotive manufacturing has advanced technologically in the areas of drivetrain, powertrain, safety, and stability to increase the operational efficiency of the vehicle. Automotive consumers are demanding more output efficient and optimum performance high-end driving operations. Moreover, the demand outlook of end users has shifted more toward added luxury, comfort, and driving dynamics. The change in demand for end consumers is shifting towards four-wheel drive (4WD) and all-wheel drive (AWD) vehicles to attain safety and vehicle dynamic levels. Original equipment manufacturers (OEMs) are focused on these drive systems to cater to the change in the requirement of end-users. In recent years, AWD and 4WD penetration of vehicle has increased significantly, and it is expected to maintain the momentum in the coming years. These drive systems require two or three differential assemblies to perform the driving activities. For instance, in August 2021, luxury brand of Hyundai, Genesis, launched the GV70 luxury SUV which comes equipped with an all-wheel-drive system along with an electronic limited-slip differential to augment the ride quality of the vehicle. An increase in penetration of AWD and 4WD vehicles therefore is expected to drive the demand for the automotive differential soon.
Rise in Demand for Commercial Vehicles 
The rise in demand for commercial vehicles in developing nations, owing to urbanization and increased industrial production is anticipated to exhibit remarkable growth in the coming years. For instance, the commercial vehicle segment in the Indian automotive industry experienced an exceptional growth rate in both light commercial as well as medium & heavy commercial vehicle segments. Commercial vehicles are mostly rear-wheel-drive vehicles, which require high-performance differential assemblies to perform driving operations. For instance, the global commercial vehicles sales were26.9 million units in 2018 and has increased to 27 million units in 2019. Emerging players and market leaders operating in different industries across the developing countries such as e-commerce, the food industry, and others have boosted demand for delivery and transport solutions, thereby driving the production of heavy commercial vehicles even further. Furthermore, increased production of heavy-duty vehicles considerably boosts the demand for automotive differential. Moreover, the emergence of global potential heavy vehicle manufacturers such as UD Trucks, Scania, and Volvo Trucks & Buses, which are focusing on expanding their production capacities in the developing nations through joint ventures with local manufacturers, is expected to present an opportunity for the automotive differential market growth.
Automotive Differential Market

---
By Vehicle Type
Electric vehicle is projected as the most lucrative segments
Rise in Production of Vehicles with in-Wheel Electric Motors 
Some electric vehicles are powered by in-wheel electric motors that transmits torque straight to wheels without any differential. Furthermore, GEM motors, an electric mobility manufacturer, is focused on the development of GEM in-wheel electric motors for potential customers in Switzerland, France, Sweden, Germany, and Italy. Electric vehicles demand and manufacturing have increased significantly in recent years, owing to the fact that electric vehicles offer several advantages over fuel-powered automobiles. Components, like fan belts, oil, air filters, head gaskets, timing belts, cylinder heads, and spark plugs, do not require replacement, which, in turn, makes them cost-effective and efficient for IC engine-powered automobiles. This makes hybrid electric vehicles a preferred choice for automobile owners. For instance, Protean Electric and Local Motors announced a new three-year agreement deal for US$7.3 million in June 2021, in which Protean Electric would deliver thousands of Protean Drive in-wheel motors to power Local Motors' Olli 2.0 electric autonomous shuttle. The rise in production of in-wheel electric motors vehicles hinders the growth of the automotive differential market.
Development of Electronically Limited Slip Differentials 
Electronically limited-slip differential increases traction and can be extremely beneficial on wet or dry roads, enhancing handling for high-performing vehicles. This type of differential provides benefits such as better handling, optimized performance, better control on slippery roads, and others. Leading automobile manufacturers are focused on the development of electronically limited -slip differentials. For instance, Hyundai Wia Corporation announced the commencement of mass production of electronically limited slip differential (ELSD) in January 2020. The e-LSD provides equal power to all wheels. However, when the automobile is taking a sharp turn or one wheel is stuck in a swamp, the e-LSD will direct more power on that particular wheel. Moreover, Eaton launched its next-generation electronic limited-slip differential, which is a fast-acting traction-management system. Furthermore, in October 2018, ZF announced a new networked ELSD rear axle transmission, which is generally designed for sports and off-road vehicles. This innovative differential is fully networked with the brake system of vehicle, enhancing both on-road and off-road driving dynamics, comfort, and stability of vehicles. The production of ELSD by automobile manufacturers is anticipated to provide a significant growth opportunity for the players operating in the automotive differential market.
Automotive Differential Market

---
By Region
Asia Pacific would exhibit the highest CAGR of 5.4% during 2021-2030.
COVID-19 Impact Analysis 
The impact of COVID-19 on the automotive differential market is unclear and it is expected to remain restricted until the second quarter of 2021. 
To prevent spread of the COVID-19 virus, governments across the globe implemented strict lockdowns and made social distancing mandatory. Consequently, several organizations began work from home programs as precautionary measure. This led to a sudden fall in global demand for automobiles.
Moreover, nationwide lockdowns disrupted the supply chain as several manufacturing facilities across the globe were forced to partially or completely shut down their operations.
The adverse impacts of the COVID-19 pandemic resulted in massive supply-demand challenges across the globe.
Key Benefits For Stakeholders
This study presents the analytical depiction of the global automotive differential market analysis along with the current trends and future estimations to depict imminent investment pockets.
The overall automotive differential market opportunity is determined by understanding profitable trends to gain a stronger foothold.
The report presents information related to key drivers, restraints, and opportunities of the market with a detailed impact analysis.
The current market is quantitatively analyzed from 2020 to 2030 to benchmark the financial competency.
Porter's five forces analysis illustrates the potency of the buyers and suppliers in the industry.
 Automotive Differential Market Report Highlights
Aspects
Details
By Drive Type

Front Wheel Drive(FWD)
Rear Wheel Drive (RWD)
All-wheel drive (AWD)/Four Wheel Drive (4WD)

By Vehicle Type

Passenger Car
Commercial Vehicle
Electric vehicle

By Type

Open
Locking
Limited Slip Differential
Electronic limited slip differential
Torque Vectoring

By Region

North America (U.S., Canada, Mexico)
Europe (Germany, UK, France, Italy, Rest of Europe)
Asia-Pacific (China, India, Japan, South Korea, Rest of Asia-Pacific)
LAMEA (Latin America, Middle East, Africa)

Key Market Players
LINAMAR CORPORATION, AMERICAN AXLE & MANUFACTURING, INC., ZF FRIEDRICHSHAFEN AG, MELROSE INDUSTRIES PLC, EATON, HYUNDAI WIA CORPORATION, SCHAEFFLER GROUP, JTEKT CORPORATION, DANA INCORPORATED, BORGWARNER INC.