The global automotive e-commerce market was valued at $38.67 billion in 2021, and is projected to reach $176.24 billion by 2031, growing at a CAGR of 17.5% from 2022 to 2031.
The COVID-19 impact on the automotive e-commerce market is unpredictable, and is expected to remain in force for a few years. The COVID-19 outbreak forced governments across the globe to implement stringent lockdowns and ban import–export of essential raw material items for most of 2020, and few months in 2021. This led to sudden decline in availability of important raw materials for vehicle components. Many small and big players in the automotive sector are witnessing issues, such as halt of production activities, limited part supply, mandated plant closures by the government, non-efficient production in lockdown, reduced workforce, declined liquidity, and others. This led to a steep economic downfall of the market in 2020. However, as restrictions reduced, players started focusing on modifying such risks and developments to create momentum in the market. However, a huge demand for online shopping in several areas has been witnessed, which requires manufacturing, and logistics companies to increase their investments in automation, including the automation of supply chains, thus, fueling the growth of the market. Moreover, automotive component manufacturers are coming up with their own e-commerce platform in order to increase their customer reach which is expected to fuel the demand for automotive e-commerce market.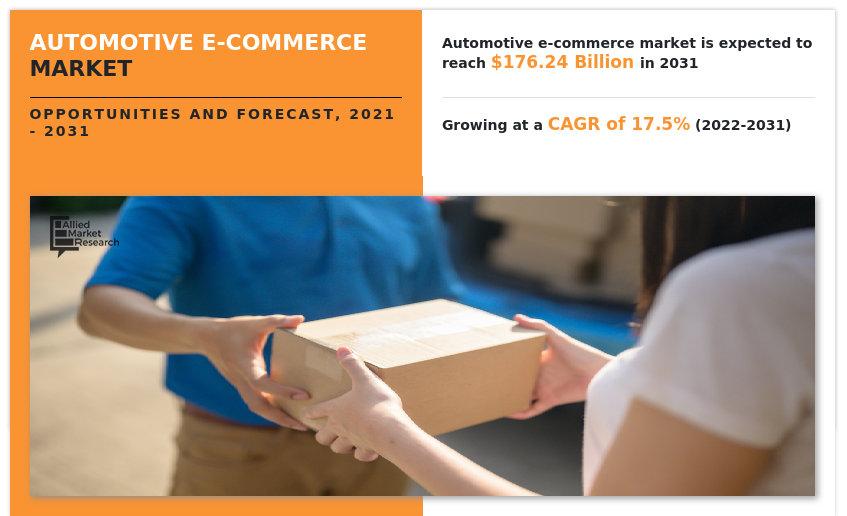 The automotive e-commerce market is segmented into Components, Vendors, Vehicle Type and Operation.
The automotive e-commerce market consists of selling automotive parts, accessories, and service online for everything from sport bikes to trucks for B2C and B2B buyers. Brands are launching their stores across the globe on online platforms while updating their online storefront channels and launching multi-channel initiatives to increase their market share. These companies can attract more customers as there are demos, reviews, and information aligned for the product to help customers understand the product more briefly. Therefore, increase in use of e-commerce across the globe is expected to boost the automotive e-commerce market over the forecast period.
Factors such as growth of automotive aftermarket services, advancement of multiple payment modes, and increase in penetration of the internet & smartphones are anticipated to boost the growth of the global automotive e-commerce market during the forecast period. However, trust deficit among customers and online frauds & cyber security issues are expected to hinder the growth of the global market during the forecast period. Moreover, digital commerce automation and expansion of cross-border e-commerce is expected to create an opportunity for the automotive e-commerce industry in near future.
Automotive E-Commerce Market

---

By Components
Interior Accessories is projected as the most lucrative segment
Automotive e-commerce market is segmented basis of components, vendors, vehicle type, operation, and region. On the basis of components, it is divided into informational & multimedia, engine component, tires & wheels, interior accessories, exterior accessories, and electrical products. By vendors, it is divided into OEM and third party vendors. By vehicle type, it is segmented into two wheeler, passenger cars, and commercial vehicles. By operation, it is divided into integrated transportation and warehouse. By region, the market is analyzed across North America, Europe, Asia-Pacific, and LAMEA.
The key players that operate in this automotive e-commerce market are Advance Auto Parts, Alibaba Group, Amazon.Com, Inc., Arch Auto Parts, AutoAnything, Inc., Auto Zone, inc., CARiD, e-Bay Inc., Flipkart, JC Whitney, Napa Auto Parts, Pep Boys, RockAuto, LLC, Sears (Transform Holdco LLC.), Smart Parts Online Pvt. Ltd. (boodmo), Tire Rack.com, Inc., and U.S. Auto Parts Network Inc.
Growth of automotive aftermarket services
The aftermarket service is used for replacement of the damaged part in the vehicle or for the addition of new components in the existing vehicles. The customers need to change various components of their vehicles at specific interval of time for instance, passenger vehicles need to change their tires every 3-4 years, depending on the driving condition. Thus, automotive components have a large aftermarket. Moreover, the aftermarket is gaining traction due to the customer inclination toward installation of advanced components in vehicles to improve vehicle appearance and ensure safety while driving. This increased inclination among the customers leads to the growth of aftermarket service, which is expected to eventually lead to the growth of the automotive e-commerce market in the near future. Furthermore, the contribution of automotive component manufacturers in the aftermarket segment boosts the growth of the segment. For instance, in July 2021, JK Tyre signed an agreement with Ki Mobility Solutions Private Ltd. (KMS) for providing 24 hours assistance to the customer service portfolio range across the country and to develop a large service network to drive the next phase of growth and deliver best practices in the aftermarket service business.
Automotive E-Commerce Market

---
By Vendors
Third Party Vendors is projected as the most lucrative segment
In addition, increase in trend of vehicle customization has been witnessed, owing to rise in disposable income as car owners are more conscious about the looks and aesthetics of the car. Chrome accessories, spoilers, LED lights, allow wheels, and others are some of the examples of the passenger car accessories that enhance the car aesthetics. With the increase in demand for automotive components in aftermarket is expected fuel the demand for automotive e-commerce industry during the forecast period. 
Advancement of multiple payment modes
Advanced payment technology solutions have helped fuel the growth of e-commerce platforms. By investing in this technology, e-commerce merchants can future-proof their businesses. With electronic transactions expected to increase to 83% by 2022, the evolution of payment technology is instrumental to the growth of ecommerce. Not only the latest payment solutions make it easy for customers to shop online, however, they also make it easy for merchants to support e-commerce. With e-payments taking the world by storm, merchants are in a place where they need technology and partnerships to support credit card payments and payments from digital wallets for buy now & pay later transactions. Payment technology has several benefits for both the merchant and the customer. Implementing the most current payment technology improves business on the merchant's end. It enhances customer experience. The benefits of advanced payment methods such as faster check out, more shopping option, and huge cash back drives the growth of automotive e-commerce market.
Automotive E-Commerce Market

---

By Vehicle Type
Passenger Car is projected as the most lucrative segment
Online frauds and cyber security issues
As consumers increasingly turn to online shopping for essential and non-essential goods while at home, fraudsters have adapted their technique to use more sophisticated tactics against consumers, banks, and merchants. A recent study from Forter shows fraud attacks increased by 19 percent, globally, from 2018 to 2019 across the online-retail landscape, ranging from return mishandling and shipping fraud to account takeovers, identity manipulation, and other emerging threats. As per observation that figure may increase in 2021 based on the last few months alone. Banks and retailers have already reported increase in phishing attacks. E-commerce merchants, now more than ever, need to be aware of current fraud trends, and converse with their partners & service providers to establish strategies to mitigate and prevent losses. These factors pool back consumers as well as retailers to sell or buy products online thus hindering the growth of automotive e-commerce market.
Digital commerce automation
The pandemic drove E-Commerce to expand and offer more variations of products and services to give consumers options from the safety of their homes. Despite other restrictions, many E-commerce firms maintained operations. Yet, many consumers still think of E-Commerce as strictly retail items, books, and items you might get in a physical shopping mall. The scope has grown to other segments such as automotive components, groceries, medicines, everyday necessities, and products catered to elderly care. In addition, the pandemic accelerated the adoption of AI and automation. During uncertainty in the economy and the markets, businesses have typically adopted automation and reconfigured work processes to maintain resiliency and to control costs. Automation helps to reduce the number of jobs managing routine and rules-based tasks. Many companies already employ automation in call centers, manufacturing, grocery stores, and warehouses to meet demand and to mitigate crowded workplaces. The use of automation is certainly on the rise, which is anticipated to create lucrative opportunity in the market
Automotive E-Commerce Market

---

By Region
Asia-Pacific would exhibit the highest CAGR of 18.7% during 2022-2031.
Key Benefits For Stakeholders
This report provides a quantitative analysis of the market segments, current trends, estimations, and dynamics of the automotive e-commerce market analysis from 2021 to 2031 to identify the prevailing automotive e-commerce market opportunities.
The market research is offered along with information related to key drivers, restraints, and opportunities.
Porter's five forces analysis highlights the potency of buyers and suppliers to enable stakeholders make profit-oriented business decisions and strengthen their supplier-buyer network.
In-depth analysis of the automotive e-commerce market segmentation assists to determine the prevailing market opportunities.
Major countries in each region are mapped according to their revenue contribution to the global market.
Market player positioning facilitates benchmarking and provides a clear understanding of the present position of the market players.
The report includes the analysis of the regional as well as global automotive e-commerce market trends, key players, market segments, application areas, and market growth strategies.
 Automotive E-Commerce Market Report Highlights
Aspects
Details
Components

Informational and Multimedia
Engine Component
Tires and Wheels
Interior Accessories
Exterior Accessories
Electrical Products

Vendors
Vehicle Type

Two Wheeler
Passenger Car
Commercial Vehicle

Operation
By Region

North America (U.S., Canada, Mexico)
Europe (Germany, France, Russia, Netherlands, United Kingdom, Poland, Spain, Rest of Europe)
Asia-Pacific (China, India, Japan, South Korea, Asean, Rest of Asia-Pacific)
LAMEA (Brazil, UAE, Saudi Arabia, South Africa, Rest of LAMEA)

Key Market Players
Advance Auto Parts, JC Whitney, Tire Rack.com, Flipkart, Amazon, U.S. Auto Parts Network Inc., Napa Auto Parts, O'Reilly Auto Parts, e-bay Inc, Arch Auto Parts, Pep Boys, Auto Anything, Rock Auto.com, Alibaba Group, CARiD, Auto Zone, Sears