The global automotive energy recovery system market was valued at $22.4 billion in 2020, and is projected to reach $45.5 billion by 2030, growing at a CAGR of 7.4% from 2021 to 2030.
An automotive energy recovery system is a technology that utilizes dissipated energy to provide power to the engine or batteries and to enhance engine efficiency by recycling exhaust gases. Dissipated energy improves overall performance and minimizes greenhouse gas emissions of the vehicle. Most electric vehicles are equipped with a regenerative braking system, while turbocharger and exhaust gas recirculation have greater penetration in diesel- & gasoline-powered vehicles. Such developments in automobile technologies allow the prominent market players to invest significantly in R&D to enhance their technical expertise & product portfolio. For instance, in April 2021, IHI Corporation signed an agreement with AVL LIST GmbH, the largest independent company of powertrain systems, for investment regarding electric turbochargers for fuel cell systems with the development to shift from conventional gasoline and diesel-powered vehicles to hybrid vehicles (HEVs), battery electric vehicles (BEVs), and fuel cell vehicles (FCVs).
The COVID-19 crisis creates uncertainty in every market, including the automotive sector. The closure of assembly plants and large-scale manufacturing interruptions has led to the decline in global demand for automobiles, indirectly affecting the automotive energy recovery system market. Furthermore, governments across different regions announced total lockdown and the temporary shutdown of industries, leading to border closures that restricted the movement of transportation & logistics services. As per the data released by the Society of Electric Vehicle Manufacturers (SMEV), new electric vehicles (EVs) registrations during FY21 dropped by 20 percent compared with the number of new EV registrations in FY20, which affected the automotive energy recovery system market. However, the overall service activities of market players have registered a steady and favorable recovery in the subsequent months with the increase in the sales of electric vehicles owing to high fuel cost, which leads to rise in the demand for the automotive energy recovery system market. As per the current scenario, the overall world is getting back on track slowly; with the new restriction and policies, a significant recovery in product sales across the retail sector may positively influence the automotive energy recovery system industry owing to the latest technological innovations regarding vehicle performance.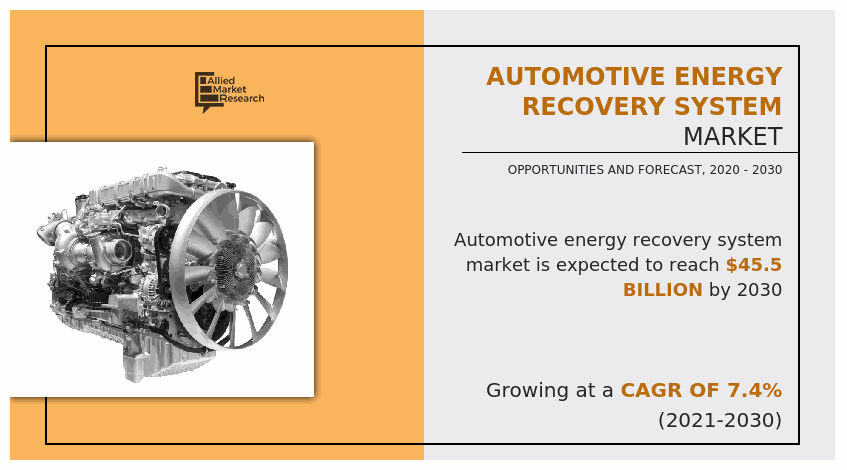 Alternative automobile technologies have become essential to curb increased atmospheric pollution caused by automobile emissions. Hence, automobile giants such as Toyota, BMW, Ford, and Tesla have introduced an energy recovery system in their vehicles to substitute depleting oil reserves, a significant energy source to drive vehicles. In December 2019, BorgWarner Inc. launched the newest AirWerks upgraded turbocharger with a convenient bolt-on design and temperature-resistant materials that deliver optimal performance for the customers with Ford F-150 trucks with model years between 2011 and 2016 with an additional 85 horsepower to the vehicle. In addition, regenerative braking system (RBS) is an emerging braking technology in the automotive industry and is applicable in both conventional vehicles and electric vehicles, owing to its advantages such as improved performance of the vehicle and reduction in wear &tear of the braking system, which also boosts the energy recovery system market.
Factors such as stringent vehicular emission rules & regulations, an increase in the trend toward downsizing the engine, and stringent fuel economy standards are expected to drive the automotive energy recovery system market growth. In addition, rise in the number of electric vehicles & EVSE infrastructure and improved vehicle performance are anticipated to boost the market's growth. However, surge in vehicles' overall cost & weight and high repair & maintenance costs restrain the market growth. Furthermore, technological advancements such as introducing waste energy recovery systems in two-wheelers and rise in government rules & regulations provide lucrative growth opportunities for the market players.
Automotive Energy Recovery System Market

---

By Product Type
Regenerative Braking System is projected as the most lucrative segments
Get more information on this report :
Request Sample Pages
The automotive energy recovery system market is segmented on the basis of product type, vehicle type, and region. By product type, the market is divided into regenerative braking systems, turbocharger, and exhaust gas recirculation (EGR). By vehicle type, the market is categorized into passenger cars, commercial vehicles and electric vehicle. By region, the market is analyzed across North America, Europe, Asia-Pacific, and LAMEA.
The key players operating in the global automotive energy recovery system market are BorgWarner Inc., Continental AG, Cummins Inc., Faurecia, Honeywell International Inc., Hyundai Motor Group, IHI Corporation, Mitsubishi Heavy Industries, Ltd., Robert Bosch GmbH, and Tenneco Inc.
Stringent vehicular emission rules and regulations
Vehicles on roads are vital contributors to a nation facilitating the timely movement of goods and other consumer-related activities. According to the International Air Agency, around 6.5 million deaths are recognized each year due to air quality. Hence, governments of developed countries have established initiatives to reduce vehicular and industrial pollution to reduce individual carbon footprints. Moreover, the governments of various countries such as the US, Germany, and India have launched programs and policies related to vehicle emissions. For instance, in Maharashtra (India), the state's new electric vehicle (EV) policy aims to have a 10% share of electric vehicles among total vehicle registrations by 2025 to reduce vehicular emissions, as stated by the Director of Maharashtra Pollution Control Board (MPCB).
Furthermore, the Environmental Protection Agency (EPA) finalized federal greenhouse gas (GHG) emissions standards for passenger cars and light trucks in the US through 2026. The final standards leverage advances in clean car technology to unlock $190 billion in net benefits to Americans, including reducing climate pollution, improving public health, and saving drivers money at the pump. Therefore, to match stringent vehicular emission regulations, automakers installed energy recovery systems in their vehicles for a sustainable energy source as a part of the green energy initiative, which is expected to drive the growth of the automotive energy recovery system market. 
Automotive Energy Recovery System Market

---

By Vehicle Type
Electric Vehicles is projected as the most lucrative segments
Get more information on this report :
Request Sample Pages
Rise in the number of electric vehicles & EVSE infrastructure
Electric vehicles (EVs) have experienced a rise in popularity over the past few years as the technology has matured & costs have declined, and support for clean transportation has promoted awareness, increased charging opportunities, and facilitated EV adoption. Furthermore, growth in vehicle emission concerns and depletion of non-renewable energy resources have attracted the attention of several governments to invest in electric vehicles. The European countries are among the frontrunners in adopting electric mobility. According to European Environment Agency, in 2020, electric car registrations surged, accounting for 11% of newly registered passenger cars in which battery electric vehicles (BEVs) accounted for 6% of total new car registrations, while plug-in hybrid electric vehicles (PHEVs) represented 5%. Besides, owing to the increased sales of electric vehicles, the EV infrastructure is advancing rapidly. For instance, in June 2021, the Canadian government announced an investment of about USD 2.35 million to install EV fast chargers. Meanwhile, the adoption of EVs equipped with a regenerative braking system (RBS) to utilize the kinetic energy into electrical energy even in public transport vehicles is expected to drive the automotive energy recovery system market.
High repair and maintenance cost
The repair and maintenance cost of automotive energy recovery systems plays a vital role in the automotive energy recovery system market. On average, $8,500 is required to repair the braking system of an electric passenger car, including labor & parts costs. The regenerative braking system is more complex in design than the conventional braking system as it combines many components. These components require regular inspection to overcome the maintenance problem. Moreover, sometimes due to over braking, the motor/regenerator suffers a short circuit due to overheating of binding or armature coil. In addition, installation is a crucial factor in the effective working of a turbocharger, so if there is any mistake during the installation of the turbocharger, it will not only make the turbocharger ineffective however may harm the engine. Hence, the compatibility of turbochargers with engines is an issue that needs some profound observation. Turbochargers get efficiently heated and require some oil or coolant to work correctly. Most vehicles that use turbocharger technology run at very high speeds, so any heating-related or engine malfunction could lead the vehicle into danger. Therefore, proper security check and foolproof solution for the above conditions is significant for the market's growth.
Advancement in technology
Automobile companies have focused on producing advanced automotive energy recovery systems with high-efficiency rate and low cost. For instance, in August 2019, Hyundai Motor Group launched the world's first Continuously Variable Valve Duration (CVVD) technology in Smartstream G1.6 T-GDi Engine, an I4 gasoline turbo unit with 180 horsepower & 27.0kgm of torque that offers exhaust gas recirculation to optimize fuel efficiency. Currently, the regenerative braking system (RBS) for two-wheelers can recover only 3% to 4% of energy, whereas RBS in passenger cars can recover half of the waste energy. Furthermore, the adoption & popularity of regenerative braking systems (RBS) in electric buses exhibits a high mile range & initiatives taken by the government for environment-friendly buses across the world, such as hybrid buses or electric buses, foster energy recovery system market opportunity in the heavy vehicles segment. For instance, in 2022, BYD launched its electric school bus Type A, a battery-electric vehicle equipped with standard safety features such as high strength steel construction body, electronic stability control to aid handling, and an electronic braking system to ensure more evenly distributed brake force. Thus, such advancements in vehicle technology to reduce carbon emission and fuel costs create market opportunities for the automotive energy recovery system market.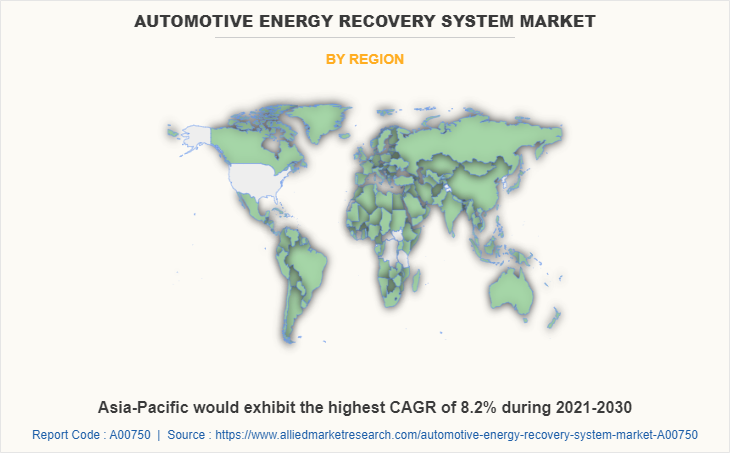 Key Benefits For Stakeholders
This study presents the analytical depiction of the global automotive energy recovery system market analysis along with the current trends and future estimations to depict imminent investment pockets.

The overall market opportunity is determined by understanding profitable trends to gain a stronger foothold.

The report presents detailed impact analysis information related to the key drivers, restraints, and market opportunities.

The current automotive energy recovery system industry is quantitatively analyzed from 2021 to 2030 to benchmark financial competency.

Porter's five forces analysis illustrates the potency of the buyers and suppliers in the industry.
 Automotive Energy Recovery System Market Report Highlights
Aspects
Details
By Product Type

Regenerative Braking System
Turbocharger
Exhaust Gas Recirculation

By Vehicle Type

Passenger Cars
Commercial Vehicles
Electric Vehicles

By Region

North America (U.S., Canada, Mexico)
Europe (U.K., Germany, France, Netherlands, Norway, Rest of Europe)
Asia-Pacific (China, Japan, India, South Korea, Rest Of Asia Pacific)
LAMEA (Latin America, Middle East, Africa)

Key Market Players
continental ag, Honeywell International Inc., faurecia, Hyundai Motor, ihi corporation, Cummins Inc., Tenneco Inc., robert bosch gmbh, BorgWarner Inc., Mitsubishi Heavy Industries