The global automotive fintech market size was valued at $47.1 billion in 2021, and is projected to reach $112.1 billion by 2031, growing at a CAGR of 9.2% from 2022 to 2031.
Automotive fintech is a branch of financial technology devoted to offering digital financial services in the automotive industry. Automotive fintech includes services such as digital vehicle finance and leasing, digital insurance, and vehicle payment, among others. Automotive fintech firms use advanced technology such as machine learning, data analytics, and blockchain to simplify and automate financial transactions to make it easier for consumers and corporations to purchase and operate vehicles.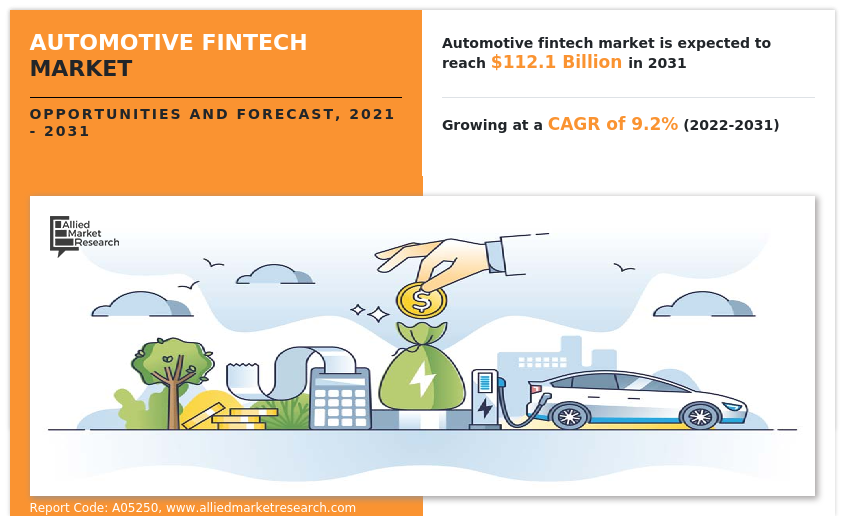 The automotive fintech market is segmented into End Use, Channel, Vehicle Type and Propulsion Type.
Automotive fintech covers tools for vehicle ownership and management in addition to automobile buying and financing. There are mobile apps, for example, that allow drivers to track the vehicle's condition and receive repair reminders. There are other systems that offer on-demand automobile sharing and rental services, helping consumers to rent cars for short amounts of time without a visit to a rental car office. 
The automotive industry in the UK has made incredible strides in recent years. The UK has an extremely competitive supply chain, with cars manufactured in the country now containing more than 15% more UK content than they did five years ago. Car manufacturing is at its highest level since 2005, exports are stronger than ever, and the UK economy is thriving. Industry, on the other hand, is about to undergo a significant transformation. Technology has opened many new possibilities for the development of greener, more efficient, and safer automobiles. Due to the rapid development of the digital economy, old business models are being modified, updated, and even abandoned. This is expected to propel the market forward.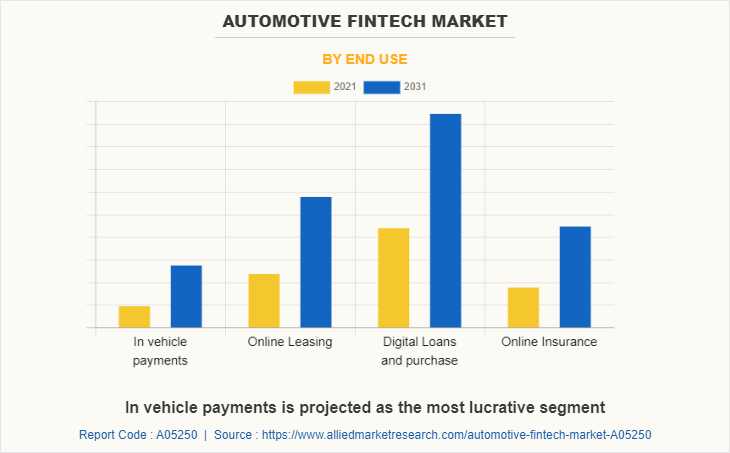 Most auto loan finance companies and showrooms are conscious that change is required and that they must begin utilizing innovative end-to-end pricing technology like digital loans and purchases. Thankfully, recent advancements in digital and cloud technology have made it feasible for breakthroughs and trends in auto financing. With sophisticated end-to-end lending software, which combines innovative technology like machine learning, advanced data analytics, and artificial intelligence, auto dealers can now fully control every aspect of their lending program. The use of such technologies is predicted to propel market expansion.
The market is segmented on the basis of by end use, by channel, vehicle type and propulsion type. By end use, it is classified into in-vehicle payments, online leasing, digital loans and purchase, online insurance. By channel, it is divided into on demand and subscription. By vehicle type, it is categorized into passenger car and commercial vehicle. By channel, it is divided into on demand and subscription. By propulsion type, it is categorized into ICE and electric. By region, the market is analyzed across North America, Europe, Asia-Pacific, and LAMEA.
Asia-Pasific is expected to grow at the fastest rate among the other regions. Because of the numerous developments made by top players such as Tech Mahindra and HCL Technologies for the development of blockchain systems. These advancements have increased the use of blockchain in automobiles, fueling the growth of the region's automotive fintech market.
Moreover, in July 2022, according to Fitch Ratings, the Chinese government's recent initiative to expand credit support for auto purchases will accelerate auto finance penetration and expansion. However, any loosening of underwriting rules by lenders to allow for more aggressive development could jeopardize car finance providers' asset quality and capitalization, as well as worsen the performance of Chinese auto ABS. In response to economic uncertainty, China has stepped up efforts to boost domestic demand, particularly in the auto industry. China will launch its first car insurance policies using digital renminbi in June 2022. In addition, The automotive fintech business in Japan is quickly rising due to the increasing number of vehicles produced as a result of the replacement of outdated models with more advanced versions to improve the driving experience. Furthermore, it is expected that demand for vehicle loans in Japan would rise over the forecast period due to factors such as the expansion of transportation-related industrialization activities and an increase in the number of consumers opting for auto loans. Many vehicle dealerships, brokers, and even showrooms will offer an auto loan program when a customer visits them. These initiatives are intended to let individuals pay a percentage of the car's worth upfront rather than making monthly payments, which is expected to propel the automotive fintech market.
Some leading companies profiled in the automotive fintech market report comprises The Savings Group, Inc., AutoFi Inc., Blinker, Inc., By Miles Ltd., Creditas Soluções Financeiras, Cuvva, Grab, ROUTEONE, Euroclear, Kuwy Technology Service Private Limited. 
The leading companies are adopting strategies such as acquisition, collaboration and product launch to strengthen their market position. In April 2022, By Miles Ltd. launched the By Miles Connect platform, which allows connected car drivers to connect their insurance policy to the company directly from their vehicle. In collaboration with major car manufacturers Mercedes Benz and Ford, the By Miles Connect platform is linked to ten car brands, with plans to add more. In addition, in July 2021, Creditas Soluções Financeiras acquired Minuto Seguros, Brazil's largest digital insurance brokerage. By creating a new business unit vertical, it continues to add new features around its three ecosystems. After the transaction, the fintech start to offer a complete set of options to its customers that encompasses lending, insurance, and consumer solutions. All these developments are expected to increase automotive fintech market share in fintech industry.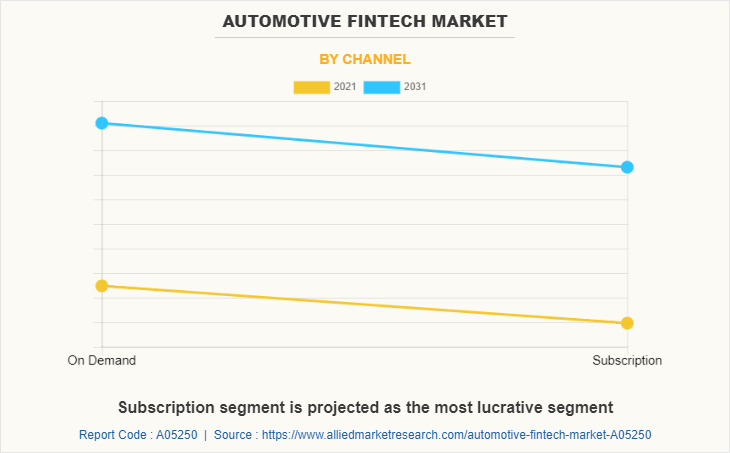 Collaboration of cab rental companies with Fintech companies
The cab rental sector is the business of supplying consumers with on-demand transportation services via vehicles such as taxis, cars, or ride-hailing services. The sector has expanded tremendously, with the rise of technology and mobile apps, making it easier for clients to book a trip and follow their vehicle in real-time. Cab businesses provide a variety of services, including point-to-point, hourly rentals, and airport transfer excursions. The sector is competitive, with players ranging from traditional taxi firms to new players such as Uber and Lyft, and local entrepreneurs.
Collaboration between financial firms and cab rental companies has gained popularity in recent years. This collaboration has resulted in new and better services that meet the needs of clients in a rapidly expanding market. These organizations provide seamless experiences that are easy and cost-effective by combining their skills. For instance, in July 2022, Moove, an African mobility fintech that is  largest vehicle supply partner of Uber in EMEA, has begun operations in India as part of its global expansion plans. From its African roots, the start-up has expanded to Mumbai, Hyderabad, and Bangalore. The startup exclusively provides accessible vehicle financing to Uber drivers.
The Fintech industry brings a lot to the table in these collaborations. It provides the financial infrastructure that allows for easy payment options and the integration of various financial services. This allows customers to pay for their rides, and rent all within a single platform. For cab rental companies, collaboration with fintech companies helps them to expand their offerings and reach a wider audience. These companies can tap into the expertise of fintech companies to develop more comprehensive services that cater to the needs of their customers.
In addition,  collaboration between cab rental companies and fintech companies has enabled the development of more comprehensive services that meet the needs of customers. These companies provide cost-effective, convenient, and value-added services to their customers by integrating financial services and innovative technologies. This pattern is expected to continue as technology advances and new players enter the market. Increase in collaboration between auto fintech companies and ride-sharing platform is expected to fuel the demand for the automotive fintech market during the forecast period.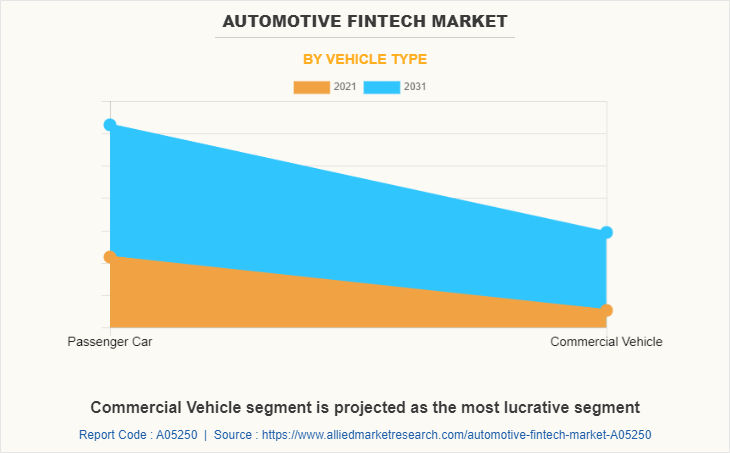 Digitalization in the automotive sector
Fintech digitalization had a significant impact on the automotive industry, enabling more efficient and simple methods of financing and insuring vehicles. This involves fintech advancements such as robo-advisors and AI algorithms. These advancements have changed the car-buying and selling process, making it easier and faster for consumers to research and acquire their desired vehicles. This attracted major automotive manufacturers to invest in fintech-based companies to expand the business. For example, in October 2022, Volkswagen Bank expanded its investment in fintech Credi2, a leading automobile bank of Germany, and introduced a new fast lending solution for private consumers at Volkswagen Group (VW, Audi, Skoda, Seat, and Ducati) dealerships. This financing option provides extra earning potential and expands the  consumer base of the merchant partners.
In addition, in November 2022, Bumper, a car repair payment platform, raised $30 million in funding from its Series A extension round, with Autotech Ventures, InMotion Ventures, ITOCHU, and Revo Capital investing in the automotive fintech start-up. The bumper is a digital payment network for automotive repairs and services that allows owners to pay online, in-store, or spread their payments over monthly interest-free installments. It also provides an installment financing solution that makes use of proprietary AI-enabled technologies to make real time lending decisions. As a result, the automotive sector has become more accessible and user-friendly, resulting in a better overall customer experience. All these factors are expected to boost the automotive fintech market significantly during the forecast period.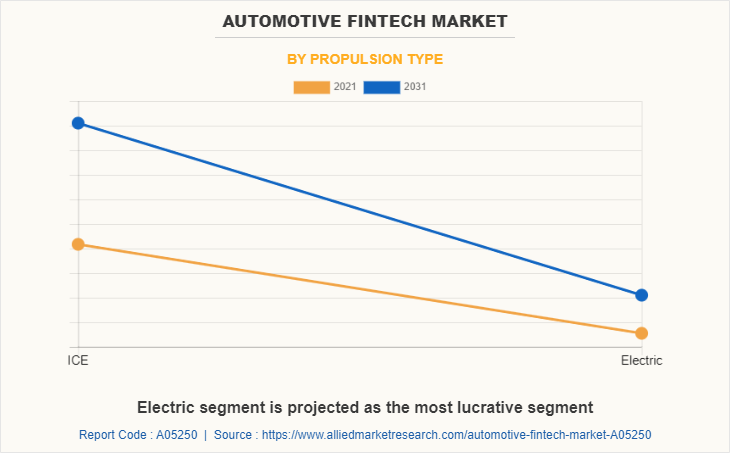 Security and privacy concerns
The automotive fintech market is concerned about security and privacy. Connected technology, such as telematics, GPS, and remote start systems, leave automobiles vulnerable to hacking and theft. Automotive fintech companies must adopt encryption and firewalls to tackle this. Data security is also an issue, because large volumes of personal and sensitive information are collected and kept. Companies must employ encryption, safe storage and access controls, and frequent data audits to prevent data breaches. Digital payments are vulnerable to fraud and theft in terms of payment security. Companies must adopt secure payment systems with multi-factor authentication, encryption, and fraud detection to mitigate these threats. Addressing these security and privacy concerns is projected to raise the cost of fintech services which will hamper the growth of the market.
Rise in demand for automotive usage based fintech
The demand for usage-based fintech is growing for the automotive fintech market. Usage-based fintech solutions, such as pay-per-mile programs and usage-based insurance, are becoming extremely popular because they offer customers a more personalized and cost-effective alternative to traditional insurance and payment systems. Also block-chain technology provides better security and privacy to usage-based fintech solutions. Automotive companies benefit through usage-based fintech in many ways, including enhanced customer satisfaction, data analysis, cost savings, and a competitive advantage. Usage-based insurance and pay-per-mile plans are more customized and cost-effective than traditional systems. The data collected by these solutions can be used to improve products and improve the consumer experience. Furthermore, usage-based fintech can assist automobile companies in improving their efficiency and sustainability, resulting in cost savings and a lower environmental effect. Overall, automakers are utilizing the power of technology and data to improve business operations and remain ahead of the competition. For instance, in January 2022, Otonomo, a mobility intelligence platform provider collaborated with Audi on data-driven insurance. Audi and Otonomo will begin with a few dozens of data points covering use cases like pay-as-you-drive (PAYD) for usage-based insurance, first notification of loss (FNOL), and vehicle status. By using the power of technology and data, Otonomo and Audi can both benefit from the growing demand for usage-based fintech solutions in the  market. The expansion of the market presents a significant opportunity for companies to capitalize on this rising demand and achieve significant growth.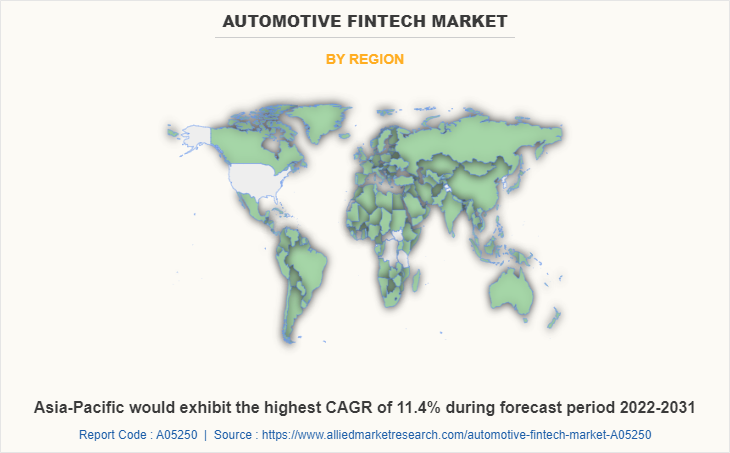 The global automotive fintech market has been significantly impacted by the COVID-19 pandemic. The automotive sector has slowed down due to supply chain problems and decreased consumer demand. As a result, auto sales have decreased and the expansion of the automotive fintech market has slowed. The shift to online sales and financing has been one of the most significant effects of the epidemic on the automotive fintech market. More consumers are turning to internet platforms to buy cars and obtain finance with physical showrooms closing and social distancing measures in place. This has opened opportunities for fintech firms to provide creative digital solutions for the automobile industry.
Key Benefits For Stakeholders
This report provides a quantitative analysis of the market segments, current trends, estimations, and dynamics of the automotive fintech market analysis from 2021 to 2031 to identify the prevailing automotive fintech market opportunities.
The market research is offered along with information related to key drivers, restraints, and opportunities.
Porter's five forces analysis highlights the potency of buyers and suppliers to enable stakeholders make profit-oriented business decisions and strengthen their supplier-buyer network.
In-depth analysis of the automotive fintech market segmentation assists to determine the prevailing market opportunities.
Major countries in each region are mapped according to their revenue contribution to the global market.
Market player positioning facilitates benchmarking and provides a clear understanding of the present position of the market players.
The report includes the analysis of the regional as well as global automotive fintech market trends, key players, market segments, application areas, and market growth strategies.
 Automotive Fintech Market Report Highlights
Aspects
Details
Market Size By 2031
USD 112.1 billion
Growth Rate
CAGR of 9.2%
Forecast period
2021 - 2031
Report Pages
297
By End Use

In vehicle payments
Online Leasing
Digital Loans and purchase
Online Insurance

By Channel
By Vehicle Type

Passenger Car
Commercial Vehicle

By Propulsion Type
By Region

North America (U.S., Canada, Mexico)
Europe (UK, Germany, France, Russia, Rest of Europe)
Asia-Pacific (China, Japan, India, South Korea, Rest of Asia-Pacific)
LAMEA (Latin America, Middle East, Africa)

Key Market Players
Grab, Blinker, Inc, AutoFi Inc., Euroclear, Kuwy Technology Service Private Limited, ROUTEONE , Creditas Solues Financeiras, The Savings Group, Inc., By Miles Ltd. , Cuvva