The global automotive flywheel market size was valued at $7.4 billion in 2022, and is projected to reach $10.7 billion by 2032, growing at a CAGR of 3.8% from 2023 to 2032.
Flywheel is a mechanical device used to store rotational energy in a rotating mass. It consists of a heavy disc or wheel that is attached to a shaft and is used to smooth out the delivery of power from an engine or other power source. The flywheel helps to maintain a constant speed and prevent fluctuations in torque, which can be especially important in applications in the automotive industry. On the other hand, a flexplate, also known as the flywheel flexplate, is similar to a flywheel, however, is usually an automatic transmission application. It is a thin, circular plate that is mounted to the engine's crankshaft and connects to the torque converter. The flexplate serves a similar purpose as a flywheel. It stores rotational energy and provides a stable platform for the torque converter to engage and disengage.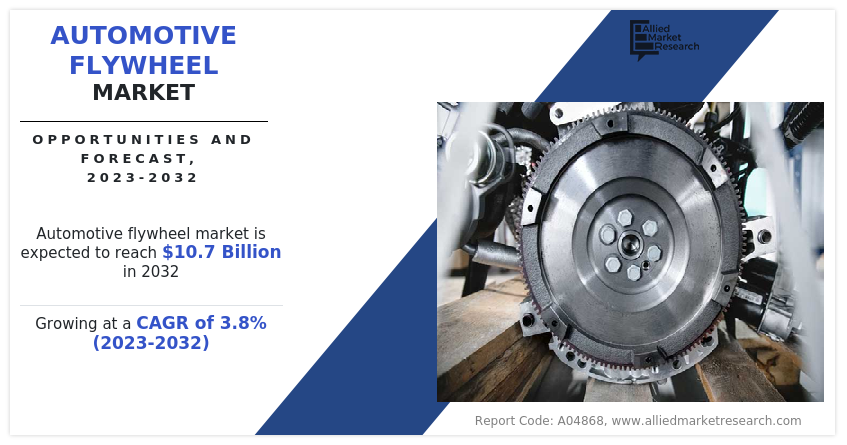 The single mass flywheel is a weighted disc that is located at the end of the engine's crankshaft before the clutch and gearbox. A single or solid mass flywheel has no moving parts, is formed of a single, substantial piece of metal or steel, and offers direct contact between the clutch assembly and the engine. However, dual mass flywheel consists of two flywheels, one coupled with the crankshaft and the other to the clutch. The primary purpose of the dual mass version is to reduce noise and vibration by storing energy from an engine-firing pulse and transferring it to the crankshaft so that it rotates smoothly until the next piston pulse. Between the two discs, several powerful springs serve as a "mechanical cushion" to absorb damage of torsional spikes against engine vibrations and shield the gearbox from them.
Dual-mass flywheels increase fuel efficiency due to the more effectiveness and efficient use of engine power. Owing to this, they are mostly utilized in commercial vehicles, notably those with diesel engines and manual transmissions. An increase in the penetration of commercial vehicles is anticipated to drive the growth of the dual-mass flywheel market. Moreover, due to the lack of cylinders causing undesirable anomalies in crankshaft speed and the high levels of vibration, flywheels need to keep up with the recent downsizing trend. This has helped the creation of devices such as the dual-mass flywheel, as opposed to the typical single-mass units, which  creates noise during driving. This helps to fuel the growth of the dual mass flywheels.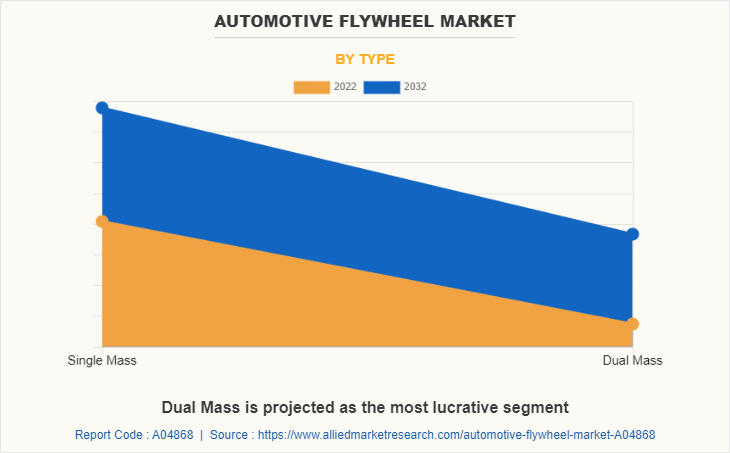 Manual transmissions are generally less expensive than automatic transmissions, making them a more affordable option for budget-conscious consumers. Manual transmissions typically have better fuel efficiency than automatic transmissions, as they allow more precise control over the engine's power output. Many car enthusiasts prefer the driving experience of a manual transmission, as it allows for greater control over the acceleration and braking of the vehicle. Manual transmissions can provide better performance in certain situations, such as off-roading or racing, where the driver may need to shift gears quickly and frequently. Manual transmissions are generally simple and easier to maintain than automatic transmissions, as they have minimum complex parts.
The Canadian automotive industry has a greater concentration of light trucks and SUVs owing to their high residual value and functionalities. Light trucks have higher-priced parts that increases the value per part and service, which is expected to offer significant revenue potential for the automotive flywheel industry players in the country. In addition, the huge population of out-of-warranty vehicles, driven by the growth of used vehicle sales, provides vast opportunities for the automotive flywheel market. Moreover, early adoption of technology-based business models and services, such as eRetailing, service aggregations, and telematics-based prognostics, is anticipated to promote online automotive component sales and services, which in turn, propel the growth of the market during the forecast period.
Growth in penetration of dual-clutch transmission (DCT) & continuous variable transmission (CVT), increased manufacturing & sales of cars, and an increase in demand for commercial vehicles are the major factors that propel the automotive flywheel market growth. However, the increase in the adoption of electric vehicles and the rise in the trend for repair rather than replacing the flywheel are the major factors that hamper the growth of the market. Furthermore, continuous technological improvements and a surge in the electric vehicle business across the globe, and the development of lightweight vehicle components to enhance fuel efficiency are the factors that are expected to offer growth opportunities for the market during the forecast period.
The automotive flywheel market is segmented on the basis of type, transmission type, vehicle type, distribution channel, and region. By type, it is divided into a single mass and dual mass. By transmission type, it is classified into manual, semi-automatic & automatic, and CVT. By vehicle type, it is categorized into passenger vehicle and commercial vehicle. By distribution channel, it is bifurcated into OEM and aftermarket. By region, the market is analyzed across North America, Europe, Asia-Pacific, and LAMEA.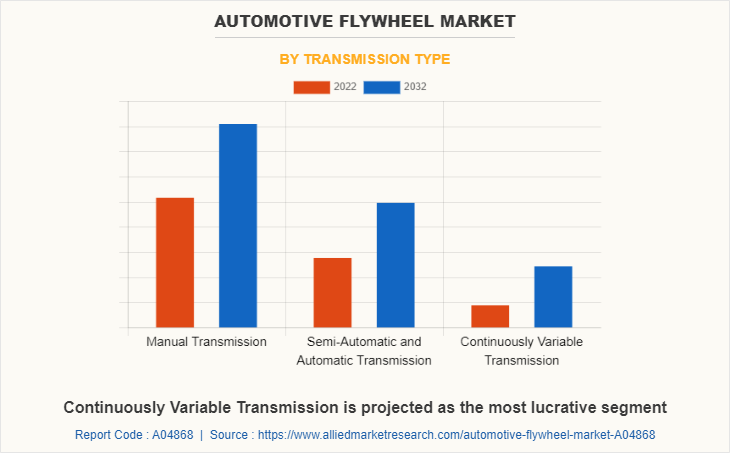 Asia-Pacific dominated the market in 2022. It is analyzed across China, India, Japan, South Korea, and the rest of Asia-Pacific has one of the most advanced automotive sectors across the globe. Rest of Asia-Pacific includes Australia, New Zealand, ASEAN, and others. Countries such as China, Japan, India, and others in the region are highly developed in terms of infrastructure and automotive manufacturing facilities.
Some leading companies profiled in the automotive flywheel market report comprises AISIN CORPORATION, EXEDY Globalparts Corp., Ford Motor Company, Pioneer Automotive Industries, Schaeffler Technologies AG & Co. KG, Skyway Precision Inc., SPEC Clutch, Inc., VALEO SERVICE, and ZF Friedrichshafen AG.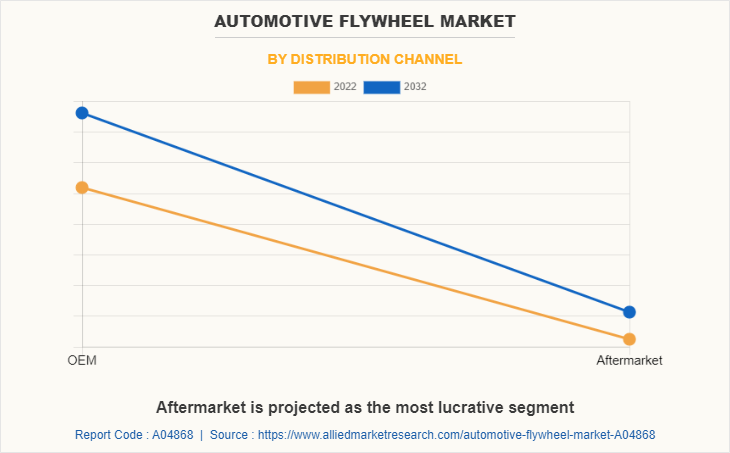 The leading companies have adopted strategies such as product launch, expansion, and product development to strengthen their market position. In February 2021, Valeo S.A launched Dual Mass Flywheel for Mahindra XUV500. These flywheels are available on vehicles with internal combustion engines to provide significant inertia for a regular regime of rotation. In addition, in March 2019, Pioneer Automotive Industries launched 25 new numbers in the Powertrain category including automatic and manual transmission shift, detent, accelerator, and clutch cables, along with automatic transmission flexplates and a manual flywheel.
Growth in penetration of dual-clutch transmission (DCT) and continuous variable transmission (CVT)
Dual clutch transmission (DCT) and Continuous variable transmission (CVT) are two types of transmission systems used in modern automobiles. DCT is a type of automatic transmission that uses two clutches instead of one. One clutch control an odd number of gears, while the other controls an even number of gears. When a gear change is required, one clutch disengages while the other engages, allowing seamless and faster gear changes. On the other hand, CVT is a type of automatic transmission that can continuously vary the gear ratio to provide the optimal engine output for any given driving condition. Instead of using a fixed number of gears, CVT uses a pulley and belt system to continuously adjust the gear ratio. This allows a smoother driving experience and improves fuel efficiency.
Stricter environmental regulations around the world have pushed automakers to develop more fuel-efficient vehicles. DCT and CVT provide improved fuel efficiency compared to traditional automatic or manual transmissions, making them an attractive option for automakers. In addition, the cost of manufacturing DCT and CVT has decreased in recent years, making them more affordable for automakers to produce and offer in their vehicles. Offering vehicles equipped with DCT and CVT can help automakers differentiate themselves from their competitors and to a wider range of customers.
Moreover, consumers are increasingly looking for vehicles that offer a smooth driving experience, improve performance, and have high fuel efficiency. This requirement is fulfilled by DCT and CVT by providing improved performance and fuel efficiency. Such improvement in performance requires high-quality flywheels that can manage the increased demand placed on them. In addition, DCT and CVT require high-quality flywheels to operate efficiently. As the penetration of these transmission systems increases, the demand for high-quality flywheels also is expected to increase, driving the growth of the automotive flywheel market.
Increased manufacturing and sales of cars
The automotive flywheel market in the area has growth potential due to a rise in consumer spending and increased use of vehicles in developing countries. In addition, the world's population has grown, and as a result, the demand for transportation has increased. The economic growth in many countries has increased disposable income, which has translated into higher demand for cars. As more people move into urban areas, the demand for cars increases. Cars provide a convenient mode of  operation in urban areas where public transportation may not be as accessible or convenient. These factors increased manufacturing and sales of care, which in turn is expected to create demand for car flywheels during the forecast period.
Moreover, developing and implementing novel transportation solutions have expanded tremendously in nations such as the U.S., India, and China, which see automobile manufacturing and production as a foundation of economic development. For instance, according to OICA, globally, 61,598,650 units of cars and 23,418,078 units of commercial vehicles were produced in the year 2022. In addition, in India 4,439,039 units of cars; in China 23,836,083 units of cars; and in the U.S., 1,751,736 units of cars were produced in the year 2022.
Government regulations that incorporate elevated levels of protection and high local content requirements have fueled the growth of the car industry in developing economies over the last few decades. While these rules have boosted local cars and related components including flywheel production, they have also helped certain local businesses survive even in an economic downturn. In addition, the emergence of global potential automobile manufacturers such as General Motors, Hyundai, Kia, Renault, and Volvo, focusing on expanding their production capacities in developing countries through joint ventures with local manufacturers, is expected propels the growth of the automotive flywheel market.
Surge in adoption of electric vehicles.
The rise in popularity and adoption of electric vehicles have presented a challenge to the growth of the automotive flywheel market. As electric vehicles do not use traditional internal combustion engines (ICEs), they do not require a flywheel to store kinetic energy (KE). In addition, in recent years, the demand and production of electric vehicles have increased significantly as electric vehicles offer several advantages over fuel-powered automobiles. Electric vehicles remove the requirement of engine components such as flywheels, fan belts, oil, air filters, head gaskets, timing belts, cylinder heads, and spark plugs, which, in turn, makes them cost-effective and efficient for IC engine-powered automobiles. This makes electric vehicles a preferred choice for automobile owners. For instance, Protean Electric and Local Motors announced the continuation of their strategic relationship in June 2021 with a new three-year agreement for U.S. $7.3 million, in which Protean Electric would provide thousands of Protean Drive in-wheel motors to power Local Motors' Olli 2.0 electric autonomous shuttle. As a result, the demand for flywheels decreased, which is likely to impact the growth of the market. This shift in demand toward electric vehicles has forced the flywheel industry to adapt and explore new avenues for growth and development.
Continuous technological improvements
The automotive industry has seen continuous technological advancements in kinetic energy recovery systems in recent years, leading to the development of improved flywheel designs and materials. During a vehicle's braking phase, kinetic energy recovery from a moving object is mostly started. An energy recovery system's shaft must be part of the powertrain and must typically be attached to the crankshaft or an axle to function. Energy recovery mechanisms such as an electric motor, flywheel, or compressor are connected to the driveline through the gearbox as the vehicle slows down. This causes the flywheels to spin up and start working with the electric motors or compressors to convert the kinetic energy to electric or hydraulic energy, depending on the system. Hence, improvement in flywheel help to increase the performance of the kinetic energy recovery systems.
Moreover, advancements in computer-aided design and manufacturing technologies have allowed more precise and complex flywheel designs, which can further improve their performance. In addition, technological advancement is in the development of hybrid flywheels, which combine the energy storage capabilities of the traditional mechanical flywheel with the benefits of an electrical system. These hybrid flywheels are being used in automotive applications, especially for motorsports. Therefore, technological developments in kinetic energy recovery systems can provide significant growth opportunities to major market players in the automotive flywheel market in the forecast period.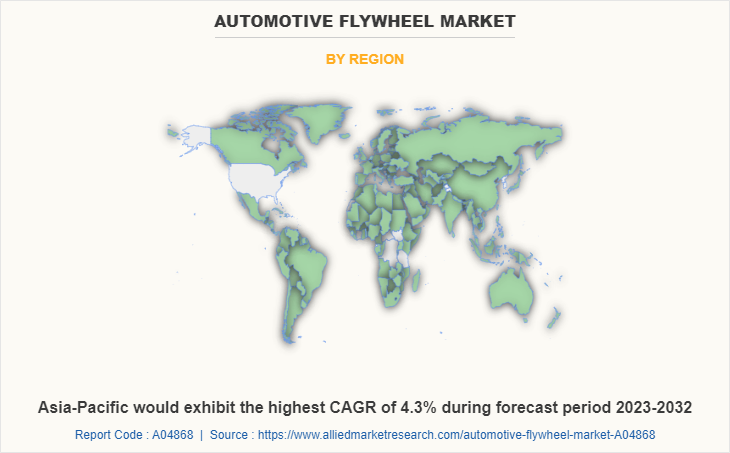 During the COVID-19 pandemic, there was a decline in vehicle demand from consumers due to the lockdown. Therefore, the sudden decrease in demand for vehicles impacted automaker revenue and profitability that resulted in job losses in the automotive industry. For instance, the global economic trade impact of the COVID-19 pandemic on the automotive industry was estimated to have been around $5.7 billion. Furthermore, the pandemic forced many top automotive manufacturers to post or slow down their production lines, which led to a decrease in the demand for automotive components, including flywheels. This led to a decline in the revenue of many flywheel manufacturers and forced some to re-evaluate their business models and considered new markets or product offerings.
Key Benefits For Stakeholders
This report provides a quantitative analysis of the market segments, current trends, estimations, and dynamics of the automotive flywheel market analysis from 2022 to 2032 to identify the prevailing automotive flywheel market opportunities.
The market research is offered along with information related to key drivers, restraints, and opportunities.
Porter's five forces analysis highlights the potency of buyers and suppliers to enable stakeholders make profit-oriented business decisions and strengthen their supplier-buyer network.
In-depth analysis of the automotive flywheel market segmentation assists to determine the prevailing market opportunities.
Major countries in each region are mapped according to their revenue contribution to the global market.
Market player positioning facilitates benchmarking and provides a clear understanding of the present position of the market players.
The report includes the analysis of the regional as well as global automotive flywheel market trends, key players, market segments, application areas, and market growth strategies.
 Automotive Flywheel Market Report Highlights
Aspects
Details
Market Size By 2032
USD 10.7 billion
Growth Rate
CAGR of 3.8%
Forecast period
2022 - 2032
Report Pages
296
By Distribution channel
By Type
By Transmission Type

Manual Transmission
Semi-Automatic and Automatic Transmission
Continuously Variable Transmission

By Vehicle type

Passenger Vehicle
Commercial vehicle

By Region

North America (U.S., Canada, Mexico)
Europe (Germany, UK, France, Italy, Rest of Europe)
Asia-Pacific (China, Japan, India, South Korea, Rest of Asia-Pacific)
LAMEA (Latin America, Middle East, Africa)

Key Market Players
SPEC Clutch, Inc., Ford Motor Company, Skyway Precision Inc., ZF Friedrichshafen AG, Schaeffler Technologies AG & Co. KG, Pioneer Automotive Industries, Aisin Corporation, EXEDY Globalparts Corp, AMS Automotive, Valeo S.A
Analyst Review
The Automotive flywheel market is expected to witness remarkable growth in the future, owing to increase in demand for commercial vehicles. The key factors that drive the growth of the automotive flywheel market are the surge in penetration of dual-clutch transmission (DCT) and continuous variable transmission (CVT). However, rise in trend for repair rather than replacement of the flywheel is anticipated to hinder the automotive flywheel market growth. Furthermore, development of lightweight vehicle components to enhance fuel efficiency is expected to provide remarkable growth opportunities for players operating in the used cars market.
The rise in fuel prices across the globe has further increased the demand for fuel-efficient automobiles. Automotive manufacturers have reduced the weight of automotive components including engine components such as flywheels and transmission components systems by utilizing lightweight materials such as aluminum components and plastic casing. Heavy steel automotive components can be replaced with lighter materials such as high-strength steel, aluminum, or glass fiber-reinforced polymer composites, resulting in significant weight reduction and surge in the fuel economy of the vehicle. As it takes less energy to accelerate a lighter object than a heavier one, lightweight materials offer enormous potential for increasing vehicle efficiency, which further increases the demand for lightweight automotive flywheel systems. For instance, according to the ACTION CLUTCH report presented on March 2022, swapping stock flywheels for lightweight ones has become increasingly popular among automotive enthusiasts. A lightweight flywheel makes the car snappier and allows the engine to revolve more freely. The lesser inertia in the flywheel makes the car respond to upshifting instantly, which is a notable feature for road racing and driving in canyons. In addition, it is essential to reduce the weight of the automotive components to improve the efficiency of individual driving dynamics. Moreover, the surge in demand for high-performance vehicles across the globe has further fueled the demand for high-performance automotive flywheel and kinetic energy storage systems to improve the drivability of the vehicle in high-speed tracks or off-roading environments