The global automotive glow plug market was valued at $2.7 billion in 2021, and is projected to reach $4 billion by 2031, growing at a CAGR of 4.1% from 2022 to 2031.
A glow plug is a small heating device which is utilized to start the diesel engine in vehicles. A glow plug heats the air and fuel mixture to ignite the car engine. It is fitted into each cylinder block of a diesel engine with a heating system element to heat arriving fuel and air mixture to ensure efficient combustion when the engine is cold. In addition, a glow plug is composed of several components such as heating coil, regulating coil, terminal nut, center electrode, insulation powder, and others. Moreover, glow plugs come in different shapes and sizes and are not interchangeable.
The global automotive glow plug market is experiencing growth due to surge in demand for commercial vehicles, and rise in production of vehicles globally. However, rise in demand for electric vehicles is the factor hampering the growth of the market. Furthermore, rise in aftermarket sale is the factor expected to offer growth opportunities during the forecast period.
The automotive glow plug market is segmented on the basis of type, vehicle type, sales channel, and region. By type, it is bifurcated into metal glow plug, and ceramic glow plug. By vehicle type, it is classified into passenger cars, light commercial vehicles, and heavy commercial vehicles. By sales channel, it is fragmented into OEM, and aftermarket. By region, the report is analyzed across North America, Europe, Asia-Pacific, and LAMEA. 
Some leading companies profiled in the automotive glow plug market report comprises Denso Corporation, BorgWarner Inc, Ford Motor Company, General Motors Company, Kyocera Corporation, Marelli Holdings Co., Ltd, NGK Spark Plug Co., Ltd, Robert Bosch GmbH, Siemens AG, Tenneco Inc, Valeo S.A., and Weichai Power Co., Ltd.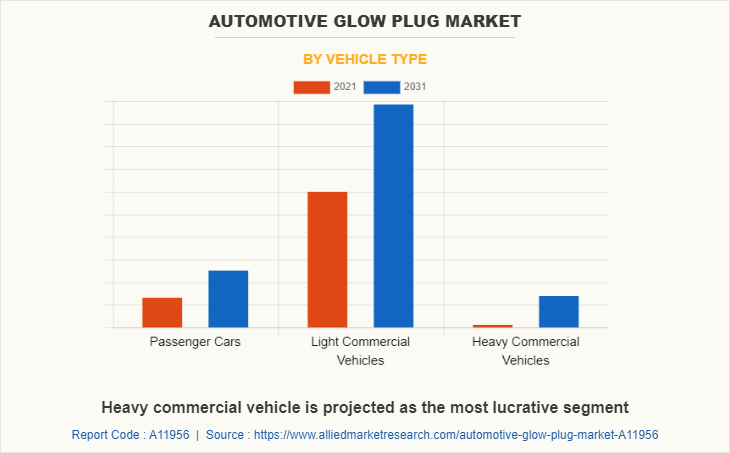 Surge in demand for commercial vehicles
Commercial vehicles are witnessing high demand across the globe, with high-capacity, utilization and profitability driving the momentum for fleet renewal and expansion activities. Strong freight demand across the globe and growth of e-commerce industry are forcing automobile manufacturers to launch new commercial vehicles. For instance, in 2020, Ford launched the 2021 F-150 pickup truck which includes a hybrid version with new features such as hands-free highway driving systems and others.
Moreover, in transportation industry, dependence of e-commerce companies on logistics service providers to ensure transportation of goods through warehouse and distribution hub is increased, owing to the significant expansion of e-commerce activities. Thus, logistics companies which offers less than truckload (LTL) and full truckload (FTL) freight shipping services are increasingly adopting commercial vehicles due to their load carrying capacity. Commercial vehicles offer the lowest cost of transportation per ton per km, which is further enhancing its adoption for logistics operations. Thus, surge in demand for commercial vehicles is driving the growth of the automotive glow plug market.
Rise in production of vehicles globally
The automotive industry witnessed robust growth in the last decade in countries such as China, the U.S., Japan, India, Germany, and the UK. The global automotive industry initially focused on the developed countries such as Japan, the U.S., and Germany. However, companies have shifted their manufacturing facilities in the developing countries, such as China, Thailand, and India, due to increase in demand for automobiles & automotive components in these countries.
Low cost of labour further decreases the production cost, and thus enables the manufacturers to cater to the increase in demands, which is anticipated to boost the sale of the vehicle during the forecast period. In addition, post-pandemic, rise in production and sale of automobiles has been observed across the globe. For instance, in 2021, worldwide car sales grew to around 66.7 million automobiles, up from around 63.8 million units in 2020. In addition, SUVs accounted for more than 45% of global car sales in 2021. Such factors are projected to contribute toward the growth of the global vehicle industry, thereby supplementing the growth of the automotive glow plug industry.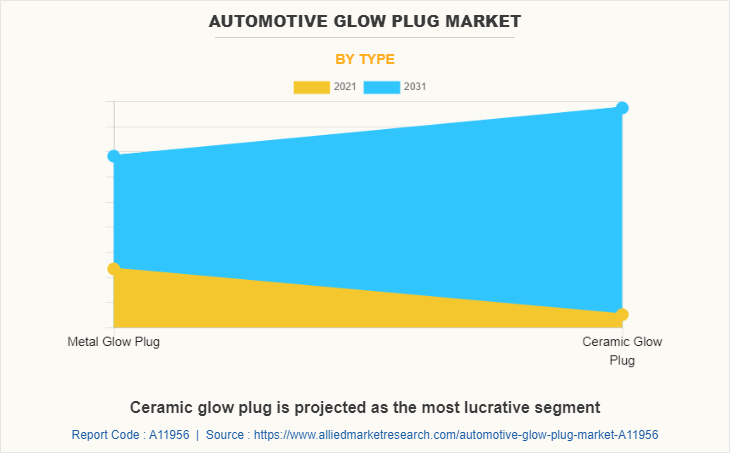 Rise in demand for electric vehicles
Climate changes are taking place all over the world. Countries across the globe are taking initiatives to reduce their greenhouse gases and carbon dioxide emission. Several countries across the globe are adopting electric vehicle to achieve their net zero emission target, which in turn is increasing the demand for electric vehicles across the globe. Electric vehicle runs on clean energy and has zero emission as compared to traditional gasoline powered engine. Electric vehicle has an electric motor that runs on electric power supplied by the battery, thereby, eliminating the need of any other type of engine. The rise in interest of consumers toward electric vehicles is likely to hamper the growth of the market during the forecast period owing to their features such as non-emission vehicles and not requiring of fuels such as gasoline and diesel. Thus, rise in demand for electric vehicle is a major factor that restrains the growth of the automotive glow plug market.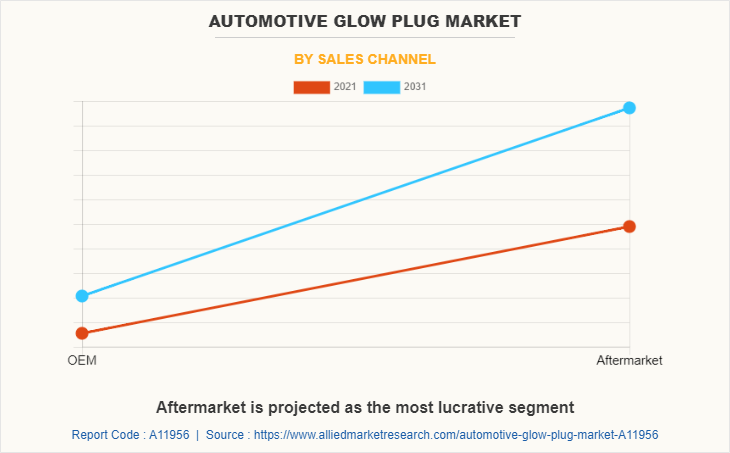 Rise in aftermarket sale
Glow plugs are vital components in a diesel engine as it is used to start the engine. Glow plugs are gaining traction in aftermarket as the demand for glow plugs is expected to continue till the forecast timeframe. The demand for glow plug is expected to increase in Europe as most of the cargo transportation in Europe takes place through commercial vehicles. For instance, as per Eurostat, about 75% of inland cargo transports within European Union, which translates to about 1,750 billion metric ton-kilometers takes place by road. As a result, the demand for commercial vehicle and subsequently the glow plug from aftermarket channels has been continuously increasing in the Europe, due to growing logistics industry and rising usage of light commercial vehicles. Thus, rise in the aftermarket sale provides an opportunity for the growth of the automotive glow plug market.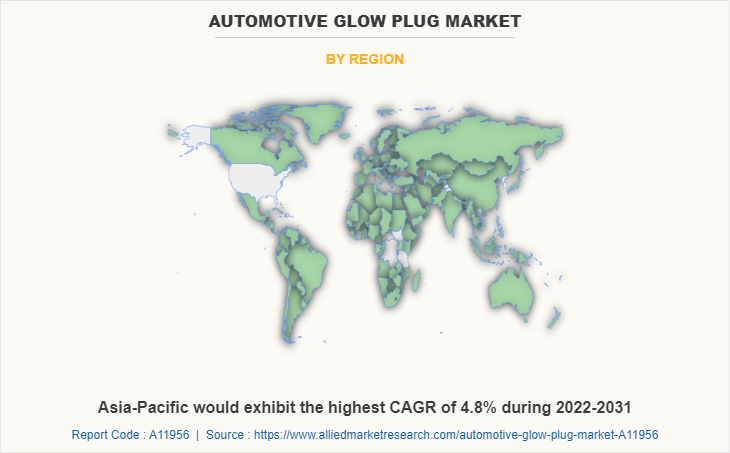 The spread of the COVID-19 pandemic has negatively impacted the automotive glow plug market. The sale of automotive glow plug is directly associated with automotive production and sales activities across the globe. The global automotive production has witnessed decline by 16% in 2020 as compared to automotive production in 2019. Moreover, the global sales of automotive has witnessed drop by around 14% (Y-o-Y) from 90.42 million units in 2019 to 77.97 million units in 2020. The demand for automobiles experienced a decline in all parts of the world, owing to surge in quarantine measures and increase in COVID-19 cases across the globe. Moreover, sales in North America, Europe, and Asia-Pacific & Middle East has witnessed a drop by around 17%, 20%, and 8%, respectively, in 2020. Thus, changes in production and sales activities of the automotive industry are expected to influence the overall demand in the near future. Although, the automotive market has struggled due to the pandemic, the automotive glow plug market has the high scope of growing opportunities in future due to factors such as the rising demand for commercial vehicles owing to growth of e-commerce industry across the globe, which in turn is expected to aid in growth of market during the forecast timeframe.
Key Benefits For Stakeholders
This report provides a quantitative analysis of the market segments, current trends, estimations, and dynamics of the automotive glow plug market analysis from 2021 to 2031 to identify the prevailing automotive glow plug market opportunities.
The market research is offered along with information related to key drivers, restraints, and opportunities.
Porter's five forces analysis highlights the potency of buyers and suppliers to enable stakeholders make profit-oriented business decisions and strengthen their supplier-buyer network.
In-depth analysis of the automotive glow plug market segmentation assists to determine the prevailing market opportunities.
Major countries in each region are mapped according to their revenue contribution to the global market.
Market player positioning facilitates benchmarking and provides a clear understanding of the present position of the market players.
The report includes the analysis of the regional as well as global automotive glow plug market trends, key players, market segments, application areas, and market growth strategies.
 Automotive Glow Plug Market Report Highlights
Aspects
Details
Market Size By 2031
USD 4 billion
Growth Rate
CAGR of 4.1%
Forecast period
2021 - 2031
Report Pages
236
By Vehicle Type

Passenger Cars
Light Commercial Vehicles
Heavy Commercial Vehicles

By Sales Channel
By Type

Metal Glow Plug
Ceramic Glow Plug

By Region

North America (U.S., Canada, Mexico)
Europe (UK, Germany, France, Russia, Rest of Europe)
Asia-Pacific (China, Japan, India, South Korea, Rest of Asia-Pacific)
LAMEA (Latin America, Middle East, Africa)

Key Market Players
BorgWarner Inc., Valeo S.A, E3 Spark Plugs, Wellman Glow Plugs Co., Marelli Holdings Co., Ltd., NGK Spark Plug Co. Ltd, DENSO Corporation, Robert Bosch GmbH, Ford Motor Company, Weichai Power Co., Ltd., Tenneco Inc, General Motors Company