The global automotive in-vehicle air purifier market was valued at $3.6 billion in 2020, and is projected to reach $9.7 billion by 2030, growing at a CAGR of 10.8% from 2021 to 2030.
An automotive in-vehicle air purifier is a piece of equipment that removes contaminants from the air within the car and rejuvenates  mood of people by removing odors.. It works by removing the odor, dust, mold, bacteria, pet dander, and harmful microorganism and helps people suffering from asthma and allergies to breathe fresh air every time they enter the car. HEPA filters and ionizers are the fundamental technologies utilized in in-vehicle air purifiers. The device has automated power adjustment based on air quality and separate LED indicators for each power mode. Presently, the adoption of automotive in-vehicle air purifiers expanded from passenger cars to light & heavy commercial vehicles. Cab owners, school buses, private & public transport vehicles including  bus & vans, and truck operators vigilantly install these purifiers to provide better service to their customers and take precautionary measures to safeguard health of the passengers and vehicle drivers.
The COVID-19 crisis created uncertainty in every market, including the automotive sector. The closure of assembly plants and large-scale manufacturing interruptions led to decline in global demand for automobiles, indirectly affecting the automotive in-vehicle air purifier market. Governments across different regions announced total lockdown and temporary shutdown of industries, leading to the border closures that restricted the movement of transportation & logistics services. The COVID-19 health crisis forced automotive industry to look for alternate sources and prioritize import substitution with their production activities & supply chain. However, the overall service activities of market players registered a steady and favorable recovery in subsequent months with the increase in the sales of passenger cars, which leads to a rise in the demand for the automotive in-vehicle air purifier market. Presently, with the new restriction and policies, a significant recovery in product sales across the retail sector may positively influence the automotive in-vehicle air purifier market, owing to the latest innovations for supporting the health issues.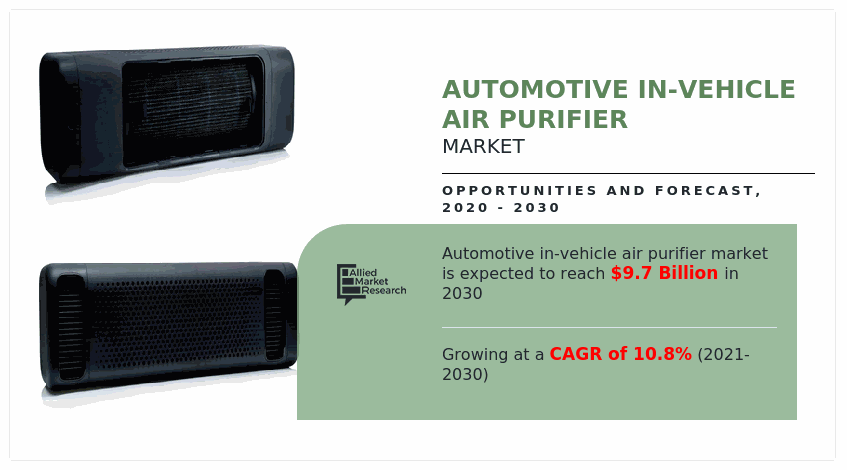 Furthermore, the adoption of in-vehicle air purifiers in automobiles is comparatively higher in the Asia-Pacific. This is attributed to the fact that developing countries in Asia-Pacific are primarily affected by air pollution, and automobile manufacturers and the governments are taking initiatives to promote technologies that will help reduce harmful effects of toxic air. For instance, in 2020, the Chinese Ministry of Environmental Protection, announced regulatory standards for all provinces, municipalities, and autonomous regions to reduce air pollution. These standards aim to reduce factory and power plant emissions of four significant pollutants, including arsenic, asbestos, benzene, and dioxin and mitigate airborne sulfur dioxide emissions by 12.9%.
Automotive In-Vehicle Air Purifier Market

---

By Product Type
Air Ionizer is projected as the most lucrative segments
Factors including increase in demand for clean and toxin-free cabin air and increase in pollution level of atmospheric air are expected to drive the growth of the automotive in-vehicle air purifier market. In addition, need for toxic-free healthy automobile atmosphere and increase in awareness about the health issues among end users boost the market growth. However, less manufacturers of in-vehicle air purifiers, high cost, and non-standardization of air purification system restrain the market growth. Furthermore, the development of advanced& low-cost air purifier systems and expansion in untapped markets of Asia-Pacific & LAMEA are expected to provide lucrative growth opportunities for the market players.
The automotive in-vehicle air purifier market is segmented on the basis of product type, technology, vehicle type, sales channel, and region. Depending on product type, it is classified into air purifiers, air ionizers, and hybrid. According to technology, it is categorized into high-efficiency particulate arrestor (HEPA), active carbon systems, and photo catalytic purifier. As per vehicle type, it is fragmented into passenger cars, light commercial vehicles, and heavy commercial vehicles. By sales channel, it is segmented into original equipment manufacturers (OEMs) and aftermarket. Region wise, it is analyzed across North America, Europe, Asia-Pacific, and LAMEA.
Automotive In-Vehicle Air Purifier Market

---

By Technology
HEPA Filter is projected as the most lucrative segments
The key players operating in the global automotive in-vehicle air purifier market are DENSO Corporation, Eureka Forbes, Guangzhou Ionkini Technology Co., Ltd., Honeywell International Inc., KENT RO Systems Ltd., Koninklijke Philips N.V., Livpure Smart, Power4 Industries Limited, Purafil, Inc., and Sharp Corporation.
Increase in Demand for Clean and Toxin-free Cabin Air
Urbanization increased the number of vehicles and traffic congestion, which led to increased air pollution. According to the center of science and environment in India, air pollution is responsible for 12.5% of overall deaths in India and kills an average of 8.5 out of every 10,000 children in India before they turn five. Thus, the increase in pollution levels  propelled the public to adopt measures to curb these pollution levels. Automotive in-vehicle air purifiers technologies, including HEPA and active carbon system air improve the quality of air inside vehicles by removing allergens and odors. For instance, in 2020, Philips launched the GoPure range of car air purifiers with powerful 3-stage filtration technology capable of removing up to 125 harmful pollutants and exhaust gases through its HEPA and HESA layers. Thus, people gradually shift toward the adoption of these technologies as a result of R&D for innovative, new, and advanced products by companies.
Increase in the Pollution Level of Atmospheric Air
Industrialization and urbanization cause significant increase in pollutants levels in atmosphere. Moreover, rise in number of vehicles on road is a primary reason for increasing pollution levels. Such activities add toxic pollutants like sulfur oxides, nitrogen oxides, carbon monoxide, and volatile organic compounds (VOCs) to the environment. This resulted in  degradation of air quality index, causing health ailments in many countries. As per data released by the World Health Organization (WHO), in 2021, more than 80% of the people living in urban areas are exposed to air quality levels that exceed the WHO limits. People in low-income cities are most affected. For instance, governments across the globe are taking measures to reduce pollution levels. The U.S. government implemented a partnership act with Environmental Protection Agency (EPA) to reduce pollution & contribute to air quality problems in a downwind state. Hence, to control the increasing pollution levels of atmospheric air, the sales of automotive in-vehicle air purifiers will grow substantially during the forecast period.
Small Number of Global Manufacturers of in-vehicle Air Purifier
Major manufacturers such as Kent RO Systems Ltd., Eureka Forbes, Honeywell, and Philips have offices and manufacturing facilities across the globe. Furthermore, other companies are local to particular regions. Thus, the absence of manufacturing facilities results in low production of air purifiers across the globe. However, companies try to expand their manufacturing facilities across the globe. In addition, governments develop new modes such as public-private partnerships with private entities to intensify the efforts. Such public-private partnerships would help improve the situation with an active effort from private sector players. Hence, small number of global manufacturers of in-vehicle air purifiers across the globe is a significant restraint associated with the growth of the automotive in-vehicle air purifier market.
Automotive In-Vehicle Air Purifier Market

---

By Region
Asia-Pacific would exhibit the highest CAGR of 11.8% during 2021-2030
Development of Advanced and Low-cost Air Purifier System
Gradual  rise in the income of people & increase in health-related concerns leads the automotive in-vehicle air purifier manufacturers to focus on the R&D for innovation & production of advanced automotive air purifiers that will have high-efficiency rate and low cost. For instance, in 2019, Sharp Corporation launched the new 'FP-JC2M-B' car air purifier, especially designed and built for India, by using dual technology of HEPA & carbon filters, which remove PM2.5 and other gaseous substances to generate fresh air & eliminates toxic fumes, gases, and reduces static electricity for clean and odorless air. Furthermore, adoption of multifunctional in-vehicle air purifiers that incorporate features such as Bluetooth speaker, USBs, lights, air conditioner to cool, fan to circulate air, and the dehumidifier to remove moisture has evolved the trend among the key players. In addition, companies try to downsize air purifiers in vehicles. Properties of small air purifiers, including small size and low cost add another dimension to their usefulness. Thus, the development of advanced automotive in-vehicle air purifiers is expected to unfold various opportunities for leading players in future.
Key Benefits For Stakeholders
This study presents the analytical depiction of the global automotive in-vehicle air purifier market analysis along with the current trends and future estimations to depict imminent investment pockets.

The overall market opportunity is determined by understanding profitable trends to gain a stronger foothold.

The report presents detailed impact analysis information related to the key drivers, restraints, and market opportunities.

The current market is quantitatively analyzed from 2021 to 2030 to benchmark financial competency.

Porter's five forces analysis illustrates the potency of the buyers and suppliers in the

automotive in-vehicle air purifier

industry.
 Automotive In-Vehicle Air Purifier Market Report Highlights
Aspects
Details
By Product Type

Air Purifier
Air Ionizer
Hybrid

By Technology

Hepa Filter
Active Carbon System
Photo Catalytic

By Vehicle Type

Passenger Car
Light Commercial Vehicle
Heavy Commercial Vehicle

By Sales Channel

Original Equipment Manufacturer
Aftermarket

By Region

North America (U.S., Canada, Mexico)
Europe (U.K., Germany, France, Italy, Rest of Europe)
Asia-Pacific (China, Japan, India, Australia, Rest Of Asia Pacific)
LAMEA (Latin America, Middle East, Africa)

Key Market Players
DENSO CORPORATION, eureka forbes ltd, Guangzhou Ionkini Technology Co., Ltd., Honeywell International Inc., KENT RO Systems Ltd, Koninklijke Philips N.V., Livpure Smart, Power4 Industries Limited, purafil, inc., Sharp Corporation
Other players in the value chain include
Nostrum Energy, TI Automotive, GP Performance, Infineon Technologies AG, Synerject LLC, Renesas Electronics Corporation, Airtex Products