The global automotive paints market was valued at $20.5 billion in 2021, and is projected to reach $29.7 billion by 2031, growing at a CAGR of 4.1% from 2022 to 2031.
Automotive paint is referred to as a water-based formula, which is sprayed on automobile surface with the assistance of a spray gun. These paints consist of polyurethane-based enamel, which protects the surface from environmental damages, thus enhancing aesthetics of motor vehicles.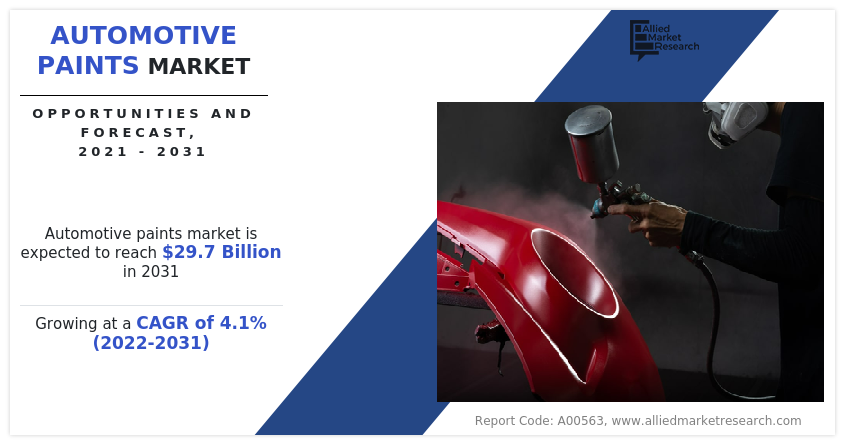 The process of automobile painting comprises defined steps to ensure application of protective and efficient coating. Parts and body panels of automobile are arranged into a temporary assembly known as body-in-white (BIW). Subsequently, automotive paint is applied in a temperature-controlled environment to accelerate the drying process. Multiple stages of application are done to ensure the integrity of paintwork for extended period.
Base coat is the actual-colored paint of the vehicle that is applied on the top of the primer layer as the base coats does not contain strengtheners or hardeners. This raw layer of base coat cannot protect itself and needs protective layers on top of it to prevent blemishes on painted surfaces. Market players are developing new base coats for automotive manufacturers, owing to high usage and mandatory to use of base coats as it increases life of paints. For instance, in February 2021, Axalta Coating Systems has announced the launch of its Cromax XP base coats, which are based on the solvent borne technology. Thus, these type of developments by market players are anticipated to drive growth of the base coat segment during the forecast period.
Metallic texture type includes small quantity of powdered metal along with solid paints. In addition, type and size of the metal to be added varies depending on manufacturer's choice and on the type of texture desired. Metallic textures are slightly expensive for production as compare to solid texture; many manufacturers charge a premium amount for an upgrade from solid to metallic texture type. Metallic texture paint reflects lighter than a standard glossy auto finish, owing to its sparkling effect. In addition, smaller dents are not easily recognizable with application of metallic texture paints, thereby improving aesthetics of cars. Thus, all these factors have shifted preference of customers toward metallic paints, which fuel growth of the automotive paints market.
Automotive paint market players are selling their products via online channel for the convenience of the customers, which in turn is anticipated to propel the growth of market in this country. Furthermore, the presence of many international and domestic market players is anticipated to increases the demand for automotive paints in China during the forecast period. For instance, in July 2022, according to the Shenzhen Prechem New Materials Co. Ltd. report the international players occupied the 75%~80% market share of automobile original paint, and around 75% of the refinish paint industry are captured by the domestic players. Thus, these factors are expected to drive the automotive paints market in China during the forecast period.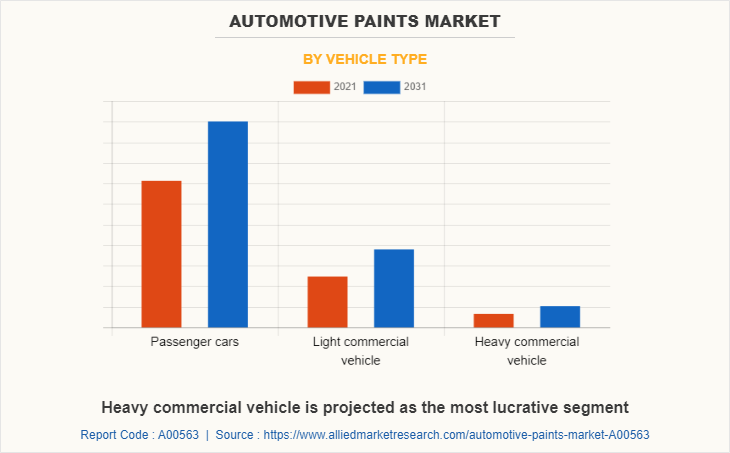 Factors such as increase in automobile production and surge in demand for eco-friendly automotive paints are the key factors that drive growth of the global automotive paints market. However, rise in prices of raw materials to manufacture automotive paints hinder growth of the market. On the contrary, increase in focus to produce cost-effective automotive paints is anticipated to offer remunerative growth opportunities for the players operating in the automotive paints industry.
The global automotive paints market is segmented into coating, texture type, technology, vehicle type, and region. Depending on coating, the market is classified as primer, base coat, clear coat, and electrocoat. By texture type, it is categorized into solid, metallic, pearlescent, and others. On the basis of technology, it is segregated into waterborne coatings, solvent borne coatings, and powder coatings. As per vehicle type, it is fragmented into passenger cars, light commercial vehicles, and heavy commercial vehicles. Region wise, the market is analyzed across North America, Europe, Asia-Pacific, and LAMEA.
The key players operating in the global automotive paints market are BASF SE, PPG, Akzo Nobel N.V, Axalta Coating Systems, LLC, The Sherwin-Williams, Kansai Paint Co., Ltd, Nippon Paint Holdings Co., Ltd., DuPont, Clariant, and Solvay.
Increase in automobile production
Developing nations have witnessed rise in demand and production of automobiles, which is expected to support the demand for automotive paints during the forecast period. For instance, according to the International Organization of Motor Vehicle Manufacturers (OICA), production of passenger cars and commercial vehicles increased in 2021 by 3%. In 2020, the total production of these vehicles was 77,621,582 and in 2021 it reached 80,145,988. Thus, surge in automobile production is anticipated to boost growth of the global automotive paint industry during the forecast period.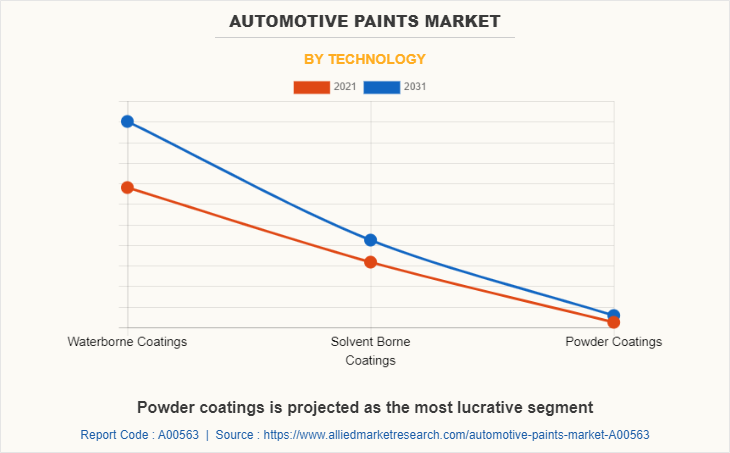 Surge in demand for innovative & eco-friendly automotive paints
Increase in preference for eco-friendly paints as compared to traditional paints is a key factor that contributes toward growth of the market. This is attributed to the fact that eco-friendly paints are waterborne and traditional paints are solvent borne. Solvent-borne paints use products based on petrochemicals that contain volatile organic compounds (VOCs), which are harmful for the environment. VOCs contain a variety of chemicals, some of which may have short- and long-term adverse health effects. However, waterborne paints are thinned with water, which significantly cuts down the number of VOCs they contain. Thus, rise in demand for eco-friendly paints is anticipated to propel growth of the automotive paints market during the forecast period as they reduce the environmental impact.
Rise in investments by market players
Market players in the automotive paints market are focused on expansion and developments as these companies are investing heavily in the automotive paint market, which is anticipated to drive the market during the forecast period. For instance, in February 2022, FP Advanced Coatings, a UK-based company invested huge amount for business expansion that aims at increasing production capacity by 60%. Investments have equally been made to introduce a more modern powder application system which incorporates robotic powder applicators and a quick color change powder feed and handling center.
Similarly, in May 2022, BASF made an investment in India. BASF expanded its automotive coatings application center at the coating's technology center in Mangalore, India. Through this investment, BASF expanded its footprint in India. Thus, these type of investments in automotive paint and coating applications is expected to drive the global market growth during the forecast period.
‐‹‐‹‐‹‐‹‐‹‐‹‐‹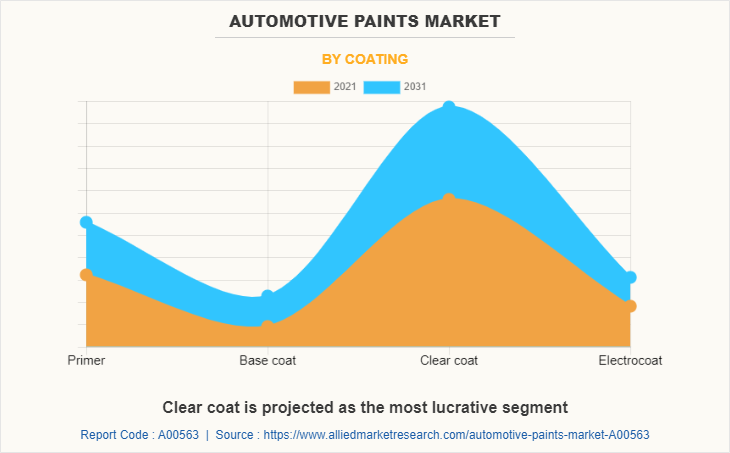 Rise in prices of raw materials
Cost of raw materials required for production of paints is increasing significantly, and has reached high prices in past few years. The cost of commodities and raw materials plays a crucial role for paint manufacturers, as more than 50% of the operating costs is dependent on the prices of raw materials. Thus, rise in prices of raw materials is anticipated to hinder the growth of the automotive paints market during the forecast period.
Problems in obtaining thin films
Powder coatings produce a thick finish on metal products. It is difficult to produce thin finishes using these coatings. The thickening of the polymer can lead to the formation of an uneven texture. Uniform flow and leveling are prerequisites for thin films. Although any powder coating can be formulated for thin film applications, not all these chemistries are suitable for it. The thin film of powder coating becomes more and more orange peeled in texture due to the particle size and glass transition temperature of the powder. For optimum material handling and ease of application, powder coating should have a particle size in the range of 30 to 50 micrometers. A successful thin film application involves the correlation between color and opacity of pigmentation of powder coatings. Such issues are expected to hinder growth of the automotive paint market during the forecast period.
Growth in digitalization in automotive paint industry
The automotive paints and coatings industry has experienced a digital transformation with new and innovative ways of doing business. Manufacturers have been able to recover operational presentations, manage customer satisfaction, and increase growth, in terms of revenue. In past few years, companies are using digital tools to introduce an essential way to utilize new technologies. In addition, digital transformation has offered an innovative way to change business performance and protect employees. For instance, in April 2022, AkzoNobel and Microsoft announced a collaboration to explore how quantum computing could help fast track the development of high-performance and more sustainable paints and coatings. Thus, these initiatives by market players are anticipated to drive the automotive paints market during the forecast period.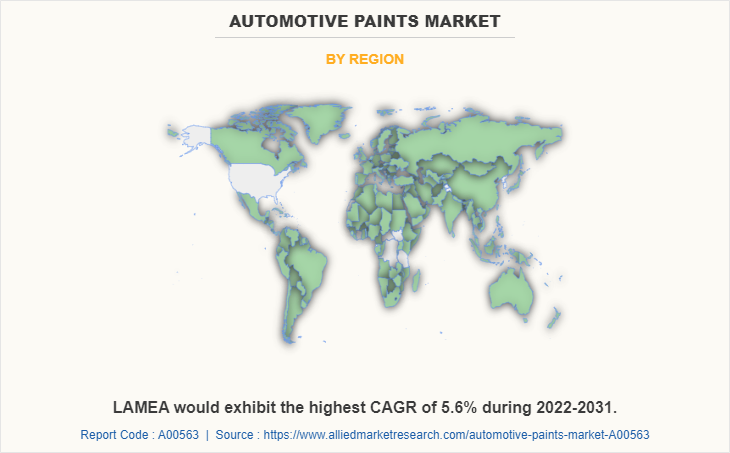 The automotive paints market is segmented into Vehicle Type, Technology, Coating, Texture Type and Sales Channel.
According to the International Labor Organization (ILO), it is estimated that factory closures in Europe and North America caused some 2.5 million vehicles to be removed from production schedules at a cost of $77.7 billion in lost revenue for automotive and related manufacturing companies such as automotive paints, and other component industries. According to a report published by SIAM, sales of passenger cars and sport utility vehicles declined by 52%, and 45% respectively in March 2020. This has temporarily hampered demand for automotive paints in the COVID-19 pandemic. In addition, falling income of customers and international transportation and travel restrictions have led to contraction of demand of automotive paints. In addition, in 2020, paints and coatings prices were high in Asia-Pacific. Price rise was attributed to continuous regional demand trends and tight product availability. Firm downstream demand for paints & coatings and stronger upstream costs are expected to sustain the price gain. However, rise in awareness for using eco-friendly products among citizens of both developed and developing economies propel popularity of paints and coatings with minimal or no volatile organic compounds (VOCs) emissions in various end use sectors post COVID-19 scenario.
Key Benefits For Stakeholders
This report provides a quantitative analysis of the market segments, current trends, estimations, and dynamics of the automotive paints market analysis from 2021 to 2031 to identify the prevailing automotive paints market opportunities.
The market research is offered along with information related to key drivers, restraints, and opportunities.
Porter's five forces analysis highlights the potency of buyers and suppliers to enable stakeholders make profit-oriented business decisions and strengthen their supplier-buyer network.
In-depth analysis of the automotive paints market segmentation assists to determine the prevailing market opportunities.
Major countries in each region are mapped according to their revenue contribution to the global market.
Market player positioning facilitates benchmarking and provides a clear understanding of the present position of the market players.
The report includes the analysis of the regional as well as global automotive paints market trends, key players, market segments, application areas, and market growth strategies.
 Automotive Paints Market Report Highlights
Aspects
Details
Market Size By 2031
USD 29.7 billion
Growth Rate
CAGR of 4.1%
Forecast period
2021 - 2031
Report Pages
326
By Vehicle Type

Passenger cars
Light commercial vehicle
Heavy commercial vehicle

By Technology

Waterborne Coatings
Solvent Borne Coatings
Powder Coatings

By Coating

Primer
Base coat
Clear coat
Electrocoat

By Texture Type

Solid
Metallic
Pearlescent
Others

By Sales Channel
By Region

North America (U.S., Canada, Mexico)
Europe (Germany, France, UK, Russia, Rest of Europe)
Asia-Pacific (China, Japan, India, South Korea, Rest of Europe)
LAMEA (Latin America, Middle East, Africa)

Key Market Players
Nippon Paints Holdings Co. Ltd, Kansai Paints Co. Ltd., PPG Industries, The Sherwin Williams Company, Akzo Nobel N.V., DuPont de Nemours Inc, Axalta Coatings Systems LLC, Clariant AG, Solvay S.A., BASF SE