Automotive Regenerative Braking System Market Research, 2030
The global automotive regenerative braking system market was valued at $5.66 billion in 2020, and is projected to reach $23.18 billion by 2030, growing at a CAGR of 15.5% from 2021 to 2030.
The COVID-19 pandemic had an adverse effect on the overall automotive industry, including electric vehicle industry. As per the data released by the Society of Electric Vehicle Manufacturers (SMEV), new EV registration of all types of electric vehicles during FY21 dropped by 20 % compared to the number of new EV registrations in FY20. In addition, amid pandemic numerous players are trying to devise different approaches to keep up with the condition by using electric vehicles for medical supplies, as it provides affordable transportation with excellent maneuverability.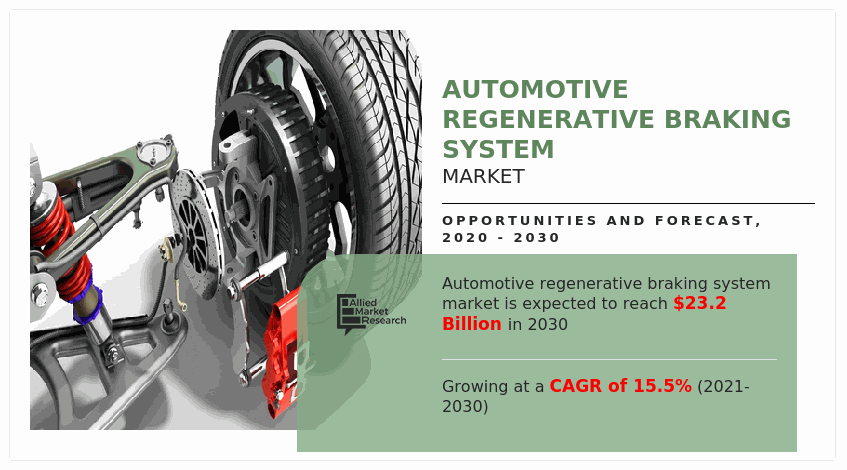 An automotive regenerative braking system converts heat generated by  friction in brakes into electrical energy, which is stored as energy in high-voltage batteries and can be used immediately or later depending on vehicle demand. Alternative automobile technologies are important to reduce the  increasing carbon footprint generated by automobile emission. Automobile manufacturers focus on finding alternative power solutions to substitute fuel-based power source, owing to rapidly depleting oil reserves across the globe.
Regenerative braking system used in a vehicle can convert approximately half of the heat energy produced while braking into electricity, which is then immediately transferred to power consuming systems of vehicles or stored in batteries for later use. The automotive regenerative braking system market is anticipated to witness notable growth, owing to its advantages, including improved performance of vehicle and reduction in wear & tear of braking system compared to the conventional braking system. Regenerative braking is an emerging braking technology in the automotive industry, which is applicable in both conventional vehicles as well as electric vehicles. In addition, electric vehicles are major consumers of the  regenerative braking system. The automobile giants such as Toyota, BMW, Ford, and Tesla introduced regenerative braking system in their vehicles.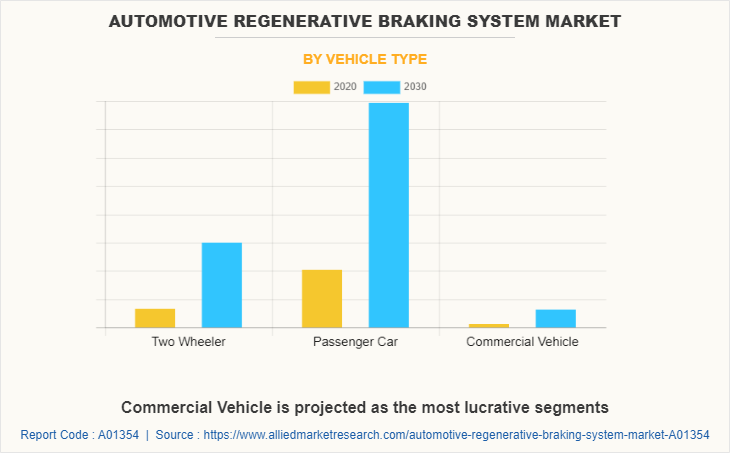 The automotive regenerative braking system market growth is driven by factors such as stringent vehicular emission norms & regulations and rise in number of electric vehicles coupled with development of Electric vehicle infrastructure. However, factors such as increase in overall cost & weight of vehicles and high repair & maintenance cost hinder the growth of the automotive RBS market. Moreover, technological advancement in two-wheeler based regenerative braking system and adoption of regenerative braking system in heavy vehicles is expected to provide ample opportunities for the growth of the market across the globe.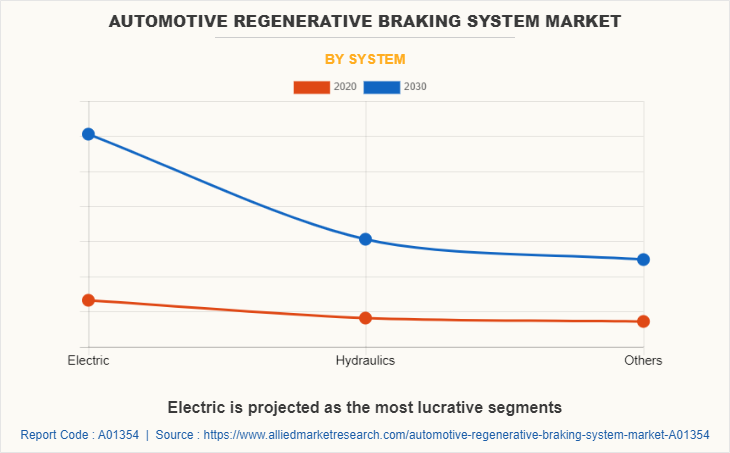 The automotive regenerative braking system market is segmented on the basis of system, vehicle type, propulsion type, and region. Depending on system, it is categorized into electric, hydraulics, and others. According to vehicle type, it is classified into two wheeler, passenger car, and commercial vehicle. As per propulsion type, it is fragmented  into battery electric vehicle (BEV), hybrid electric vehicle (HEV) and plug-in hybrid electric vehicle (PHEV). Region wise, it  is analyzed across North America, Europe, Asia-Pacific, and LAMEA.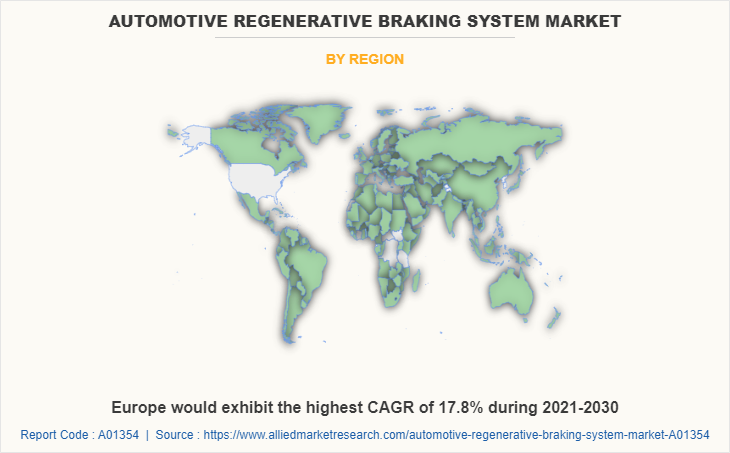 The key players operating in automotive regenerative braking system market include Advics Co., Ltd., AISIN Corporation, Continental AG, DENSO Corporation, Faurecia, Hyundai Mobis, Maxwell Technologies, Robert Bosch GmbH, ZF Friedrichshafen AG, and Mazda Motor Corporation.
Stringent Vehicular Emission Norms and Regulations
Vehicles on roads are vital contributors for timely movement of goods and other consumer-related activities. According to the International Air Agency, around 6.5 million deaths are reported each year due to air quality. Hence, governments of developed countries have established initiatives to decrease vehicular and industrial pollution, which, in turn, will reduce individual carbon footprints. Moreover, the governments of various countries such as the U.S., Germany, and India are launching programs and policies related to vehicle emissions. For instance, in Maharashtra (India), according to the Director of Maharashtra Pollution Control Board (MPCB), the new electric vehicle (EV) policy of this state aims to have 10% share of electric vehicles among total vehicle registrations by 2025 to reduce vehicular emissions.
Furthermore, the Environmental Protection Agency (EPA) finalized federal greenhouse gas (GHG) emissions standards for passenger cars and light trucks in the U.S.. The final standards make use of recent developments in clean car technology to unlock $190 billion in net benefits to Americans, which include reducing climate pollution, improving public health, and saving drivers money at the pump. Therefore, to meet stringent vehicular emission regulations, automakers installed a regenerative braking system in their vehicles for a sustainable energy source as a part of the green energy initiative, which is expected to drive the automotive regenerative braking system market.
Rise in Number of Electric Vehicles & Electric Vehicle Infrastructure
Electric vehicles (EVs) experienced increase e in popularity over the past few years, owing to advancement in technology, less cost , and support for clean transportation. This has promoted awareness, increased charging opportunities, and facilitated EV adoption. Furthermore, growth in vehicle emission concerns and depletion of non-renewable energy resources have attracted the attention of several governments to invest in electric vehicles. European countries are among the frontrunners in adopting electric mobility. Approximately 1.4 million BEVs and PHEVs were registered in Europe, in 2020, which increased the demand for electric vehicles compared to 2019. The EV infrastructure is developing rapidly besides the increase in sales of electric vehicles. For instance, in June 2021, the Canadian Government announced an investment of about $2.35 million to install EV fast chargers in the country. Meanwhile, the adoption of EVs equipped with regenerative braking system to utilize the kinetic energy into electrical energy in public transport vehicles is expected to drive the regenerative braking system market.
Increase in Overall Cost & Weight of Vehicles
One of the restraints associated with the automotive regenerative braking system market is increase in overall cost and weight of vehicle. Regenerative braking system increases total weight of passenger cars by around 25-30 kg. The main components of regenerative braking system are flywheel, motor/generator, electronic control unit (ECU), batteries, and connecting cables. Moreover, these extra components increase the overall weight and cost of vehicle, which increases fuel consumption. Furthermore, the weight & cost of the flywheel and motor/generator are more extensive than other components, due to which regenerative braking system is still in the development phase for two-wheelers, as two-wheelers themselves have less weight and cost.
Adoption of regenerative braking system in heavy vehicles
Regenerative braking system recapture some kinetic energy of vehicle & are widely used in electric and hybrid electric vehicles that already have batteries to store the recaptured energy. However, the system has minimal impact on fuel economy during highway driving, but it can significantly improve the fuel economy of vehicles driven primarily in city traffic. In heavy vehicles that make frequent stops (e.g., garbage trucks),  regenerative braking system can improve fuel economy substantially. Furthermore, the adoption & popularity of regenerative braking system in electric buses exhibits a high mile range and government initiatives for environment-friendly buses across the globe such as hybrid buses or electric buses foster regenerative braking system market opportunity in the heavy vehicles segment. For instance, in 2022, BYD launched its electric school bus Type A, battery electric vehicle equipped with standard safety features that include high strength steel construction body, electronic stability control to aid handling, and an electronic braking system to ensure more evenly distributed brake force. Thus, high demand and adoption of regenerative braking system in heavy vehicles reduces carbon emission and fuel cost providing lucrative opportunities for the growth of the automotive regenerative braking system market.
Key Benefits For Stakeholders
This report provides a quantitative analysis of the market segments, current trends, estimations, and dynamics of the automotive regenerative braking system market industry analysis from 2020 to 2030 to identify the prevailing automotive regenerative braking system market opportunities.
The market research is offered along with information related to key drivers, restraints, and opportunities.
Porter's five forces analysis highlights the potency of buyers and suppliers to enable stakeholders make profit-oriented business decisions and strengthen their supplier-buyer network.
In-depth analysis of the automotive regenerative braking system market segmentation assists to determine the prevailing market opportunities.
Major countries in each region are mapped according to their revenue contribution to the global market.
Market player positioning facilitates benchmarking and provides a clear understanding of the present position of the market players.
The report includes the analysis of the regional as well as global automotive regenerative braking system market trends, key players, market segments, application areas, and market growth strategies.
 Automotive Regenerative Braking System Market Report Highlights
Aspects
Details
By Vehicle Type

Two Wheeler
Passenger Car
Commercial Vehicle

By System

Electric
Hydraulics
Others

By Propulsion Type
By Region

North America (U.S., Canada, Mexico)
Europe (U.K., Germany, France, Netherlands, Norway, Rest of Europe)
Asia-Pacific (China, Japan, India, South Korea, Rest Of Asia Pacific)
LAMEA (Latin America, Middle East, Africa)

Key Market Players
faurecia, AISIN Corporation, Hyundai Mobis Co Ltd, ADVICS CO. LTD, robert bosch gmbh, Mazda Motor Corporation, DENSO CORPORATION, Continental AG, Maxwell Technologies, ZF Friedrichshafen AG