Automotive Seat Climate Systems Market Statistics 2021-2030
The global automotive seat climate systems market was valued at $12.34 billion in 2020, and is projected to reach $20.12 billion by 2030, registering a CAGR of 5.2% from 2021 to 2030.
[COVIDIMPACTSTATEMENT]
Automotive seat climate systems refers to climate controlled seats that can be warmed up or cooled down as per the user requirement. The temperature in these type of seats are controlled by adjusting the flow of warm or cold air through the seat. The seat climate system includes climate controlled seat control unit and thermal electric devices for driver and front passenger under seat & backseat. The initiative was taken in early 1900s to improve the driving experience and comfort zone. Gradual evolution of seat climate system and automobile industry has allowed the market to experience a steady growth rate of 5.2% CAGR within the forecast timeframe.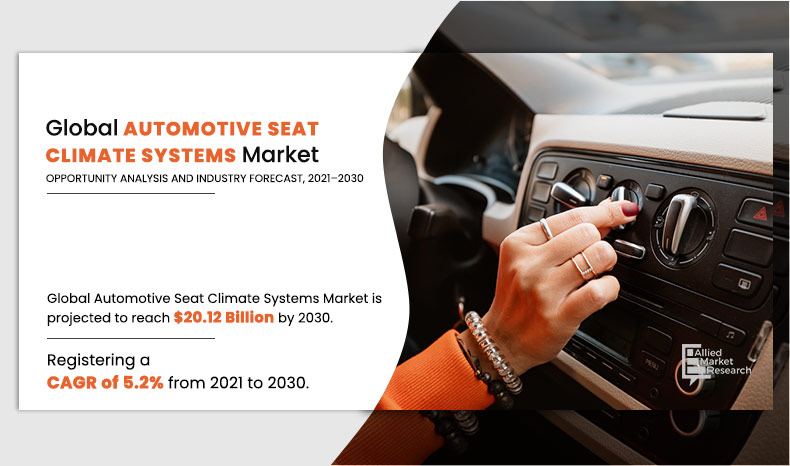 The growth of global automotive seat climate system market is driven by factors such as improved economy and riding comfort of passenger. Controlling temperature of a complete vehicle that operates on gasoline has a notable impact on fuel economy of a vehicle. The fuel efficiency of a car gets decreased by 21% to 24% while using air condition and the carbon emission gets increased on parallel factor. By using temperature controlled seats, manufacturers can spot places directly where it is needed, optimizing energy usage of a vehicle, resulting in improved fuel efficiency.
Automotive Seat Climate Systems Market

---
By Component
Seat Ventilation System is projected as the most lucrative segments
An average of $1.3 billion worth gallons are saved in U.S. every year in light-duty vehicle segment through adoption of climate controlled seats. Addition of other features such as remote activation/deactivation of seat climate system, automatic temperature detection, and other custom setting are expected to provide new business revenue streams over coming years. Companies have adopted product development, collaboration, and long-term agreements as their key development strategies. The key players operating in this market are Lear Corporation, Gentherm, Konsberg Automotive, Adientplc, Continental AG, Magna International Inc., II-VI, Inc., Toyota Motor Corporation, Recticel, and Faurecia.
Covid-19 Impact On Automotive Seat Climate System Market
The COVID-19 outbreak severely impacted the automotive sector on a global level, which, in turn, led to a considerable drop in global sales of new vehicles, negatively impacting the automotive seat climate system market. A total of 16% drop in production of new vehicles was experienced by the industry at global level as compared to previous year 2019. The companies operating within the vertical went through strategic restructuring to cope with the existing crisis.
Automotive Seat Climate Systems Market

---
By Vehicle Type
Heavy Commercial Vehicle (HCV) segment is projected as the most lucrative segments
Primary initiatives practiced by these companies under strategic restructuring were integration and centralization of workforce to reduce operational cost, co-operation, and alliances followed by merger & acquisition and outsourcing peripheral operations. With gradual decrease in impact of COVID-19 and rise in disposal income of individuals across the globe is anticipated to support the revival of market over coming years.
Surge In Disposable Income Of Individuals
The increase in disposable income across the globe backed up by the rise in global GDP has supported the surge in acquisition of luxury cars. The growth in global GDP in 2019 as compared to 2018 was 2.84%. However, the GDP in 2020 declined by an average of -4.9% due to COVID-19. The rise in awareness about carbon footprint and demand to have increased comfort level during driving has supported the acceptance of automotive seat climate system.
Automotive Seat Climate Systems Market

---
By Surface Material
Others segment is projected as the most lucrative segments
Increased Comfort Level For Driver
Comfort of the driver in the automobile is a major concern for the automobile manufacturers. Automotive climate seats offer enhanced comfort to the driver during a long journey. Similarly, the demand for heated & ventilated seats has increased to a significant extent to offer optimum comfort to the co-driver too.
High Installation & Maintenance Costs Of Climate Seats
Maintenance and installation cost of climate seats is high as such seats are available in luxury vehicles only, leading to one of the major restraining factor for market growth. In addition, after market service cost is also high. Automobile manufacturers install the climate-controlled seats to the driver's seat only, and the passenger needs to pay the extra cost to get it installed on all seats.
Automotive Seat Climate Systems Market

---
By Region
LMEA would exhibit the highest CAGR during the forecast period 2020-2030.
Key Benefits For Stakeholders
This study presents the analytical depiction of the global automotive seat climate system market analysis along with the current trends and future estimations to depict imminent investment pockets.
The overall automotive seat climate system market opportunity is determined by understanding profitable trends to gain a stronger foothold.
The report presents information related to the key drivers, restraints, and opportunities of the global automotive seat climate system market with a detailed impact analysis.
The current market is quantitatively analyzed from 2020 to 2030 to benchmark the financial competency.
The Porter's five forces analysis illustrates the potency of the buyers and suppliers in the industry.
 Automotive Seat Climate Systems Market Report Highlights
Aspects
Details
BY COMPONENT

Electronic Control Unit
Seat Ventilation System-
Seat Heating System
Neck Conditioner System

BY SURFACE MATERIAL
BY APPLICATION

Heated & Cooled Seats
Heated & Ventilated Seats
Heated Seats
Neck Warmers

BY VEHICLE TYPE

Passenger Cars
Light Commercial Vehicles (LCVs)
Heavy Commercial Vehicles (HCVs)

By Region

North America (U.S., Canada, Mexico)
Europe (UK, Germany, France, Rest of Europe)
Asia-Pacific (China, Japan, India, Rest of Asia-Pacific)
LAMEA
Latin America (Middle East, Africa)

By KEY PLAYERS

Lear Corporation
Gentherm
Konsberg Automotive
Adientplc
Continental AG
Magna International Inc.
II-VI, Inc.
Toyota Motor Corporation
Recticel
Faurecia