Automotive Smart Window Market Research, 2031
The global automotive smart window market was valued at $1.4 billion in 2021, and is projected to reach $8.6 billion by 2031, growing at a CAGR of 20.1% from 2022 to 2031.
Automotive smart windows are glass-based products associated with smart glass car windows in which light transmission properties vary when voltage, heat or light is applied. In an automotive smart window, glass normally transforms from translucent to transparent by blocking numerous wavelengths of light. It also blocks 99.0% of ultraviolet light, by reducing fabric fading.
Growth of the global automotive smart window industry is anticipated to be driven by factors such as surge in demand for smart window from the transportation sector. Also, smart window plays a crucial role in reducing costs for heating, air conditioning, and lighting, which drive its market. In addition, smart windows help in blocking ultra violet light, which boosts the product demand and contribute to the overall market growth. However, high cost of smart windows acts as a major restraint for the global automotive smart window industry. On the contrary, surge in demand for solar energy solution provided by smart window is expected to create lucrative opportunities for the automotive smart window market outlook.
The automotive smart window market has been severely impacted by the outbreak of the COVID-19 pandemic. With governments of several nations imposing and extending lockdowns, production and manufacturing facilities across the globe have been shut down, owing crisis and unavailability of workforce. Considering the inputs from various industry experts belonging to the various stages of the value chain, such as OEMs, suppliers, integrators, end users, and distributors, and the financial release of various companies in the atomic force microscopy ecosystem, it is calculated that the market has experienced a decline during 2019–2020. Furthermore, the outbreak of the pandemic has disrupted the global supply chain, thereby creating significant gap in supply chain. Economic impact of the pandemic has been disruptive. Key players operating in the automotive smart window industry temporarily witnessed a slowdown, owing to lack of availability of skilled professional to develop automotive smart window market solutions, which has led to decline in revenues for the financial year 2020 to 2021. However, it is expected that the market will recover from 2021 and remain in the growth stage during the forecast period. The COVID-19 crisis has created a window of opportunity for industry leaders to aggressively address the overall automotive smart windows industry. The pandemic-induced lockdown led to a severe drop in automobile production, especially in the first half of 2021. According to the International Organization of Motor Vehicle Manufacturers (OICA), global auto production decreased by 16% to less than 78 million vehicles in 2021, equivalent to sales levels in 2010. These factors directly translated to reduced demand for automotive smart window in 2021. However, electric car sales have continued to rise exponentially supported by existing policy support and new stimulus measures to assist the recovery of the automotive industry. According to the International Energy Agency, global electric car sales increased by more than 40% to 3 million in 2021 as compared to 2.1 million in 2019. For instance, In China, electric sales increased by 12% as compared to 2019. Similarly, demand for SUVs has also rapidly increased alongside electric vehicles. Hence, these factors will positively influence the recovery of the market. Also, continuous technical advances resulted in novel and improved techniques for manufacturing automotive smart windows products. These may allow automotive smart windows products to be produced at economical costs more effectively.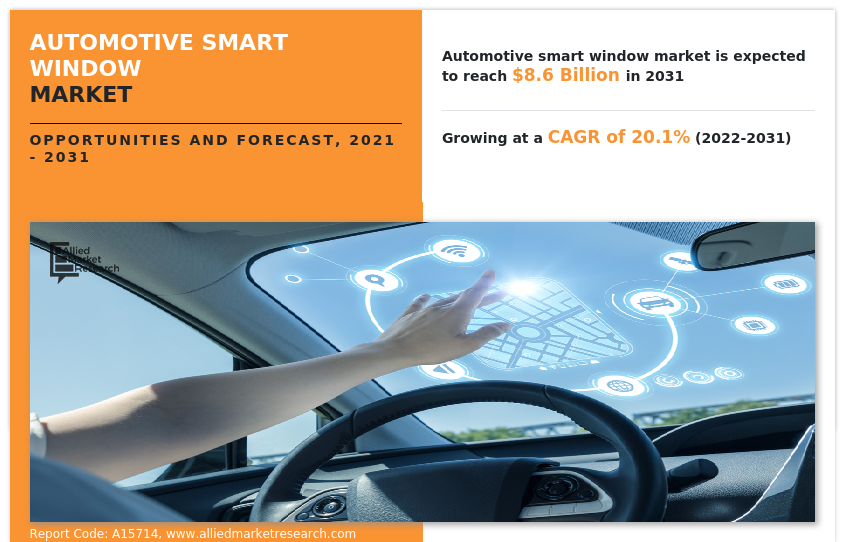 The automotive smart window market is segmented into Type, Technology and Vehicle Type.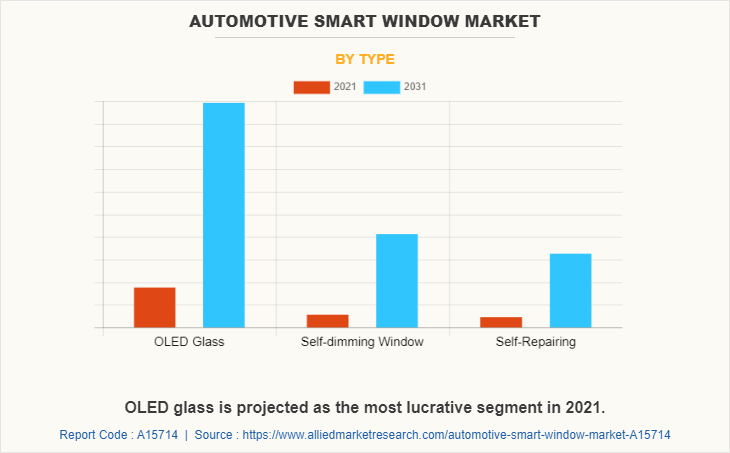 By type, the market is divided into OLED glass, self-dimming window and self-repairing. The OLED glass segment was the highest revenue contributor to the market in 2021.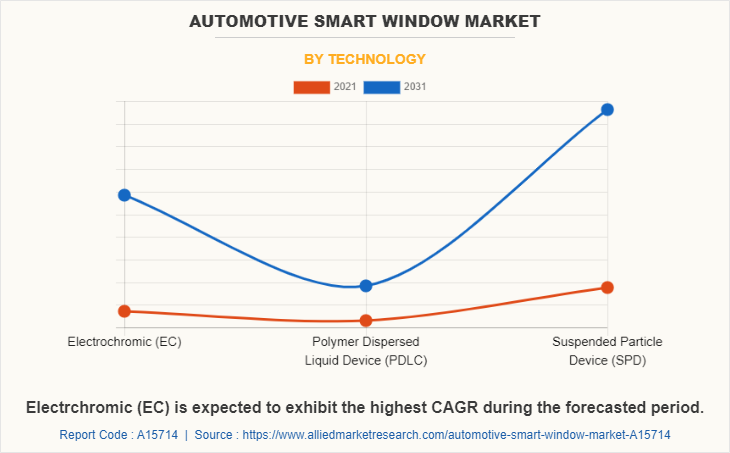 By technology, the market is divided into electrochromic (EC), polymer dispersed liquid device (PDLD) and suspended particle device (SPD). The electrochromic (EC) segment was the highest revenue contributor to the market in 2021.
By vehicle type, the market is divided into light commercial vehicles, medium and heavy commercial vehicles and passenger cars. The passenger cars segment was the highest revenue contributor to the market in 2021.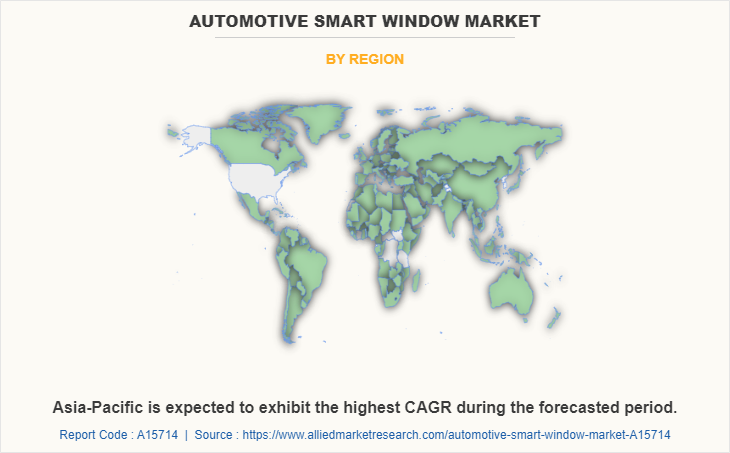 Region wise, the automotive smart window market trends are analyzed across North America (the U.S., Canada, and Mexico), Europe (UK, Germany, France, and rest of Europe), Asia-Pacific (China, Japan, India, South Korea, and rest of Asia-Pacific), and LAMEA (Latin America, the Middle East, and Africa). North America dominated the automotive smart window market share in 2021, and is projected to register significant growth rate during the forecast period, owing to growth of the commercial sector. However, Asia-Pacific is expected to witness significant growth by the end of the forecast period, followed by LAMEA.
Leading automotive smart window market manufacturers such as Corning Incorporated, Gentex Corporation, Hitachi, Ltd, Pleotint LLC, PPG Industries, RavenWindow, saint gobain, View, Inc., AGC INC., Research Frontiers Inc. are focusing on their investments on technologically advanced, cost-effective, and more secure products and solutions for various applications.
Key Benefits For Stakeholders
This report provides a quantitative analysis of the market segments, current trends, estimations, and dynamics of the automotive smart window market analysis from 2021 to 2031 to identify the prevailing automotive smart window market opportunities.
The market research is offered along with information related to key drivers, restraints, and opportunities.
Porter's five forces analysis highlights the potency of buyers and suppliers to enable stakeholders make profit-oriented business decisions and strengthen their supplier-buyer network.
In-depth analysis of the automotive smart window market forecast and segmentation assists to determine the prevailing automotive smart window market opportunity.
Major countries in each region are mapped according to their revenue contribution to the global market.
Market player positioning facilitates benchmarking and provides a clear understanding of the present position of the market players.
The report includes the analysis of the regional as well as global automotive smart window market size  trends, key players, market segments, application areas, and automotive smart window market growth strategies.
 Automotive Smart Window Market Report Highlights
Aspects
Details
Market Size By 2031
USD 8.6 billion
Growth Rate
CAGR of 20.1%
Forecast period
2021 - 2031
Report Pages
245
By Type

OLED Glass
Self-dimming Window
Self-Repairing

By Technology

Electrochromic (EC)
Polymer Dispersed Liquid Device (PDLC)
Suspended Particle Device (SPD)

By Vehicle Type

Light Commercial Vehicles
Medium and Heavy Commercial Vehicles
Passenger Cars

By Region

North America (Mexico, U.S., Canada)
Europe (UK, Germany, France, Rest Of Europe)
Asia-Pacific (China, Japan, India, Rest Of Asia-Pacific)
LAMEA (Latin America, Middle East, Africa)

Key Market Players
Gentex Corporation, AGC INC., Research Frontiers Inc., Hitachi, Ltd, Corning Incorporated, View, Inc., Pleotint LLC, PPG Industries, saint gobain, RavenWindow