The global automotive solenoid market was valued at $4.6 billion in 2021, and is projected to reach $7.6 billion by 2031, growing at a CAGR of 5.3% from 2022 to 2031.
The COVID-19 outbreak harshly impacted the automotive sector on a global level, which in turn resulted in substantial drop in vehicle sales and insufficiency of raw material. Many industry players in the automotive sector have witnessed issues such as halt of production activities, mandated plant closures by the government. Companies are restructuring their supply chains in a variety of ways, expanding their resources, and changing internal processes to handle these short-term situations. However, With the relaxation of lockdown measures and the consequent opening of markets across the world, the demand for automotive solenoid is anticipated to grow considerably in the near future.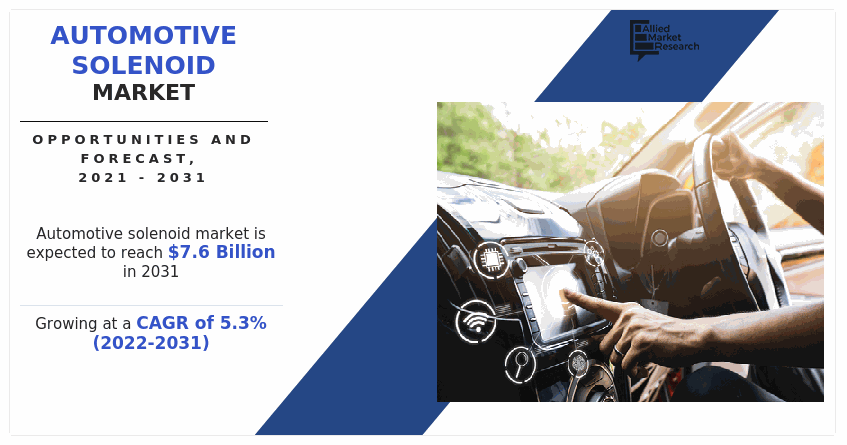 The automotive solenoid market is segmented into Vehicle Type, Application and Type.
Automotive solenoids are electromechanically controlled valves. They control the rate of flow of fluids (gas or liquid) in various automotive systems. They work with electric current. Whenever electricity flows through the solenoid coil, it will generate electromagnetic suction valve core (or overcome spring since the gravity). Automotive solenoids are commonly used to divert the oil, water, gas and other material circulation.
Factors, such as promising growth rate of the automotive sector, increasing adoption of electric vehicles and increasing demand for automated systems, are expected to drive the automotive solenoid market growth during the forecast period. Initiatives by the government and prominent automotive OEMs are also projected to impact the automotive solenoid market optimistically. However, declining sales of diesel-based passenger vehicles coupled with fluctuation in raw material prices are expected to hinder the growth potential of the automotive solenoid market during the forecast period. The concept of autonomous cars and rise in automation in the manufacturing process are expected to supplement the automotive solenoid market, thereby providing a better opportunity for the growth of the automotive solenoid market during the forecast period.
The automotive solenoid market is segmented on the basis of vehicle type, application, type, and region. Based on vehicle type, the market is classified into passenger vehicle, light commercial vehicle (LCV), heavy commercial vehicle (HCV), and electric vehicle. By application, the market is segmented into engine control, fuel and emission control, HVAC and others. By type, the market is divided into 2 Way Valve, 3 Way Valve, 4 Way Valve, and others. The market is analyzed based on four regions, namely North America, Europe, Asia-Pacific, and LAMEA.
Automotive Solenoid Market

---

By Vehicle Type
Passenger Vehicle is projected as the most lucrative segment
Increase in adoption of electric vehicles
Hybrid vehicles and electric vehicles are attracting attention to respond to the rapid development of clean energy in the current scenario. The electronically controlled braking systems that are essential to these vehicles use solenoid valves to control hydraulic pressure and increase the driver's braking power. Solenoid valve technology is also important for handling the thermal management and cooling aspects of electric vehicles. Despite the shortage of fuel inlet valves, the introduction of electric valves is expected to continue to drive the growth of the solenoid industry during the projection years.
Furthermore, according to the IEA organization, the global electric vehicle fleet reached 10 million units in 2020, up by 43% than that of 2019. Battery Electric Vehicles (BEVs) accounted for two-thirds of new electric vehicle registrations and two-thirds of inventory in 2020. China owns the largest of 4.5 million electric vehicles, while Europe saw the largest increase to 3.2 million annually in 2020. In addition, about three million electric-powered motors were registered in 2020. For the primary time, Europe led with 1.4 million new registrations. China accompanied with 1.2 million registrations and the U.S. registered 295,000 new electric-powered motors. Therefore, rising adoption of electric vehicles increases the use of automotive solenoids, which helps to expand the automotive solenoids market.
Automotive Solenoid Market

---

By Application
Fuel and Emission Control is projected as the most lucrative segment
Increase in demand for automated systems
Advancements in automation and digitalization have revolutionized the automotive industry. In the past years, automakers have manufactured mechanical actuators that only allow manually operated applications such as raising and lowering windows and adjusting seats.
High fuel efficiency and growth in demand for highly automated applications will boost the automotive solenoids market, which is also known as electromechanical actuators. Solenoid coils are widely used in trucks and heavy vehicles to lift, tilt, adjust, position, retract, extract, control, and open/close all automated applications. For instance, in December 2021, Dorman Products, Inc. announced the launch of 308 new automotive parts, including 93 new aftermarket parts. This facilitates the company's mission to give repair professionals and vehicle owners more freedom to repair a wide range of vehicles and trucks. It includes OE FIX MDS solenoids. This OEFIX MDS (916592XD) solenoid features a more durable aluminum body and a high-quality compression tested O-ring to regain the system pressure required to deactivate the cylinder during MDS operation increase.
Automotive Solenoid Market

---

By Region
Europe is projected as the fastest growing region at a CAGR of 6.7% during 2022-2031
Key Benefits For Stakeholders
This report provides a quantitative analysis of the market segments, current trends, estimations, and dynamics of the automotive solenoid market analysis from 2021 to 2031 to identify the prevailing automotive solenoid market opportunities.
The market research is offered along with information related to key drivers, restraints, and opportunities.
Porter's five forces analysis highlights the potency of buyers and suppliers to enable stakeholders make profit-oriented business decisions and strengthen their supplier-buyer network.
In-depth analysis of the automotive solenoid market segmentation assists to determine the prevailing market opportunities.
Major countries in each region are mapped according to their revenue contribution to the global market.
Market player positioning facilitates benchmarking and provides a clear understanding of the present position of the market players.
The report includes the analysis of the regional as well as global automotive solenoid market trends, key players, market segments, application areas, and market growth strategies.
 Automotive Solenoid Market Report Highlights
Aspects
Details
By Vehicle Type

Passenger Vehicle
LCV
HCV
Electric Vehicle

By Application

Engine Control
Fuel and Emission Control
HVAC
Others

By Type

2-Way Valve
3-Way Valve
4-Way Valve
Others

By Region

North America (U.S., Canada, Mexico)
Europe (U.K., Germany, France, Russia, Rest of Europe)
Asia-Pacific (China, Japan, India, South Korea, Rest Of Asia Pacific)
LAMEA (Latin America, Middle East, Africa)

Key Market Players
Robert Bosch GmbH, Hitachi Ltd., Mitsubishi Electric Corporation, Continental AG, Johnson Electric Holding Ltd., BorgWarner Inc., Padmini VNA Mechatronics Pvt Ltd, Global Point Magnetics Asia Co. Ltd, Nidec Corporation, Denso corporation