The global automotive trailer market was valued at $21.1 billion in 2021, and is projected to reach $30.8 billion by 2031, growing at a CAGR of 3.8% from 2022 to 2031.
Automotive trailers are unpowered vehicles towed by a powered vehicle with the help of a hitch. These trailers are used to transport goods and commodities from one place to another. They are majorly used by cargo companies to transfer their goods either nationally or internationally. In addition, they are used for recreational purposes such as to carry luggage, as fishing boats, or as mobile homes with limited facilities.
Growth of the global automotive trailer market is driven by expansion of logistics industry, coupled with increase in cold chain transportation, reduction in cost, and extra carriage capacity of trailers. For instance, in 2021, Lineage Logistics Holding, LLC announced strategic expansion of its facility network near the major port in Savannah, Georgia, which provides additional capacity for imported and exported frozen and refrigerated products. However, factors such as high maintenance cost of automotive trailers and rise in environment concerns regarding refrigerated trailers restrain the market growth. On the contrary, technological advancements in automotive trailers and increase in attention toward trailer platooning is expected to provide lucrative growth opportunities for the market. For instance, in October 2021, Dennison Trailers Ltd., a leading UK manufacture and seller of commercial trailers launched its new sliding bogie multi-function trailer built to carry two 20' containers and an ultimate flexibility, which help it to be split into two independent trailers.
Similarly, in the U.S., Great Dane launched its innovative FleetPulse platform on August 2021, the first OEM-developed smart trailer system, which comes as a standard feature on new Great Dane trailers with an integrated CAN harness to prepare equipment for future smart technology adoption.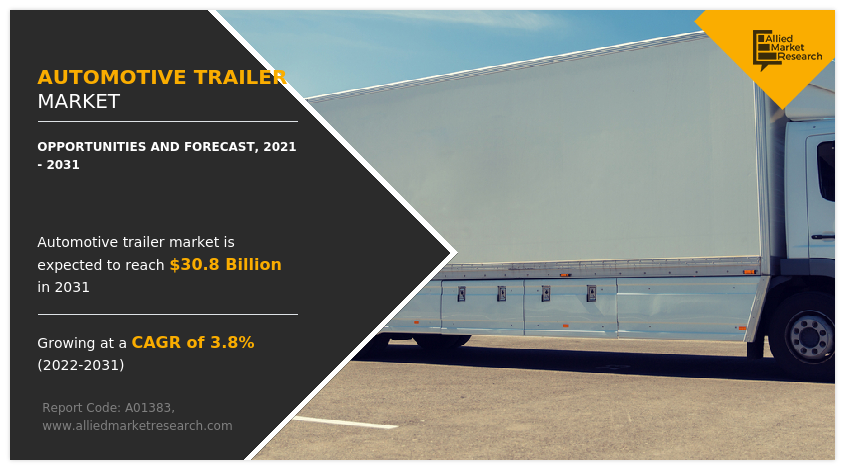 The global automotive trailer market is segmented on the basis of trailer type, axle type, vehicle type, and region. By trailer type, the market is categorized into dry van & box trailers, flatbed, trippers, chemical & liquid refrigerated trailers, and others. By axle type, it is bifurcated into single axle, tandem axle and three or more than three axles. By vehicle type, it is classified into two-wheelers & bikes, passenger cars, and commercial vehicles. Region wise, this market is analyzed across North America, Europe, Asia-Pacific, and LAMEA.
Key players profiled in the automotive trailer market report include Böckmann Fahrzeugwerke GmbH, China International Marine Containers (Group) Co., Ltd., Dennison Trailers Ltd., Great Dane, Humbaur GmbH, Hyundai Motor Group (HYUNDAI Translead, Inc.), Ifor Williams Trailers Ltd., Schmitz Cargobull, Utility Trailer Manufacturing Company and Wabash National Corporation.
Automotive Trailer Market

---
By Vehicle Type
Two-wheeler and Bike is projected as the most lucrative segment
Expansion of logistics industry, coupled with increased in cold chain transportation
Road transportation is the most utilized mode of transportation in the logistics sector as it offers better cost advantages over other modes. Thus, logistics is one of the key end-use industries for automotive trailers. In addition, rapid expansion of manufacturing, agriculture, electronics, and textile & apparel industries increases demand for logistics & supply chain services. Moreover, most companies rely on third-party logistics companies to decrease investments in fleet, reduced workforce, and availability of various types of containers, tanks, and flatbeds as per requirement of companies. Moreover, dependence of e-commerce companies on logistics service providers to ensure transportation of goods through warehouse and distribution hub has increased, owing to significant expansion of e-commerce activities. Thus, logistics companies, primarily the less than truckload (LTL) and full truckload (FTL) freight shipping companies are increasingly procuring automotive trailers, owing to versatility being offered in terms of load-carrying capacity. Furthermore, trailers offer lowest cost of transportation per ton per km as compared to rigid truck, which is further enhancing its adoption for logistics operations.
Furthermore, increase in demand for perishable goods such as pharmaceutical products, poultry, fresh flowers, fish, dairy products, and fruits & vegetables across the globe boost demand for cold chain logistics across the world. This is attributed to increase in disposable income in developing countries, which has allowed people to spend more on fresh, organic, and prime quality products. Moreover, governments of various countries are expanding the cold chain industry infrastructure to fulfill the growing demand.
For instance, in June 2022, the government of India offered significant financial support for investments in the cold chain - including processing, through its plan entitled "Scheme of Cold Chain, Value Addition and Preservation Infrastructure"- thus creating significant demand for reefer trailers. Therefore, expansion of cold chain and logistics industry is expected to drive growth of the automotive trailer market during the forecast period.
Automotive Trailer Market

---
By Trailer Type
Others is projected as the most lucrative segment
Reduction in cost
Automotive trailers are cost-effective solutions for the logistics industry. Instead of buying new vehicles, automotive trailers serve as an ideal solution to increase carriage capacity and costs half of the price of a new vehicle. Moreover, some trailers fall within the range of $5,000–$10,000, which provides superior edge in terms of cost. Furthermore, modern trailers being introduced in the automotive trailer industry come with state-of-the-art technology, which helps in reducing the number of road accidents and deliver enhanced operational efficiency, thereby reducing operational and maintenance cost. For instance, in July 2022, Phillips Connect showcased and demonstrated its complete offering of premier smart-trailer solutions with its state-of-the-art, solar-powered tech trailer. Furthermore, high price of rigid trucks is one of the major factors that propel demand for global automotive trailers globally. These factors are expected to supplement growth of the global automotive trailer market during the forecast period.
Rise in environment concerns regarding refrigerated trailers
Refrigerated units are known to release toxic substances such as Chlorofluorocarbons (CFCs) into the atmosphere during their operation. Such harmful gases pose major threat to environmental sustainability. They are not harmful inside refrigerators; however, problems occur when they escape. CFCs deplete the ozone layer, each CFC molecule can destroy thousands of ozone molecules and cause breathing and heart problems, leading to death. Thus, many governments and international regulatory bodies across the world have imposed environmental regulations and set up stringent standards for refrigerated transportation. For instance, the U.S. Environment Protection Agency established Significant New Alternatives Policy (SNAP) to identify and evaluate substitutes for ozone-depleting substances to reduce overall risk to human health and the environment. Therefore, these factors are expected to restrict growth of the automotive trailer market during the forecast period.
Automotive Trailer Market

---
By Axle Type
Three or More Than Three Axle is projected as the most lucrative segment
Technological advancements in automotive trailers
Technologies such as telematics, digitalization, and autonomous driving are renovating and transforming automotive trailers. Evolution of digital technologies is expected to create new opportunities such as advanced trailer telematics and AI-based optimization will lower carbon emission, traffic congestion, utilization, and overall operating costs. In addition, installation of advanced devices such as temperature recorder with built-in GSM/GPS modem and remote temperature monitoring in refrigerated trailers benefits trailer owners and fleet managers in real-time monitoring of trailers.
For instance, in April 2019, WABCO, launched its new advanced trailer monitoring and remote diagnostics solution, TX-TRAILERPULSE. WABCO's TX-TRAILERPULSE is a trailer-focused Internet of Things (IoT) connectivity solution, which combines real-time track and trace functionality with additional remote trailer health and diagnostic information, which allows fleet-wide deployment across all trailer types.
Moreover, manufacturers are investing significant amounts in enhancing trailer designs to meet the rise in demand and stringent regulations for fuel-efficient vehicles and environment. For instance, in 2020, Wabash National launched its zero-emission all-electric refrigerated trailer, which has Molded Structural Composite (MSC) technology to downsize the energy required to keep products cold. Such technological advancements in automotive trailers are expected to offer growth opportunities for the automotive trailer market during the forecast period.
Automotive Trailer Market

---
By Region
LAMEA would exhibit the highest CAGR of 5.9% during 2022-2031
The spread of the COVID-19 pandemic has negatively impacted the global automotive trailer market, owing to commute restrictions and the expected weak financial performance of the market players in 2020 and 2021. The economic impact of the pandemic is visible with organizations preparing strategic cost-saving plans. Organizations with vehicle assets are considering sale and leaseback options to improve cash flow. Most of the players operating in the trailer market financially suffered from the outbreak. For instance, Schmitz Cargobull, one of the prominent manufacturers of semi-trailers in Europe, witnessed a decrease of 27.4% for units produced in 2019-2020. However, some market players have also reported an increase in the unit sales of trailers in 2020. For instance, a China-based manufacturer of trailers, witnessed an increase in the unit sales of trailers by over 11% in 2020. Automotive trailer operators are expected to focus on working capital management and there are very less chances for heavy investment in advanced technology.
Key Benefits For Stakeholders
This report provides a quantitative analysis of the market segments, current trends, estimations, and dynamics of the automotive trailer market analysis from 2021 to 2031 to identify the prevailing automotive trailer market opportunities.
The market research is offered along with information related to key drivers, restraints, and opportunities.
Porter's five forces analysis highlights the potency of buyers and suppliers to enable stakeholders make profit-oriented business decisions and strengthen their supplier-buyer network.
In-depth analysis of the automotive trailer market segmentation assists to determine the prevailing market opportunities.
Major countries in each region are mapped according to their revenue contribution to the global market.
Market player positioning facilitates benchmarking and provides a clear understanding of the present position of the market players.
The report includes the analysis of the regional as well as global automotive trailer market trends, key players, market segments, application areas, and market growth strategies.
 Automotive Trailer Market Report Highlights
Aspects
Details
Market Size By 2031
USD 30.8 billion
Growth Rate
CAGR of 3.8%
Forecast period
2021 - 2031
Report Pages
245
Vehicle Type

Two-wheeler and Bike
Passenger Car
Commercial Vehicle

Trailer Type

Dry Van and Box
Refrigerator
Chemical and Liquid
Tipper
Flatbed
Others

Axle Type

Single Axle
Tandem Axle
Three or More Than Three Axle

By Region

North America (U.S., Canada, Mexico)
Europe (UK, Germany, France, Rest Of Europe)
Asia-Pacific (China, Japan, India, Australia, Rest Of Asia-Pacific)
LAMEA (Latin America, Middle East, Africa)

Key Market Players
BöCKMANN FAHRZEUGWERKE GMBH, China International Marine Containers (Group) Co., Ltd., Dennison Trailers Ltd, Great Dane, Humbaur GmbH, HYUNDAI MOTOR GROUP, IFOR WILLIAMS TRAILERS LTD., SCHMITZ CARGOBULL AKTIENGESELLSCHAFT, Utility Trailer Manufacturing Company, Wabash National Corporation