Automotive Tubeless Tire Market Overview:
Global automotive tubeless tire market is expected to reach $198 billion by 2023, growing at a CAGR of 6.2% from 2017 to 2023. Tubeless tires operate without an inner tube, while the outer casing makes an air tight seal with the rim of the wheel, and air is held in the assembly of casing and rim. The tubeless tire comprises of tread, steel belt, and spiral layer, and assist vehicles in numerous functions, such as supports vehicle load, transmits traction & breaking force to road surface, absorbs road shocks, and changes & maintains direction of travel. Moreover, to accomplish these basic functions, a tubeless tire is made up of steel belt covered with resilient rubber and inflated with high-pressure air (nitrogen, CO2, O2, and mixture of gases). The tubeless tire market is expected to witness lucrative growth during the forecast period, due to its advantages, such as easy puncture repair, more comfortable for higher speed, lower tire pressure, better bump absorption, and reduced rotating weight as compared to conventional tires. Commercial vehicles, such as heavy-duty trucks & buses may integrate 8 or more than 8 tubeless tires depending on the application and role of the vehicle, whereas two wheelers are integrated with 2 tires and passenger cars with 4 tires.
Market Segmentation
The market segmentation is based on type, vehicle type, distribution channel, and geography. Based on type, it is bifurcated into radial and bias tubeless tires. By vehicle types, it is categorized into two-wheelers, passenger cars, and commercial vehicles. Based on distribution channel, it is classified into original equipment manufacturer (OEM) and aftermarket. Geographically, it is analyzed across North America, Europe, Asia-Pacific, and LAMEA.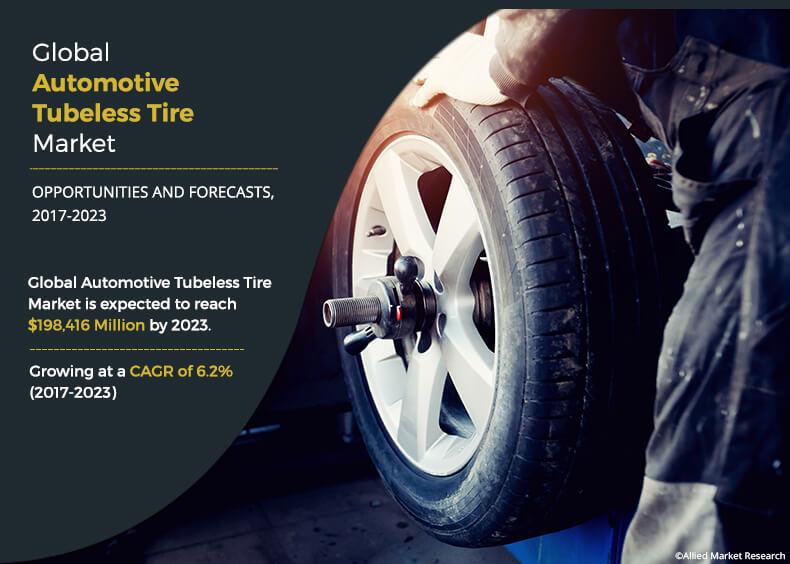 Market Dynamics
Global automotive tubeless tire market is driven by growth in production & sales of vehicles and stringent vehicular emission & fuel economy rules & regulation globally. However, volatile prices of raw material and technological advancement, such as rise in adoption of air-less tires in heavy-duty trucks & buses and off-road vehicles, hindering the market growth. Moreover, technological innovations in the automotive tire industry, such as lightweight tubeless tire, manufactured with advance rubber & metals, and rise in aftermarket for tubeless tire, due to increase in lifespan of vehicles, are expected to unfold various opportunities for the market growth. The main challenges for tubeless tire OEMs are to overcome problems such as vibration and excessive fuel consumption.
Passenger Car Segment Leads the Automotive Tubeless Tire Market
The passenger car segment accounted for the highest market share in 2016, in the overall automotive tubeless tire market. As per the OICA Car Association, in 2016, approximately 69 million passenger cars were sold across the globe, which further boosted the demand for tubeless tire in automotive industry. Moreover, rise in passenger cars mostly in Asia-pacific drives the market growth. In addition, factors such as increasing life span of vehicles & increasing annual average annual miles travel by passenger cars, boosting the demand of tubeless tire in aftermarket.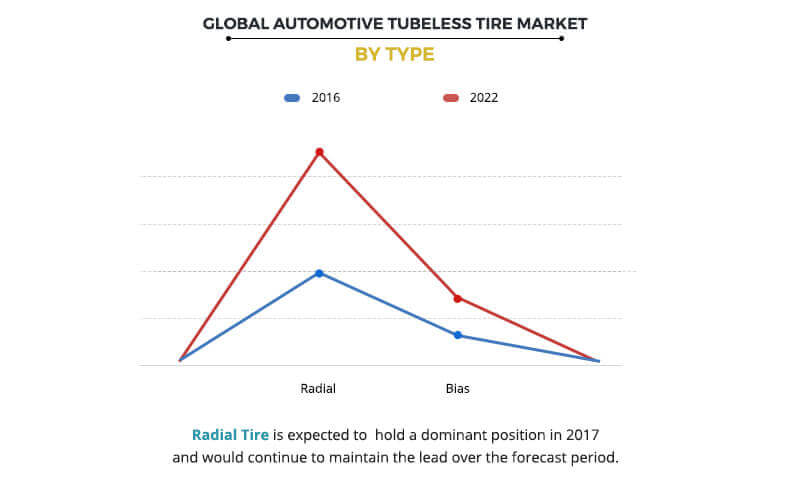 Asia-Pacific Most lucrative market
Asia-Pacific is the most lucrative and largest automotive tubeless tire market, owing to rise in automotive industry in China, Japan, and South Korea and growth in number of joint ventures with international brands. The penetration level of passenger cars and two wheelers are highest in this region as compared to others, which is further boosting the demand for tubeless tires.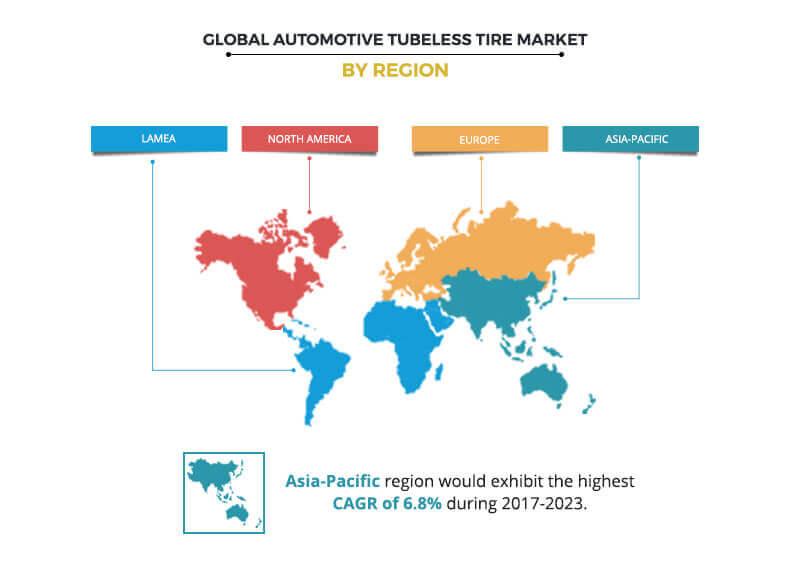 Key Benefits
The report includes an extensive analysis of the factors that drive and restrain the market.
The factors affecting growth and the market projections from 2016 to 2023 are included.
The report also provides quantitative and qualitative trends to assist the stakeholders to understand the situations that prevail in the market.
In-depth analysis of key segments demonstrates stakeholders with different types of tubeless tire and different vehicle type & distribution channels.
Competitive intelligence highlights the business practices followed by key market players globally.
 Automotive Tubeless Tire Market Report Highlights
Aspects
Details
By Type
By Vehicle Type

Two-Wheeler
Passenger Car
Commercial Vehicle

By Distribution Channel

Original Equipment Manufacturer (OEM)
Aftermarket

By Region

North America (U.S., Canada, Mexico)
Europe (Germany, France, Italy, UK, Rest of Europe)
Asia-Pacific (China, Japan, Australia, India, Rest of Asia-Pacific)
LAMEA (Latin America, Middle East, Africa)

Key Market Players
Bridgestone Corporation, The Goodyear Tyre & Rubber Company, Continental AG, MICHELIN, Pirelli Tyre S.p.A, Sumitomo Rubber Industries, Ltd, Hankook Tire Co. Ltd, CST, Yokohama Tire Corporation, Toyo Tire & Rubber Co. Ltd
Other Players in the Value Chain
CEAT Ltd., MRF Limited, Kumho Tire Co., Inc., Apollo Tyres Ltd