The global autonomous aircraft market was valued at $6.29 billion in 2021, and is projected to reach $37.06 billion by 2031, growing at a CAGR of 19.3% from 2022 to 2031.
An autonomous aircraft is the next-generation aircraft that can fly using automated control systems, without the intervention of a human pilot in the cockpit. This level of autonomy requires sensors, embedded software and artificial intelligence (AI) systems that continuously perceive risky situations, plan a safe path of motion and execute those motions. Currently, most autonomous aircrafts are unmanned aerial vehicles used as drones for military operations, delivery vehicles, agriculture, emergency rescue, space exploration, and film production, among others. At present, major companies functioning in the global autonomous aircraft market are majorly focusing on the product innovations and R&D of fully autonomous products for commercial & military applications. For instance, in September 2021, Northrop Grumman unveiled the design of a new autonomous aircraft named Model 437, with a 3,000-mile range. The company has partnered with Scaled Composites to design the aircraft as a potential force multiplier for the U.S. Air Force.
The COVID-19 crisis is creating uncertainty in the market. Governments of different regions have announced total lockdown and temporarily shutdown of industries, thereby adversely affecting the overall production and sales. It also resulted in flight cancellations, travel bans, and quarantines, which led to massive slowing of the supply chain and logistics activities across the world. Also, the aviation industry is suffering financial losses in maintenance of airlines & airports without any growth in revenue, due to fall in air passenger traffic after the COVID-19 outbreak. Moreover, autonomous flight system test runs have delayed due to operational issues caused travel restrictions imposed by governments around the world as precautionary measures against COVID-19. However, COVID-19 has had an impact on numerous operations of the OEMs, from R&D to manufacturing. The industry participants experienced short-term disruption in delivery systems and roll-outs, such disruption has created new opportunities for unmanned aerial vehicles technology such as drones with the adoption of autonomous aircraft system and has boosted usage of unmanned aerial systems (autonomous systems) across different commercial sectors.
U.S. is a leading consumer for autonomous aircraft in the North America market. U.S. is one of the global frontrunners in the adoption of new technologies that enhance the operation of organizations that function in the country. In addition, the companies operating across the country are offering their products, which also creates ample opportunities for the growth of the market across the U.S.
Moreover, in March 2022, TEXTRON to acquire electric aircraft pioneer pipistrel, Pipistrel will have access to greater resources, technical and regulatory expertise and a global aircraft sales and support network, enabling it to accelerate its development and certification of electric and hybrid electric aircraft. Upon closing of the transaction, Textron plans to form a new business segment, Textron eAviation, focused on the development of sustainable aircraft, which will include Pipistrel.
For instance, in June 2022, Boeing-NATO PROJECT X Challenge Spurs Innovative Ideas for Future Autonomous Capabilities. The joint Boeing – NATO PROJECT X innovation challenge has generated new ideas for autonomous systems to reach inaccessible locations and improve situation awareness. This three-month-long intense rapid-prototyping competition allowed innovators from Dutch universities, including the Technical University of Delft, the opportunity to propose new approaches to supporting the Alliance's most pressing needs.
In addition, in April 2022, Textron Aviation announced it has entered into a purchase agreement with Exclusive Jets, LLC, operating as fly Exclusive, for up to 30 Cessna Citation CJ3+ jets. fly Exclusive, a leading provider of premium private jet charter experiences, expects to take delivery of five aircraft in 2023, with the option to purchase additional aircraft for deliveries through 2025.
China has been inclined toward developing autonomous aircrafts, UAV, and drones to be deployed across the country. For instance, China has launched unmanned drones and autonomous aircrafts across the country which eventually creates ample opportunities for the growth of the market across the country.
In June 2022, Japan launched prototype model of unmanned aircraft that will fly in support of fighter aircraft, as the government aims to strengthen the defense of its airspace and to deter attacks. This creates an increased demand supplementing the growth of the market across the country.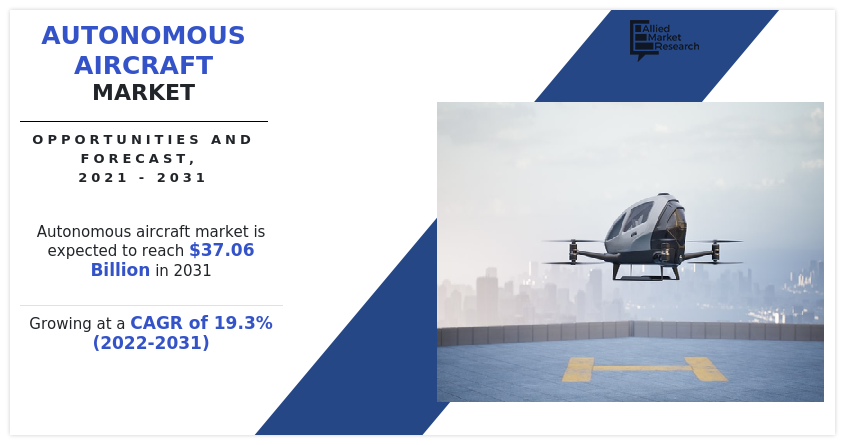 Autonomous aircrafts can be identified with their ability to perform complex maneuvers for extended period of time at remote distances. Installation of autonomous system on an aircraft reduces the workload of a pilot. The autopilot keeps the aircraft on a predefined path at cruising altitudes. It can even perform climbs, descents and turns as instructed. Hence, the speed and reliability of fully autonomous systems can make them better equipped than humans to handle urban skies that are filled with obstacles.     
The factors such as rise in the adoption of autonomous cargo aircraft, surge in autonomy to reduce human errors, and increase in adoption of artificial intelligence in autonomous aircrafts drive the growth of the autonomous aircraft market. However, increase in security issues & cyber threat and lack of standard infrastructure for operation & complex design and high initial investment are the factors expected to hamper the growth of the market. In addition, proactive government initiatives & support and rise in demand for improved surveillance are expected to create ample opportunities for the key players operating in the autonomous aircraft industry.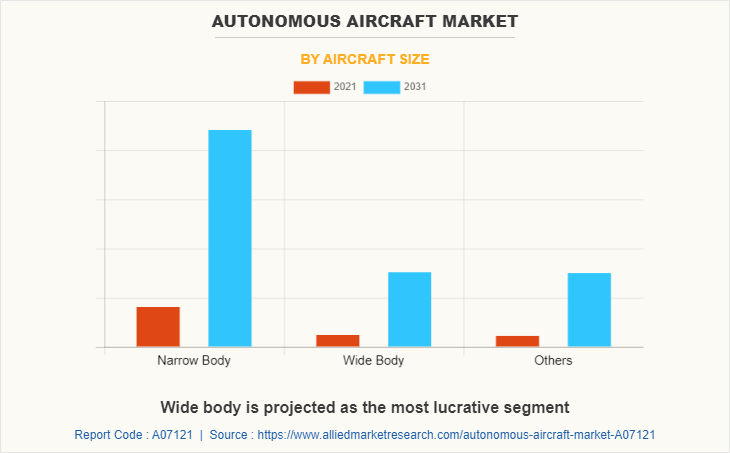 The autonomous aircraft market is segmented into aircraft size, maximum takeoff weight, application, end-use and region. By aircraft size, the market is divided into narrow body, wide body, and others. By maximum takeoff weight, it is fragmented into less than 2500 kg and more than 2500 kg. By application, it is categorized into military & defense, civil & commercial, and others. By end use, it is further classified into cargo & industrial and passenger. By region, it is analyzed across North America, Europe, Asia-Pacific, and LAMEA.
The leading players operating in the autonomous aircraft market are Northrop Grumman, Collins Aerospace, Lockheed Martin Corporation, Boeing, Airbus, Elbit Systems Ltd., Textron Inc., BAE Systems, SAAB, Aeronautics, Aerovironment, Inc., General Atomics., Embraer SA., Aston Martin and Kittyhawk.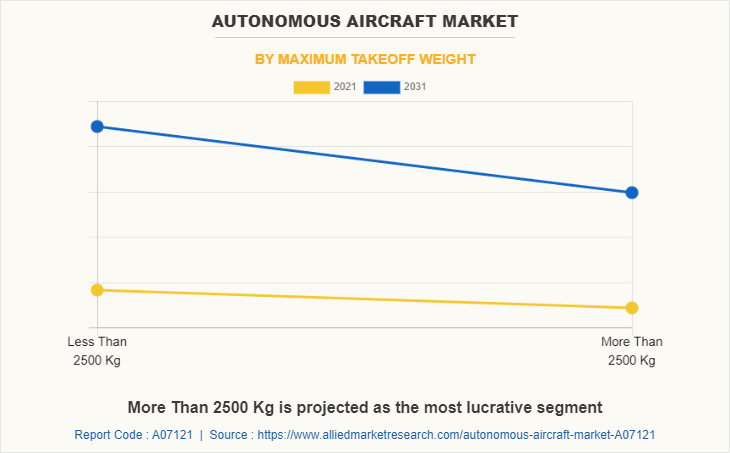 Rise in adoption of autonomous cargo aircraft
Cargo planes & drones are expected to be the first to adopt this autonomous aircraft technology. As cargo drones are capable of transporting heavy payloads, they are entering flight test and some experts expect them to start operational service before air taxis carry passengers in urban areas. In addition, the growth in the e-commerce industry is driving the air cargo demand, which may increase the demand for air cargo pilots in the near future. Hence, most of the developments in the autonomous aircraft market are aimed at bringing the autonomous cargo aircraft into commercial use, to fill in the gap due to the pilot shortage. Boeing's futuristic NeXt division oversees its heavy-duty drone prototype that is capable of lifting a 500-pound payload. The cargo air vehicle conducted its first indoor flight in 2018 and it may move to outdoor testing in 2019. Furthermore, countries such as U.S., Singapore, UAE, China, and other developed nations are using autonomous aircraft to deliver healthcare services such as medicines and other emergency products. Thus, companies are looking forward to design such autonomous aircrafts for multipurpose applications. Hence, such several developments and innovations in the industry lead to the adoption of autonomous aircrafts, which thereby propels the autonomous aircraft industry growth.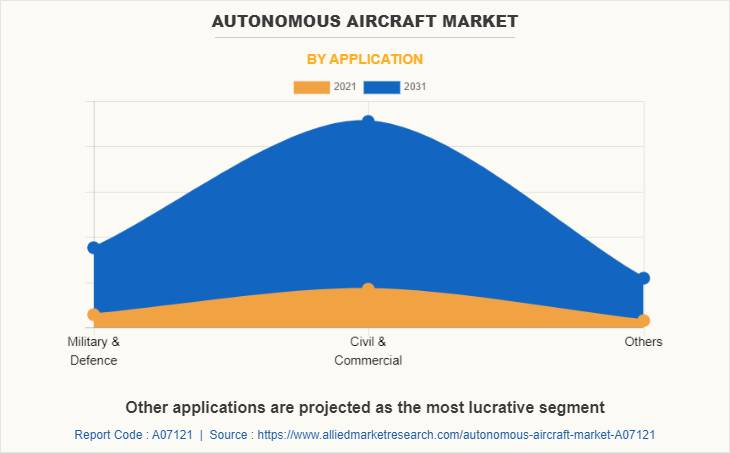 Surge in autonomy to reduce human errors
Autonomous technologies eliminate the risks of mishaps due to human errors. Rise in accidents due to human error coupled with robust technological advancements in the artificial intelligence has encouraged the need for adopting the autonomous technologies in aircrafts. Autonomous aircraft reduces the risks of human error in difficult terrains or situation where humans can't operate. Various players in aviation industry are testing for the automation in its operation. For instance, in 2019, Erickson Inc. (an aviation company having headquarters in Oregon, U.S.) signed a contract to integrate S-64 (air crane helicopter) with Sikorsky's (an aircraft manufacturer having headquarters in Connecticut, US) MATRIX Technology autonomous flight control. Matrix is a combination of hardware and software flight technology that gives the operator the ability to fly helicopters reliably as autonomous or optionally piloted aircraft. Moreover, matrix has been installed & tested on a modified S-76B (medium-sized utility helicopter) to take leverage of full-authority flight control input for autonomous flight for take-off, route planning, site selection and, landing. In addition, autonomous systems provide capability to operate in low-visibility situations where a pilot's vision could be clouded by smoke. Such innovations in autonomous flight systems are expected to drive the global autonomous aircraft market.   
Lack of standard infrastructure for operation & complex design and high initial investment
The developed countries such as the U.S., the UK, Japan, and China, have designed & developed logistics infrastructure suitable for autonomous systems. However, lack of infrastructure and standard operating procedures for autonomous aircrafts in Asian & Middle East countries have hampered the market growth. Furthermore, high initial cost associated with installation of networking technologies and connectivity hardware is anticipated to hamper the growth of the market. For instance, air-to-ground technology costs around $80,000 per aircraft, however, cost associated with deployment of satellite technology is around $400,000.
Similarly, fully autonomous drones need designing, testing, and certification for several components and software for monitoring & situational awareness purpose. Furthermore, these aircraft manufacturers need to follow stringent government regulations for safety & security purposes. Also, the software used in these aircrafts needs to draft various convenience norms to design & develop these autonomous aircrafts accordingly. Hence, absence of standard infrastructure for operation and complex design along with certification procedure hampers the market growth.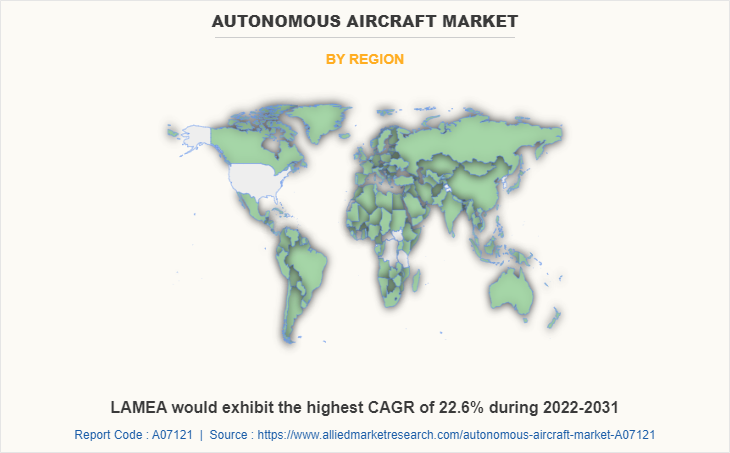 Rise in demand for improved surveillance
The growth in threat from terrorism and increase in security concerns worldwide hav led to increased government expenditure for autonomous aircraft systems or drones to improve surveillance capabilities. Moreover, autonomous aircrafts can carry out stealth operations, night surveillance, and operate at any location with payloads including high imagery cameras such as Zenmuse Series by DJI Technology, DG series by Autel Robotics, and HDZoom30 by Aeryon Labs Inc. Such benefits have led to increasing investments by governments to procure and develop a large number of autonomous aerial vehicles globally, which thereby propels the demand for autonomous vehicles (aircrafts) market. For instance, in March 2021 Elbit Systems Ltd. signed a $300 million contract to supply Hermes 900 autonomous aircraft systems to a country in Asia. Also, the development of advanced payloads for surveillance fuels the growth of the market. Such innovation and the introduction of cost-effective products with increase in demand for improved surveillance are expected to create lucrative opportunities in the autonomous aircraft market.
Key Benefits For Stakeholders
This study presents analytical depiction of the global autonomous aircraft market analysis along with current trends and future estimations to depict imminent investment pockets.

The overall autonomous aircraft market opportunity is determined by understanding profitable trends to gain a stronger foothold.

The report presents information related to the key drivers, restraints, and opportunities of

the global autonomous aircraft market with a detailed impact analysis.

The current autonomous aircraft market is quantitatively analyzed from 2021 to 2031 to benchmark the financial competency.

Porter's five forces analysis illustrates the potency of the buyers and suppliers in the industry.
 Autonomous Aircraft Market Report Highlights
Aspects
Details
By Aircraft Size

Narrow Body
Wide Body
Others

By Maximum Takeoff Weight

Less Than 2500 Kg
More Than 2500 Kg

By Application

Military & Defence
Civil & Commercial
Others

By End-Use

Cargo & Industrial
Passenger

By Region

North America (U.S., Canada, Mexico)
Europe (U.K., Germany, France, Spain, Italy, Russia, Rest of Asia-Pacific)
Asia-Pacific (China, Japan, India, South Korea, Rest Of Asia Pacific)
LAMEA (Latin America, Middle East, Africa)

Key Market Players
Lockheed Martin, Aerovironment, Aeronautics, Kitty Hawk, Joby Aviation (Key Innovator), Embraer, Raytheon, General Atomics Aeronautical Systems, Bell Helicopter, Northrop Grumman, BAE Systems, Saab, Volocopter GmbH, Airbus, Elbit Systems, Boeing, Karem Aircraft Inc. (Key Innovator)