Autonomous Bike Market Statistics 2035 -
The global autonomous bike market will be $3.26 billion in 2027, and is projected to reach $35.71 billion by 2035, registering a CAGR of 34.9% from 2028 to 2035.
An autonomous vehicle is one that is capable to function itself and perform the required operations without involving any human involvement, by utilizing its ability to detect its environments. While autonomous cars are expected to be introduced soon, various companies such as Yamaha, Kawasaki, BMW, Honda, and Ford are involved in developing autonomous bikes. In addition, few colleges and universities, such as Michigan Institute of Technology (MIT), are also involved in making autonomous bikes across the world.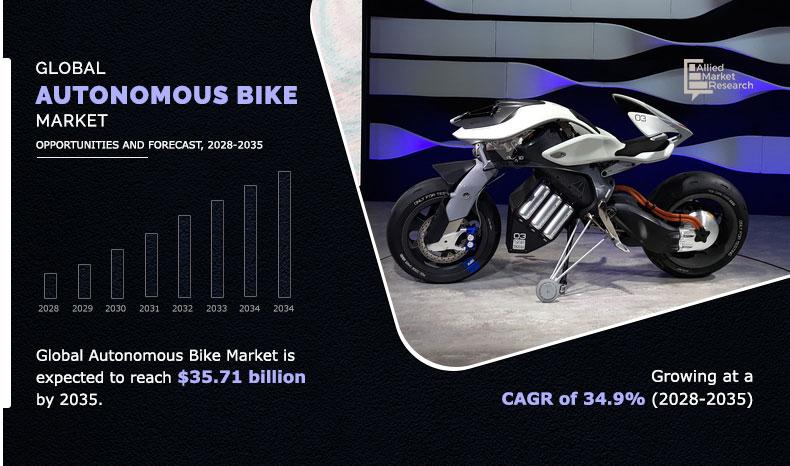 An autonomous bike makes use of gyroscopes and accelerometers or it counts on a flexible rake angle of the front tire and a motor for the handlebar to balance itself. Similar to other autonomous automobiles, an autonomous motorcycle may possibly use cutting-edge sensor technology, artificial intelligence (AI), and wireless connectivity to balance the vehicle without any intervention by a driver. Although bikes may not balance and drive themselves as of now, they are on the edge of becoming simpler to drive both for learners and skilled riders alike. Moreover, autonomous bikes are expected to ensure high safety on roads, and continuous developments in enhancing the technologies will augment the usability of autonomous bikes over the years.
In line with the efforts regarding the development of autonomous bikes, some of the potential bike manufacturers have showcased their autonomous bikes in the past years. For instance, in January 2017, Honda unveiled its self-balancing concept bike. In September 2018, BMW presented its first autonomous motorbike BMW R 1200 GS at the BMW Motorrad Techday. Increase in efforts by global players in making autonomous bikes is expected to boost the development of the global autonomous bike market during the forecast period.
Factors such as rise in demand from customers for technologically advanced motor bikes and improvement in rider's safety are expected to notably contribute toward the growth of the autonomous bike market during the forecast period. However, concerns about inaccuracy & calibration as well as design issues in autonomous vehicles and high costs associated with the operation of autonomous bikes are anticipated to hamper the growth of the market. On the contrary, increase in initiatives regarding the design & development of innovative systems and rise in installation of smart technologies in motorbikes are expected to offer lucrative opportunities for the global autonomous bike market in the near future.
The global autonomous bike market is segmented into technology, level of autonomy, vehicle type, and region. Depending on technology, the market is fragmented into gyroscope, GPS, camera, RADAR, intelligent speed assistance, and others. By level of autonomy, it is categorized into semi-autonomous and fully autonomous. On the basis of vehicle type, it is segregated into motorcycle, kick scooter, and e-bicycle. Region wise, the market is analyzed across North America, Europe, Asia-Pacific, and LAMEA.
The key players operating in the global autonomous bike market include BMW Group, Flo Mobility Private Limited, Go X Apollo, Honda Motor Co., Ltd., IAV, Kawasaki Heavy Industries, Ltd., Refraction AI, Spin, Tortoise, and Yamaha Motor Co., Ltd.
Rise in demand from customers for technologically advanced motor bikes
Motorbikes are the most used conveyance option to travel from one location to another. They let the riders move through constricted spaces, are fast & highly maneuverable, and offer a thrilling experience while traveling on different terrains. Over the years, different kinds of motorcycles such as sport bikes, cruiser bikes, touring bikes, and mopeds have been launched to cater to different customer needs. The buyers of motorcycles have well-accepted electric bikes, which is increasing the penetration of electric bikes globally. Furthermore, electric bikes produce zero emissions, superior power output, reduced maintenance, and offer unique designs, which are expected to boost their demand over the years. 
With an increasing number of cars being fitted with advanced navigation, infotainment, telematics, and autonomous technologies, the demand for such features in bikes is anticipated to increase in the coming years. While a rising number of companies are installing features such as GPS and connected bikes, some companies are developing autonomous bikes that will offer a superior driving experience to riders.
Autonomous Bike Market

---
By Technology
Intelligent Speed Assistance is projected as the most lucrative segments
Battery-powered autonomous bikes will be capable of self-balancing and will be able to stand upright even at extremely low speeds. By installing state-of-the-art sensor systems and AI technologies, bikes would offer features that will cater to the requirements of a skilled as well as an untrained rider.  Hence, rise in demand for technologically advanced bikes is expected to propel the growth of the global autonomous bike market during the forecast timeframe.
Improvement in rider's safety
Manufacturers of autonomous bikes are developing models that ensure improved safety of riders. Yearly, millions of motorcyclists encounter crashes in the U.S. alone. According to data publicized by the National Highway Traffic Safety Administration (NHTSA), a total of 6,756,000 police-reported motor vehicle traffic crashes were recorded in 2019. The recent boom in the development of driver assistance technology is expected to improve the safety of motorcycle riders in the near future. Moreover, the incorporation of a self-balancing feature in motorcycles will not only prevent the riders from falling during accidents but also prevent them from experiencing roll-over wounds. With surge in demand for safer bikes, autonomous bikes are expected to gain high traction over the years, which, in turn, will augment the growth of the global market.
Autonomous Bike Market

---
By Level Of Autonomy
Fully-Autonomous is projected as the most lucrative segments
Bikes are highly susceptible to road conditions, and even minor deformities on the roads can lead to drastic accidents. Fitting motorcycles and scooters with modern technologies such as LiDAR and highly accurate geographical data can help them in having a better understanding of the characteristics of any road, letting their AI systems adapt their driving actions based on changes in road conditions, for instance, minor bumps and depressions. With the advancement in technologies that are being tested for autonomous bikes, riding them is expected to become safer and more efficient over the years. Thus, improvement in rider's safety is anticipated to notably contribute toward the growth of the global market. 
Inaccuracy & calibration issues in autonomous vehicles
Sensors are crucial components of the current fleet of automobiles. They are critically important to enable a whole lot of things in a vehicle, for instance, from existing advanced driver-assistance systems (ADAS) features and automated braking & lane keeping. For highly automated vehicles, the accuracy of sensors becomes more critical. Satisfactorily safe and high accuracy is of utmost importance, and calibration ensures that the vehicle's sensors are operating at the highest reliability. 
Autonomous Bike Market

---
By Vehicle Type
Motorcycle is projected as the most lucrative segments
Sensors can often get out of calibration due to their daily usage, standard vibrations, vehicle part replacements, or variations in environmental conditions such as temperature. While vehicles getting out of calibration is quite an issue, no common metrics exist as of today that can measure the miscalibration and there are no specific standards that firms can follow. All manufacturers have their own exclusive sensor suites and a complementary set of unique calibration procedures, which further complicates the issues. In addition, a typical ADAS calibration procedure can last anywhere between 15 minutes to 2 hours and necessitates costly equipment. Furthermore, the automobile itself needs to be prepared for thorough testing and recalibration. For instance, tires must be appropriately inflated, the fuel tank has to be full, and vehicle must stand totally flat on a balanced surface. Most garages and technicians are under-prepared and unsatisfactorily skilled to perform a tedious and intricate method. This eventually leads to unsuitable calibration that risks the life of the vehicle's passengers. Hence, inaccuracy and calibration issues in autonomous vehicles are expected to hinder the growth of the global autonomous bike market during the forecast period.
Increase in initiatives regarding the design and development of innovative systems
Leading motorcycle manufacturers have made significant technological advancements in the design of autonomous bikes to make them more efficient, responsive, and safe. In recent years, several companies have revealed their concept design of autonomous bikes. The manufacturers such as BMW, Kawasaki, Honda, and Yamaha are designing autonomous bikes by leveraging advanced AI and self-balancing technologies to enable the bikes to detect and act instantaneously according to the variations in the environment. For instance, in 2017, AB Dynamics and AutoRD showcased the Autonomous BMW C1 calling it the world's first self-driving motorbike. It is equipped with autonomous software, sensors, rebalancing technology, radio controls, and GPS, through which it can drive without a rider. In the same year, Yamaha displayed MOTOROiD—a proof-of-concept model that leverages self-balancing technology and artificial intelligence. MOTOROiD is able to identify motions, making it possible for MOTOROiD to respond to hand movements, for instance, using a raised-up palm to instruct it to start or stop moving. One more example of an autonomous motorcycle is riding Assist-e designed by Honda. It is a self-balancing bike, which implies that it can adjust the center of gravity without the rider's intervention. Many companies are putting their efforts into making autonomous bikes available to customers in the near future. Such initiatives are anticipated to bolster the growth of the global autonomous bike market. 
Autonomous Bike Market

---
By Region
Asia-Pacific would exhibit the highest CAGR of 37.0% during 2028-2035.
Key Benefits For Stakeholders
This study presents the analytical depiction of the global autonomous bike market analysis along with the current trends and future estimations to depict imminent investment pockets.
The overall autonomous bike market opportunity is determined by understanding profitable trends to gain a stronger foothold.
The report presents information related to the key drivers, restraints, and opportunities of the global autonomous bike market with a detailed impact analysis.
The current market is quantitatively analyzed from 2027 to 2035 to benchmark the financial competency.
Porter's five forces analysis illustrates the potency of the buyers and suppliers in the industry.
Key Market Segments
By Technology
Gyroscope
GPS
Camera
RADAR
Intelligent Speed Assistance
Others
By Level of Autonomy
Semi-autonomous
Fully Autonomous
By Vehicle Type
Motorcycle
Kick Scooter
E-bicycle
By Region
North America
Europe

Germany 
France 
UK
Italy
Rest of Europe

Asia-Pacific

China
Japan 
India
South Korea
Rest of Asia-Pacific

LAMEA

Latin America
Middle East
Africa
Key Players
BMW Group
Flo Mobility Private Limited
Go X Apollo
Honda Motor Co., Ltd.
IAV
Kawasaki Heavy Industries, Ltd.
Refraction AI
Spin
Tortoise
Yamaha Motor Co., Ltd.
 Autonomous Bike Market Report Highlights
Aspects
Details
By TECHNOLOGY

Gyroscope
GPS
Camera
RADAR
Intelligent speed assistance
Others

By LEVEL OF AUTONOMY

Semi-autonomous
Fully-autonomous

By VEHICLE TYPE

Motorcycle
Kick-scooter
E-bicycle

By Region

North America (U.S., Canada, Mexico)
Europe (France, Germany, Italy, Spain, UK, Russia, Rest of Europe)
Asia-Pacific (China, Japan, India, South Korea, Australia, Thailand, Malaysia, Indonesia, Rest of Asia-Pacific)
LAMEA (Brazil, South Africa, Saudi Arabia, UAE, Argentina, Rest of LAMEA)

Key Market Players
KAWASAKI HEAVY INDUSTRIES, LTD., SPIN, IAV, GO X APOLLO, TORTOISE, REFRACTION AI, HONDA MOTOR CO., LTD., YAMAHA MOTOR CO., LTD, FLO MOBILITY PRIVATE LIMITED, BMW GROUP