Autonomous Cranes Market Statistics 2032 -
The global autonomous crane market is expected to be valued at $2,365.2 million in 2022, and is projected to reach $18,618.5 million by 2032, registering a CAGR of 22.8%. North America is projected to be the highest revenue contributor, accounting for $1,206.71 million in 2022, and is estimated to reach $9,029.95 million by 2032, with a CAGR of 22.5%. Asia-Pacific is estimated to reach $6,944.7 million by 2032 at a significant CAGR of 24.7%.
Autonomous cranes refer to mechanical equipment attached with a set of wire ropes, sheeves, or chains hoist ropes along with utilization of smart technology enabled software and hardware, such as artificial Intelligence (AI) and machine vision, utilized for material handling applications. Autonomous crane is a new generation solution that deals with lifting and transporting the heavy materials along with several benefits such as collision avoidance, time, and operational effectiveness. Autonomous crane is in the introductory phase and majority of the market participants are involved in product development activities to cater to the specific requirement of end users. Autonomous cranes can be operated from a control room from where the operator can supervise crane activities along with high level of safety and comfort.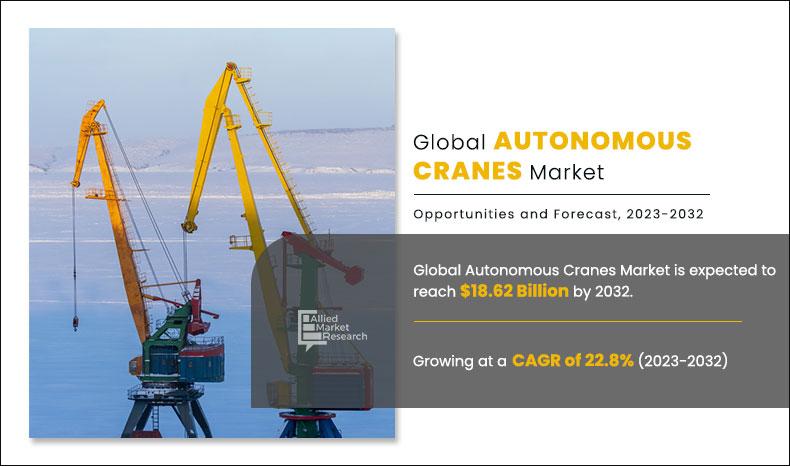 Factors, such as rise in focus toward public–private partnerships (PPPs) and growing penetration of smart technology in cranes, are expected to drive the growth of the autonomous cranes market. However, unstable prices of raw materials and limited availability of skilled workers restrain the market growth. On the contrary, entering into agreements and contracts for long-term business opportunities is projected to offer lucrative growth opportunities for the market players.
The global autonomous cranes market is segmented on the basis of business type, mobility, end user vertical, and region. By business type, it is bifurcated into OEM and aftermarket. On the basis of mobility, the market is divided into static and mobile. On the basis of end user vertical, it is categorized into building & construction, marine & offshore, mining & excavation, and others. Region-wise, the market is analyzed across North America, Europe, Asia-Pacific, and LAMEA.
Leading players and their key business strategies have been analyzed in the report to gain a competitive insight into the market. Key players covered in the report include AIDrivers Ltd, Cargotec Corporation, Columbus McKinnon, INTSITE Ltd., Komatsu Ltd., Konecranes Plc, Schneider Electric, SMIE, Syracuse, and VOCA.
Autonomous Cranes Market

---
By Mobility
Mobile segment is projected as the most lucrative segments
Rise in focus toward public–private partnerships (PPPs) 
Lack of funding from government is a major hurdle for infrastructural development majorly in developing nations. Infrastructure development is a major factor promoting rapid urban growth. The infrastructure gap is the end result of lack of financial resources as well as efficient channels for mobilization of resources toward development. Public–private partnerships (PPPs) have been an effective method for channeling private funds for infrastructural development in various countries. According to a report published in January 2019 by the Asian Development Bank (ADB) and the Korea Development Institute, the private participation in infrastructure database has over 6,400 PPP infrastructure projects, which have minimum 20% private ownership. PPPs are unevenly distributed across Asia, over 70% are in South Asia and East Asia, where China and India constitute around 90% share. In addition, the database for PPP projects, which reached closure in Asia during 1991 and 2015 exhibited a CAGR of 11%. The infrastructure sector is a major consumer of cranes and thus, the development of the sector boosts the demand for cranes. Moreover, changing infrastructural sector requirements, including improved safety and operational efficiency are expected to spur the demand for autonomous cranes, thereby driving the market growth.
Autonomous Cranes Market

---
By Mobility
Mobile segment is projected as the most lucrative segments
Limited availability of skilled workers 
High demand for skilled labor in manufacturing has forced manufacturing companies to hire people on higher wages, thereby incurring high expenses only on the workforce. Attributed to this, organizations are highly understaffed causing overworking of employees and job dissatisfaction. Furthermore, the implementation of smart technology enabled cranes, such as autonomous as well as fully-automated cranes, in the industrial landscape is evolving, which, in turn, is expected to increase the requirement of skilled, trained, and qualified applications. These systems require trained workforce for effective operations of autonomous cranes. In the U.S., the unemployment rate fell by 3.6% in April 2019, whereas the U.S. manufacturing index exhibited slow growth rate of expansion. These factors are expected to restrain the growth of the global autonomous cranes market.
Autonomous Cranes Market

---
By End User Vertical
Building and Construction segment is projected as the most lucrative segments
Entering into agreements and contracts for long-term business opportunities
Heavy equipment service providers, infrastructure development players, the government, and others are expected to create a demand for autonomous crane solutions, owing to operational effectiveness along with improved safety. Moreover, autonomous crane is in the initial phase and are made to order product lines, which are mostly built in less units along with signed contracts and agreements. The commencement of the autonomous crane solution is expected to be carried out through contracts and agreements between end users and developers of autonomous cranes. These contracts mention a set of requirements that must be met in a certain timeframe. These contracts and agreements are associated with long-term business opportunities with end users. Market participants need to focus on winning the contracts and agreements to gain a competitive advantage in the global market.
Autonomous Cranes Market

---
By Region
Asia-Pacific would exhibit the highest CAGR of 24.7% during 2023-2032.
Key Benefits For Stakeholders
This study presents analytical depiction of the global autonomous cranes market analysis along with the current trends and future estimations to depict imminent investment pockets.
The overall autonomous cranes market opportunity is determined by understanding profitable trends to gain a stronger foothold.
The report presents information related to key drivers, restraints, and opportunities of the market with a detailed impact analysis.
The current market is quantitatively analyzed from 2023 to 2032 to benchmark the financial competency.
Porter's five forces analysis illustrates the potency of the buyers and suppliers in the industry.
Key Market Segments
By Mobility
By Business Type
By End User Vertical
Building & Construction
Marine & Offshore
Mining & Excavation
Others
By Region
North America
Europe

UK
Germany
France
Italy
Rest of Europe

Asia-Pacific

China
Japan
India
South Korea
Rest of Asia Pacific

LAMEA

Latin America
Middle East
Africa
 Key Players
AIDrivers Ltd
Cargotec Corporation 
Columbus McKinnon 
INTSITE Ltd. 
Komatsu Ltd. 
Konecranes Plc 
Schneider Electric 
SMIE 
Syracuse
VOCA
 Autonomous Cranes Market Report Highlights
Aspects
Details
By BUSINESS TYPE
By MOBILITY
By END USER VERTICAL

Building & Construction
.Marine & Offshore
Mining & Excavation
Others

By Region

North America (U.S., Canada, Mexico)
Europe (France, Germany, Italy, Spain, UK, Russia, Rest of Europe)
Asia-Pacific (China, Japan, India, South Korea, Australia, Thailand, Malaysia, Indonesia, Rest of Asia-Pacific)
LAMEA (Brazil, South Africa, Saudi Arabia, UAE, Argentina, Rest of LAMEA)

Key Market Players
CARGOTEC CORPORATION, INTSITE Ltd., KOMATSU LTD, KONECRANES PLC, SCHNEIDER ELECTRIC, COLUMBUS MCKINNON CORPORATION, Syracuse, AIDRIVERS LTD, SMIE, VOCA