The global autonomous mining truck market is expected to be valued at $1.6 billion in 2025, and is projected to reach $12.5 billion by 2035, growing at a CAGR of 23.2% from 2025 to 2035.
Autonomous mining trucks are self-driving autonomous trucks, which are capable to derive an exact route every time without getting tired or taking time off. The elimination of human errors improves safety concerns of the operator and helps increase the productivity. Furthermore, self-driving truck needs few people at site and minimizes human errors due to fatigue. Moreover, self-driving truck in mining industry employs both radar and LIDAR to sense objects around the vehicle. This, combined with GPS, creates an overall picture of location, speed, and possible obstacles. Thus, all these factors drive the market growth of autonomous trucks in the mining industry.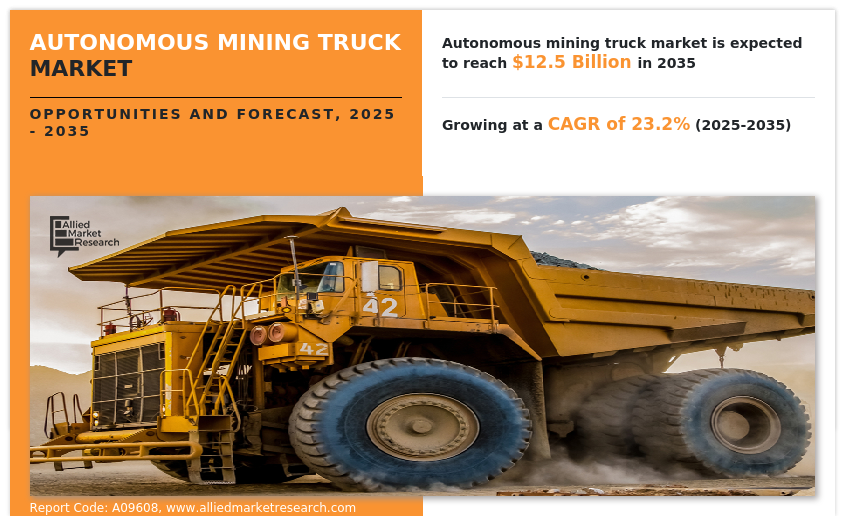 Factors such as increase in demand for smart mining, and rise in demand for technologically advanced mining equipment are anticipated to boost the growth of the global autonomous mining truck market during the forecast period. However, rise in application of environmental laws concerning mining industry, and software failures and sensor related issues in autonomous vehicles are expected to hinder the growth of the global market during the forecast period. Moreover, surge in demand for automation in mining equipment, and growth of connected infrastructure are expected to create an opportunity for the autonomous mining truck industry in near future.
Autonomous mining truck market is segmented basis of size, propulsion, level of autonomy, type, and region. Based on size, it is divided into small, medium, and large. Based on propulsion, it is segmented into Diesel, and electric & hybrid. By level of autonomy, the market is divided into Level 1 & 2, Level 3, and Level 4 & 5. By type, the market is divided into underground LHD loaders, autonomous hauling trucks, and others. By region, the market is analyzed across North America, Europe, Asia-Pacific and LAMEA.
Autonomous Mining Truck Market

---

By Size
Large segment is projected as the most lucrative segment
The key players that operate in this autonomous mining truck market are AB Volvo, Aptiv, Continental AG, Daimler Truck AG, DENSO Corporation, Embark Truck Inc., MAN SE, Nvidia Corporation, PACCAR Inc., Qualcomm Technologies Inc., Robert Bosch GmbH, SCANIA, Tesla Inc., Tusimple Holdings Inc., and Waymo LLC.
Increase in demand for smart mining
Smart mining refers to the process of extracting ores, minerals, or other resources using information, autonomy, and technology. The process is undertaken to gain better productivity, safety, and reduced operational costs to a mine site. Smart mining needs internet connectivity, which enables mine operators and supervisors to monitor the health of equipment and workforces. IoT and autonomous solutions offer opportunities in the complex mining industry to track visibility, safety, and efficiency. It connects the workforce, machines, and products, in addition to services. Mining companies have deployed advanced digital technologies at mine sites to monitor safety controls; thereby, reducing the operating costs. Some of the companies such as SAP offers connected logistics software integrated with GPS and RFID systems for monitoring the movement of equipment, fuel levels, and consumption. Therefore, the adoption of IoT solutions fuels the growth of the market. The rise in penetration of advanced technologies such as the internet of things, AI, machine learning, and robots in the industry is anticipated to cut down substantial costs of the workforce; thereby, resulting significant cost optimization. Further, cutting-edge data analytics is being employed to the raw data to produce visualizations, recommendations, and insights. Such increase in demand for advanced and smart technologies in the mining industry is expected to propel the demand for autonomous mining truck market during the forecast period. 
Autonomous Mining Truck Market

---
By Level Of Autonomy
Level 4 and 5 segment is projected as the most lucrative segment
Rise in demand for technologically advanced mining equipment
Players in the mining industry have a great opportunity to increase their market presence, with technologically advanced, high-quality products. New developments are expected to make the mining process easier and require lesser time. Programmable Logic Controller PLC is used for atomizing operations carried out by the machines that help mining companies to discover metals and minerals for extraction, which is a critical process in mining operations. Similarly, artificial intelligence can also facilitate drills to dig holes safely and efficiently, which is crucial for performing any mining operation. For instance, in February 2019, Goldspot Discoveries Corp. developed artificial intelligence equipped with drills for detection of gold deposits and mineral exploration. Similarly, in August 2019, IBM started to spread application of AI in mining and drilling machinery. Further, players in the mining sector are moving toward digitalized and autonomous systems for sustainable mining. Giants such as LKAB, Epiroc, ABB, Combitech, and AB Volvo have collaborated to start a project in the ore mine of northern Sweden. The project includes control systems, improved mining equipment, and efficient management systems that meet the future demands for sustainable mining industry. Such increase in developments for autonomous system in mining industry is expected to fuel the growth of autonomous mining truck market during the forecast period.
Rise in application of environmental laws concerning mining industry
Regulations and laws have a great impact on metals and mining industries. Government regulations and tariffs have become strict with respect to the mining industry. The consciousness of environmental damage sustained from mining has led to the imposition of many rules and regulations on the mining industry players. This hinders the growth of the global mining equipment industry. Mining results in huge environmental pollution such as soil erosion; hence, mining equipment players have to follow many strict rules and regulations, imposed by individual governing bodies of several regions. For instance, as the mining industry uses more diesel engines, to encounter EU emissions regulations, appropriate baseline data is gathered to effectively depict the ecological condition of the area. Surveys need to be done associated with historical and cultural resources, soil, wildlife, vegetation, climatology, groundwater & surface hydrology, and wetlands. Once the permit is prepared, it needs to be submitted to the regulatory agency. Later, it goes through technical reviews and completeness.
Moreover, major environmental laws applicable to the mining industry comprise National Environmental Policy Act (NEPA), Clean Air Act (CAA), Resource Conservation and Recovery Act (RCRA), Clean Water Act (CWA), Toxic Substances Control Act (TSCA), and Comprehensive Environmental Response, Compensation, and Liability Act (CERCLA). Bureau of Land Management (BLM), the U.S. Forest Service, and the Environmental Protection Agency (EPA) are some of the agencies that need to approve mining activities and focus on preventing the air and water quality. The National Environmental Policy Act (NEPA) was established in 1970 to promote the enhancement of the environment regulating airborne emissions. Due to the presence of such laws and regulations by governments, mining companies need to focus on technologies, which help reduce air pollution, water pollution, and other environmental issues. Such government laws and regulations are hindering the growth of mining industry.
Further, ever since the enactment of the Air Prevention and Control of Pollution Act in 1981, developing countries have been directing their resources to control the intensifying level of air pollution. In addition, increased coal consumption in India and China, less efficient industrial processes, and illegal mining operations have led to depletion of air quality. Execution of severe air quality control standards by developed countries is expected to restraint the growth of the autonomous mining truck market.
Autonomous Mining Truck Market

---

By Type
Underground LHD Loaders segment is projected as the most lucrative segment
Surge in demand for automation in mining equipment
Autonomous mining equipment boosts productivity, profitability, assures lower overall costs, and greater production efficiencies. Presently, high-precision GPS is one of the key technologies used in automated mining. Acceptance of autonomous mining equipment such as automated excavators, trucks or haul trucks integrated with GPS, infrared sensors, RFID tags, and wireless networks have resulted in the growth of the autonomous mining. The autonomous mining equipment is controlled and monitored by an operator from a control room to oversee operations. In addition, major players such as Caterpillar offers Cat Command, an autonomous solution for hauling applications in mining. It is an operating system for big mining trucks that require no human operator in the truck. Truck assignment and truck scheduling are also entirely computerized. This solution for hauling application in mining has attained a 30% production development as compared to the standard trucks, which require operators onboard. Till November 2018, over 150 fully autonomous mining trucks were functional in iron ore, copper, and oil sands mines. Over the past 5-6 years, the trucks have moved more than 1 billion tons of material safely. Caterpillar is trying to expand the truck models to enable autonomous operation, and the number of mining businesses installing the system is also on the rise. Thus, all these factors contribute toward the growth of the global autonomous mining truck market.
Autonomous Mining Truck Market

---
By Region
Asia-Pacific would exhibit the highest CAGR of 24.0% during forecast period.
The COVID-19 impact on the automotive industry is unpredictable, and is expected to remain in force for a few years. The COVID-19 outbreak forced governments across the globe to implement stringent lockdowns and ban import–export of essential raw material items for most of 2020, and few months in 2021. This led to sudden decline in availability of important raw materials for vehicle components. Further, the mining companies should quickly disintegrate all expenditure into what can be stopped, what must be sustained, what can be stalled, and what can be shrunk. With this done, they can prepare a control tower methodology to assess and challenge all of the expenditure regions. In addition, they should mitigate and identify susceptibilities amidst the complexity of their logistics, supplier-network, and products. Moreover, the usage of advanced analytics will additionally escalate the success of hedging strategies intended at apprehending the advantage of today's rare commodities opportunities. The COVID-19 pandemic not only affected operations of the automotive and transportation industry, but the economic crisis also led to reduction in expenditure on next-generation technologies, for instance, autonomous mining tuck market. Before COVID-19, the mining industry witnessed continuous growth. Governments all around the globe were focusing on supporting for autonomous vehicles and related technologies. However, adverse impacts of the COVID-19 pandemic have resulted in interruption in activities and initiatives regarding development of autonomous vehicles.
Key Benefits For Stakeholders
This report provides a quantitative analysis of the market segments, current trends, estimations, and dynamics of the autonomous mining truck market analysis from 2025 to 2035 to identify the prevailing autonomous mining truck market opportunities.
The market research is offered along with information related to key drivers, restraints, and opportunities.
Porter's five forces analysis highlights the potency of buyers and suppliers to enable stakeholders make profit-oriented business decisions and strengthen their supplier-buyer network.
In-depth analysis of the autonomous mining truck market segmentation assists to determine the prevailing market opportunities.
Major countries in each region are mapped according to their revenue contribution to the global market.
Market player positioning facilitates benchmarking and provides a clear understanding of the present position of the market players.
The report includes the analysis of the regional as well as global autonomous mining truck market trends, key players, market segments, application areas, and market growth strategies.
 Autonomous Mining Truck Market Report Highlights
Aspects
Details
Market Size By 2035
USD 12.5 billion
Growth Rate
CAGR of 23.2%
Forecast period
2025 - 2035
Report Pages
371
Size
Propulsion

Electric and Hybrid
Diesel

Level of Autonomy

Level 1 and 2
Level 3
Level 4 and 5

Type

Underground LHD Loaders
Autonomous Hauling Trucks
Others

By Region

North America (U.S., Canada, Mexico)
Europe (Germany, France, Russia, Netherlands, UK, Poland, Spain, Rest Of Europe)
Asia-Pacific (China, India, Japan, South Korea, Asean, Rest Of Asia-Pacific)
LAMEA (Brazil, UAE, Saudi Arabia, South Africa, Rest Of LAMEA)

Key Market Players
Daimler AG, AB VOLVO, Aptiv, Bosch Ltd, CONTINENTAL AG, DENSO CORPORATION, EMBARK, MAN SE, Nvidia, PACCAR Inc., QUALCOMM, Scania, Tesla, TUSIMPLE, WAYMO