The global autonomous navigation market was valued at $3.27 billion in 2021, and is projected to reach $15.91 billion by 2031, growing at a CAGR of 17.1% from 2022 to 2031.
Autonomous navigation system is a system, which is able to plan its path and execute its plan without human intervention. It is a combination of complex systems that assists in carrying out decision-making based on surrounding situations. It is installed in vehicles such as drones, robots, cars, boats, and others. The navigation system technology is performed by using advanced technologies, such as inertial navigation system, satellite navigation system, radars, cameras, and ultrasonic & acoustics navigation along with autonomous navigation algorithms for accurate & safe navigation of vehicles.
The COVID-19 crisis is creating uncertainty in the market. Governments of different regions have announced total lockdown and temporarily shutdown of industries, thereby adversely affecting the overall production and sales. It also resulted in flight cancellations, travel bans, and quarantines, which led to massive slowing of the supply chain and logistics activities globally. Since the beginning of 2020, more and more countries across the globe shut down their borders and limited transportation & travel to contain the coronavirus (COVID-19) outbreak, thereby creating impediments for international trade and transportation. However, during the COVID-19 pandemic, the use of autonomous navigation systems for unmanned aerial vehicles increased since it is the best replacement for reducing cross-infection. As a result, many governments have started using unmanned aerial vehicles or drones to transport medical supplies, food, and other requirements. For instance, in May 2021, the Ministry of Civil Aviation (MoCA) & Directorate General of Civil Aviation (DGCA) granted a conditional exemption to the Government of Telangana (India) for conducting experimental Beyond Visual Line of Sight (BVLOS) drone flights by using autonomous navigation systems for the delivery of COVID-19 vaccines.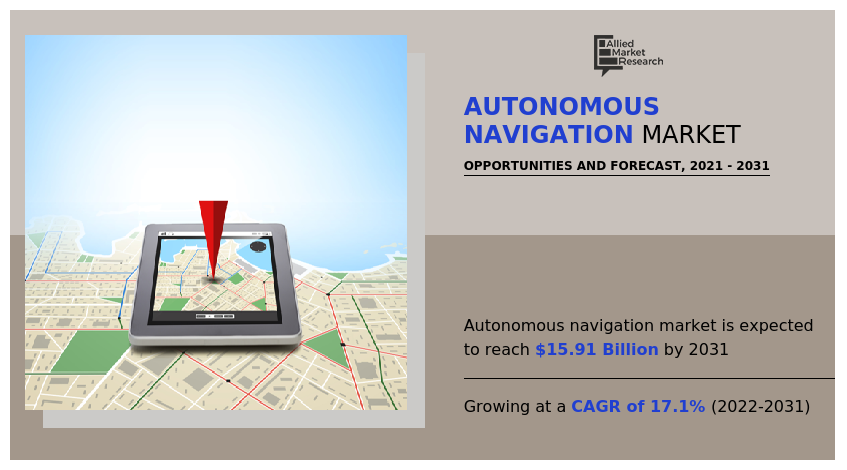 In addition, it autonomously defines a trajectory through the system or robot's environment with due consideration of dynamics of movement limitations of the system to deal with any possible unexpected obstacles while maintaining its stability as well. For instance, in April 2022, NAVENTIK developed its PATHFINDER emPE embedded positioning engine to fully support the most modern expansion stage of the Chinese satellite system "BeiDou-3". This development resulted in higher availability, better accuracy and higher integrity of the positioning solution across heavily obstructed areas, such as cities or forests, where GNSS reception at the antenna is disturbed by obstacles.
The factors such as increase in demand for sense & avoid system in autonomous system, rise in adoption of autonomous robot in commercial & military applications, and increase in demand for real-time data in military applications supplement the growth of the autonomous navigation market. However, lack of standard infrastructure for operation of autonomous systems in developing countries and privacy & security concerns related to data are the factors expected to hamper the growth of the autonomous navigation market. In addition, increase in demand for improved surveillance and proactive government initiatives & support are expected to create ample opportunities for the key players operating in the market.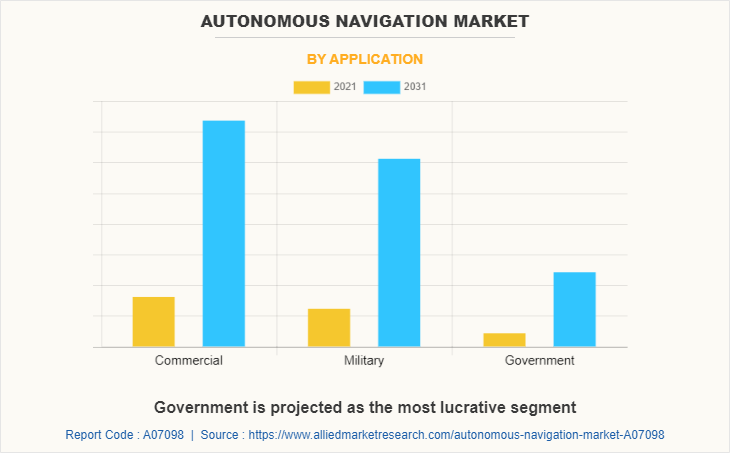 The autonomous navigation market is segmented into application, system, platform and region. Based on system, the market is divided into sensing system, processing system, and software system. Based on platform, the market is fragmented into airborne, land, marine, space, and weapons. Based on application, the market is categorized into commercial, military, and government. By region, it is analyzed across North America, Europe, Asia-Pacific, and LAMEA.
The leading players operating in the autonomous navigation market are ABB, ENWAY, Fixposition AG, Furuno, General Dynamics, Honeywell International, Kongsberg Gruppen, L3 Harris Technologies, Moog Inc., NAVENTIK GmbH, Northrop Grumman, Raytheon Technologies, Rh Marine, Rolly Royce, Safran, Thales Group and Trimble. Key innovators operating in the industry are Blickfeld, ModalAI, Starfish Space, Trustpoint, and Xona Space Systems.
Increase in demand for sense & avoid system in autonomous system
Sense & avoid is a sequence of function used in autonomous system, which uses combination of airborne & ground-based sensors to detect & avoid obstacles, and are able to perform maneuvers to avoid collisions and serve as an unmanned aerial vehicle (UAV) replacement. Thus, procurement & deployment of unmanned aerial vehicles (UAVs) is becoming more prevalent for business & defense purposes. The primary benefit of a sense and avoid system onboard an autonomous UAV is that it can be trusted to fly Beyond Visual Line of Sight (BVLOS). The system primarily uses transponders to get situational awareness and collision avoidance capability. Recently, in 2019, UAV Navigation (autopilot & flight control system developer company) and Sagetech Avionics Inc. (avionic system manufacturer), collaborated to integrate ADS-B (Automatic Dependent Surveillance - Broadcast) in/out transponder with UAV's autopilot to provide surrounding aircrafts position, situational awareness, and develop search and avoidance capability. ABS-D in/out transponder is a device that broadcasts aircraft parameters such as position, altitude, and aircraft's identification to the control tower or receiver aircrafts. Moreover, it is a tracking device that works both as a transmitter and receiver, which is considered to be a potential key component in future unmanned traffic management systems. Such initiatives in R&D in search & avoid system to deliver cutting-edge solutions for collision avoidance and air space management is expected to drive the global autonomous navigation software system market.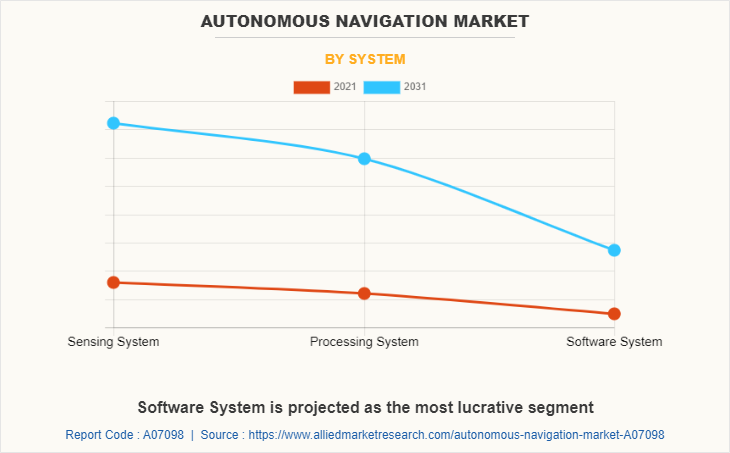 Rise in adoption of autonomous robot in commercial & military applications
A significant rise in the demand for online shopping platform was observed in the post COVID-19 pandemic. The accessibility, faster service, and reliable features of e-commerce platform-based companies have boosted the growth of the e-commerce industry. Hence, the surge in demand for advanced navigation system has facilitated the use of robots for operational purposes in the commercial sector owing to the continuous R&D in robotics, computer vision, artificial intelligence, and edge computing capabilities.
Furthermore, autonomous robots in the military are deployed in combat support application for anti-submarine operations, laying mines, fire support, electronic warfare, battle damage management, strike missions, aerial refueling, and others. Also, companies are configuring and testing advanced robots that can navigate a vehicle around a series of pylons, traverse different terrains, climb ladders, remove debris, operate in a disaster situation, and close a series of valves. Currently, armed forces globally no longer rely on human scouts and instead use small robots, which can remain almost invisible to the enemy. These robots help monitor enemy forces or specific areas and send videos and images to the ground station with the assistance of GPS. Such innovations led to the adoption of autonomous robot in commercial & military applications.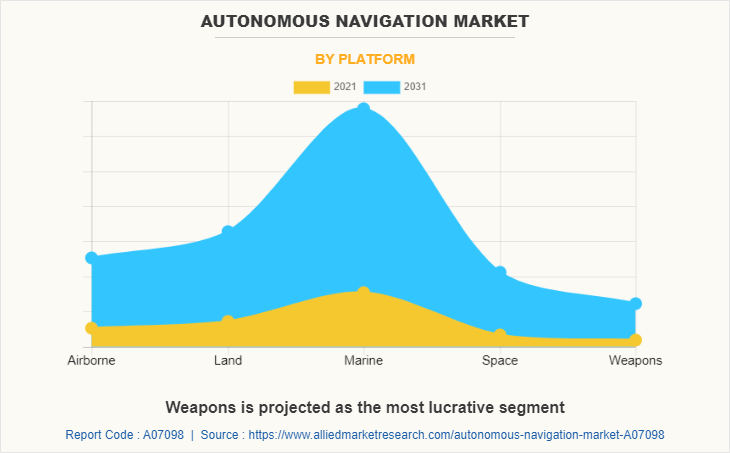 Privacy and security concerns related to data 
A geographic information system (GIS) services, aerial imaging, LiDAR, green mapping, and other similar applications are focused on acquiring landscape information, such as images and imagery solutions using drones with EO/IR and other technologies. To preserve the public's private space and issues of national security, governments of numerous nations have enacted rules that limit the growth of this sector. In the North America autonomous navigation market, the Federal Aviation Administration (FAA) has declared that unmanned aerial vehicles (UAVs) can only fly up to 500 feet above ground level and are not permitted within a three-mile radius of airports or flying strips. Furthermore, due to the cyber-security threats associated with drones, numerous administrations have placed prohibitions or restrictions on drone ownership. In April 2021, Legislator Huang Kuo-shu of the Democratic Progressive Party (DPP) of Taiwan issued a guideline warning against the procurement of drones for made-in-China aerial photography, robots, and coding platforms and subsequent phasing out of the existing equipment. The announcement was made owing to the cybersecurity loophole on consumer electronics manufactured in China. Meanwhile, rise in use of autonomous systems has increased the cyber-security danger in defense industry, which is expected to hinder the autonomous navigation market growth.
Increase in demand for improved surveillance
The growth in threat from terrorism and increase in security concerns globally has led to increased government expenditure for unmanned aircraft systems (UAS) or drones to improve surveillance capabilities. Drones can carry out stealth operations, function at night, and operate at any location with payloads, including high imagery cameras such as Zenmuse Series by DJI Technology, DG series by Autel Robotics, and HDZoom30 by Aeryon Labs Inc. among others. Such benefits have led to increasing investments by governments to procure and develop a large number of drones globally. For instance, in March 2021, Elbit Systems Ltd. signed a $300 million contract to supply Hermes 900 unmanned aircraft systems to a country in Asia. Also, the development of advanced payloads for surveillance fuels the growth of the market. For instance, in September 2019, General Dynamics Corporation unveiled the new Bluefin-12 autonomous unmanned underwater vehicle at Defense and Security Equipment International (DSEI) 2019. The vehicle featured Bluefin's autonomy technology and used shared Bluefin Robotics' core capabilities, which used embedded intelligence to complete long endurance, high-consequence, and changing missions. Such innovation and introduction of cost-effective products are expected to create lucrative opportunities in the autonomous navigation market.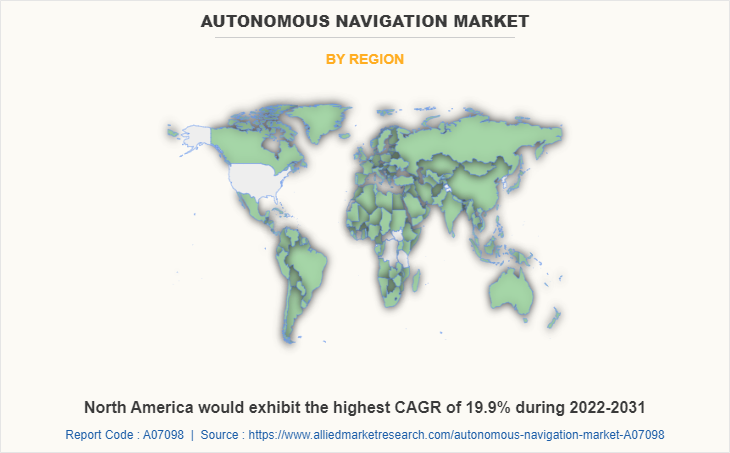 Key Benefits For Stakeholders
This study presents analytical depiction of the global autonomous navigation market analysis along with current trends and future estimations to depict imminent investment pockets.

The overall autonomous navigation market opportunity is determined by understanding profitable trends to gain a stronger foothold.

The report presents information related to the key drivers, restraints, and opportunities of

the global autonomous navigation market with a detailed impact analysis.

The current autonomous navigation market is quantitatively analyzed from 2021 to 2031 to benchmark the financial competency.

Porter's five forces analysis illustrates the potency of the buyers and suppliers in the industry.
 Autonomous Navigation Market Report Highlights
Aspects
Details
By Application

Commercial
Military
Government

By System

Sensing System
Processing System
Software System

By Platform

Airborne
Land
Marine
Space
Weapons

By Region

North America (U.S., Canada, Mexico)
Europe (U.K., Germany, France, Russia, Italy, Spain, Greece, Norway, Rest of Europe)
Asia-Pacific (China, Japan, India, South Korea, Australia, Singapore, Rest of Asia-Pacific)
LAMEA (Latin America, Middle East, Africa)

Key Market Players
L3 Harris Technologies, Rh Marine, Safran, General Dynamics, Thales Group, Northrop Grumman, Moog Inc., ABB, Kongsberg Gruppen, Furuno, Raytheon Technologies, Trimble, Honeywell International