Autonomous Train Technology Market Outlook - 2026
Autonomous trains, also known as driverless trains, are operated automatically without any human intervention, and are monitored from the control station. In case of any obstacle incurred in the route, a message is sent to operational control center and to the attendant on the train, to stop the train. Owing to increase in traffic congestion on road network, the need for smart and frequent trains has boosted the growth of the global market. The autonomous train technology market was valued at $5.88 billion in 2018, and is projected to reach $15.57 billion by 2026, growing at a CAGR of 12.9% from 2019 to 2026.
The major companies profiled in the autonomous train technology market share include Alstom S.A., ABB, Bombardier Transportation, CRRC Transportation, General Electric, Hitachi Ltd., Kawasaki Heavy Industries, Mitsubishi Heavy Industries, Siemens AG., and Thales Group.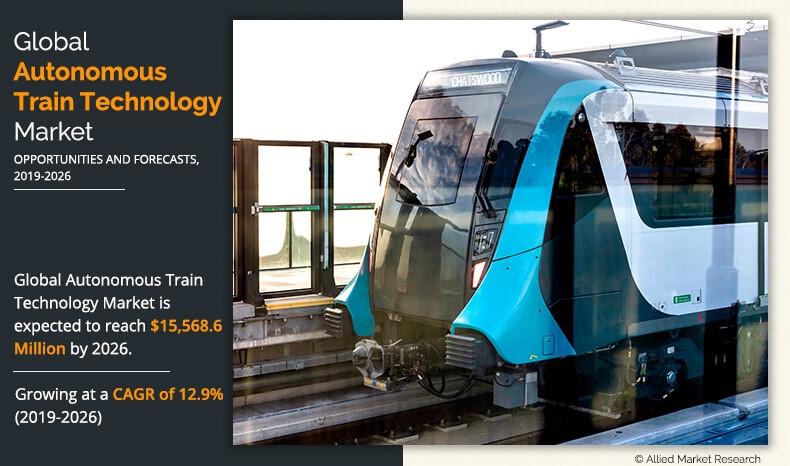 The global autonomous train technology market segments are based on grade of automation (GoA), train type, technology, component, and region. On the basis of grade of automation, the market is fragmented into GoA 1, GoA 2, GoA 3, and GoA 4. Depending on type, it is bifurcated into passenger train and freight train. By component, it is segregated into camera, accelerometer, odometer, tachometer, radio set, and others. As per technology, autonomous train technology market categorized into CBTC, ERTMS, ATC, and PTC. Region wise, it is analyzed across North America, Europe, Asia-Pacific, and LAMEA.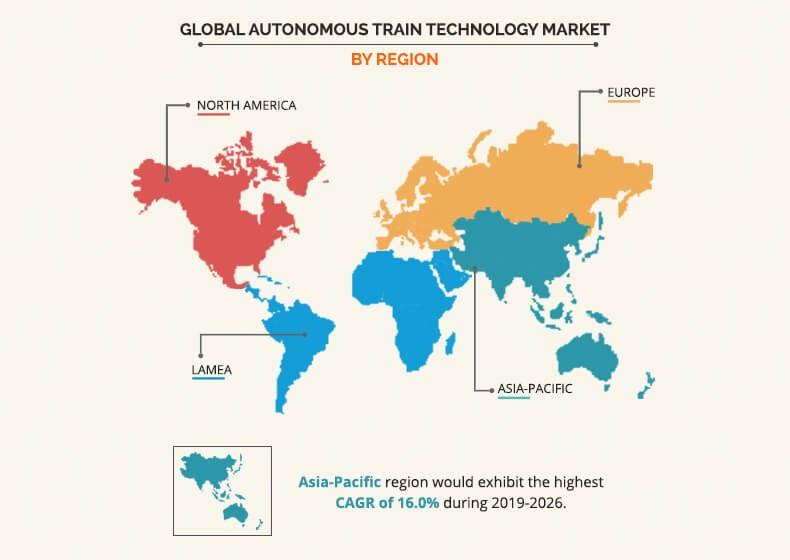 Top Impacting Factors
The key factors that impact the autonomous train technology market growth include increase in allocation of budget for development of railways; rise in demand for secure, safer, and efficient transport; reduction in pollution & accidents; increased passenger capacity & reliability. However, rise in possibility of hacking the system, high cost of train automation hampers the growth of the market. Further, improvement in railway infrastructure, particularly in developing countries, and increase in freight transport through train is opportunistic for the market expansion. Each of these factors is anticipated to have a definite impact on the autonomous train technology market during the forecast period.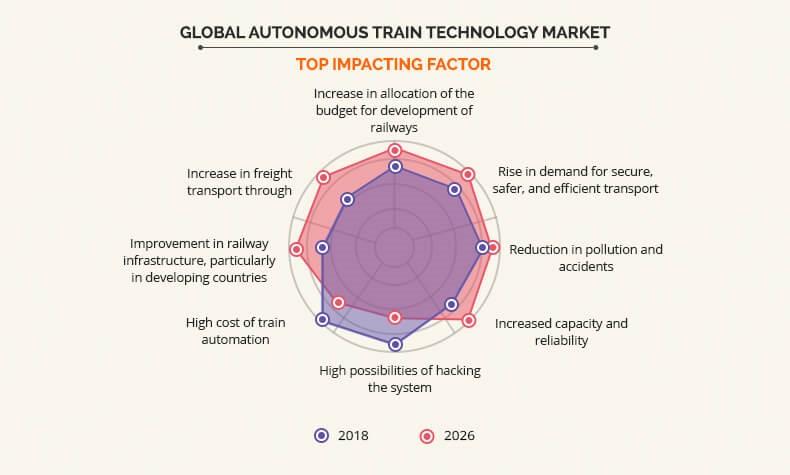 Rise in demand for secure, safer, and efficient transport system
Autonomous trains have less chances of rail fatalities, owing to deployment of upgraded technologies such as communication based train control (CBTC), European railway traffic management system (ETRMS), and more. In 2017, 1,855 railway accidents were recorded in Europe, with a total of 977 fatalities and 763 persons injured seriously. This can be reduced by installing on board camera, sensors, communication devices, and more. Moreover, in most locations, autonomous trains run underground or are at the ground level and are highly secured by fences or walls to prevent trespassing. 
In addition, around 85% stations on the automated lines are protected with the platform screen doors to ensure safety of the passengers. With the implementation of autonomous trains, the staff count can be reduced and extra space can be utilized to accumulate extra passengers on board. Furthermore, these trains consume less energy due to their superior acceleration, traction, and breaking system, resulting in the reduction of energy consumption by around 30% based on the degree of automation. Moreover, with the deployment of autonomous trains, it is easy to add a new train in the system or to remove a new train from the system without affecting the system and without waiting for train availability or staff availability. Thus, the availability of trains during off peak and night hours is possible due to increase in flexibility which drives the adoption of autonomous train technology market. For instance, the Copenhagen metro has enabled the 24/7 operation. Thus, autonomous trains are more safe, secure, flexible, and efficient as compared to traditional manually operated trains, which drives the autonomous train technology market.
Increase in the allocation of budget for development of railways
The autonomous train technology market is expensive in terms of capital cost. concept of autonomous trains is trending and is widely adopted by the developing as well as the developed countries. However, the implementation of the same requires upgradations of the several components such as signaling technologies, monitoring systems, and more. 
Autonomous train technology market Trends include allocations of a higher budget. Developing countries such as India, China, and others are more focused towards developing their railway infrastructure by allocating higher budget. For instance, India allocated a budget of $18.8 billion to its railway sector in the year 2017 and $21.2 billion in the year 2018 which clearly highlights the increase of 13% in the budget allocation. In the same way, there are various countries across the globe which are continuously increasing their rail budget to meet he latest technologies by enhancing the infrastructure. For instance, Canadian National Railway (CN) have planned an investment of $2.92 Billion in the province of Saskatchewan to enhance the railway infrastructure. Such increase in the budget allocation is boosting the growth of the autonomous train technology industry.
Key Benefits for Autonomous Train Technology Market:
This study comprises analytical depiction of the autonomous train technology market size with current trends and future estimations to depict the imminent investment pockets.
The overall potential is determined to understand the profitable trends to gain a stronger foothold.
The autonomous train technology market analysis report presents information related to key drivers, restraints, and opportunities with a detailed impact analysis.
The current growth and autonomous train technology market forecast is quantitatively analyzed from 2018 to 2026 to benchmark the financial competency.
Porter's five forces analysis illustrates the potency of the buyers and suppliers in the industry.
The study comprises the autonomous train technology market opportunity, which help key players in decision making.
Autonomous Train Technology Market Segments:
By Grade of Automation
By Application
Passenger Train
Freight Train
By Technology
By Component
Camera
Accelerometer
Odometer
Tachometer
Radio set
Others
By Region
North America
Europe

UK
Germany
France
Russia
Italy
Rest of Europe

Asia-Pacific

China
India
Japan
South Korea
Singapore
Rest of Asia-Pacific

LAMEA

Latin America
Middle East
Africa
Key Market Players Profiled
Alstom S.A.
ABB
Bombardier Transportation
CRRC Transportation
General Electric
Hitachi Ltd.
Kawasaki Heavy Industries
Mitsubishi Heavy Industries
Siemens AG
Thales Group