Autonomous Weapons Market Statistics 2030 -
The global autonomous weapons market was valued at $11,565.2 million in 2020, and is projected to reach $30,168.1 million in 2030, registering a CAGR of 10.4%.    
The rapid spread of COVID-19 had a significant impact on the global autonomous weapons market in 2020, owing to the implementation of strict lockdown measures across the world. COVID-19 pandemic led to several challenges for the autonomous weapons industry such as disruption in the supply chain of essential raw materials, logistics challenges, reduction in defense spending across various countries, and others. On the other hand, the defense systems manufacturers and service providers had to reduce expansion and R&D investments to withstand the decline in revenue and operating performance of the defense industry. The delay in purchase orders and slow production rate were some of the challenges observed in the autonomous weapons market throughout the year, and are expected to continue for a few years.
Without the need for human involvement, autonomous weapons choose and engage targets. They usually include armed quadcopters that can hunt for and eliminate persons who fulfil specific pre-defined criteria, however, they do not include remotely piloted drones or cruise missiles where humans are in charge of all targeting decisions. Artificial Intelligence (AI) technology has advanced to the point that deployment of such systems may be accomplished in a few years, and the stakes are quite high. After gunpowder and nuclear weapons, autonomous weapons have been dubbed as the third revolution in warfare.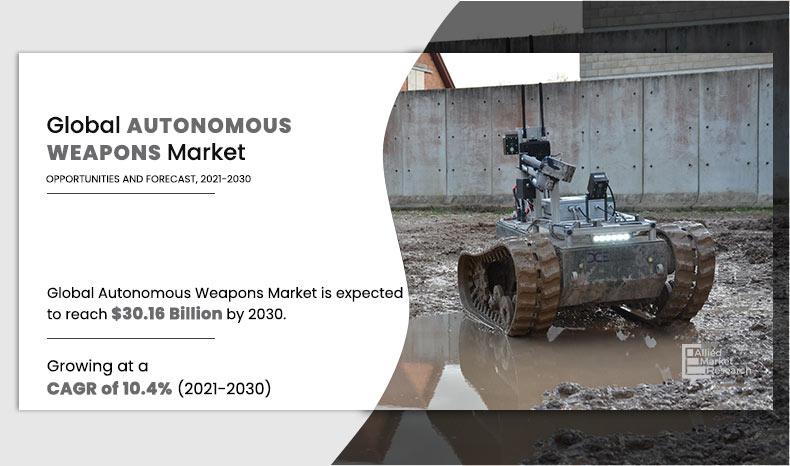 Rise in technological advancements in autonomy of weapons are being observed throughout the world. Autonomy is being added to different parts of existing weapons systems, from target planning to mission execution. Global military spending on autonomous weapons and AI is anticipated to grow significantly over the years. This factor is expected to account for rapid development of the autonomous weapons market during the forecast period. 
The market segmentation is based on product, platform, type, and region. The product segment is further divided into missiles, munitions, guided rockets, guided projectiles, hypersonic weapon, and others. By platform, the market is segmented into land, airborne, and naval. By type, it is segmented into semi-autonomous and autonomous. Region wise, the market is analyzed across North America, Europe, Asia-Pacific, and LAMEA.
Key players operating in the global autonomous weapons market include BAE Systems plc, Israel Aerospace Industries Ltd., Kongsberg Gruppen ASA, Lockheed Martin Corporation, MBDA, Northrop Grumman Corporation, Rafael Advanced Defense Systems Ltd., Raytheon Technologies Corporation, Rheinmetall AG, and Thales Group. 
Increase in number of autonomous defense vehicles, drones, and robots
Autonomous defense systems including weapons, smart vehicles, armed drones, and robots play a vital role in the defense operations. These are fully autonomous tools that employ telecommunication technology such as 5G network, at the disposal of defense agencies to provide services in real time at dangerous, inconvenient, and impossible areas of operation such as remote surveillance for enemy infantry.
Various countries across the globe have focused on development of autonomous systems to be utilized in public and national safety applications. In recent times, multiple governments from developed and emerging nations such as the U.S., Russia, China, and India have invested billions of dollars for autonomous defense projects. For instance, Europe launched a defense research and development program of $9.32 billion in January 2021 toward financing defense R&D projects. 
Adoption of autonomous technologies helps in reduction of operational costs and increases efficiency significantly. For instance, during the operation of a naval destroyer for a single day $700,000 are spent by the U.S. navy whereas in the case of an autonomous ship's operation costs would come down to $15,000 to $20,000 per day. Moreover, for increased efficiency; several nations around the world are deploying the use of 5G in the operation of autonomous defense vehicles, robots, and drones. For instance, U.S. ignite launched a technology pilot program in January 2021 for 5G Living Lab at Marine Corps Air Station (MCAS) Miramar situated in San Diego. Moreover, several pilot projects aimed at utilization of 5G in autonomous defense vehicles, drones, and robots are underway globally. 
Rise in adoption of autonomous technology to improve defense capabilities of nation globally is anticipated to propel growth of the global autonomous weapons market during the forecast period.
Increase in investments to develop autonomous weapons 
Although autonomous weapons technology is still in its early stages, several militaries and private companies are developing and testing weapons that could one day be deployed to fight on their own. For instance, Russia is performing tests on autonomous tanks on Syrian battlefields, the U.S. has successfully tested swarms of drones, the UK wants to induct drone squadrons in combat roles as soon as possible, and China is developing unmanned submarines capable of carrying out kamikaze attacks (Japanese suicide bombing tactic) on enemy vessels.
Armed forces across the world have been working on autonomous weapons for several decades now. Presently, at least 30 countries use them, mainly to defend airbases, ground vehicles, or ships against missile attacks. Various countries are competing with each other intensely to manufacture or procure leading-edge autonomous weapons. For instance, China and Russia aim to pursue development of autonomous weapons and are heavily investing in R&D activities. In addition, UK's new defense strategy is aimed at propelling defense capabilities leveraging AI, as does Israel.
According to the Brookings Institution (a Washington, DC-based non-profit public policy organization), the Chinese military and defense sector have been investing heavily in robots, swarming, and other artificial intelligence (AI) and machine learning applications (ML). So far, advancements in autonomous weapons have drawn on existing research and development expertise. Moreover, Russia is developing an array of autonomous weapon platforms utilizing artificial intelligence as part of an ambitious push supported by high-tech cooperation with China. Such developments provide rise in demand for autonomous weapons, which is anticipated to propel growth of the global autonomous weapons market during the forecast period.
Serious issues with fully autonomous weapons
Fully autonomous weapons are those that can choose and fire on targets without the need for human interaction. Fully autonomous weapons are capable of assessing tactical context on a battlefield and deciding on appropriate assault based on processed data. Several countries fund and assist operations aimed at developing and researching completely autonomous weaponry. China, Germany, India, Israel, Republic of Korea, Russia, and the UK. UK, U.S., Israel, and South Korea have already deployed robotic systems with varying degrees of autonomy and lethality.
Although abovementioned nations project great prospects for fully autonomous weapons, experts across the globe have pointed out issues related to accountability, protection of lives of citizens, and falling of such technology with non-authorized persons.  No single human may be held responsible for his or her acts in an armed battle if the weapon system is autonomous. Instead, accountability is shared among a larger, possibly unidentifiable group of people, which could include robot's programmer or maker.
Removal of humans from the selection and execution of attacks on targets, as the UN Special Rapporteur on extrajudicial, summary, or arbitrary executions noted in their report to the Human Rights Council, represents a critical moment in the new technology that is considered a revolution in modern warfare. It was advised to nations to carefully consider consequences of such weapon systems, adding that such technology raises danger of states engaged in armed conflicts, owing to a lower risk of military casualties. Fully autonomous weapons could lower conflict threshold, particularly in cases where other side lacks comparable systems to deploy in response. These factors, as experts have pointed out, could lead to serious conflicts and uncalled war like situations caused due to unsupervised attacks made by fully autonomous weapons, and hinder growth of the global autonomous weapons market during the forecast timeframe.
Rise in use of autonomous weapons globally
Use of weapons that make their own judgments or autonomous weapons, have increased in recent years as a result of technological improvements and rise in complicated conflicts such as the Syrian and Libyan civil wars. Libya is not the only place where destructive autonomous weapons have been utilized in recent years. For instance, autonomous quadcopters were employed by Turkey to monitor its border with Syria. In September 2020, when Azerbaijan attacked Armenian-occupied territory, it used loitering munitions (drones that can autonomously fly over an area and divebomb enemy radar signals) made by both Turkish and Israeli companies. These weapons appear to be miniature versions of remote-controlled drones that the U.S. military has deployed extensively in battles with Iraq, Afghanistan, and other countries. Loitering munitions, on the other hand have a built-in explosive and destroy themselves on impact with their target, rather than releasing missiles via remote control. These factors prove lethality and efficiency of autonomous weapons and rise in use of autonomous weapons is expected to propel growth of the global autonomous weapons market during the forecast period.
COVID-19 Impact Analysis 
The COVID-19 impact on the autonomous weapons market is unpredictable and is expected to remain in force till the fourth quarter of 2021. 
The COVID-19 outbreak forced governments across the globe to implement strict lockdowns and banned import-export of non-essential items for most of 2020. This led to sudden fall in availability of important raw materials. 
Moreover, nationwide lockdowns forced manufacturing facilities to partially or completely shut their operations.
Adverse impacts of the COVID-19 pandemic have resulted in delays in activities and initiatives regarding development of reliable and innovative defense autonomous weapon systems globally.
Key Benefits For Stakeholders
This study presents analytical depiction of the global autonomous weapons market analysis along with current trends and future estimations to depict imminent investment pockets.
The overall autonomous weapons market opportunity is determined by understanding profitable trends to gain a stronger foothold.
The report presents information related to key drivers, restraints, and opportunities of the global autonomous weapons market with a detailed impact analysis.
The current autonomous weapons market is quantitatively analyzed from 2020 to 2030 to benchmark the financial competency.
Porter's five forces analysis illustrates the potency of the buyers and suppliers in the industry.
Key Market Segments
By Product
Missiles
Munitions
Guided Rockets
Guided Projectiles
Hypersonic weapon
Others
By Platform
By Type
Semi-autonomous
Autonomous
By Region
North America
Europe

Germany
UK
France
Russia
Rest of Europe

Asia-Pacific

China
Japan
India
South Korea
Rest of Asia Pacific

LAMEA

Latin America
Middle East
Africa
Key Players
BAE Systems plc
Israel Aerospace Industries Ltd.
Kongsberg Gruppen ASA
Lockheed Martin Corporation
MBDA
Northrop Grumman Corporation
Rafael Advanced Defense Systems Ltd.
Raytheon Technologies Corporation
Rheinmetall AG
Thales Group