Avalanche Photodiode Market Outlook – 2027 
The global avalanche photodiode (APD) market size was valued at $151.2 million in 2019, and is projected to reach $202.5 million by 2027, registering a CAGR of 3.5% from 2020 to 2027. An avalanche photodiode is a semiconductor electronic device that utilizes the photoelectric effect to convert light into electricity. An avalanche photodiode has higher sensitivity when compared to a standard photodiode. The avalanche photodiodes are ideal for photon counting and extreme low-level light detection. These photodiodes are available in Silicon, Germanium, InGaAs, and other materials. Avalanche photodiode finds its application in various end users such as industrial, aerospace & defense, telecommunication, healthcare, and others.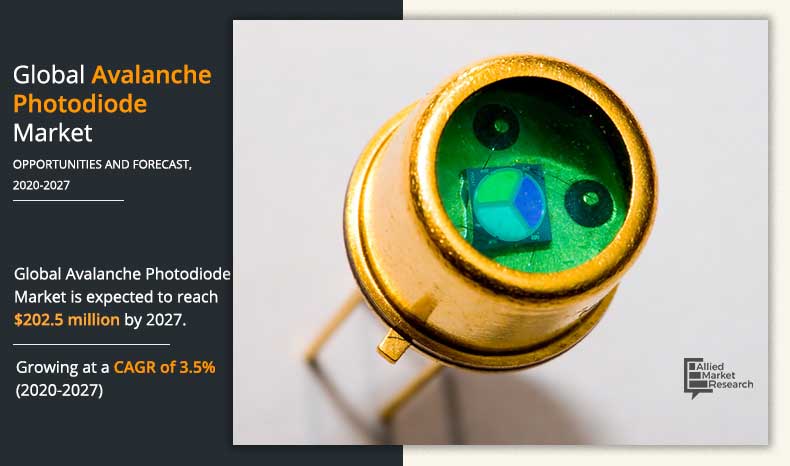 Get more information on this report : Request Sample Pages
Avalanche photodiodes are used in applications where the noise of the amplifier is high, for example, much higher than the noise in the PIN photo detectors. Further, silicon avalanche photodiodes are used for laser detection ranging, optical communications, high-speed switching, and transit-time measurements. These applications are used in advancing industries such as automobile, chemical, medical, manufacturing, aerospace & defense, textile industry, and others.
Avalanche Photodiode Market

---
By Material
Silicon Material segment will secure the leading position throughout the forecast period
Get more information on this report : Request Sample Pages
The avalanche photodiode market is segmented on the basis of material, end user, and region. On the basis of material, it is categorized into silicon materials, germanium materials, InGaAs materials, and others. 
Avalanche Photodiode Market

---
By End User
Telecommunication segment would dominate the market during 2020 - 2027
Get more information on this report : Request Sample Pages
By end user, it is classified as industrial, aerospace & defense, telecommunication, healthcare, commercial, and others. Region wise, it is analyzed across North America, Europe, Asia-Pacific, and LAMEA.
Avalanche Photodiode Market

---
By Region
Asia-Pacific region would dominate the market with a highest CAGR of 4.6% during 2020 - 2027
Get more information on this report : Request Sample Pages
Top Impacting Factors
The significant factors impacting the growth of the global avalanche photodiode market include use of optical technology industries, rise in demand for diagnostic devices and systems in healthcare, and digitalization in developing economies drive the growth of the avalanche photodiode market. However, technical issues with avalanche photodiode is hampering its adoption. This hampers the avalanche photodiode market growth. On the contrary, adoption of optics in R&D in the field of science to provide lucrative opportunities for the growth of the avalanche photodiode market during the forecast period. 
Use of Optical Technology in Industrial Sector
The use of optical technology in manufacturing products and internal communications drives the market demand for avalanche photodiodes, as these are integrated with optical machines and systems. The demand for higher rate of production has made the process of manufacturing automatic or machine based. The applications such as laser cutting, reverse engineering, and others demand the use of avalanche photodiode. 
Increase in Demand for Diagnostic Devices in Healthcare
Over the period, there has been drastic advancement in the healthcare industry in terms of technology used in diagnosis and treatment of diseases or deformity. Optics has enabled laser surgery, optical diagnostic techniques, and visualization of the body's interior. The diagnosis and treatment of heart disease, cancer, kidney stones, knee injuries, and eye diseases is accomplished using latest optical therapies and operations. These optical machines have integration of avalanche photodiodes. This increases the market demand. Furthermore, broad use of optical techniques has led to new approaches to biological research problems. Therefore, it is expected to increase the market demand. 
Digitalization in Developing Economies
Digitalization over the period has brought revolution across the world. It requires the deployment of optical fiber cable for fast and long distance communication. Further, technological advancements in the telecom sector have increased the deployment of broadband network architectures. Fiber to the Home (FTTH) and Fiber to the Building (FTTB) are the few prominent broadband networking architectures that necessitate the large-scale deployment of fiber optic networks. This factor drives the demand for avalanche photodiode. 
Adoption of Optics in R&D in the Field of Science
The increase in activity in the field of science, which uses optical technology such as in positron emission tomography, which is a nuclear medicine functional imaging technique that is used to observe metabolic processes in the body as an aid to the diagnosis of the disease. The optics used assist for the examination of brain functions. Further, the rise in R&D activities in particle physics uses high-speed particle imaging machines and systems, which uses avalanche photodiodes. 
Competitive Analysis
Key players which have a major avalanche photodiode market share include Renesas Electronics Corporation, Excelitas Technologies Corp., First Sensor AG, Global Communication Semiconductors LLC, Hamamatsu Photonics K.K., Kyoto Semiconductor Co. Ltd., LUNA, OSI Optoelectronics, SiFotonics and Lumentum Operations LLC, which are profiled in this report. The avalanche photodiode industry key market players have adopted various strategies such as product portfolio expansion, mergers & acquisitions, agreements, geographical expansion, and collaborations to increase their market penetration and strengthen their position in the industry. 
Key Benefits for Stakeholders:
This study comprises analytical depiction of the global avalanche photodiode market size along with the current avalanche photodiode market trends and future estimations to depict the imminent investment pockets.
The overall avalanche photodiode market analysis is determined to understand the profitable trends to gain a stronger foothold.
The report presents information related to key drivers, restraints, and opportunities with a detailed impact analysis.
The current avalanche photodiode market forecast is quantitatively analyzed from 2019 to 2027 to benchmark the financial competency.
Porter's five forces analysis illustrates the potency of the buyers and suppliers in the avalanche photodiode market.
 Key Market Segments
Segments
Sub-segments
By Material

Silicon Materials
Germanium Materials
InGaAs Materials
Other



By End User

Industrial
Aerospace & Defense
Telecommunication
Healthcare
Commercial
Others



By Region

North America
Europe

UK
Germany
France
Italy
Rest of Europe

Asia-Pacific

China
Japan
India
South Korea
Taiwan
Rest of Asia-Pacific

LAMEA

Latin America
Middle East
Africa



 Key Market Players
EXCELITAS TECHNOLOGIES CORP.
FIRST SENSOR AG
GLOBAL COMMUNICATION SEMICONDUCTORS, LLC
HAMAMATSU PHOTONICS K.K.
KYOTO SEMICONDUCTOR Co., Ltd.
LUNA
OSI OPTOELECTRONICS
SIFOTONICS TECHNOLOGIES CO., LTD
LUMENTUM OPERATIONS LLC
RENESAS ELECTRONICS CORPORATION