Avalanche Radar Market Research, 2031
The global avalanche radar market was valued at $1.5 billion in 2021, and is projected to reach $64.4 billion by 2031, growing at a CAGR of 46.1% from 2022 to 2031. Avalanche radar is an effective technology for determining and tracing avalanches. This radar offers numerous benefits including all-weather usefulness, wide area range, relatively less cost, and integration with smartphones.
The development of the COVID-19 pandemic has had a severe impact on the avalanche radar sector, as well as other industries. The spontaneous spread of the coronavirus has forced numerous sectors to shut down completely. This hindered the industry's production levels and supply networks, resulting in a decline in market growth.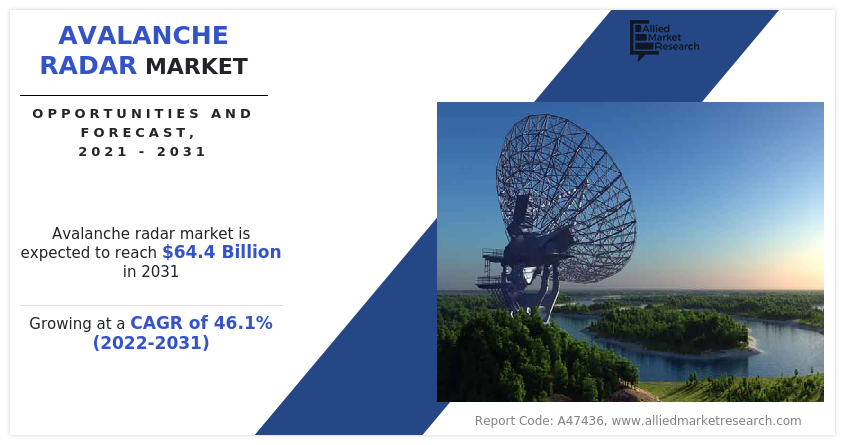 Avalanche radar can work during the day as well as at night and has a range of up to 5 kilometers. In addition, avalanche radar can detect avalanches within three seconds of their trigger and assist in saving lives from avalanche disasters. The avalanche radars are connected to a warning system, thus, facilitating automated control and warning measures if an avalanche occurs. Avalanche radars can also be utilized to detect debris flow, rockfall hazards, and landslides. 
The substantial growth of the avalanche radar market can be primarily attributed to a surge in incidences of avalanches. Global warming is severely impacting the quality of mountain snow cover, which is causing frequent avalanches all across the world. In addition, mountainous regions are experiencing more tree logging, which in turn, makes the ground unstable and augments the risk of avalanches. Disasters such as avalanches often disturb transportation routes as well as increase casualties. Due to these factors, risk analysis using advanced technologies such as avalanche radars is necessary to give early warning about potential avalanche hazards. 
However, the lack of skilled technical personnel, high price, and less awareness about avalanche radars are some of the major challenges that are likely to hinder the avalanche radar market growth during the forecast period. 
Increasing demand for avalanche radars from the military and defense sector is anticipated to offer ample business opportunities to avalanche radar market players. For instance, in 2022, Indian Army and the Defence Geoinformatics and Research Establishment (DGRE) installed an avalanche radar in the northern part of India, Sikkim. The purpose of this radar installation is mitigation and forecasting avalanches that often pose a threat to soldiers' lives in the Himalayan region. 
The avalanche radar industry players are investing a lot of effort on the research and development of smart and unique strategies to sustain their growth in the market. These strategies include product launches, mergers & acquisitions, collaborations, partnerships, and refurbishing of existing technology. For example, in 2019, GEOPRAEVENT AG installed avalanche radar system at bear pass in Canada. This system is powered by fuel cells and solar cells.  
The key players profiled in this report are Geobrugg AG, Wyssen Avalanche Control AG, GEOPRAEVENT AG, L.B. Foster Company, and others. 
The global avalanche radar market is segmented on the basis of type, component, end-user, and region. By type, the market is sub-segmented into long range and short range. As per component, the market is classified into transmitter, antennas, receiver, and display. According to end-user, the market is segmented into military and defense, government, and weather monitoring. Region wise, the market is analyzed across North America, Europe, Asia-Pacific, and LAMEA. 
The avalanche radar market is segmented into Type, Component and End-User.
Avalanche Radar Market

---
By Type
Long range held the highest revenue in 2021 and is anticipated to continue its dominance over the forecast period
By Type, the long range sub-segment dominated the avalanche radar market share in 2021. Long-range radars detect avalanches up to a range of 5 kilometers, thus, obviating the need to put other devices such as real-time avalanche detection. Apart from the early detection of avalanches, this radar can also be used to detect rockfalls, debris flow, and landslides. Long-range avalanche radars can inspect the long-distance targeted slope for potential avalanche disaster and follow its size and path in case it is activated. These benefits are predicted to be the major factors affecting the long-range avalanche radar market size during the forecast period. 
Avalanche Radar Market

---
By Component
Antennas held the highest revenue in 2021 and is anticipated to continue its dominance over the forecast period
By component, the antennas sub-segment is expected to show a fastest CAGR during the forecast period. The antenna is one of the major parts of the avalanche radar system. It aids in transferring the energy of the transmitter in space with the necessary distribution as well as efficiency. Antennas also provide the needed frequency for the target point. The performance of any radar system including avalanche radars is dependent on the antenna area or aperture. Therefore, investment in a good antenna increases the overall performance of the radar system.  
Avalanche Radar Market

---
By End-user
Weather monitoring is anticipated to continue its dominance over the forecast period
By end-user, the weather monitoring sub-segment dominated the avalanche radar market in 2021. Weather monitoring is crucial for tracking avalanches. Avalanches may trigger when air temperatures increase above freezing point. Weak snow layers frequently form in cold temperatures. Avalanche radars are commonly used for weather forecasting in snowy environments. Avalanche radars detect avalanches and warn weather monitoring officials using a variety of methods. This serves in warning trains and citizens to avoid avalanche-prone areas. 
Avalanche Radar Market

---
By Region
Europe held the highest market share in 2021
By region, Europe is expected to dominate the global avalanche radar market during the forecast period. This substantial growth is mainly attributed to the rising number of avalanches in this region. Avalanches frequently occur in European countries including Switzerland, Austria, Italy, and France. Various statistics suggest that nearly 25 fatalities occur in avalanche accidents in Switzerland and around twenty houses are harmed each year. Further, the presence of major players in this region is anticipated to propel the avalanche radar demand during the avalanche radar market forecast period. 
Impact of COVID-19 on the Global Avalanche Radar Industry 
The novel coronavirus pandemic discontinued many business activities around the world, as almost all nations shut down their docks, airports, and domestic transportation while inflicting strict lockdowns and social distancing norms. 
The pandemic has severely impacted the demand for avalanche radars across the globe.  

Avalanche radar has high demand from highway operators in hilly areas. However, during the pandemic, the transportation sector was among those that experienced the most intense negative impact.  
Key Benefits For Stakeholders
This report provides a quantitative analysis of the avalanche radar market outlook, segments, current trends, estimations, and dynamics of the avalanche radar market analysis from 2021 to 2031 to identify the prevailing avalanche radar market opportunity.
The market research is offered along with information related to key drivers, restraints, and opportunities.
Porter's five forces analysis highlights the potency of buyers and suppliers to enable stakeholders make profit-oriented business decisions and strengthen their supplier-buyer network.
In-depth analysis of the avalanche radar market segmentation assists to determine the prevailing market opportunities.
Major countries in each region are mapped according to their revenue contribution to the global market.
Market player positioning facilitates benchmarking and provides a clear understanding of the present position of the market players.
The report includes the analysis of the regional as well as global avalanche radar market trends, key players, market segments, application areas, and market growth strategies.
 Avalanche Radar Market Report Highlights
Aspects
Details
Market Size By 2031
USD 64.4 billion
Growth Rate
CAGR of 46.1%
Forecast period
2021 - 2031
Report Pages
280
Type
Component

Transmitter
Antennas
Receiver
Display

End-User

Military and Defense
Government
Weather Monitoring

By Region

North America (U.S., Canada, Mexico)
Europe (UK, Germany, France, Spain, Italy, Rest of Europe)
Asia-Pacific (China, India, Japan, South Korea, Australia, Rest of Asia-Pacific)
LAMEA (Brazil, Saudi Arabia, UAE, South Africa, Rest of LAMEA)

Key Market Players
geobrugg ag, Wyssenavalanche, Geopraevent, LBFoster