The global aircraft actuators market was valued at $14.5 billion in 2021, and is projected to reach $24.1 billion by 2031, growing at a CAGR of 5.4% from 2022 to 2031.
Actuators on aircraft perform a number of important functions such as adjusting flight control surfaces like the, flaps, rudder, slats and spoilers, ailerons, extending & retracting landing gear, positioning engine inlet guide vanes & thrust reversers, and opening and closing cargo or weapon bay doors among others. Aircraft actuators have ability to withstand ambient conditions such as strong vibrations, heat and cold. Traditionally, pneumatic and hydraulic actuators are widely used in aircraft, however with the increase in demand for fuel efficiency the adoption of electric actuators are increasing significantly.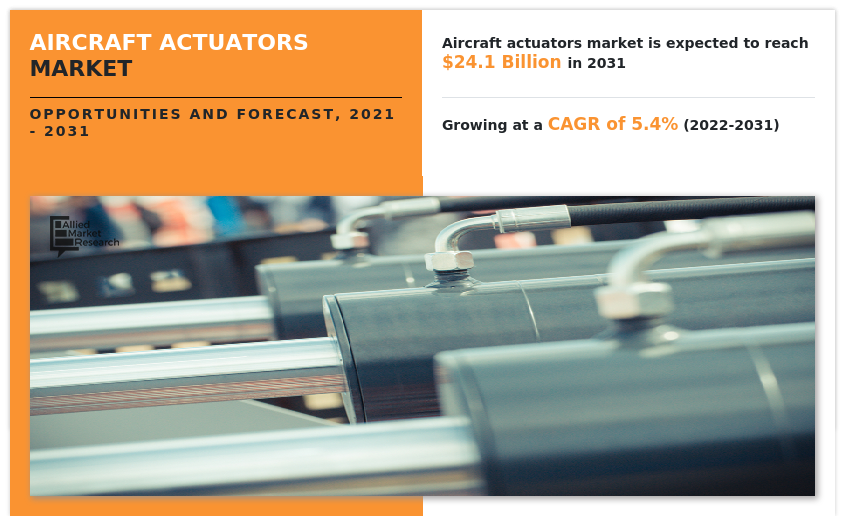 Factors such as rise in operations in the commercial aviation, and increase in demand from emerging regions are anticipated to boost the growth of the global aircraft actuators market during the forecast period. However high costs associated with aircraft actuators, and leakage and maintenance issue are expected to hinder the growth of the global aircraft actuators industry during the forecast period. Moreover, rise in air travel activities & air traffic, and increasing demand for electric actuators are expected to create an opportunity for the market in near future.
The aircraft actuators market is segmented on the application, wing type, type, end use, and region. The application segment is further divided as commercial aviation, military aviation, business & general aviation, and unmanned. By wing type, the market is classified into Fixed Wing, and Rotary Wing. On the basis of type, it is bifurcated into Linear, and Rotary. By end use, it is segmented into line OEM, and aftermarket. By region, the market is analyzed across North America, Europe, Asia-Pacific, and LAMEA.
The key players that operate in this aircraft actuators market are AMETEK, Inc., Astronics Corporation, Curtiss-Wright Corporation, Eaton Corporation Plc, Honeywell International Inc, ITT Inc., Liebherr-International AG, MOOG Inc., Nabtesco Corporation, Raytheon Technologies Corporation, Saab AB, Safran SA, Sitec Aerospace GmbH, Tamagawa Seiki Co., Ltd., and Woodward, Inc.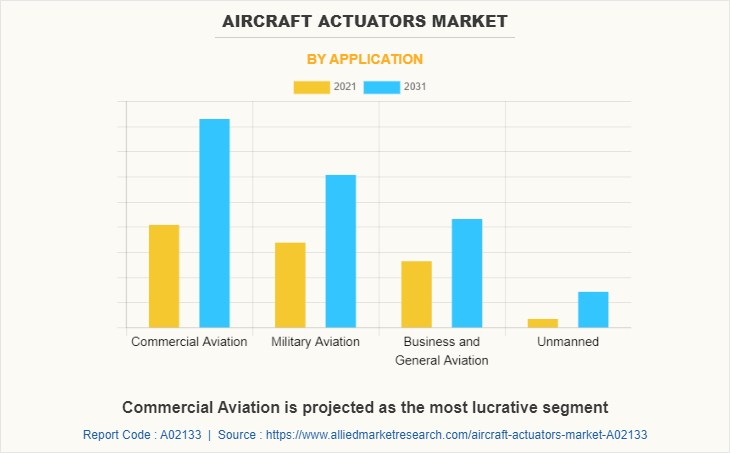 Rise in the commercial aviation
The commercial aviation industry consists of two segments, passenger aircraft and cargo aircraft. In recent years, both segments have performed well and have witnessed rapid rise in operations, which boosted the growth of the global commercial aircraft industry. With globally rising air passenger traffic, the industry has witnessed significantly growth. However, the unprecedented occurrence of COVID-19 pandemic has affected the industry in terms of revenue growth.
Key aviation players around the world are finding ways to make aviation sector safer and reliable. Hence, rapid development has been witnessed in the commercial aircraft industry in the recent years. According to Boeing's Commercial Market Outlook (CMO) 2020–2039, the 2021 CMO reflects that the global market is recovering rapidly. Surge in demand for domestic air travel is responsible for the recovery of the airliner industry amid the COVID-19 pandemic.
Furthermore, intra-regional markets are expected to open with full capacity, as health and travel restrictions ease, followed by return to pre-pandemic levels by 2023 to 2024 with respect to long-haul travel scenario. It mentions that in long term, market fundamentals and resilience will drive the demand for more than 43,500 airplanes by 2040. Thus, all these factors collectively are expected to fuel the demand for the aircraft and aircraft components thereby propelling the growth of aircraft actuators market during the forecast period.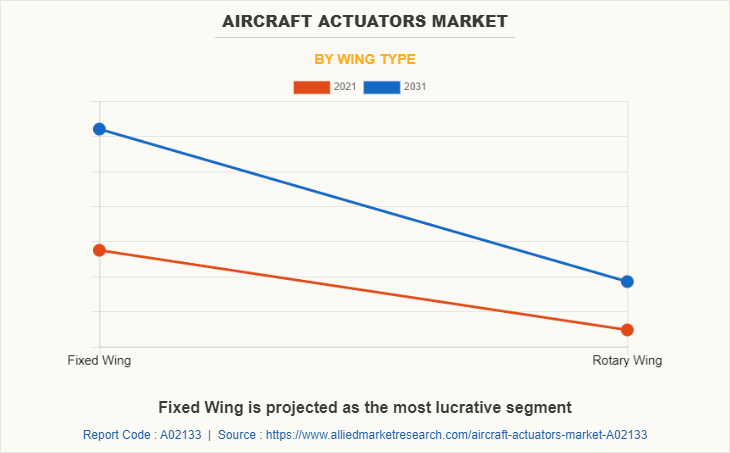 Increase in demand from emerging regions
The emerging countries such as China, India, and Brazil among others are anticipated to create new growth opportunities for prominent players operating in the market. For instance, in September 2019, according to the Commercial Aircraft Corporation of China, Ltd., Chinese market was projected to witness a strong demand for commercial aircraft over the next 20 years. In addition, according to its market forecast report (2018-2037), 9,008 passenger aircraft valued at approximately $0.16 trillion (¥9 trillion) are estimated to be delivered. Latin American countries expand the aviation sector amid rise in air traffic. Thus, these developments are expected to rise the demand for aircraft actuators systems which drive the market growth in Latin America region during the forecast period. The growth in aviation industry is expected to facilitate the demand for aircraft which in turn is propelling the demand for aircraft actuators. In addition, surge in MSMEs involvement in aircraft component manufacturing is expected to fuel the demand for airplanes. Thus, increase in demand from emerging regions is expected fuel the demand for aircraft actuators market in near future.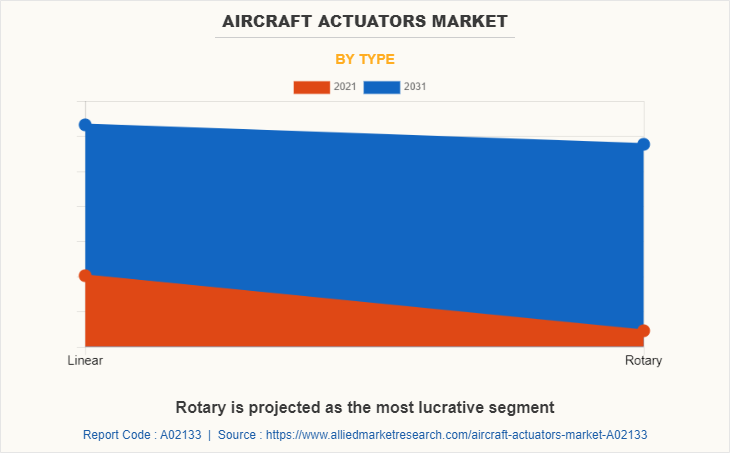 High costs associated with aircraft actuators
Aviation is a capital-intensive industry, as even a smallest part has to be tested and improved several times before it can be installed in an aircraft. This incurs additional the cost of R&D for aircraft components. Moreover, manufacturers have to obtain a certificate by aviation agencies such as the Federal Aviation Administration (FAA) and the European Union Aviation Safety Agency (EASA)—prior to the production of aircraft parts, including actuators before fitting them in respective aircraft models. Actuators increase the fuel efficiency, and is a must for high fuel consuming aircraft engines that fly at thousands of feet above the ground. With rise in air passenger traffic, aircraft have to fly for longer hours now, the aircraft components get used up rapidly and must go through regular maintenance. Furthermore, aircraft actuators have to be inspected and refitted after proper maintenance work. This adds up to the high overall cost of an aircraft actuator operations. These factors are expected to affect the growth of aircraft actuators market during the forecast period.
Rise in air travel activities and air traffic
The shift towards air travel continuously increase owing to conveyance and affordability offered to the consumers. According to the Bureau of Transportation Statistics, the U.S. airlines & foreign airlines in the U.S. carried over 1,052.8 million service passengers in 2019, an increase of 3.9% when compared to 2018. Moreover, tourism has become a popular global leisure activity owing to rise of globalization and technological advances. According to United Nations World Tourism Organization, in 2019, the arrival of 5 billion international tourists was recorded worldwide. The projected 4% year-on-year increase in 2020 confirms significant growth in global tourism. Thus, growth in air travel activities and air traffic demand numerous new airports, and requires hundreds of efficient aircrafts. This rise in demand for air travel would result in a significant surge in demand for new airplanes throughout the world, which would directly impact the sales of aircraft brake systems. Hence, rise in air traffic is anticipated to drive the growth of the aircraft actuators system market during the forecast period.
Governments across the globe implemented strict lockdowns and made social distancing mandatory to prevent the spread of the COVID-19 virus. Consequently, several organizations began work from home programs as precautionary measure. This led to a sudden decline in global demand for traveling, which has affected the aircraft actuators market. However, global air travel continues to recover in 2022, as Omicron has less impact on countries other than Asia, and the war in Ukraine proves to have had little impact on world air traffic data. According to IATA reports, air traffic, measured in revenue passenger kilometers (RPK), an indicator of global passenger demand, increased 115.9% year-on-year in February 2022, but it was 54.5% of the pre-pandemic levels (February 2019 level). Moreover, International air travel recovery continues to gain momentum, driven by surge in vaccination rates and ease of travel restrictions in many regions. RPKs rose 256.8% YoY in February, but are only 40.4% of pre-pandemic February 2019. The increase in air travel post pandemic creates immense opportunities for aircraft actuators companies in recent years. The momentum created by plans to reopen is expected to have a positive impact on the recovery of aircraft industry which creates growth opportunities for aircraft actuators market.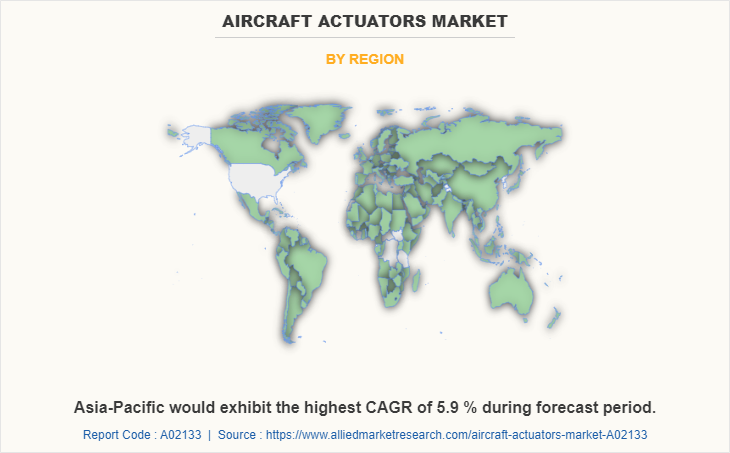 Key Benefits For Stakeholders
This report provides a quantitative analysis of the market segments, current trends, estimations, and dynamics of the aircraft actuators market analysis from 2021 to 2031 to identify the prevailing aircraft actuators market opportunities.
The market research is offered along with information related to key drivers, restraints, and opportunities.
Porter's five forces analysis highlights the potency of buyers and suppliers to enable stakeholders make profit-oriented business decisions and strengthen their supplier-buyer network.
In-depth analysis of the aircraft actuators market segmentation assists to determine the prevailing market opportunities.
Major countries in each region are mapped according to their revenue contribution to the global market.
Market player positioning facilitates benchmarking and provides a clear understanding of the present position of the market players.
The report includes the analysis of the regional as well as global aircraft actuators market trends, key players, market segments, application areas, and market growth strategies.
 Aircraft Actuators Market Report Highlights
Aspects
Details
Market Size By 2031
USD 24.1 billion
Growth Rate
CAGR of 5.4%
Forecast period
2021 - 2031
Report Pages
346
By Application

Commercial Aviation
Military Aviation
Business and General Aviation
Unmanned

By End Use
By Wing Type
By Type
By Region

North America (U.S., Canada, Mexico)
Europe (Germany, France, Russia, Netherlands, UK, Poland, Spain, Rest Of Europe)
Asia-Pacific (China, India, Japan, South Korea, Asean, Rest Of Asia-Pacific)
LAMEA (Brazil, UAE, Saudi Arabia, South Africa, Rest Of LAMEA)

Key Market Players
Astronics Corporation, SAFRAN SA, EATON CORPORATION, TAMAGAWA SEIKI CO. LTD., RAYTHEON TECHNOLOGIES CORPORATION, NABTESCO CORPORATION, WOODWARD INC, SAAB AB, CURTIS WRIGHT, HONEYWELL INTERNATIONAL INC, SITEC AEROSPACE GMBH, AMETEK, Liebherr, Moog Inc., ITT