The global aviation carbon fiber market size was valued at $1.5 billion in 2021, and is projected to reach $4.4 billion by 2031, growing at a CAGR of 11.4% from 2022 to 2031.
Carbon fiber is a strong and lightweight synthetic fiber specially made by carbonizing acrylic fiber at high temperature. It is increasingly being used in the aviation sector owing to its mechanical characteristics such as high strength, low weight, and greater durability. Carbon fiber reinforced polymer (CFRP) composites have enabled weight reduction of airframe components, assisting in reducing fuel consumption and carbon emissions by at least 14 to 15%.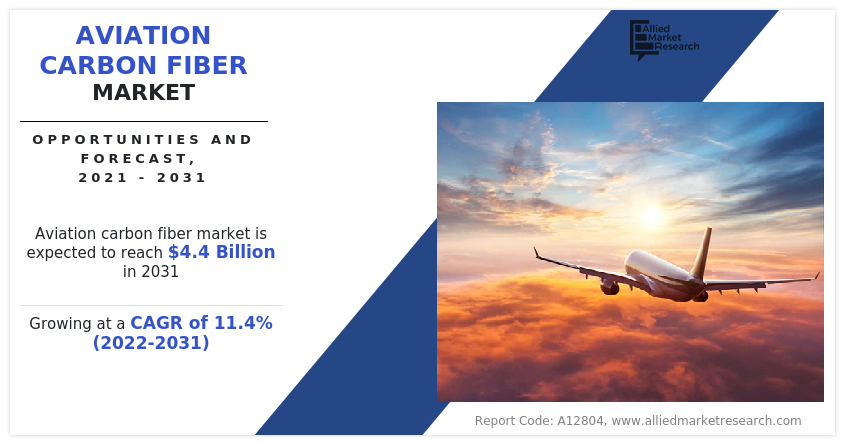 Carbon fiber can be used to form complex shapes, which are structurally stronger and much lighter than the same parts made of conventional metal. It is preferred in the aviation industry as it helps in developing high strength and durable aircrafts. Many aerospace companies are now using carbon fiber for aircraft manufacturing. For instance, Boeing uses about 32-35 tons of carbon fiber in each of its 787 jets. Small private jets are also being made of carbon fiber. Carbon fiber has increasingly become a preferred material choice in the aviation industry due to its strength, light weight, and corrosion resistance property.
Factors such as growth in the global aviation industry, stringent regulations to reduce environmental emissions from the aviation sector, rise in demand for low weight airframe components, environment-friendly & fuel-efficient aircrafts, and increase in use of carbon fiber in military aircrafts drive the growth of the aviation carbon fiber market. However, high cost of PAN-based carbon fiber and complex manufacturing process of carbon fiber hinder the growth of the market. 
Further, technological advancement & research associated with carbon fiber in the aviation industry, surge in the popularity of electric aircrafts, and rise in use of carbon fiber for 3D printing in aviation offer remarkable growth opportunities for the players operating in the aviation carbon fiber market.
The aviation carbon fiber market is segmented on the basis of raw material, type, end use, and region. By raw material, it is bifurcated into PAN-based carbon fiber and pitch-based carbon fiber. By type, the market is classified into continuous, long, and short. By end use, it is fragmented into commercial, military, and others. By region, the market is analyzed across North America, Europe, Asia-Pacific, and LAMEA.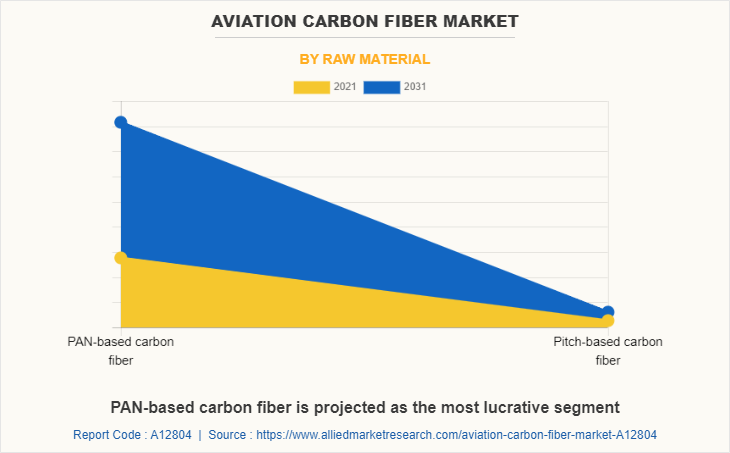 North America includes the U.S., Canada, and Mexico. The strong presence of the vast airline industry and rise in investments aimed at improvement in aircraft fleet by government and military agencies is expected to boost the growth of the aviation carbon fiber market in the region. 
The development of new aircraft models and the growth in the aviation industry are expected to be the key growth drivers for the aviation carbon fiber market. Moreover, there is a surge in demand for manufacturing low-weight and fuel-efficient aircrafts to reduce emissions, which boosts the growth of the market. Growth of commercial air traffic in this region and presence of market players that are continuously developing novel products and technologies further support the market growth.
In North America, the U.S. is expected to dominate the market owing to the presence of market players such as Boeing, Air Cargo, and American Airlines, which are continuously developing new aircrafts with advanced and lightweight materials. The rise in adoption of military aircrafts by the U.S. owing to the country's safety concerns increases the demand for carbon fiber. Moreover, there is an increase in demand for commercial aircrafts owing to rise in passenger traffic. For instance, in February 2022, American Airlines announced purchase of 30 new 737 Max 8 jets from Boeing. 
Along with being a global leader in commercial aviation, the U.S. has the highest military expenditure as of 2020. In addition, there is a surge in the use of carbon fiber for manufacturing aircrafts owing to its properties such as high strength, low weight, and high durability. Moreover, aviation companies are offering contracts to carbon fiber manufacturers to supply material for development of lightweight aircrafts to address growing environmental concerns and adhere to the emission regulations. For instance, in December 2020, Toray Advanced Composites announced the finalization of a long-term supply agreement with Joby Aviation for delivery of carbon fiber composite materials to provide fast, affordable, and zero-emissions aerial ridesharing through its electric aircrafts.
The leading companies profiled in the report include Mitsubishi Chemical Group Corporation, Nippon Steel Corporation, SGL Carbon, Teijin Limited, Toray Industries, Inc., Hexcel Corporation, Solvay, Hyosung, OJSC SvetlogorskKhimvolokno, and DowAksa.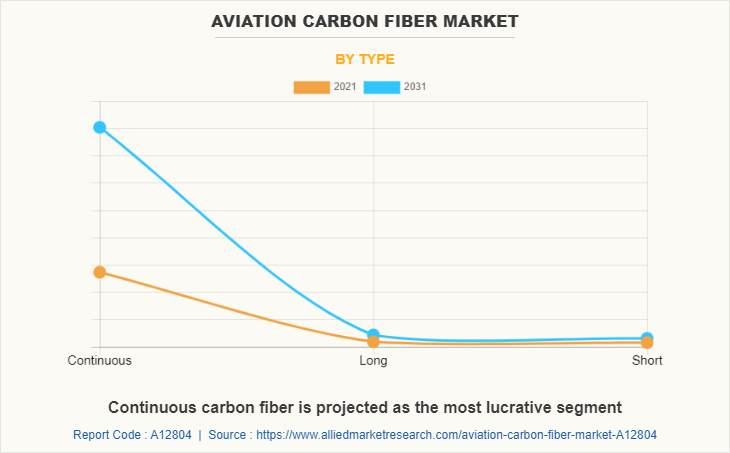 The prominent companies operating in the market are adopting strategies such as product launch and expansion to strengthen their market position. In July 2020, SGL Carbon developed solutions for automotive, aerospace and industrial sector. In the primary structure components of aerospace industry, the company presented a demo exhibit for the door frame of a passenger airplane. It also started serial production of landing gears made of braided carbon fiber material. In October 2021, Teijin Ltd. announced its carbon fiber subsidiary Renegade Materials Corp. invested $4 million to expands renegade's capacity at the Miamisburg, Ohio. Owing to this strategic move, Renegade Materials Corp. would expand its prepreg production by approximately 2.5 times.
Stringent regulations to reduce environmental emissions from the aviation sector
The rise in commercial air traffic continues to increase the contribution of the aviation sector to global emissions. Greenhouse gas emissions from aviation are a major contributor to global warming. According to International Energy Agency (IEA), aviation emissions increased in 2021, recovering to levels between the pre-pandemic peak of 2019 and levels of 2020. Emissions in 2021 totaled about 720 MtCO2. Moreover, at the current pace, the aviation industry is estimated to emit 43 gigatons of carbon dioxide by 2050, representing almost 5% of the global emissions. 
Governments of various countries are imposing strict regulations to control the emissions released by the aviation industry. For instance, on January 11, 2021, the Environmental Protection Agency (EPA) released a greenhouse gas (GHG) emissions standard for aircrafts for the first time. The rule explicitly adopts the carbon dioxide (CO2) emissions standards set in 2017. The rule includes civil subsonic jet airplanes and larger civil subsonic propeller-driven airplanes manufactured after January 2020, or in production by 2028. Moreover, on October 4, 2021, at the 77th IATA Annual Meeting in Boston, USA IATA member airlines passed a resolution committing to achieve net zero carbon emissions from their operations by 2050. This pledge brings aviation in line with the Paris Agreement goal of limiting global warming to 1.5°C. Such strict regulations to support the goal of net zero carbon emissions to achieve sustainable aviation is expected to drive the demand for carbon fiber for manufacturing of low weight and fuel-efficient aircrafts.  
Rise in demand for low-weight, environment-friendly, and fuel-efficient aircrafts
Aircraft structures are required to be light yet strong and stiff enough to resist the different forces acting on an airplane during flight. The airplanes must also be durable enough to withstand these forces over the airplane's entire life span. Manufacturers aim to design aircraft structures that provide maximum performance at a low weight. Over the years, there has been an increase in demand for aircraft with a lower weight and increased fuel efficiency. 
Carbon-fiber composites are extensively lighter than aluminum alloys. Carbon fiber composites are used to build an airplane to reduce its weight by up to 20%, as compared to the weight of a traditional aircraft using aluminum. Moreover, composites such as Carbon fiber-reinforced polymers (CFRP) have been increasingly used for weight reduction in aviation applications. Carbon fiber provides structures with enhanced stiffness, strength, and durability. Using carbon-fiber composites instead of metal to build wings is expected to reduce fuel consumption by 5%. 
Therefore, the use of carbon fiber in manufacturing in the aviation industry can meet the increasing demand for lightweight and fuel-efficient airplanes. In addition, in the airline industry, less weight of the aircraft contributes to low operating costs as lower weight improves fuel efficiency, which significantly decreases the overall cost to operate planes. Carbon fiber composite fabrication processes can produce extremely smooth yet complex geometries, enabling aircraft designers and manufacturers to optimize the aerodynamics of aircrafts.
Growth in the global aviation industry
Increase in air traffic has been witnessed over the years owing to the introduction of low-cost flights. Rising air passenger traffic has encouraged airline companies to expand their aircraft fleet and enhance comfort level & services in both domestic and international flights. The Boeing's annual marketplace outlook predicts the worldwide fleet of industrial airplanes is expected to climb from 25,900 in 2019 to 49,405 planes through 2040, with nearly ninety percentage comprising new models of aircraft to cater to the growing demand. 
Similarly, Airbus predicts that over the next 20 years, the global aviation industry would experience gradual shift from fleet growth to replacement of older and less fuel-efficient aircrafts. This means the need for more than 39,000 new passenger and freighter aircrafts, including replacement of around 15,250 aircrafts.
Further, in accordance with the data released by the international civil aviation organization (ICAO), 4.3 billion passengers traveled by airlines in the year 2018. Moreover, the number of airline passengers is expected to cross 10.0 billion by the year 2040, which is projected to create the need for additional airports across the globe. According to International Air Transport Association (IATA), the global air traffic in June 2022 (measured in revenue passenger kilometers or RPKs) was up 76.2% compared with June 2021, increased by the ongoing strong recovery in international traffic. 
Globally, air traffic is now at 70.8% of pre-crisis levels and international traffic increased by 229.5% versus June 2021. In addition, there is a rise in the number of airports to accommodate the rising number of passengers. For instance, in December 2022, Minister of State, Civil Aviation of India, V.K Singh announced that the number of international airports in the country has increased to 30 since 2015. Moreover, government initiatives for the construction of new airports drive the demand for aircraft, which in turn is expected to propel the growth of the market. For instance, in March 2022, the government of India set a target of increasing the number of airports from 140 to 220 by the year 2025.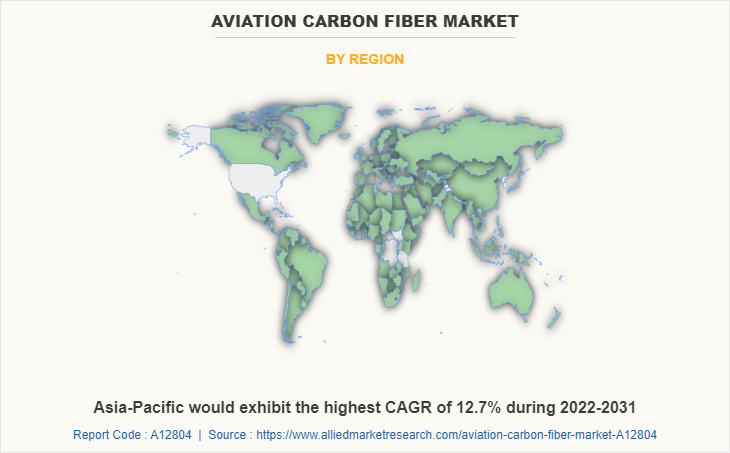 The decline in demand for aviation carbon fiber during the pandemic was majorly due to the halt in aircraft manufacturing and restrictions on air travel and aircraft operations. However, post pandemic, there is an increase in demand for carbon fiber to manufacture lightweight and fuel-efficient aircrafts. For instance, in June 2022, Toray and Teijin, Japanese aircraft material makers announced plans to resume aircraft-related shipments from its plants in the U.S. State of Carolina. The material is expected to be used in the wings and body of the Boeing 787.
Key Benefits For Stakeholders
This report provides a quantitative analysis of the market segments, current trends, estimations, and dynamics of the aviation carbon fiber market analysis from 2021 to 2031 to identify the prevailing aviation carbon fiber market opportunities.
The market research is offered along with information related to key drivers, restraints, and opportunities.
Porter's five forces analysis highlights the potency of buyers and suppliers to enable stakeholders make profit-oriented business decisions and strengthen their supplier-buyer network.
In-depth analysis of the aviation carbon fiber market segmentation assists to determine the prevailing market opportunities.
Major countries in each region are mapped according to their revenue contribution to the global market.
Market player positioning facilitates benchmarking and provides a clear understanding of the present position of the market players.
The report includes the analysis of the regional as well as global aviation carbon fiber market trends, key players, market segments, application areas, and market growth strategies.
 Aviation Carbon Fiber Market Report Highlights
Aspects
Details
Market Size By 2031
USD 4.4 billion
Growth Rate
CAGR of 11.4%
Forecast period
2021 - 2031
Report Pages
363
By Raw Material

PAN-based carbon fiber
Pitch-based carbon fiber

By Type
By End Use

Commercial
Military
Others

By Region

North America (U.S., Canada, Mexico)
Europe (France, Germany, UK, Russia, Rest of Europe)
Asia-Pacific (China, Japan, India, South Korea, Rest of Asia-Pacific)
LAMEA (Latin America, Middle East, Africa)

Key Market Players
OJSC SvetlogorskKhimvolokno, HYOSUNG, Solvay, Mitsubishi Chemical Group Corporation, Hexcel Corporation, Toray Industries, Inc., NIPPON STEEL CORPORATION, DowAksa, TEIJIN LIMITED, SGL Carbon