Aviation Fuel Market Outlook - 2026
Aviation fuel is a type of petroleum-based or kerosene-based fuel used to operate an aircraft. The aviation fuel possesses better quality than fuels used in other modes of transportation. They are produced in different combinations of kerosene, kerosene-gasoline, kerosene-biofuel, and others. The fuels used in aviation reduce the risk of icing or explosion due to high temperature, which is obtained by incorporating some additives such as corrosion inhibitors and others. Aviation fuel is primarily used by most of the military aircrafts and commercial airlines to maximize fuel efficiency and to lower the operational cost. Aircraft industry is expanding nowadays, which is increasing competition among aircraft aviation fuel production in all sectors. The global aviation fuel market size was valued at $179.2 billion in 2018 and is anticipated to generate $238.5 billion by 2026. The market is growing at a CAGR of 3.5% from 2019 to 2026.
The increase in demand from military sector and rise in air transportation are expected to be major factors contributing to the market growth. New flight routes and new airports also surge the demand for fuel, which further drives aviation fuel market growth. However, stringent rules regarding use of fuel variants and additives owing to high level of carbon emissions and fluctuations in crude oil prices are the factors that largely hamper the aviation fuel market growth. Meanwhile, biofuels that can significantly reduce carbon emissions and emerging sustainable aviation fuel (SAF) that are under  research & development offers lucrative opportunities for aviation fuel industry growth. The alternate environment friendly sources for aviation fuel production greatly impact the aviation fuel industry in future.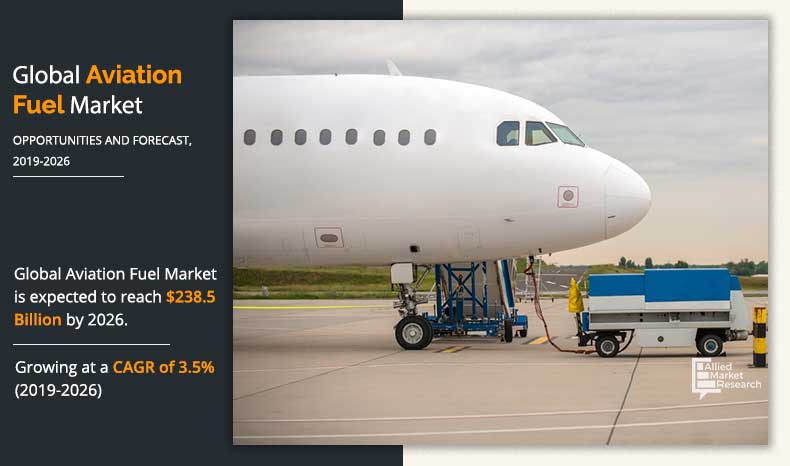 Aviation fuel market is segmented on the basis of fuel type, aircraft type, end user, and region. Depending on fuel type, it is divided into jet A, jet A1, jet B, JP 5, JP 8, avgas, and biofuels. Depending on aircraft type, the market is categorized into fixed wings, rotorcraft, and others. By end user, the market is classified into civil, military, private, and sports & recreational. Region wise, the aviation fuel market analysis is done across North America, Europe, Asia-Pacific and LAMEA (Latin America, Middle East and Africa).
The key players operating in the aviation fuel industry are Bp p.l.c., Chevron Corporation, Exxon Mobil Corporation, Gazprom, Indian Oil Corporation Limited, Petrobras, Royal Dutch Shell plc, Sinopec Group, Total SA, and Oman Oil Company SAOC. The key players have adopted strategies such as partnership and business expansion to sustain the intense competition in the market. 
Aviation Fuel Market

---
By Fuel Type
Jet A-1 is projected as the most lucrative segment.
By fuel type, jet A1 segment dominated the market share in 2018, owing to easy availability and higher efficiency in comparison to other fuels. Furthermore, this segment is also expected to grow at a higher CAGR during the forecast period followed by jet A fuel. The biogas segment will also experience growth, owing to growing efforts from several governments and companies to lower carbon emissions.
Aviation Fuel Market

---
By Aircraft Type
Fixed Wing is projected as the most lucrative segment.
By aircrafts type, the fixed wings segment garnered the highest market share in 2018 as the piston and turbine engines are used in such aircrafts, which require fuel as main source to generate lift and also push the aircrafts forward. The fixed wings segment is expected to grow at higher CAGR during the forecast period followed by rotorcraft segment, which is expected to grow at CAGR of 3.4%. 
Aviation Fuel Market

---
By End-user
Civil is projected as the most lucrative segment.
By end user, the civil segment was the largest market share holder in 2018, owing to large number of commercial airliners that offer passenger and freight transit services. The civil segment is also expected to grow at the highest CAGR followed by the military segment.
Aviation Fuel Market

---
By Region
Asia-Pacific is projected as the most lucrative market.
North America was the largest shareholder in terms of revenue in 2018, owing to presence of key players in the developing countries and rise in number of air travelers. However, Asia-Pacific is expected to grow at a higher CAGR, owing to increase in investment by the government, introduction of new flight routes, increased fleet sizes, and high demand for fuel from emerging economies in the region.
Key Benefits for Stakeholders:
The report provides an in-depth analysis and aviation fuel market forecast along with the current and future market trends
This report highlights the key drivers, opportunities, and restraints of the market along with the impact analyses during the forecast period
Porter's five forces analysis helps analyze the potential of the buyers & suppliers and the competitive scenario of the aviation fuel industry for strategy building
A comprehensive analysis of the factors that drive and restrain the aviation fuel market growth is provided
The qualitative data in this report aims on aviation fuel market trends, dynamics, and developments 
The aviation fuel market size is provided in terms of revenue
The report provides extensive qualitative insights on the significant segments and regions exhibiting favorable aviation fuel market share
 Aviation Fuel Market Report Highlights
Aspects
Details
By Fuel Type

Jet A
Jet A1
Jet B
JP 5
JP 8
Avgas
Biofuel

By Aircraft Type

Fixed Wings
Rotorcraft
Others

By End User

Civil
Military
Private
Sports & Recreational

By Region

North America (U.S., Canada, Mexico)
Europe (Germany, France, UK, Italy, Russia, Rest of Europe)
Asia-Pacific (China, Japan, India, Singapore, South Korea, Rest of Asia-Pacific)
LAMEA (Brazil, Saudi Arabia, South Africa, Rest of LAMEA)

Key Market Players
British Petroleum (BP) p.l.c, Chevron Corporation, EXXONMOBIL, Public Joint Stock Company Gazprom, INDIAN OIL CORPORATION LTD., Oman Oil Company SAOC., Petróleo Brasileiro S.A. (Petrobras), Royal Dutch Shell plc, Sinopec Corp., TOTAL S.A.