Baby Sleepwear Market Research, 2032
The global baby sleepwear market was valued at $39.3 billion in 2022, and is projected to reach $60.5 billion by 2032, growing at a CAGR of 4.6% from 2023 to 2032.
Baby sleepwear is clothing worn by babies and infants to keep them comfortable while sleeping and to prevent inconvenience and dangers such as asphyxiation and becoming trapped in garments. Baby sleepwear comprises pajamas and rompers, which are further classified as full body as well as half body rompers. To provide enhanced comfort and material breathability, baby sleepwear is fabricated using cotton, linen, and bamboo. 
Increase in expenditure by parents on products for baby care and baby wellbeing is a key factor that is expected to provide multiple growth opportunities for the baby sleepwear market. The desire of parents to buy the best products for their children is promoting the sales of premium category baby products, which is providing impetus to the market growth.
According to the World Bank, developing regions across the world are home to over three-quarters of the world's population. Despite the fact that the number of babies born have consistently declined across all regions, they are still comparatively high in the developing nations such as India and China. In addition, increase in middle-class population, rise in female labor force involvement, and rapid urbanization in both developed and emerging markets have increased the rate of acceptance of comfort-oriented lifestyles, leading to increase in consumer interest in baby-related merchandise that include baby sleepwear clothes. India's population and standard of living are improving rapidly, resulting in increased demand for baby-related commodities. Furthermore, to address the challenges of a growing elderly population, the Chinese Government relaxed its generations-old one-child restriction in 2016, enabling every couple to bear two or three children by 2021. As a result, the total number of infants is expected to rise in the next years, thereby fueling the baby sleepwear market growth.     
A baby romper is a piece of baby clothing made of only one piece of cloth that can be simply put on and taken off a baby. Baby rompers are quite beneficial for parents, with a majority of them featuring crotch flaps for easy diaper changes. Furthermore, because they reduce the requirement of maintaining two distinctive pieces of clothing while doing laundry as well as making it easier to remove filthy garments from a baby, baby rompers have become an increasingly popular option for parents. Furthermore, these rompers allow enough space to fit a maturing baby, so the children are not restricted in the garment. Furthermore, the availability of breathable, comfortable, moisture-wicking, luxurious baby rompers is boosting the market growth. In addition, the availability of attractive designs and various types of rompers make infants appear adorable while simultaneously protecting and soothing them. As a result of the multiple benefits of using baby rompers, consumer interest in baby rompers is expected to rise, thus boosting the growth of the baby sleepwear industry.    
The global baby sleepwear market is extremely fragmented with several regional firms involved. Baby sleepwear has grown in popularity in the past few years, resulting in an overabundance of poor-quality baby sleepwear in the market. Babies are not harmed when they wear the right kind of baby sleepwear clothing. However, availability of counterfeit and low-quality baby sleepwear may increase the newborn's risk of skin irritation. Low-quality components and manufacturing processes may cause discomfort among babies. Many of these counterfeit products are copies of well-known brands, tainting the credibility of such enterprises and establishing a negative image of baby sleepwear, hampering the growth of the baby sleepwear market. This is a particularly frequent concern among the countries in Asia-Pacific and LAMEA, where consumers are looking for low-cost solutions for infant sleepwear. Thus, abundant availability of poor quality merchandise impedes the overall expansion of the market especially in terms of value purchases.    
On the contrary, organic clothing is expected to witness increased popularity, which is expected to provide lucrative opportunities for the expansion of the global market during the forecast period. Organic clothing is made from organically grown cotton, linen, silk, bamboo, wool, and various other materials. Organic cotton is utilized to manufacture majority of organic clothing since organic linen and bamboo are uncommon. According to Textile Exchange, an international leader on textile manufacturing and quality, organic cotton production increased by 3.9% in 2020, showing that organic fibers are becoming increasingly popular. Organic baby clothes include no harmful chemicals, which is crucial considering that these are going to be worn by babies. Organic clothing has the potential to become extremely popular as people around the globe become more conscious of things that are more natural and devoid of additions that include chemicals and pesticides, which can positively impact the baby sleepwear market size.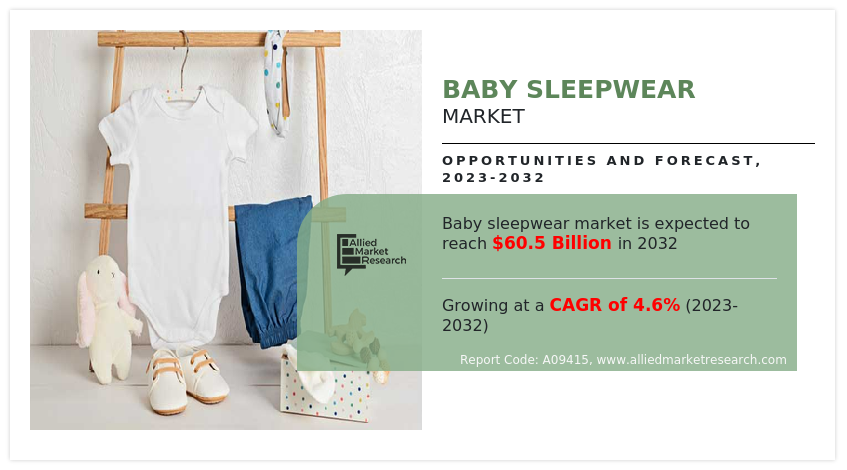 Segment Overview 
The baby sleepwear market is segmented into Type, Material, Price Point, Distribution Channel, and Region. By type, the market is classified into rompers and pajamas. Depending on material, it is categorized into cotton, linen, bamboo, and others. On the basis of price point, it is divided across mass and premium. According to distribution channel, it is segregated into supermarkets & hypermarkets, specialty stores, brand stores, online channels, and others. Region wise, it is analyzed across North America (the U.S., Canada, and Mexico), Europe (UK, Germany, France, Italy, Spain, Netherlands, and rest of Europe), Asia-Pacific (China, Japan, India, South Korea, Australia, and rest of Asia-Pacific), and LAMEA (Brazil, Argentina, Saudi Arabia, United Arab Emirates, South Africa, and rest of LAMEA).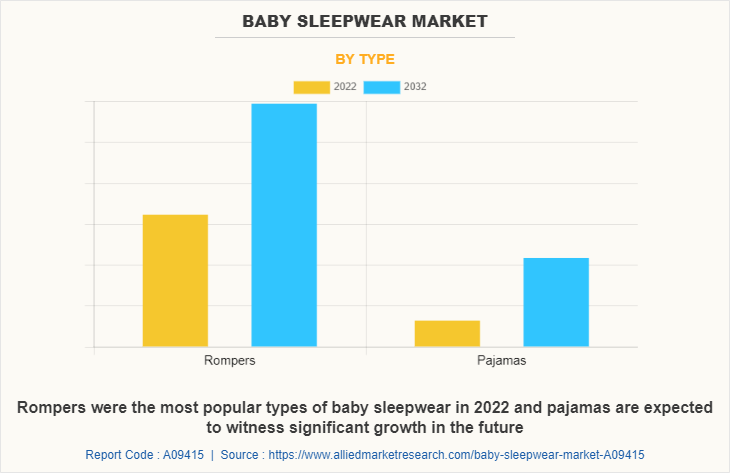 By Type 
Full-body baby rompers keep babies warm and are easy for caregivers to put on and take off. Baby rompers are large enough to accommodate a diaper and allow growing newborns to stretch out freely. Because they keep babies warm, full body baby rompers are accepted in countries with colder climates such as Canada, the northern part of the U.S., the UK, France, and Russia. Half-body rompers expose the arms and legs, while other types of half body baby rompers cover only the arms or only the legs or only part of the arms or legs. Half-body baby rompers are additionally versatile and are able to be worn with a variety of outfits. For instance, they can be styled by gender, with basic designs for boys and frills, bows, and brighter colors for girls. Pajamas are among the most popular sort of sleepwear, although they are less common for babies. The key reasons for reduced consumption of pajamas for babies are challenges in keeping track of distinct items of clothing, difficulty in putting on the clothing, and difficulties in slipping of diaper underneath the pajamas. However, the adoption of pajamas is growing, particularly among babies under the age of two years old, as these babies are simpler to handle and put on pajamas. Majority of baby pajamas are designed with motifs and art to make the newborns look cute.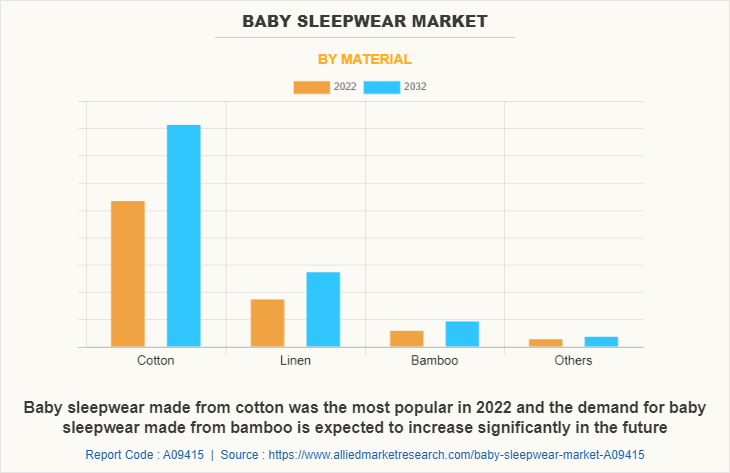 By Material 
Cotton is one of the most commonly used fabric for baby sleepwear. This is attributed to the fact that cotton clothing is breathable, keeping babies warm during winter and cool during summer. Furthermore, these garments are hypoallergenic, which aids in the prevention of infections of the skin and skin diseases among babies, significantly boosting the baby sleepwear market demand. Moreover, this material is easy to clean and preserve. Baby sleepwear is manufactured from a range of cotton and cotton blend materials, such as voile, muslin, and fleece. Thus, the cotton segment garners a considerable market share in the global market due to multiple advantages associated with cotton. Although infant sleepwear made from linen is durable, simple to care for, comfortable, breathable, and lightweight, linen is costlier than cotton, classifying it as a premium fabric. Linen is more environmentally friendly over cotton because it requires less water throughout the production process. Thus, linen is becoming more popular in the production of baby sleepwear. Bamboo yarn and bamboo fabric are increasingly being used in the manufacture of baby sleepwear goods. This is attributed to the fact that the cloth is soft, preventing skin irritation, and is highly breathable and insulating, keeping babies cool in summer and warm in winter. Wool, silk, satin, polyester, and mixes are among other materials used in infant sleepwear. These types of textiles are not commonly used for baby sleepwear goods. These clothing pieces are more pricey than typical sleepwear products and are more of a novelty item. As a result, these are not designed for everyday use and are considered special occasion clothing for babies.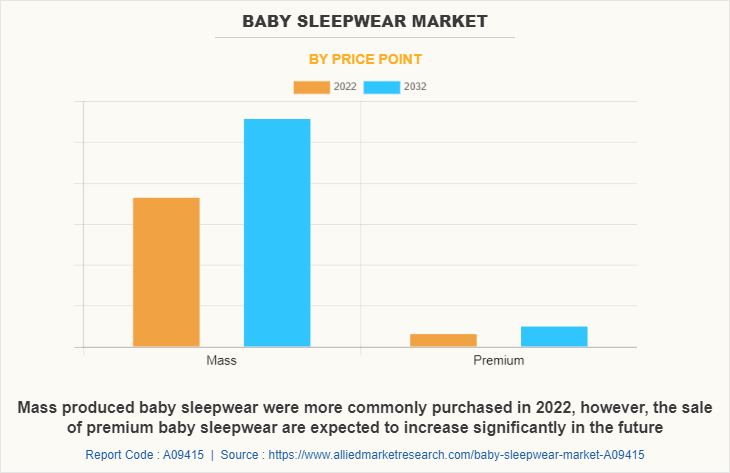 By Price Point 
Mass manufactured baby sleepwear are generic baby clothes that are widely available in supermarkets, hypermarkets, and online, and occupy a very significant baby sleepwear market share. These are primarily plain outfits that cost under $35. They are made of cotton and are available in an assortment of colors. Economical baby sleepwear clothing are purchased at places where consumers are predominantly moderate and lower income. The bulk of baby sleepwear products is inexpensive and well-priced. These sleepwear products are of lower quality than premium ones.  As new businesses enter the market in nations that are developing, competition for low-cost baby sleepwear is expected to grow simultaneously, which is likely to have a positive impact on the market. Premium baby sleepwear items are those that are branded, luxury, or of the highest quality and can be purchased from specialty stores, branded retailers, and internet stores. They are typically more expensive than $35 and are considered more elegant and of greater quality. Authenticity, devotion to doing the appropriate thing, ethics, and the adoption of sustainable approaches are among the important qualities that reputable businesses share with their customers. The demand for premium products is predicted to increase rapidly with rise in the world's affluent population, which will positively impact the baby sleepwear market forecast.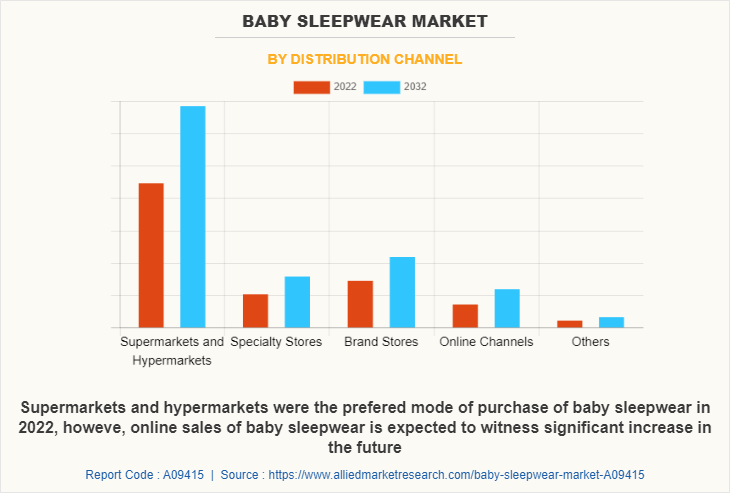 By Distribution Channel 
Supermarkets and hypermarkets are witnessing increasing popularity due to the availability of a varied assortment of goods for consumers under one roof as well as ample parking and convenient working hours. Furthermore, urbanization, rise in working-class population, and competitive pricing boost the attraction of these establishments all over the world. These retail formats offer reasonably priced products to customers and are often located in easily accessible areas. As a result, customers may be able to meet all of their purchasing needs, conserving their time and generating a large consumer base. A specialty store can provide customers with high-quality service, detailed product descriptions, and professional advice. This is possible because the stores select a product group and only sell items from that category. The ever-changing retail sector, alterations in buyer habits, and improvement in consumer lifestyles across the world have resulted in the development of specialized retail formats. These businesses focus on a specific kind of product to provide maximum convenience and value to customers in that category. Brand stores are getting increasingly popular as disposable income increases globally and urban quality of life standards rise. Many younger consumers prefer branded products over generic products because the brand representing the goods has a higher perceived worth than the actual goods. The internet is a popular way to buy infant sleepwear, as the internet platform is easily accessible, has time-saving features, and offers home delivery service. Increased e-commerce sales, improvements in logistics services, expanded payment options, and the potential of global baby sleepwear manufacturers to break into the market contribute to the market expansion. Thus, shopping online has now become an international trend as a result of ubiquitous internet access.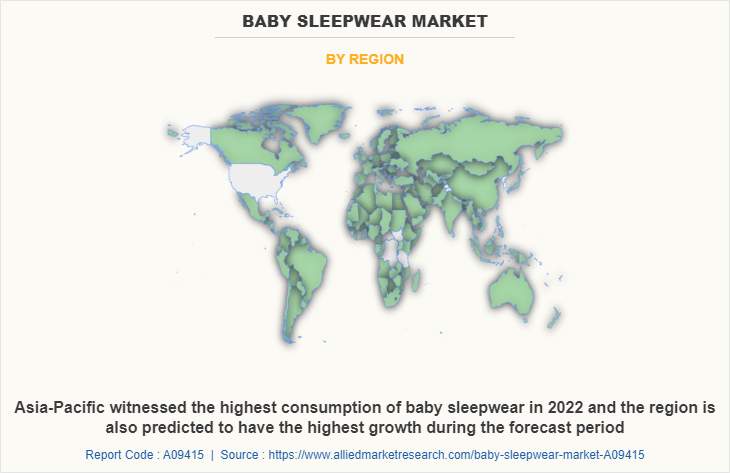 By Region 
In North America, there is a greater understanding of children's welfare and higher expenditure on baby care and baby wellness items. Furthermore, the strong presence of many global brands in the region such as Underarmor, H&M, and Zara notably contributes toward the baby sleepwear industry growth. In terms of raw materials, product safety, and the dangers associated with newborn things, European countries comply with stringent regulations. The widespread availability of branded, premium, and high-quality items presents potential growth opportunities for the baby sleepwear market. The presence of developing countries in Asia-Pacific boosts investment and economic potential significantly. The market growth in Asia-Pacific is driven by rapid middle-class expansion, increase in urbanization, and improvement in living standards. Most of the countries in LAMEA are undeveloped or are in various phases of development, with the exception of the Middle East, which is fully developed. Despite the fact that many countries in the region lack competent newborn care, improvement is being made in this area. 
Some of the major players analyzed in this report are The Children's Place, Inc., Under Armour, Inc., Carter's, Inc., H&M Group, Benetton Group S.R.L., Nike Inc., Industria de Diseno Textil, S.A., The Gap, Inc., Limited, Mothercare Plc, and PVH Corp. 
Key Benefits For Stakeholders
This report provides a quantitative analysis of the market segments, current trends, estimations, and dynamics of the baby sleepwear market analysis from 2022 to 2032 to identify the prevailing baby sleepwear market opportunities.
The market research is offered along with information related to key drivers, restraints, and opportunities.
Porter's five forces analysis highlights the potency of buyers and suppliers to enable stakeholders make profit-oriented business decisions and strengthen their supplier-buyer network.
In-depth analysis of the baby sleepwear market segmentation assists to determine the prevailing market opportunities.
Major countries in each region are mapped according to their revenue contribution to the global market.
Market player positioning facilitates benchmarking and provides a clear understanding of the present position of the market players.
The report includes the analysis of the regional as well as global baby sleepwear market trends, key players, market segments, application areas, and market growth strategies.
 Baby Sleepwear Market Report Highlights
Aspects
Details
Market Size By 2032
USD 60.5 billion
Growth Rate
CAGR of 4.6%
Forecast period
2022 - 2032
Report Pages
350
By Price Point
By Distribution Channel

Supermarkets and Hypermarkets
Specialty Stores
Brand Stores
Online Channels
Others

By Type

Rompers

Sub Type

Full Body Rompers
Half Body Rompers

Pajamas

By Material

Cotton
Linen
Bamboo
Others

By Region

North America (U.S., Canada, Mexico)
Europe (UK, Germany, France, Italy, Spain, Netherlands, Rest of Europe)
Asia-Pacific (China, Japan, India, South Korea, Australia, Rest of Asia-Pacific)
LAMEA (Brazil, Argentina, Saudi Arabia, United Arab Emirates, South Africa, Rest of LAMEA)

Key Market Players
Nike, Inc., Carter's, Inc., Mothercare plc, The Children's Place, Inc., The Gap, Inc., PVH Corp., Under Armour, Inc., H&M Hennes & Mauritz AB, Benetton Group S.R.L., Industria de Diseño Textil, S.A.
Analyst Review
According to the CXOs of several leading companies, due to increase in product awareness, rise in advertising & promotions, widespread urbanization, surge in disposable income, increase in penetration of internet channels, particularly in developing nations, modern parents have recently spent more money on baby care items. This has led to massive increase in the purchase of baby sleepwear products, which will further increase in the future owing to the increasing concern among younger parents regarding the wellbeing of their babies and children. 
The market for baby sleepwear is primarily being driven by aspects such as how simple it is for parents to use them, how comfortable they are for newborns, and how readily available they are in a variety of shapes, sizes, and colors. However, the traditional infant clothing categories, including frocks, shorts, and jersey-style pants pose fierce rivalry for active industry participants in the baby romper sector. In addition, for the involved parties, the adoption of organic cotton, social media marketing, and premiumization present lucrative opportunities for market expansion.  
The CXOs further added that the product's material is crucial while choosing baby sleepwear. More than two-thirds of parents think cotton is a natural, eco-friendly material that is better suited for their infant. This is attributed to the fact that cotton is lightweight, breathable, and easily washable, thus making it the most suitable fabric for baby sleepwear. However, parents are also adopting linen, bamboo, and other types of fabrics for their baby sleepwear, which is beneficial for the market growth.