Balkans Tmt Steel Bar Market Overview:
The balkans TMT steel bar market was valued at $1,769 million in 2017, and is anticipated to reach $4,065 million by 2024, registering a CAGR of 12.5% from 2018 to 2024. In terms of volume, this market accounted for 2,669 thousand tons in 2017, and is anticipated to reach 5,435 tons by 2024, registering a CAGR of 10.6% from 2018 to 2024. Thermo-mechanically treated (TMT) steel bars are high-strength reinforcement bars, which are used in construction & infrastructure projects, due to their superior strength, weldability, corrosion resistance, and other desirable properties.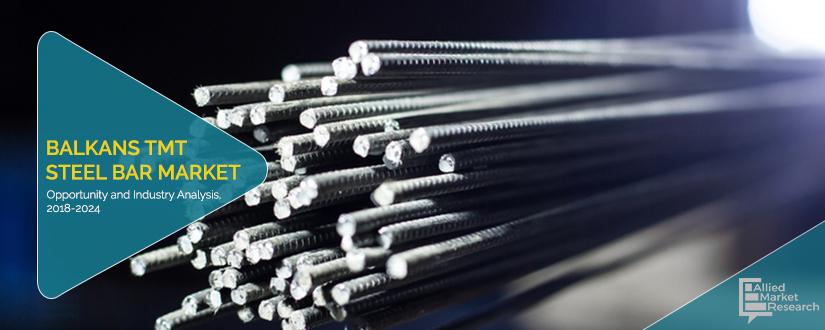 The growth of the Balkans TMT steel bar market is driven by different factors such as rise in demand for low-cost reinforcement bars and surge in construction projects such as dams and bridges across the Balkans. Moreover, increase in government support for steel & coal production and advantages offered by TMT steel bar over torsional bars are the key factors that augment the growth of the Balkans TMT steel bar industry. However, technical restraints such as bend ability associated with high grade steel bars are expected to hamper the growth of the market. On the contrary, increase in investment by other countries such as China in Balkan metal industry is expected to provide new opportunities for the key players.
The Balkans TMT steel bar market is segmented based on diameter, application, grade, and country. On the basis of diameter, the market is divided into 68 mm, 812 mm, and 12 mm & above TMT steel bars. By application, it is classified into residential, commercial, and infrastructure applications. According to grade, it is fragmented into FE-415, FE-500, FE-550, FE-600, and others. Country wise, it is analyzed across Macedonia, Kosovo, Albania, Serbia, Bosnia & Herzegovina, and rest of Balkans.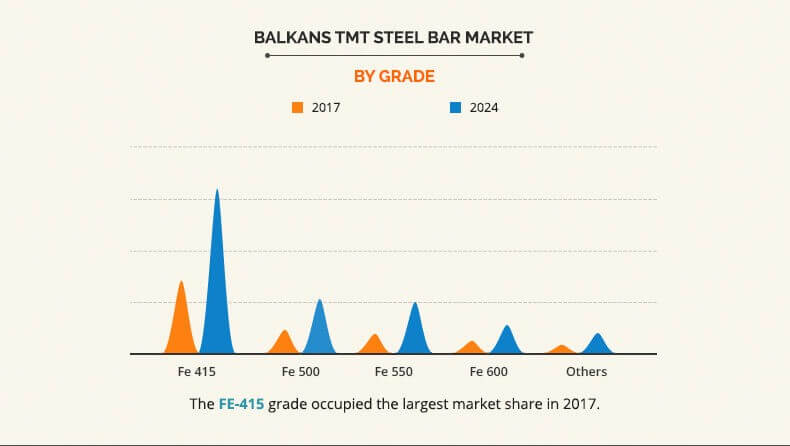 The Balkans TMT steel bar market was dominated by the Fe-415 grade TMT steel bars in 2017, owing to their versatility and wide application in reinforced concrete constructions. However, Fe-415 TMT bars are preferred over other grades of TMT bars, as they offer extra durability with higher strength than cold twisted deformed bars.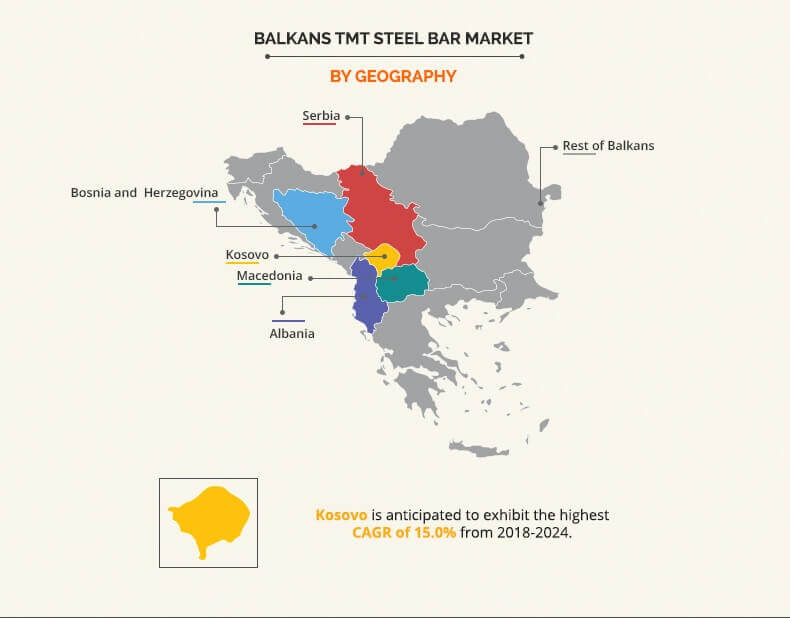 Rise in focus of vendors on the developing countries such as Bosnia & Herzegovina and Kosovo is expected to boost the market growth. Kosovo is projected to witness significant growth in the near future, owing to increase in construction investment and surge in demand & availability of TMT steel bars in this country. Furthermore, this region presents remarkable opportunities for the venture capitalists and investors, as the other Balkan markets are comparatively saturated.
The Balkans TMT steel bar market report provides an extensive competitive analysis and profiles of the key market players such as ArcelorMittal Zenica, Balkan Steel Engineering Ltd., Essar Steel, HBIS Group, HUS Ltd., Metalopromet d.o.o. Kula, MMD, SIDERAL S.H.P.K., SIJ Group, and TATA Steel. The other players in the value chain (not included in the report) include Eurometal Bulgaria Ltd., Ovako Bulgaria, and Metalfer Group.
Key Benefits for Balkans TMT Steel Bar Market:
Porter's five forces analysis helps to analyze the potential of buyers & suppliers and the competitive scenario of the industry for strategy building.
It outlines the current trends and future scenario of the market from 2018 to 2024 to understand the prevailing opportunities and potential investment pockets.
Major countries in each region have been mapped according to their individual revenue contribution to the global/regional market.
The key drivers, restraints, and opportunities and their detailed impact analyses are elucidated in the study.
The profiles of key players along with their key strategic developments are enlisted in the report.
 Balkans TMT Steel Bar Market Report Highlights
Aspects
Details
BY DIAMETER

6–8 mm
8–12 mm
12 mm & above

BY APPLICATION

Residential
Commercial
Infrastructure

BY GRADE

Fe-415
Fe-500
Fe-550
Fe-600
Other grades

BY COUNTRY

Macedonia
Kosovo
Albania
Serbia
Bosnia & Herzegovina
Rest of Balkans

Key Market Players
ArcelorMittal Zenica, Balkan Steel Engineering Ltd, Essar Steel, HBIS Group, Metalopromet d. o. o. Kula, MMD, SIDERAL S.H.P.K, SIJ Group, TATA Steel, HUS Ltd