The global ballistic protection market size was valued at $14 billion in 2021, and is projected to reach $26.1 billion by 2031, growing at a CAGR of 6.8% from 2022 to 2031. 
Ballistic protection is the method which leads to protect the human body and vehicles against bullets and missiles of various sizes, shapes, and impact velocities. This protection is usually required for general security personnel, soldiers, policemen, marine ships, military, and airborne vehicles. Many types of equipment of ballistic protection equipment are used for penetrating and non-penetrating impacts. For example, personal protection equipments are created to stop sensitive missiles such as fragments or bullets and offer protection against "bounce" impacts which rise from falls, missiles such as obstacles or bricks at head height.Moreover, vehicle protection equipment are usually armed combat vehicles which are shielded by armor for safeguarding against weapon systems, shrapnel, weapons, missiles, projectiles, and bullets. The rise development in vehicle protection technologies blended with improvements in material science, electronics, automotive, and weaponry is expected to improve the growth of the market. The release of next-generation military vehicles with advanced autoloaders, programmable ammunition, reactive armor technology, active protection systems, and others is a dominating trend in the market.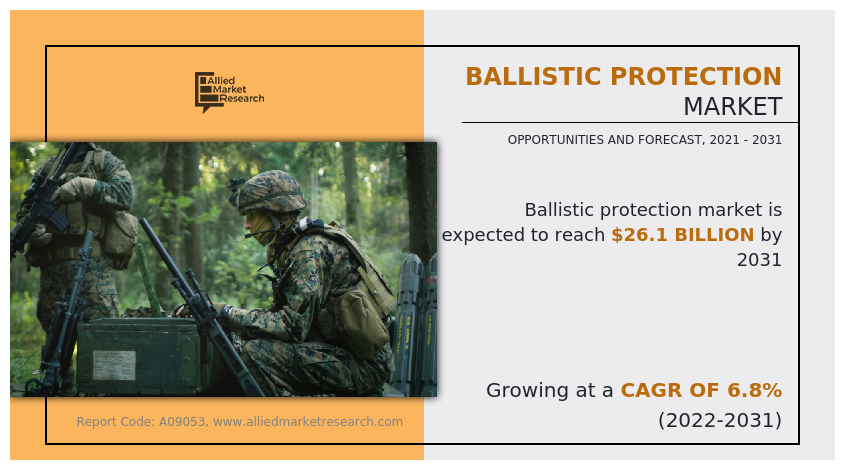 The ballistic protection market is segmented into product type, material type, application and technology.
The countries in Asia-Pacific such as Malaysia, Singapore among others is also known as a sovereign and an independent country and is concerned about the most suitable actions to protect their national security ad are all through the quest of self-dependence, which is the central part of its defense policy. It requires not only armed forces but also support the network of logistical support to industrial and military cooperation in line with their regional development priorities. Such actions and developments in the leading countries of Asia-Pacific is expected to increase the sales for ballistic protection market.
The budget for defense for 2022 in France holds at $59.0 billion. The investment trend in France is manifested a tiny but solid increase in annual budget of defense since 2019, as the government of France maintains to ramp up the expenditure to meet the requirements of modernization equipment and strategic objectives that drawn the planning law of military for 2019-2025. The planning law of military has been focusing on constant increase in defense spending over the past few years, as the French military have dogged significant modernization programs and acquisitions. The outburst of war in Europe region, coupled with the swelling disruption of the African Sahel, is pouring the France government to increase the defense spending to support their military organizations due to several safety commitments of the country as an associate of NATO, TF Takuba, and MINUSMA. This expenditure is expected to impact positively in ballistic protection market.
In 2022, the defense budget for China is $225.5 billion. The country endeavors to improve its domestic defense industry to continue generating strong revenue growth for its region-owned companies over the forecast period. The robust growth of defense-related revenues in Chinese SOEs has also recognized to continue the modernization in military equipment and purchasing by the PLA (People's Liberation Army) of military, aerospace, and naval capabilities. The companies that build body armors and armor vehicles for military are expected to have innovative defense electronics and weapons that has been saw high growth in historical period. Such huge defense budget for China is expected to grow sales for ballistic protection over the forecast period.
The defense budget for Italy holds at $34 billion in 2022. The increase in defense budget is placed to see a modest growth over the forecast period before commencing to level out. The factors which are actually manipulating the growth in budget incorporates a program of platform acquisition and modernization of the equipment which are used in military. Such acquisition and huge defense budged is expected to have lucrative opportunities for ballistic protection in Italy market.
Factors such as increase in territorial and political conflicts, rise in defense budget of emerging economies, technological advancements in ballistic protection drives the market. Moreover, the factors such as inaccuracy of protection level, high production cost of armor materials and occurrence of mechanical failure restrain the growth of market. Furthermore, factors such as growth in demand for multipurpose ballistic protection equipment, rise in demand for lightweight body armor create lucrative opportunities for key players of ballistic protection market.
Ballistic Protection Market

---

By Technology Type
Hard armor is projected as the most lucrative segment
The ballistic protection market is segmented on the basis of product type, material type, application type, technology, and region. By product type, it is divided into personal protection equipment and vehicle protection equipment. By material type, it is classified into bulletproof glass, composites, ceramics, metal alloys, fabric, and others. By application type, it is classified into military, airborne, and marine. Based on the technology the market is segmented into soft armor and hard armor. By region, the market is analyzed across North America, Europe, Asia-Pacific, and LAMEA.
Growth drivers, restraints, and opportunities are explained in the study to better understand the market dynamics. This study further highlights key areas of investment. In addition, it includes Porter's five forces analysis to understand the competitive scenario of the industry and the role of each stakeholder. The study features strategies adopted by key market players to maintain their foothold in the market.
The leading players operating in the ballistic protection market are Avon Protection plc, BAE Systems, DuPont de Nemours, Inc., GENTEX Corporation, Honeywell International Inc., Point Blank Enterprises, Inc., Rheinmetall AG, SAAB AB, Survitec Group Limited, and Tencate Advanced Armor.
Ballistic Protection Market

---

By Region
Europe would exhibit the highest CAGR of 9.4% during the forecast period
Increase in Territorial and Political Conflicts
The rise in political conflicts and growth in terrorist activities, have encouraged the global material science community and law enforcement agencies to create and offer valuable solutions that can help the reliable movement of vehicles and troops. In the current consequence, the political conflicts in Afghanistan, Iraq, Libya, and Syria along with India & China, Russia & Ukraine, Russia & Turkey, and India & Pakistan are boosting the need for ballistic protection in military. The domestic controversies in many regions are also enhancing the need for ammunition. This increases the demand for ballistic protection equipment.
The latest combat practices include counterterrorism, counterinsurgency, and irregular warfare strategies that may injure the military personnel, triggering fatal injuries. Similar situations exist in the field of law enforcement wherein law offenders, felons, and criminals can seriously injure subsequent officers, thus necessitating investment in safety helmets and related equipment. Body armor is precisely formed to protect the wearer from the effect of shotgun rounds on humans. Body armor has saved number of lives which leads to provide extra protection during accidents by car and other attacks on police officers. The mainstream of the helmets and body armor which are used by law enforcement are designed in such a way that it can conquer the strikes from firing by handgun.
Emerging regions, such as Russia, India, and Brazil are heavily devoting on its military owed to internal tensions and conflicts with their nearby nations. The LAMEA region also undergoes brutal political unrest which increases the demand for innovative armor materials. The unstable terrorism conditions and political activities around the globe negatively concern the economies of many regions. These regions focus on their reserves to finance in defense systems to deal with these issues, which leads to increase the sales of ballistic protection at global level.
Ballistic Protection Market

---

By Material Type
Others is projected as the most lucrative segment
Rise in Defense Budget of Emerging Economies
The rise in budgets in defense and increase in demand for ballistic protection, especially in North American and Asian countries, is expected to drive the growth. As per the 2022 report of SIPRI (Stockholm International Peace Research Institute), there was a rise of 0.7% in the spending of global defense in 2021 as compared to 2020. The global defense spending has increased to $ 2.2 trillion in 2021. The five most important spenders in defense are the U.S., the U.K., China, Russia, and India influenced around 62% of the global expenditure in military.
In 2021, DuPont de Nemours, Inc. acquired Core Matrix Technology from Tex Tech. This acquisition is anticipated to lead to increase the fragmentation and ballistic performance for law enforcement and military personnel. Moreover, it is expected to enable the most lightweight, flexible type of ballistic protection to meet new standards of National Institute of Justice (NIJ) for greater durability. Furthermore, the latest technologies also reinforce the ease of carrying body armor which is bullet resilient. The rise in demand for ballistic protection from soldiers is impels their purchases and deliveries. For instance, in 2020, Avon Protection plc acquired ballistic protection business of 3M company which includes various lines of flat armor, body armor, ballistic helmets, and related helmet-attachment products for law enforcement. The deal was valued at $91 million. This acquisition is anticipated to lead the company to expand more rapidly around the global law enforcement and military markets. Several such purchasing activities are currently happening on a global scale, which is expected to increase the sales of ballistic protection during the forecast period.
Ballistic Protection Market

---

By Product Type
Vehicle protection equipment is projected as the most lucrative segment
High Production Cost of Armor Materials and Occurrence of Mechanical Failure
The production process and costing of armor materials differs based on their end-use application. The technology used in producing such materials is one of the most crucial parts of the value chain. The production is dominated by military forces as well as several companies, as it is a competitive market.
Several schemes have been commenced by these forces and organizations to guarantee the security and concealment of the technology used in the making of armor materials. The manufacturing process also needs to undertake numerous power methodologies to safeguard the rational property theft. Such considerations increase the cost of armor materials production. The leading companies also capitalize strongly in research and developments to improve the armor efficiency, thus increasing the overall cost of the ballistic protection which is restraining the market.
Armored vehicles also contend to mechanical strain triggered by their movement on logistical strain and irregular terrains which is mostly affected by operations during crossing country. The vehicle protection equipment such as cockpit ballistic protection, ballistic door, ballistic floors, engine protection, hull & body, and weapon station & optronics are also results in mechanical failure. In addition, they also deteriorate from jamming of parts, breakdown of components, and power failures, among others. These failures are usually hard to be repaired by recovery & rescue teams, thereby leading to vital circumstances during conflicts. Moreover, the defective recognition or mechanical failure of ballistic protection equipment in military vehicles is sometimes hard. Such circumstances are expected to restrain the growth of ballistic protection market.
Ballistic Protection Market

---

By Application Type
Airborne is projected as the most lucrative segment
Growing Demand for Multipurpose Ballistic Protection Equipment
The current demand for ballistic protection is concentrating on priced and high-performance equipment. Many customers around the globe choose personal protective equipment that provides more than one function. Personal protective equipment is created to protect against a threat for instance, fire-resistant clothing is resilient to fire damage but may not offer sufficient security against technical vulnerabilities. However, soldiers may get exposed to several threats at one time. They need multipurpose ballistic protection equipment for self-protection against numerous hazards under such circumstances.
In addition, rise in investments from major companies in the design and development of multipurpose personal protective equipment leads to launches of new equipment in near future, with higher protection and reduced weight level ratings. Furthermore, the rise in research and development activities with advanced production and technology techniques, the leading players offer custom-manufactured personal protective equipment to consumers as per their needs and budget. This strengthens the affordability and increases the range of opportunities for ballistic protection.
COVID-19 pandemic has badly impacted the ballistic protection industry. The OEMs (original equipment manufacturers) had encountered major issues such as cuts in defense budget in some countries, delayed deliveries, production halts, and disruptions in supply chains. Small, medium, and big players in the ballistic protection market, no doubt had faced countless challenges to cope with the COVID-19 pandemic which includes both operational and managerial challenges. However, the greatest decline in products of army product was recorded by other European countries, along with France. In 2020, the nine companies of Russia had sold 6.5% lesser weapons as compared to 2019. Many nations in Asia-Pacific region such as Thailand, South Korea, and India had halted their procurement plans and lowered their defense expenses due to the COVID-19 pandemic.
Key Benefits For Stakeholders
This report provides a quantitative analysis of the market segments, current trends, estimations, and dynamics of the ballistic protection market analysis from 2021 to 2031 to identify the prevailing ballistic protection market opportunities.
The market research is offered along with information related to key drivers, restraints, and opportunities.
Porter's five forces analysis highlights the potency of buyers and suppliers to enable stakeholders make profit-oriented business decisions and strengthen their supplier-buyer network.
In-depth analysis of the ballistic protection market segmentation assists to determine the prevailing market opportunities.
Major countries in each region are mapped according to their revenue contribution to the global market.
Market player positioning facilitates benchmarking and provides a clear understanding of the present position of the market players.
The report includes the analysis of the regional as well as global ballistic protection market trends, key players, market segments, application areas, and market growth strategies.
 Ballistic Protection Market Report Highlights
Aspects
Details
Market Size By 2031
USD 26.1 billion
Growth Rate
CAGR of 6.8%
Forecast period
2021 - 2031
Report Pages
299
Product Type

Personal Protection Equipment
Vehicle Protection Equipment

Material Type

Bulletproof Glass
Composites
Ceramics
Metal Alloys
Fabric
Others

Application Type
Technology Type
By Region

North America (U.S., Canada, Mexico)
Europe (UK, Germany, France, Italy, Russia, Rest of Europe)
Asia-Pacific (China, Japan, India, Australia, South Korea, Rest of Asia-Pacific)
LAMEA (Latin America, Middle East, Africa)

Key Market Players
avon protection systems, BAE Systems plc, DuPont de Nemours, Inc., Gentex Corporation, Honeywell International Inc., Point Blank Enterprises, Inc., Rheinmetall AG, Saab AB, Survitec Group Limited, TenCate Advanced Armor USA, Inc.