Bamboos Market Research, 2031
The global bamboos market size was valued at $65.8 billion in 2021, and is projected to reach $99.8 billion by 2031, growing at a CAGR of 4.1% from 2022 to 2031. Bamboos are evergreen perennial flowering plants, belonging to the subfamily, Bambusoideae of the grass family, Poaceae. It comprises of woody rings around its hollow stem, which makes it strong as well as light in weight. Furthermore, different species of bamboo can have heights ranging from few centimeters to above 50 meters.
The bamboos market was hampered during the outbreak of COVID-19 pandemic, owing to disruption of global supply chain. In addition, restrictions on construction and industrial activities, reduced the demand for bamboos.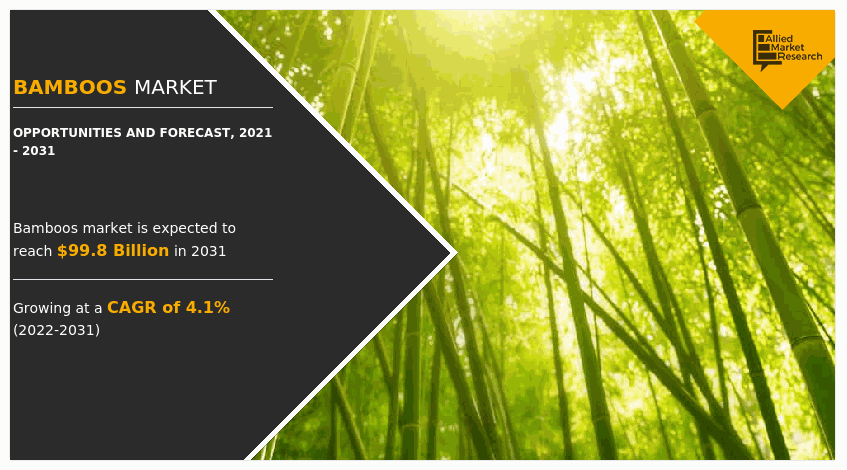 The global population and urbanization is rising at a significant rate. This has increased the number of construction activities. Bamboos are widely used in the construction sector for multiple applications, such as for building excess equipment, flooring solutions, and other building components. Thus, the rise in trend of construction activities is fostering the growth of the bamboos market. In addition, the rise in the e-commerce industry has significantly contributed to the growth of paper and board packaging demand. This has surged the use of bamboos, as they are one of the major sources for extracting pulp and fiber, which are used for manufacturing paper and board. In addition, the easy availability of bamboos across all the tropical regions has remarkably added to the growing demand for bamboos. Also, upsurge in gardening activities, especially in North America and Europe regions has shown a noteworthy positive influence on the demand for cold climate bamboos. Moreover, bamboo is also a great source of food in many regions. For instance, countries such as Japan and South Korea consume shoot, which is an edible part of the bamboo's root. One of the edible bamboo products, known as bamboo salt is also witnessing a huge demand globally, owing to its medicinal benefits. Such developments are anticipated to positively influence the bamboos industry. 
Major players in the industry have focused on development of new manufacturing technologies that can build new and better bamboo-based construction components. For instance, in March 2022, Dasso Group, a leading provider of bamboo-based construction components, established a new system to produce bamboo decking longer than 6ft. Furthermore, in June 2020, MOSO International BV, a Netherland-based manufacturer of bamboo-based construction components, acquired Bambeau Becker & Großgarten GmbH based in Germany. This acquisition is expected to enable MOSO to enhance its market reach in different regions having high demand of bamboo products in construction.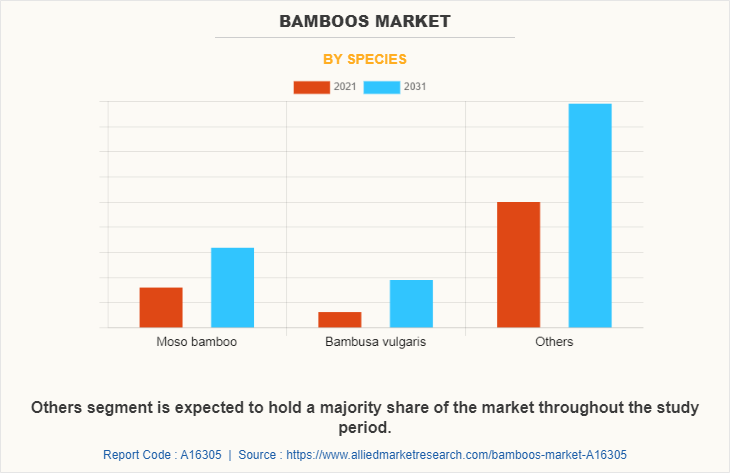 The novel coronavirus (COVID-19) rapidly spread across various countries and regions, causing an enormous impact on the lives of people and the overall community. It began as a human health condition and later became a significant threat to global trade, economy, and finance. The COVID-19 pandemic halted the production of many components of bamboo products due to lockdown. The economic slowdown initially resulted in reduced spending on various bamboo-based products by industrial and commercial users. These factors hampered the bamboos market growth. However, owing to the introduction of various vaccines, the severity of COVID-19 pandemic has significantly reduced. As of mid-2022, the number of COVID-19 cases have significantly reduced. This has led to the full-fledged reopening of bamboo-based products manufacturing companies at their full-scale capacities. Furthermore, it has been more than two years since the outbreak of this pandemic, and many companies have already shown notable signs of recovery.
Furthermore, increased global tourism has significantly boosted the number of hospitality buildings, such as hotels and resorts across the globe, especially in tropical regions, such as Mexico, Indonesia, Vietnam, and others. Owing to the fact that bamboo significantly enhances the elegance and curb appeal of resorts, many resort owner spend considerably on bamboo-based products. In addition, bamboos are also used for making decorative items. Such key factors drive the growth of the bamboos market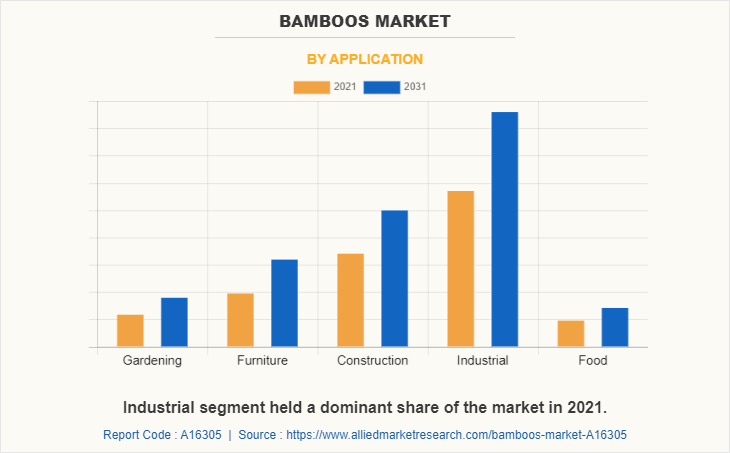 The bamboos market is segmented into species, application and region. By species, the market is categorized into moso bamboo, bambusa vulgaris, and others. On the basis of application, it is categorized into gardening, furniture, construction, industrial, food, and others. Region-wise, the market is analyzed across North America, Europe, Asia-Pacific, and LAMEA. Asia-Pacific dominated the bamboos market share in 2021, accounting for the highest share, and is anticipated to maintain this trend during the forecast period. This is attributed to increase in cultivation of bamboos in the region.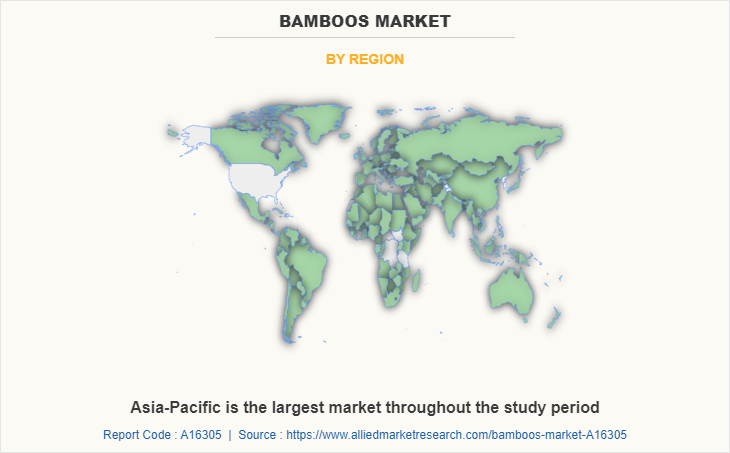 Competition Analysis 
Key companies profiled in the bamboos market forecast report include, Anji Tianzhen Bamboo Flooring Co. Ltd., BambooVision, Bamboo Australia Pty Ltd., Bamboo Village Company Limited, Dasso Group, EcoPlanet Bamboo, Kerala State Bamboo Corporation Limited, Moso International BV, Simply Bamboo Pty Ltd., and Smith & Fong Company.
Key Benefits For Stakeholders
This report provides a quantitative analysis of the market segments, current trends, estimations, and dynamics of the bamboos market analysis from 2021 to 2031 to identify the prevailing bamboos market opportunity.
The market research is offered along with information related to key drivers, restraints, and opportunities.
Porter's five forces analysis highlights the potency of buyers and suppliers to enable stakeholders make profit-oriented business decisions and strengthen their supplier-buyer network.
In-depth analysis of the bamboos market segmentation assists to determine the prevailing market opportunities.
Major countries in each region are mapped according to their revenue contribution to the global market.
Market player positioning facilitates benchmarking and provides a clear understanding of the present position of the market players.
The report includes the analysis of the regional as well as global bamboos market trends, key players, market segments, application areas, and market growth strategies.
 Bamboos Market Report Highlights
Aspects
Details
By Species

Moso bamboo
Bambusa vulgaris
Others

By Application

Gardening
Furniture
Construction
Industrial
Food

By Region

North America (U.S., Canada, Mexico)
Europe (Germany, France, Italy, U.K., Rest of Europe)
Asia-Pacific (China, Japan, India, South Korea, Rest Of Asia Pacific)
LAMEA (Latin America, Middle East, Africa)

Key Market Players
Anji Tianzhen Bamboo Flooring Co. Ltd., Moso International BV, Kerala State Bamboo Corporation Limited, BambooVision, Simply Bamboo Pty Ltd, Smith & Fong Company, EcoPlanet Bamboo, Bamboo Australia, Bamboo Village Company Limited, Dasso Group