Bare Metal Cloud Market Research, 2031
The global bare metal cloud market was valued at $5.6 billion in 2021, and is projected to reach $56.6 billion by 2031, growing at a CAGR of 26.1% from 2022 to 2031.
Due to the pandemic's decreased mobility, the servers must now handle more workloads, which has improved computing efficiency while maintaining the security standards of sensitive data. Due to the growing use of AI and ML environments, a platform that can efficiently run the complicated algorithms needed to create these technologies is required; one such platform is referred to as bare metal. Due to the COVID-19 crisis, business demand for bare metal cloud services has increased significantly.
Bare metal cloud provides dedicated, single-tenant cloud servers uniquely managed from a central dashboard. This situation allows for higher performance and increased security for cloud deployments since there are no shared resources that other customers can unintentionally access. Bare metal cloud is ideal for IT professionals who need a cloud service's reliability, adaptability and scalability but desire more control and greater performance. In bare-metal cloud service, the user rents specific hardware components from a distant service provider. It provides the hardware resources without other preinstalled OS or virtualization infrastructure. Professional cloud service infrastructure allows for the virtualization and division of compute, storage, and database resources, allowing for the partitioning and sharing of servers and storage arrays by numerous clients. However, despite the flexibility and cost advantages that virtualized computing instances offer, there are downsides, particularly those linked to resource competition, or the "noisy neighbour problem". Inadequate segregation of edge devices and virtual networks also poses dangers. Bare-metal cloud addresses these problems by giving consumers access to separated physical resources. 
Intensifying utilization of bare metal cloud and expanding application in the BFSI sector are driving bare metal cloud market growth. In addition, the cost-efficient benefits of bare metal cloud is fueling the growth of market. However, the renewed attention in lightweight hypervisors and negative aspects of bare metal cloud limit the growth of this market. Conversely, investment in emerging technologies Is exploding that is anticipated to provide numerous opportunities for the expansion of the market during the forecast period.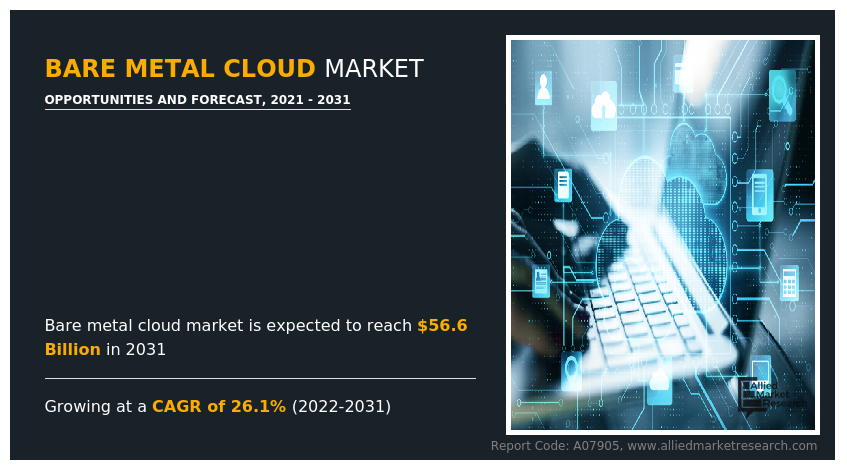 The bare metal cloud market is segmented into Service Type, Enterprise Size and Industry Vertical.
The global bare metal cloud market is segmented on the basis of service type, enterprise size, industry vertical and region. Based on service type, it is segregated into compute services, networking services, security services, database services, and storage services. Based on enterprise size, it is bifurcated into large enterprises and small and medium enterprises (SMEs). Based on industry vertical, it is divided into BFSI, IT & telecom, retail & consumer goods, government, healthcare and life science, manufacturing, and others. Based on region, it is analyzed across North America, Europe, Asia-Pacific, and LAMEA.
The global bare metal cloud industry is dominated by key players such as International Business Machine Corporation, Amazon Web Services, Inc., Oracle Corporation, Microsoft Corporation, Dell Technologies Inc., Google LLC, Rackspace Technology, Alibaba Cloud, Lumen Technologies, and Internap Holding LLC. These players have adopted various strategies to increase their market penetration and strengthen their position in the bare metal cloud industry.
Bare Metal Cloud Market

---
By Service Type
Networking services dominated the bare metal cloud market in 2021, owing to the flexibility to run demanding workloads and less compute intensive application in a secure and highly available cloud environment.
Get more information on this report :
Request Sample Pages
Depending on the service type, the networking services segment dominated the bare metal cloud market share in 2022 and is expected to continue this trend during the forecast period, owing to the complete control over user's hardware, network, and server architecture and is the best choice for security-oriented applications that need a dedicated compute environment because of company policy, law, or compliance. However, the compute services are expected to witness the highest growth in the upcoming years, owing to operate both computationally demanding workloads and less computationally expensive applications in a safe and highly available cloud environment is provided by the bare metal cloud compute services.
Bare Metal Cloud Market

---
By Region
North America dominated the bare metal cloud market in 2021, owing to increasing demand for flexible, high speed and cost effective cloud services in North America with continuous adaptation to cloud based technologies and strict regulatory compliance.
Get more information on this report :
Request Sample Pages
Region wise, North America dominated the bare metal cloud market size in 2021 and is expected to retain its position during the forecast period, owing to rise in number of IoT applications hosted on bare metal clouds and increasing investments in emerging technologies such as big data, social media, and due to mobility. As a result, rapid implementation of these technologies is creating opportunities for the growth of bare metal cloud market. However, Asia Pacific is expected to witness significant growth during the forecast period, owing to the increasing investment for the development of cloud infrastructure with an installation of smart technologies such as AI and ML.
Top impacting factors
Intensifying utilization of bare metal cloud 
It has been noticed that many small and medium-sized organizations are increasingly adopting bare metal cloud services. These services help the company lower costs and improve operational efficiency. As a result, business organizations have an increased need for bare metal cloud services. Moreover, load balancing enhances the deployment of additional workloads across the bare metal cloud servers, to facilitate more efficient operation and resource distribution across numerous processes. In the real-time end-user context, load balancing technologies make it simple and flexible to control traffic and resource utilization between server nodes. Deploying dependable load balancing activities over the cloud is therefore crucial. The growing need for IT infrastructure that is scalable, efficient, adaptive, and simple to use, along with the quickly increasing data traffic and low CAPEX and OPEX expenses, are some of the major factors propelling the growth of the bare metal cloud market. in addition, the servers use a clear infrastructure that minimizes human labor and errors, which is projected to significantly accelerate market expansion during the forecast period.
Expanding application in the BFSI sector    
The banking, financial services, and insurance (BFSI) sector is anticipated to significantly contribute toward the market growth during the projected period. The sector's requirement to speed financial transactions and ensure the security of their information is projected to be a major element in raising the segment's contribution. The need for high-end technology for risk analytics, statistical models, and bank stress-testing is another factor that is expected to drive market expansion throughout the course of the projected period. As a result, the market's expansion during the anticipated period will be accelerated by the rising usage throughout the BFSI sector. Additionally, during the projection period, factors including the proliferation of data centers and the rise in end user mobility usage would hasten the market's overall growth. The market for bare metal clouds is predicted to increase at a faster rate than colocation services do. It enables its customers to rent hardware from regulated or free cloud service providers. During the projection period, the need for non-locking computing and storage systems will have an even greater beneficial impact on the market's growth rate.
Technological aspects
The adoption of bare metal clouds has reached a point where the rise of big data and the internet of things coincides with the expansion of the bare metal cloud industry. The Bare Metal Cloud provider is a central location to find various types of software, including predictive analysis, business information, and forecasting consumer purchasing patterns. Key players in the market are enhancing their technological services to strengthen their position in the market. For instance, in January 2021, IBM cloud bare metal servers for VPC gives the benefits of bare metal with enhanced and faster provisioning and better network design and performance, this solution takes the dedicated performance, single tenancy, consistency and security of a bare metal server and introduces more quality-of-life improvements. In addition to the compute, networking and storage advantages of a native VPC presence, IBM Cloud Bare Metal Servers for VPC unlocks larger core and memory profiles, client-managed virtualization and an average of 4x faster network performance, all without the need for a gateway to connect classic and VPC infrastructures. Such technological developments in the bare metal cloud boosts the market growth.
Key Benefits For Stakeholders
This report provides a quantitative analysis of the market segments, current trends, estimations, and dynamics of the bare metal cloud market analysis from 2021 to 2031 to identify the prevailing bare metal cloud market opportunities.
The market research is offered along with information related to key drivers, restraints, and opportunities.
Porter's five forces analysis highlights the potency of buyers and suppliers to enable stakeholders make profit-oriented business decisions and strengthen their supplier-buyer network.
In-depth analysis of the bare metal cloud market forecast to determine the prevailing market opportunities.
Major countries in each region are mapped according to their revenue contribution to the global market.
Market player positioning facilitates benchmarking and provides a clear understanding of the present position of the market players.
The report includes the analysis of the regional as well as global bare metal cloud market trends, key players, market segments, application areas, and market growth strategies.
 Bare Metal Cloud Market Report Highlights
Aspects
Details
Market Size By 2031
USD 56.6 billion
Growth Rate
CAGR of 26.1%
Forecast period
2021 - 2031
Report Pages
355
Service Type

Networking Services
Compute Services
Database Services
Security Services
Storage Services

Enterprise Size

Large Enterprises
Small and Medium Enterprise (SMEs)

Industry Vertical

BFSI
IT and Telecom
Retail and Consumer Goods
Healthcare and Life Sciences
Manufacturing
Government
Others

By Region

North America (U.S., Canada)
Europe (UK, Germany, France, Italy, Spain, Rest of Europe)
Asia-Pacific (China, India, Japan, Australia, South Korea, Rest of Asia-Pacific)
LAMEA (Latin America, Middle East, Africa)

Key Market Players
RACKSPACE TECHNOLOGY, LUMEN TECHNOLOGIES, Internap Holding LLC, Dell Technologies Inc., Amazon Web Services, Inc., Google LLC, International Business Machines Corporation, Oracle Corporation, Microsoft Corporation, Alibaba Cloud