The baseball shoes market size was valued at $2,475.2 million in 2020 and is estimated to reach $6,786.3 million by 2030, registering a CAGR of 8.2% from 2021 to 2030.          
Baseball shoes are specially designed shoes made for playing baseball, as they support side by side and backward forward movement while playing. Depending on different playing surfaces, different baseball shoes are designed. Growth in popularity and increase in participation of adults and kids population in baseball is a key driver of the global market. Baseball provides many health benefits, which is an important concern for many in the present time. Various health benefits associated with baseball are improved cardiovascular health, muscular fitness and builds strength in arms and legs.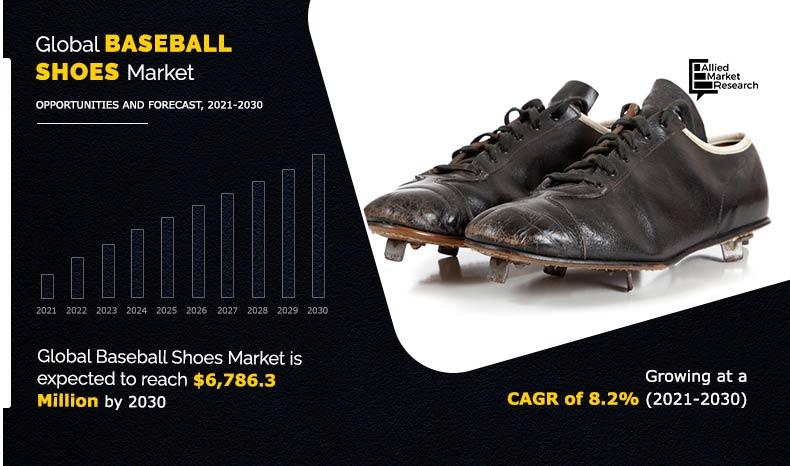 Changes in lifestyle of consumers has been one of the considerable factors that has contributed toward the growing popularity of fashionable and stylish baseball shoes in developing economies. In Asia-Pacific countries, surge in per capita income has led to increase in standard of living of customers. Rise in aspiration to be a professional baseball player and desire to have baseball player attire has led to manifold increase in market size and overall demand. In order to increase market share, companies are also introducing baseball shoes specifically designed for training, warming up and practice sessions, is further contributing for the baseball shoes market growth during the forecast period
Baseball sports has considerably low popularity in the Asia-Pacific and Latin America region. Popularity of other than baseball sports such as swimming, badminton, basketball and cricket, is expected to be a major challenge for the product market.
The outbreak of the pandemic has adversely affected the global baseball shoes market, owing to the global lockdown. However, rise in health consciousness and growth in popularity of baseball is expected to boost the baseball shoes market in the post-COVID period. Moreover, development of vaccines and growth in awareness among population regarding prevention of coronavirus is expected to have a positive effect on growth of the global market in the coming years.
Baseball Shoes Market

---
By Type
Molded Cleats segment helds the major share of 38.7% in 2020
According to the baseball shoes market analysis, the market segmented into type, distribution channel, age group and region. On the basis of type, the market is categorized into metal cleats, molded cleats, turf cleats and interchangeable cleats. On the basis of distribution channel, the market is segmented into, brand outlets, specialty sports stores, e commerce and others. By age group, market is categorized into, adults and kids. Region wise, it is analyzed across North America (the U.S., Canada, and Mexico), Europe (UK, Germany, Italy, Ireland, Netherlands, Czech Republic and Rest of Europe), Asia-Pacific (Japan, Australia, South Korea, Taiwan and Rest of Asia-Pacific), and LAMEA (Dominican Republic, Cuba, Puerto Rico, South Africa and Rest of LAMEA).
On the basis of type, the molded cleats segment was the highest contributor to the market, with $957.7 million in 2020, and is estimated to reach $2,765.4 million by 2030, at a CAGR of 8.8% during the forecast period. Metal cleats are majorly used for high school and college baseball tournaments due to possible safety concerns. Metal cleats are first choice of the professional and collegiate athletes. However, despite of these popularity for the metal cleats, these cleats are not permitted to use in the middle school baseball sports. Metal cleats provide additional support to the feet of a baseball sportsperson and ensure optimum power delivery. Thus, above mentioned factors are projected to drive the growth of the product market through metal cleats segment during the forecast period.         
Baseball Shoes Market

---
By Distribution Channel
Specialty Sports Stores segment helds the major share of 35.9% in 2020
According to the baseball shoes market trends, on the basis of distribution channel, the specialty sports stores segment has highest share in global baseball shoes market. Manufactures are continuously making efforts to increase shelf visibility of their products, and hence they are majorly targeting specialty sports stores. As a result, wider variety of baseball shoes are available in specialty sports stores. Moreover, specialty sports stores provide options such as discounts as well as benefits of immediate gratification, which result in growth of the baseball shoes market.
On the basis of age group, the kids segments are expected to witness highest CAGRs of 8.7%, during the forecast period, and is estimated to reach $1,815.7 million by 2030. Growth in participation of kids in baseball boosts the market growth. Various baseball tournaments organized at schools play a vital role in growth of the kid baseball shoes market. Emerging markets such as China, Japan, and US offer lucrative growth opportunities to market players, owing to growth in population along with growth in popularity of baseball in these markets.
Baseball Shoes Market

---
By Age Group
Adults segment helds the major share of 74.4% in 2020
According to the baseball shoes market opportunities. Region wise, North America garnered a major share in product market in 2020, and is expected to maintain its dominance throughout the Baseball shoes market forecast period.  This is majorly attributed to increasing popularity of the baseball and rise in number participant's sports. Baseball keeps gaining popularity in the U.S. sports industry in North America, expect an increase of its significant economic impact not only with its direct contribution to the city/country where competitions take but through indirect support to growing industries such as sports start-ups, gaming, gambling and media industries. Furthermore, increase in admissions to the health clubs and baseball sports clubs in North America is likely increase the sales of baseball shoes and apparel.
The players operating in the global baseball shoes market have adopted various developmental strategies to expand their market share, increase profitability, and remain competitive in the market. The key players profiled in this report include New Balance, Inc, Under Armour, Inc., Nike, Inc, Adidas AG, Mizuno Corporation, Puma, Rawlings Sporting Goods, 3N2, Fila Holdings Corp, and ASICS.
Baseball Shoes Market

---
By Region
North America region helds the major share of 43.2% in 2020
Key Benefits For Stakeholders
The report provides a quantitative analysis of the current trends, estimations, and dynamics of the market size from 2020-2030 to identify the prevailing opportunities.
Porter's five forces analysis highlights the potency of buyers and suppliers to enable stakeholders to make profit-oriented business decisions and strengthen their supplier–buyer network.
In-depth analysis and the market size and segmentation assist to determine the prevailing market opportunities.
The major countries in each region are mapped according to their revenue contribution to the Baseball shoes market share. 
The market player positioning segment facilitates benchmarking and provides a clear understanding of the present position of the market players in the baseball shoes industry.
Key Market Segments  
By Type
Metal Cleats
Molded Cleats
Turf Cleats
Interchangeable Cleats 
By Distribution Channel
Brand Outlets
Specialty Sports Stores
E Commerce
Others
By Age Group
By Region
North America
Europe

UK
Germany
Italy
Ireland
Netherlands
Czech Republic
Rest of Europe

Asia-Pacific

Japan
Australia
South Korea
Taiwan
Rest of Asia-Pacific

LAMEA

Dominican Republic
Cuba
Puerto Rico
South Africa
Rest of LAMEA  
 Baseball Shoes Market Report Highlights
Aspects
Details
By TYPE

Metal Cleats
Molded Cleats
Turf Cleats
Interchangeable Cleats

By DISTRIBUTION CHANNEL

Brand Outlets
Specialty Sports Stores
E Commerce
Others

By AGE GROUP
By Region

North America (U.S., Canada, Mexico)
Europe (France, Germany, Italy, Spain, UK, Russia, Rest of Europe)
Asia-Pacific (China, Japan, India, South Korea, Australia, Thailand, Malaysia, Indonesia, Rest of Asia-Pacific)
LAMEA (Brazil, South Africa, Saudi Arabia, UAE, Argentina, Rest of LAMEA)

Key Market Players
PUMA, NIKE, INC, ASICS, 3N2, MIZUNO CORPORATION, ADIDAS AG, UNDER ARMOUR, INC., NEW BALANCE, INC., RAWLINGS SPORTING GOODS, FILA HOLDINGS CORP